Kouign Amann
Home
>>
Recipes
A most amazing pastry based on flour, sugar and a lot of butter. A definite calorie bomb but so good you would not believe.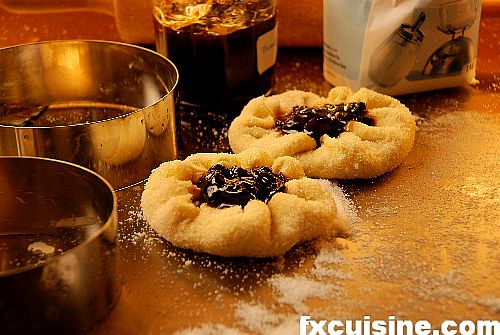 The only place I ever saw kouign amanns was at Ladurée, a high-end Paris pastry shop. They don't look like much but their taste is so amazing that I always end up buying one. These little cakes are about as wide as a grapefruit but no higher than a walnut. The names means 'butter cakes' in breton.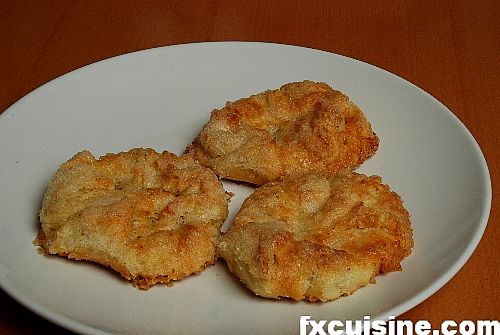 Kouign amanns are made from a rustic puff pastry many people assume they can't make at home. But it's not very hard and there is something magic in making so amazing a pastry from such humble and shapeless ingredients as flour, sugar and butter. Lots of butter.
In his Larousse des desserts, French pastry guru Pierre Hermé suggests adding jam to make the pastry more interesting. They still look quite simple from a distance but when you look close you see the complex crystallized sugar crust contrasting with the jam pool.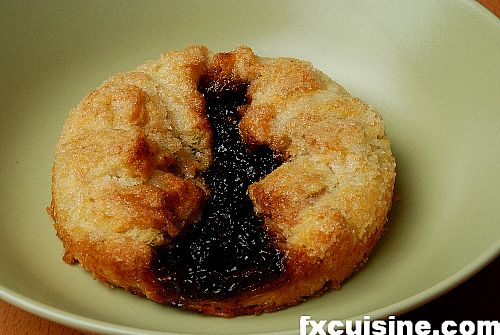 If you have never made your own puff pastry that is the best way to try. It's really easy and not much work after all. The results are well worth it. <>
Kouign Amann
225gr white flour
10gr melted butter
1.5dl cold water
5gr yeast (dry or fresh)
pinch of salt
225gr butter
225gr caster sugar + 50gr for the workspace
400gr red berries cooked with 50gr gelifying sugar (optional)
Start by mixing the flour, yeast and salt with the butter and water until you get a smooth dough. It will be quite dry as there are not eggs and almost no butter - yet.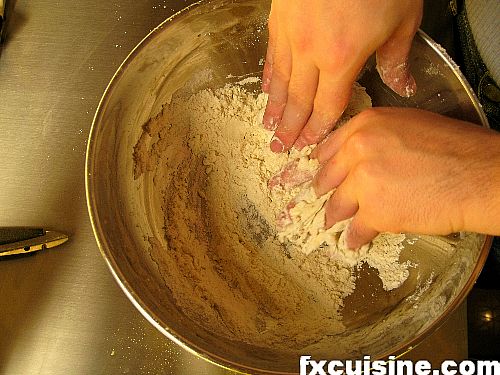 Knead this détrempe for a few minutes, then wrap in plastic foil and leave in the fridge to rise for one hour. Make sure it's well covered so that the dough does not grow a crust by drying out.
The dough will have risen and turned the plastic wrap in a transparent zeppelin: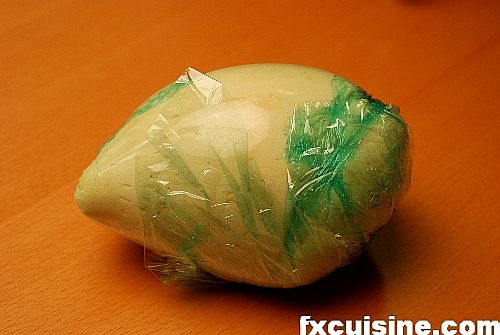 We will now apply a simple technique to intertwine multiple layers of butter in the dough.
Stretch the dough in a rectangular shape 3 times as long as it is wide using a rolling pin. Wrap the butter in a transparent foil and put in the microwave for about 20 seconds to soften it. Roll the pin over the wrapped butter to turn it into a paste (beurre pommade). You don't want liquid butter so don't overdo it: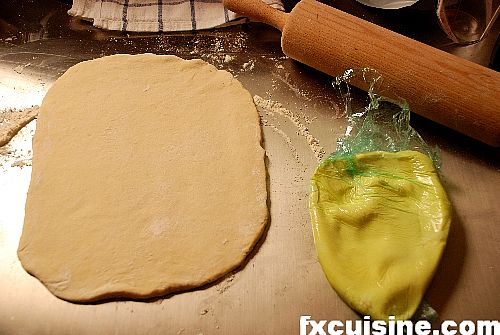 Spread the butter mixture over the central third of the dough. Leave about one inch free space on either sides so the butter won't be squeezed out too easily.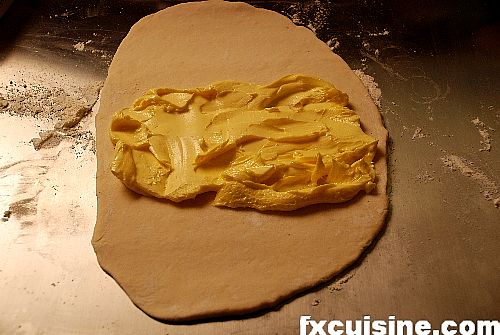 Fold the dough over the butter: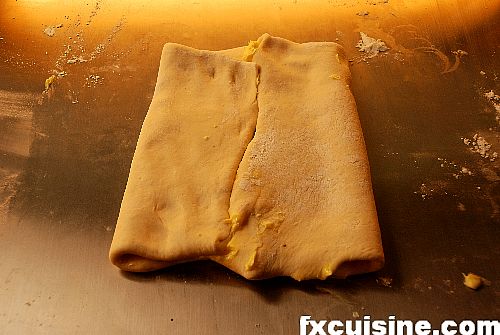 Turn by 90° so that the gluten will be stretched in all directions and stretch until it reaches the same size and shape as before: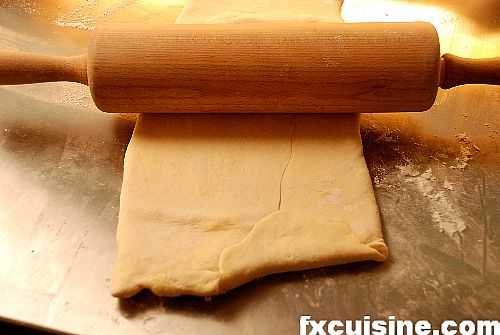 Fold it again to make more layers of butter:
I let some butter escape - please excuse the messy look on the picture: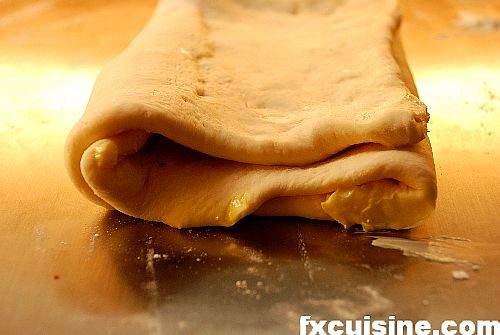 Wrap with plastic foil and put in the fridge for a further 30 minutes.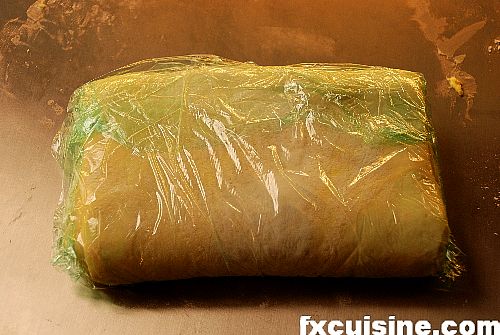 Sprinkle caster sugar on the working surface as you would flour, and put the dough on the sugar so that it will not stick.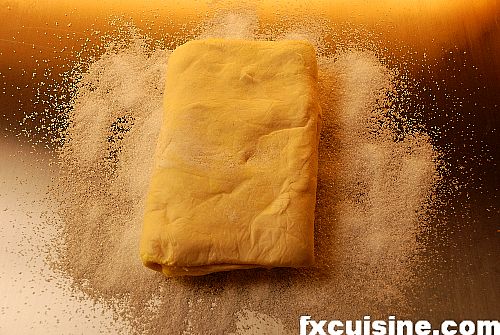 Turn by 90° and roll the dough once more in the usual shape, then sprinkle lots of caster sugar on top.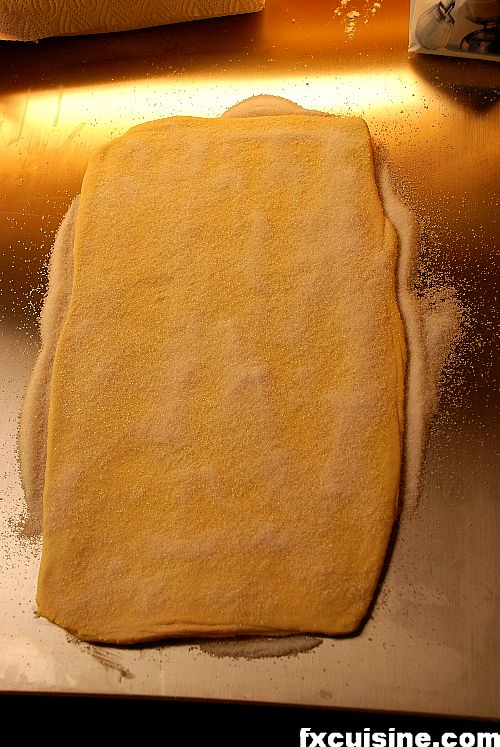 Turn upside down fold the dough over itself like before. This will create layers of sugar intertwined with the butter layers in the dough: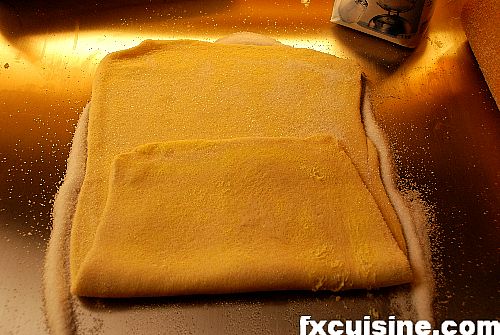 Turn by 90° and roll the dough one last time, then cut 3 inches (8cm) squares or bigger. Sorry I don't have pictures of this stage, with the hands full of butter it was hard to reach for the camera. Put some more caster sugar on the working space. Lay the squares on the sugar and fold the corners into the center to make a round shape: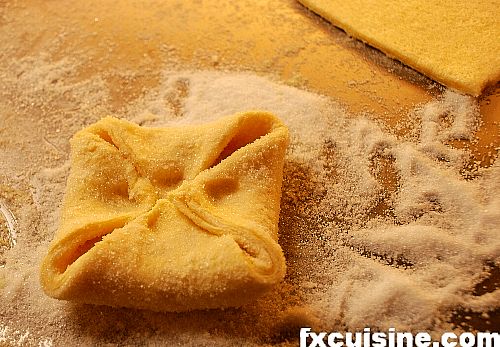 In Britany people don't use jams on kouign amann, but I recommend you try at least a couple with some dark or red jam such as blackcurrants or raspberries. Just put a spoonful in the center and fold around it like a bird nest.
Continue until all the dough has been used. Prepare some pastry circles of the same size.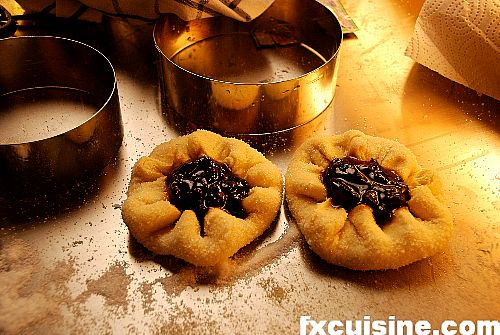 You don't really need to grease the circles as the dough has so much butter it won't stick.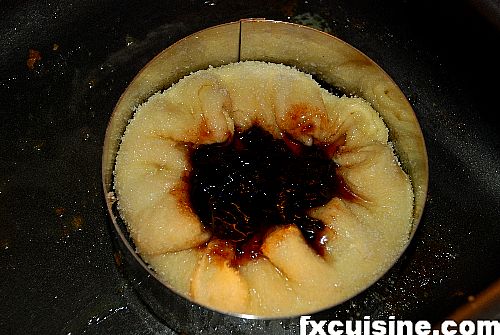 Leave the dough to rise a further 30 minutes (pointage). Heat the oven at 180° Celsius and bake about 25 minutes or until the top is well colored.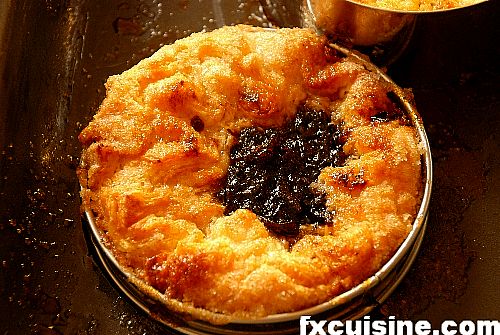 Remove from the oven, take out from the circles and leave for a couple minutes. You can east them warm or cold but don't leave them overnight or you'll lose crunchiness and texture contrast.
The regular ones with no jam: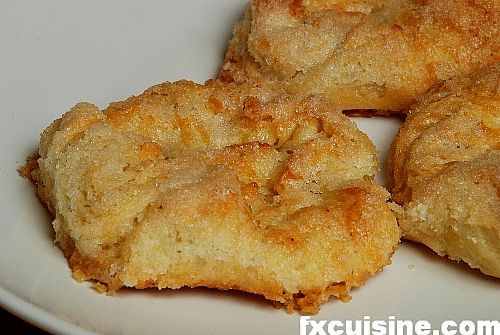 Here are the bigger ones I made with blueberry jam: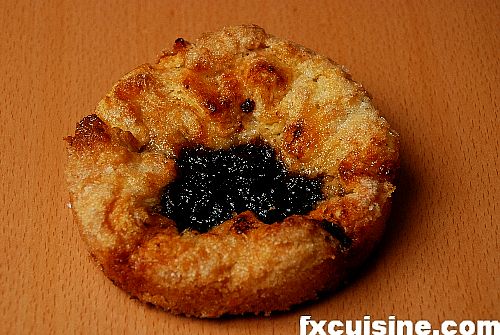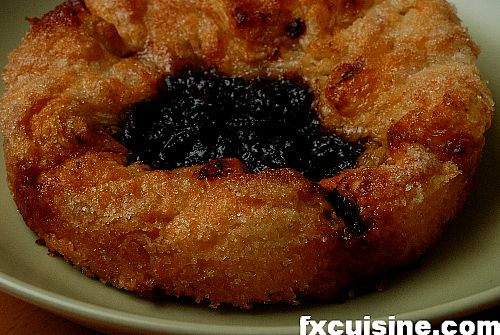 The texture is magical, with an incredibly crispy sugar coated crust and a wet, spongy inside. Have a look: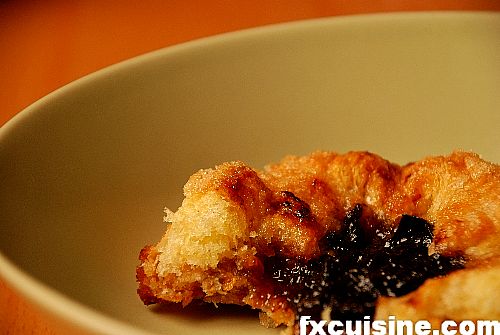 A word of caution. These biscuits are so good and so rich in butter that you need to make a small quantity or have enough guests around, otherwise you are really bound to eat too many and feel a bit heavy. Seriously. If you eat one or two that's all right, but more than that and you are on your own!
121203 views
Copyright FXcuisine 2023 - all rights reserved.
If you do this recipe at home please let me know how it worked for you by submitting a comment or send me a picture if you can. Thanks!