French Blanc-Manger
Home
>>
Recipes
This extraordinary French sweet almond jelly must be the best food that survived the Middle Ages. My final and most tasty dish in the Hattonchatel castle serie.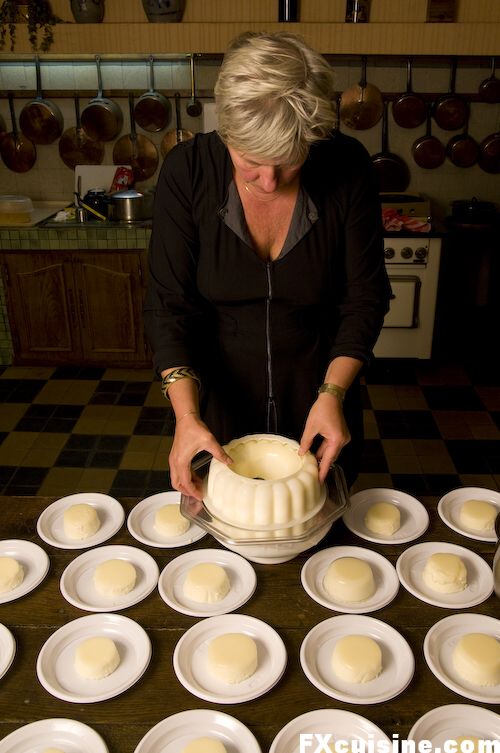 Blanc Manger [blan manjay] is the best medieval dish I know. Last week I told you how they used to make blanc-manger in the 14th century, and how modern-day Turkish cookery still makes a sweet milky pudding with chicken breasts. These are fine if you need to really go medieval on your guests, but if the idea is to make them a really tasty dessert, make modern French blanc-manger.
Blanc-Manger
Dessert for 10
6.5dl (2.75 cups) water
250gr (0.5 lb) sugar
450gr (1 lb) skinned whole almonds
1 tablespoon fruit brandy
2 drops bitter almond extract
20 sheets of gelatin or 5 grams agar-agar
375gr (13 oz) white powdered sugar
1.5 liter (6 cups) fresh liquid cream
I had asked for 2 kilograms of shelled, skinned whole almonds. When I arrived Hanne told me they had found some in Verdun. Finding almonds in Verdun is probably just tad harder than finding whiskey in Glasgow. I asked to see the almonds, just to make sure. Geez, they had transformed into peanuts, no doubt by divine intervention. As a result our Danish friends spent the entire afternooon skinning unskinned almonds we found at the local shop.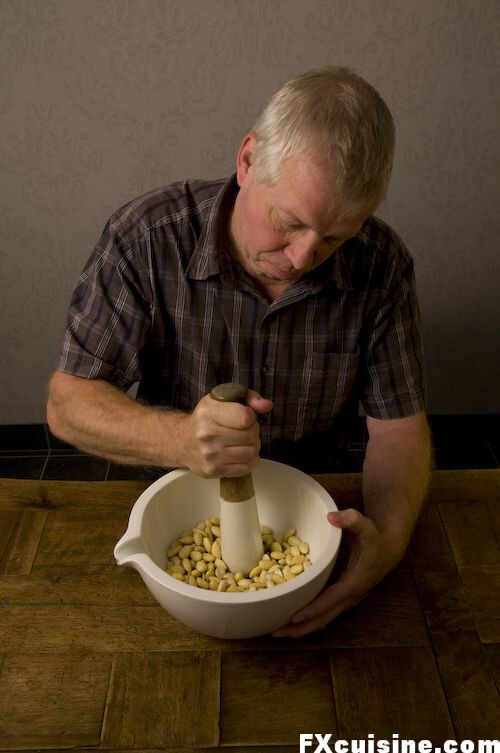 I really recommend you use whole almonds. But if you drink tea out of bags or instant coffee, maybe almond powder is the thing for you. Sure, pounding whole almonds in a mortar is hard work, but when you have such a fine Danish seaman as Dan available and willing, why bother? If Dan is not around, you might do this in a blender with a little water.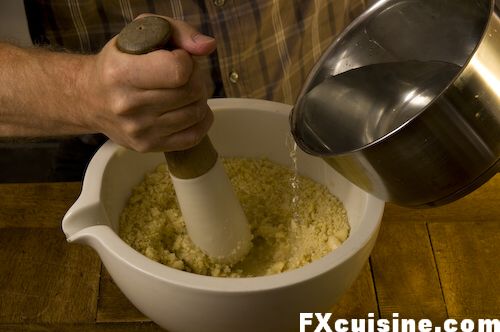 Add the water.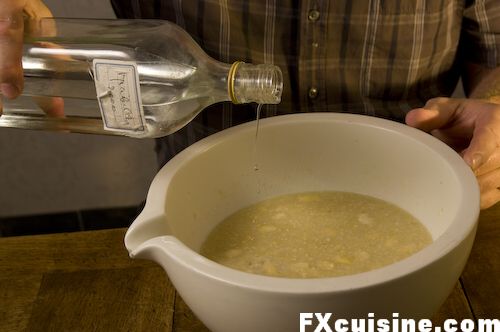 Hattonchâtel is surrounded by Mirabelle orchards, the trademark fruit in the Lorraine, so we flavored our blanc-manger with a drop of moonshine mirabelle brandy instead of the traditional kirsch. If you can find bitter almond extract, please only use two tiny drops. Never pour the bottle directly in the dish but use a spoon to control how much you use. This is the one of the most concentrated and potent liquid in the kitchen. One drop too much will just kill the dish.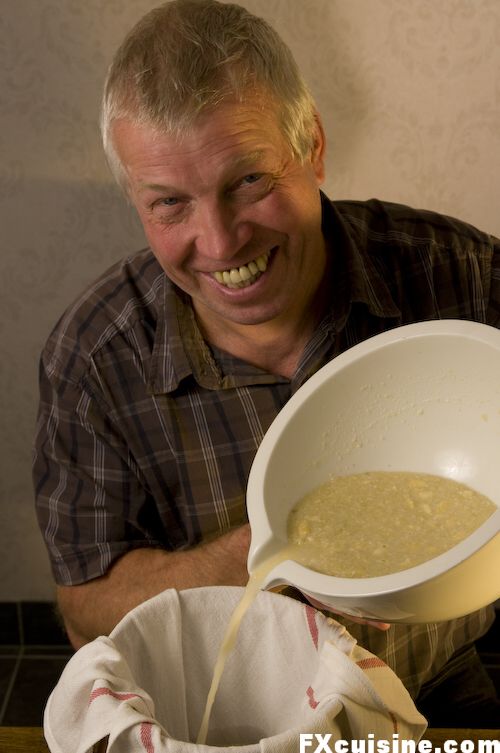 We got Dan to smile by telling him he could get the rest of the Mirabelle if he managed to pour all of the almond milk through the cloth without spilling any of it. He did and the bottle was never heard from again.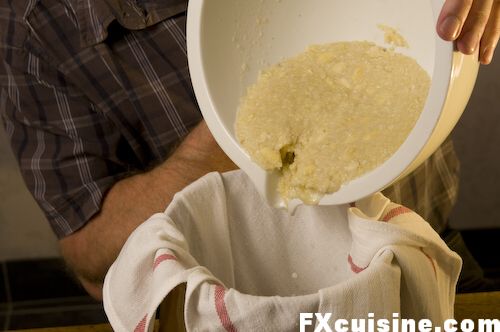 Pour the ground almonds as well...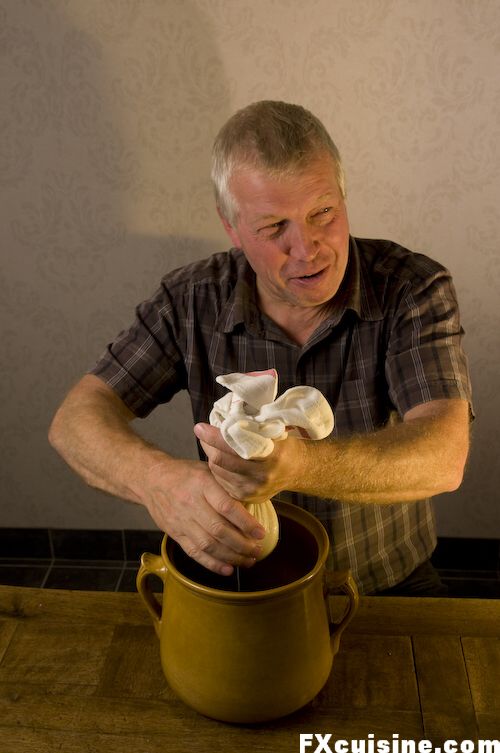 ... then lift the towel and twist.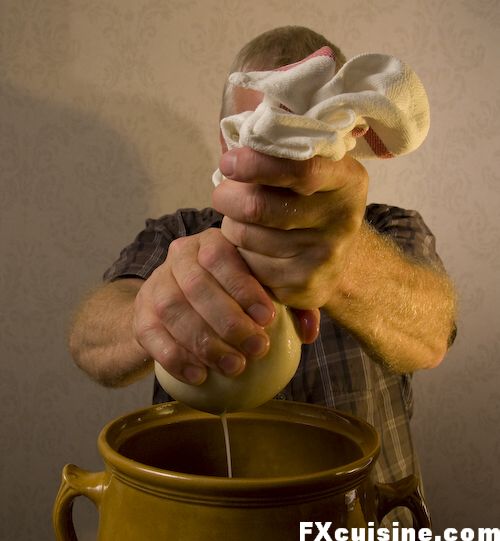 A strong man is needed, but make sure he does not tear the cloth while squeezing the milk out of the almonds.
This will be easy if you prepare a small quantity, but we had a medieval banquet on our hands and needed more almonds. Fortunately, Popeye stepped in for some serious squeezing while his Danish friends helped measure the almond milk.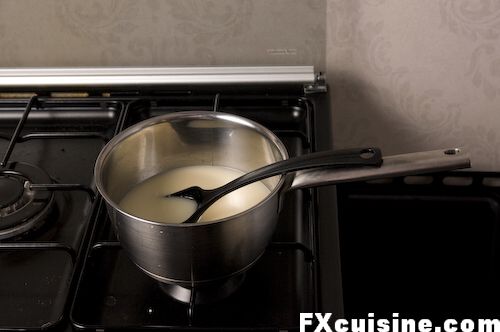 Heat up 2 cups of the almond milk while you soak the gelatin in cold water until it becomes soft. You need the cold water otherwise the gelatin just won't dissolve. If you are not one of them pork-eaters, you could use agar-agar, the algea-based gellifier instead and dissolve it directly in the hot almond milk.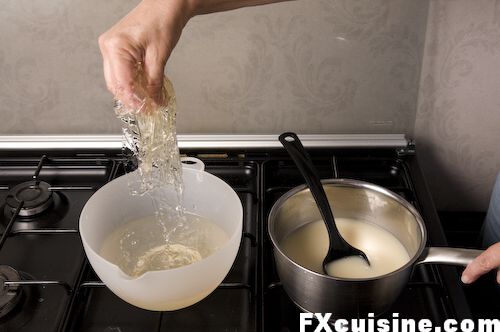 Add the soaked gelatin to the warm almond milk and mix until it dissolves.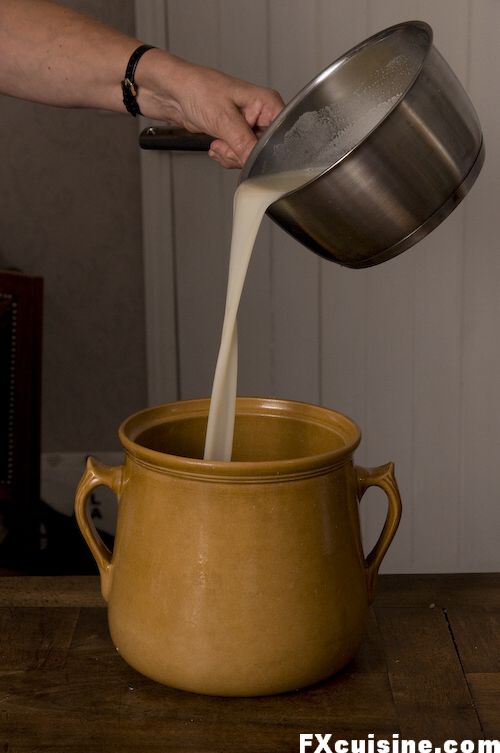 Pour into a big bowl or medieval jar...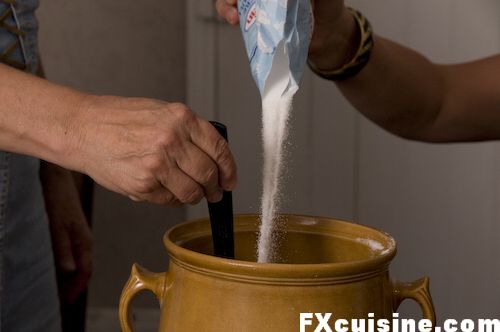 ... and add the sugar.
Whip the cream stiff (no picture). This is where modern French pastry takes off from its medieval roots. Medieval cuisine, you see, did not use much regular milk as it did not preserve very well in those fridgeless days. Almond milk was used as a replacement. But only milk fat can give your dessert that lush velvety edge.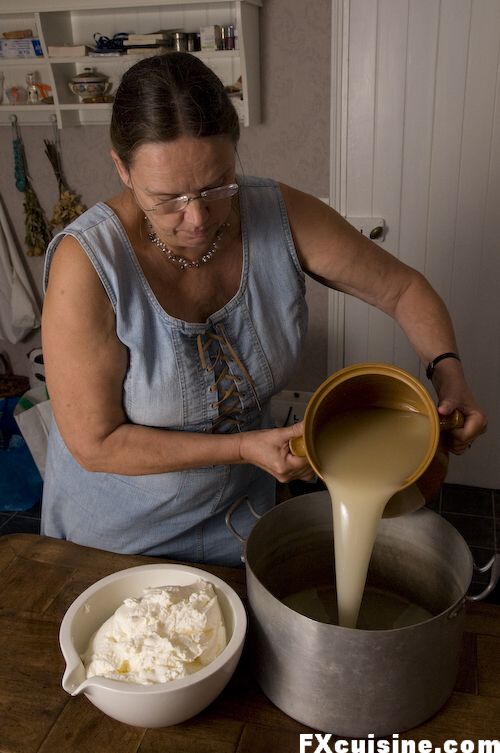 If you are preparing a really large quantity, you might need a bigger jar for the next stage. Here we use the biggest pot in the kitchen.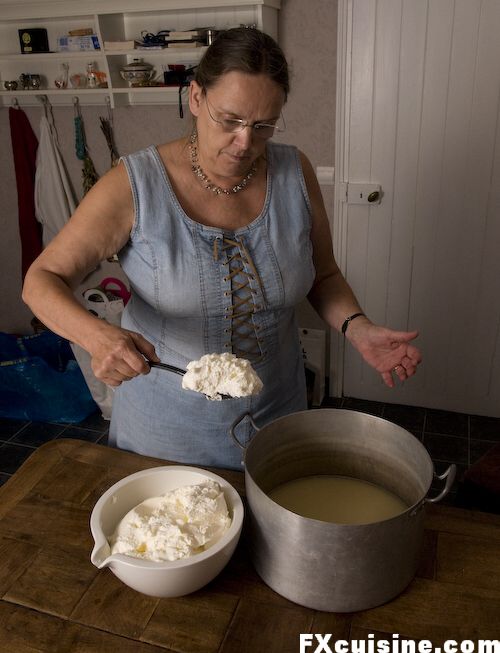 Take your time to slowly and carefully mix in the whipped cream...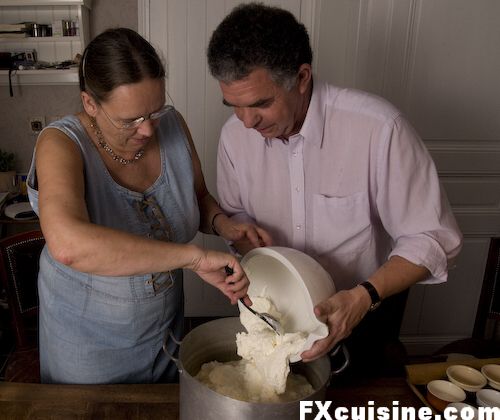 ...and then some more.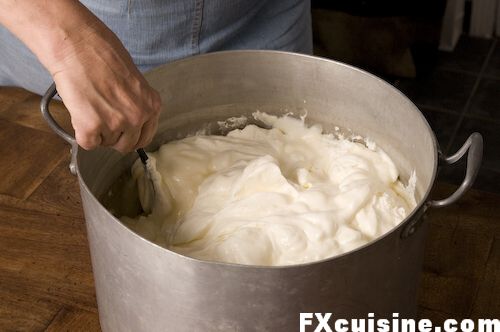 It is essential that you use gentle upward motions with the spoon. Why? The purpose of whipping cream is to include a zillion minuscule air bubbles. If you mix the whipped cream with the delicate movements of the drummer of AC/DC, your air bubbles will go the way of the stock market. You'll lose that extra lightness in the dessert.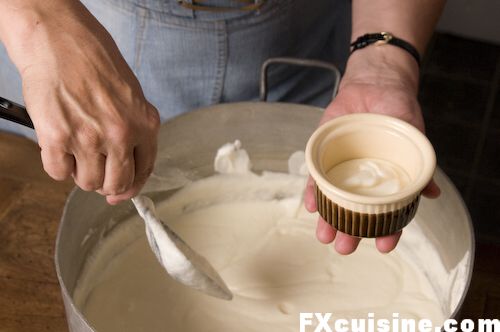 That's it! You can either fill some individual portion molds ...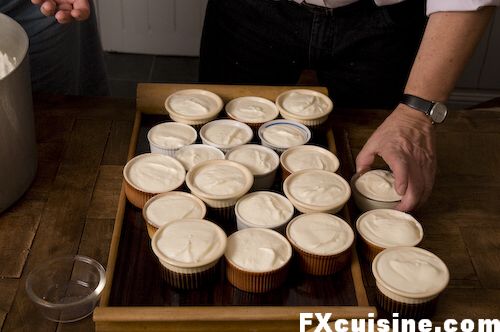 ... until you run out of them ...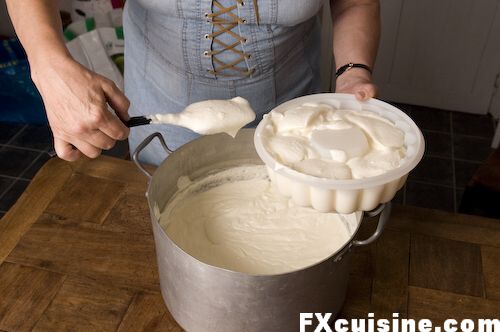 ... or use a large mold or even a salad bowl. Place everything in the fridge overnight or for at least half a day so that it becomes stiff enough.
See the stunning results next page
...