Slow Food Fair
Home
>>
Experiences
My visit of the largest traditional food fair in the world in Torino, Italy.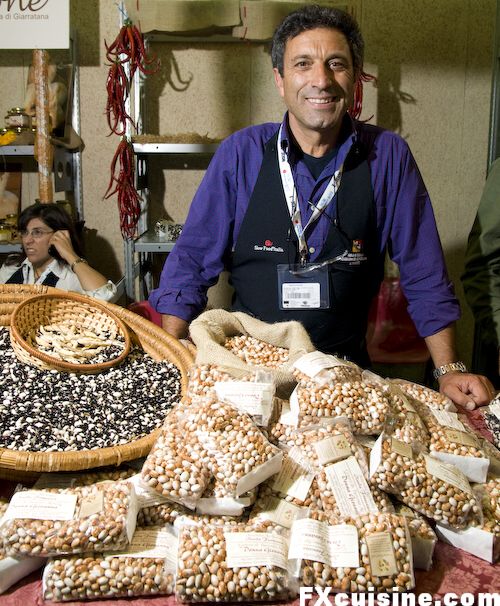 Last week-end I drove across the Alps down to Torino, Italy, for the annual Slow Food pow-wow, that meeting of people passionate about traditional artisan foods from all over the world.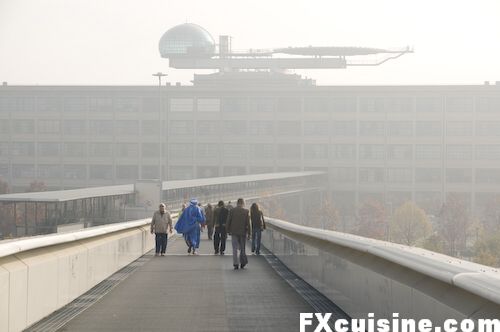 Three hours later, I parked my car in front of the lingotto, the giant automobile factory as long as five Manhattan city blocks. I spend the next three days around this building, sleeping at the Lingotto hotel, talking and eating slow food at the Salone del Gusto merged with Terra Madre, the annual convention of all things Slow Food. I was one of 180,000 people who visited the fair.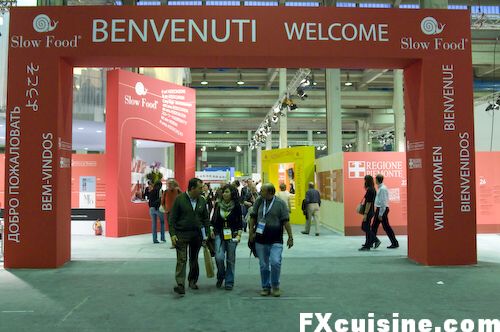 As soon as you step in, the visitor is sucked into a whirwind of earthly delights, only to be spit out five hours later replete and with eyes dreaming of cows and fields and farmers.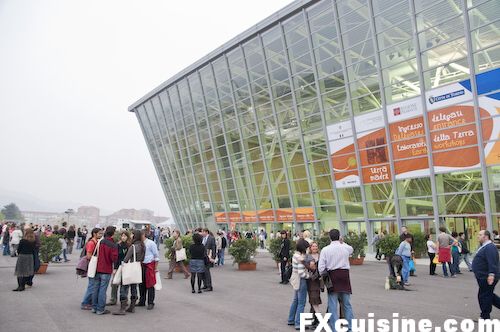 A separate pavillion is devoted to Terra Madre, the annual convention of Slow Food delegates from all over the world. The part accessible to the public had rows and rows of booths each devoted to one presidi (plural: presidi). This is the name given by the Slow Food Foundation to the local initiatives to protect small producers and safeguard artisan quality. They issue brochures that explain to city folks like myself how a typical sausage or type of bean is made, its history and traditional culinary uses. A disciplinario, code of standard practices for producers, is often written to ensure that only traditional methods of good standing are used.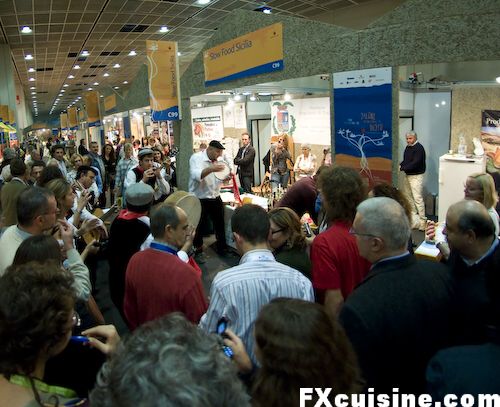 The Sicilian district of the fair was hugely popular, with traditional folk bands playing and singing and a free portions of the most delicious pannettone I have ever had, carved out from a barrel-sized cake. Incredible. Even Bar Alba, one of the best pastry-shop traiteur and ice cream maker in Palermo, had a full booth. I am really glad to see that Sicilians know how to show the great culinary wealth that is theirs. Food wise, this is probably my favorite region in Italy, along with Campania and Emilia-Romagna and Südtyrol.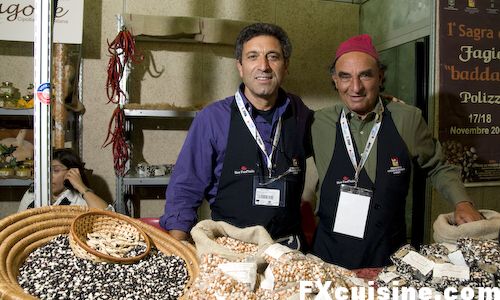 These gentlemen have united their destiny to the Badda bean, a traditional bean grown in the Madonie National Park at Polizzi Generosa, Sicily.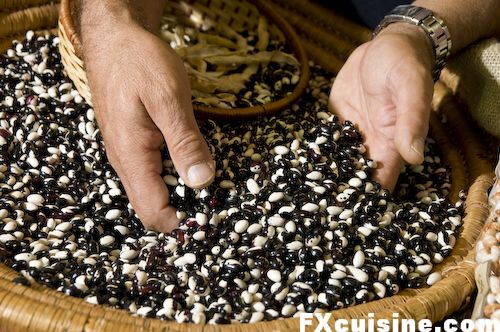 The fagiolo badda owes to its trademark two-colors its own Slow Food Presidio. A cultivar of Phaseolus Vulgaris L., it comes in beige-white and black-and-white varieties. Sicilians cook it with wild fennel and serve it on homemade papardelle. As in the Sopranos, you don't want to disrespect the Badda bean.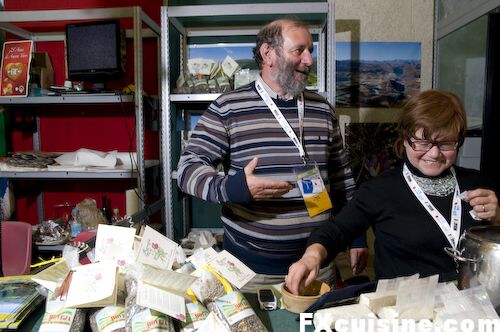 Husband and wife team who grow small wild field peas called roveja (pisum arvense) in Umbria. They are dried on the plant and cooked like beans or ground into a dark polenta.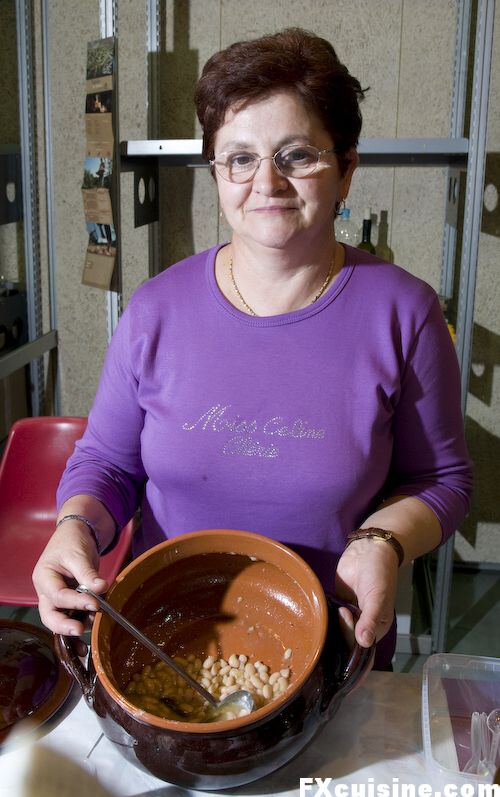 This lady is one of the few farmers who grow Fagioli di Sorana in fields recovered from water-sogged land on both sides of the Pescia river. I asked her if these were the beans that used to be cooked in empty chianti flasks placed in wood-fired bread oven after the bread was baked so they could simmer gently overnight in the residual heat. Yes, absolutely, how do you know that? she answered. We even make a modern flask with a flat base, she said, showing me one that I immediately bought. Just place spring water - not too hard - in the flask with my beans, a sage leaf, a clove of garlic and bake. Right before serving add white pepper and olive oil, she explained, giving me a spoonful. Delicious. These I cooked them in earthenware, it works fine too, she concluded.. The Presidio is called «Fagioli di Sorana».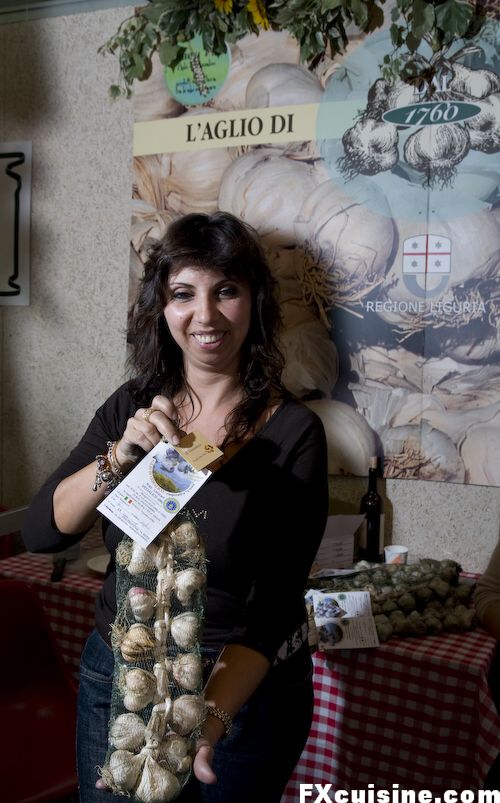 The lady above is one of three traditional regional garlic producers I met, from the Aglio di Vessalico Presidio, who encourages the production of this special type of garlic in Vessaglio, a small village in Liguria. We gather the garlic in June and July, then let it dry for 3 weeks. After that you can keep it until the following April, she explained.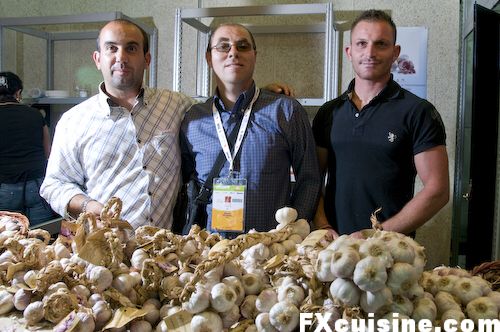 These guys were really proud of their garlic.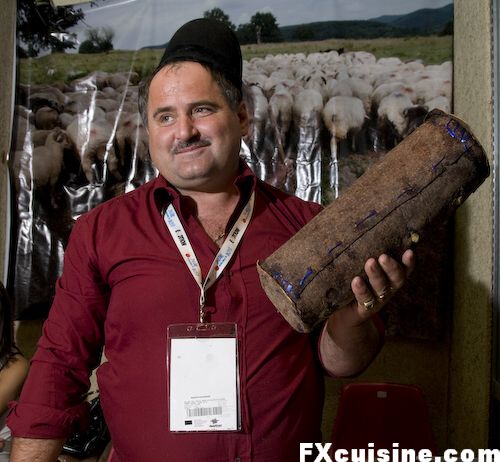 This Romanian gentleman and his colorful wife produce a most intriguing cheese called Brânzä de Burduf and is made from sheep milk in Transylvania under the protection of a Slow Food Presidio. One of the most famous cheeses in Romania, it is stored in a cylinder of fir bark first boiled in whey. I taste the cheese and can only describe it as full fat with a touch of pigsty juice, an acquired taste but most decidedly authentic. They were exchanging charged glances with the garlic producers just opposite.
I've been searching for this cheese for years, after having read about it in a few books. Caciocavallo Podolico is one of 1200 cheeses currently made in Italy, and it is totally unknown outside of tiny pockets of Puglia, Molise and Basilicata. How many times have I asked about it in cheese shops and received a snappy 'Non lo mai sentito nemeno menzionare' - I have never ever even heard it mentioned, with this air of finality some people have when they don't know about something. This caciocavallo is a cousin of mozzarella with two main differences. First it is aged a year or more, whereas mozzarella is eaten fresh. Second, it is made from the milk of podolic cows, an old breed that has come out of favor with dairy farms because of its low yield. But now that the Age of the Dry Cow has begun, and with the help of the fine people at Slow Food, podolico cows know a revival and I could buy my first caciocavallo podolico.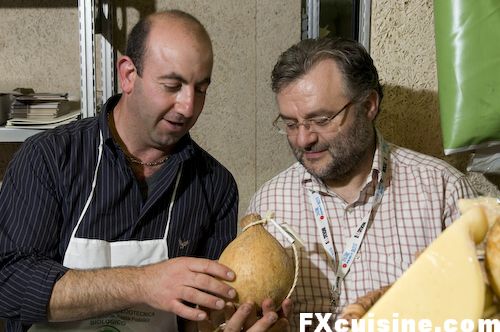 I found three booths at Terra Madre that sold Caciocavallo Podolico. Although my books mention it can be aged as long as 9 years, the oldest I found was 3 years old. The man banged the cheese on the table to show how hard it is. Older than this and you'll be eating a canonball, he said. Caciocavallo produced from the milk of grazing cattle gets a yellowish color because of the betacarotene and riboflavine present in the grass.
At the Molise booth a lady had me taste manteca, a caciocavallo-like cheese filled with soft butter. While I was tasting, she inadvertently let a piece of butter fall on my pants. I was immediately invited into the Molise stand where a little restaurant had been set up for special guests. They sat me a table with three other foodies, from Torino, and the dishes started to arrive. A soup made from beans and grains forgotten in the granary and garnished with a little olive oil. Farro, cicerchia, porcini, fave, olio, ricotta stagionata, tartuffo e orzo, explained the chef. A pure delight of slowness. Highly typical salumi of various types. A sort of canederlo made from stale bread, eggs and pecorino and served in a light tomato sauce. Biscuits. Wine. Bobo, the colorful and noted Molise chef, came out between each dish to explain us what it was and how he made it. He is the chef-owner of Ribo Restaurant in Molise - warmly recommended. The whole meal was cucina povera and slow food. Traditional local cuisine made with cheap but high quality localy produce. Molise is a right-wing province, the chef said, smiling, and I make a left-wing cuisine. Finally when I asked for the bill they looked offended - But you are invited of course!.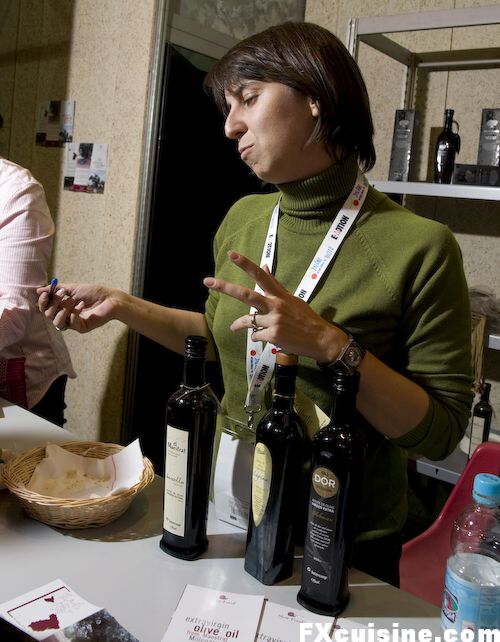 I had much fun with this Spanish producer of 1000-year-old-tree olive oil and her colleague. Ended up chatting for half and hour and left with three bottle of their Millenario oil. This one is protected by the Olio extravergine di ulivi millenari del Maestrat presidio, between Barcelona and Valencia on the Spanish coast. Call me a snob but I really like the idea of eating oil made from tree that have been in business for a thousand years. Much better than the so-called 100-year-eggs.
Calabrese confectionery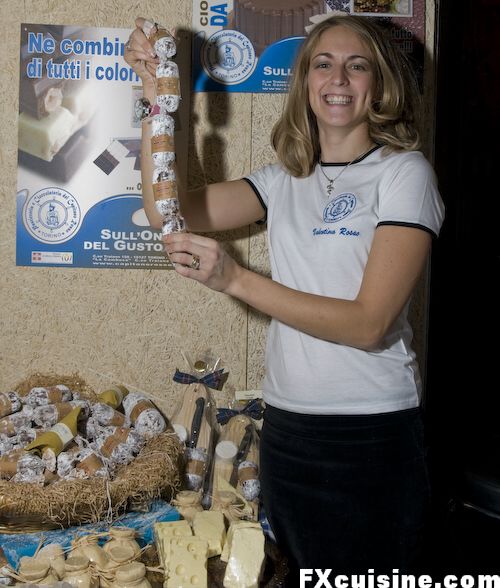 If you have a serious camera there is nothing this lady from the fake eggs booth will not do to oblige the photographer. Very kind and energetic, she posed with a string of chocolate-and-hazelnut sausages....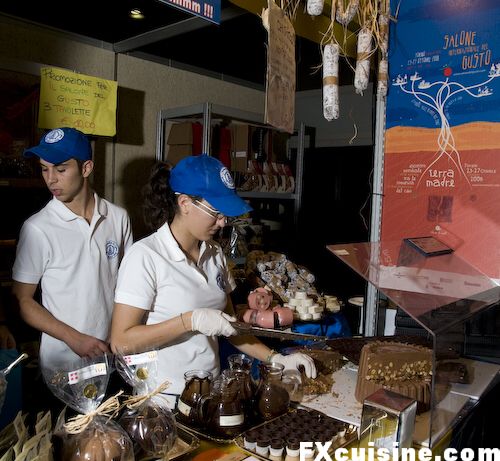 ... while here colleague was slicing some chocolate. They served me a chocolate cup filled with liquid chocolate with hot pepper flakes, a refreshing drink if it were.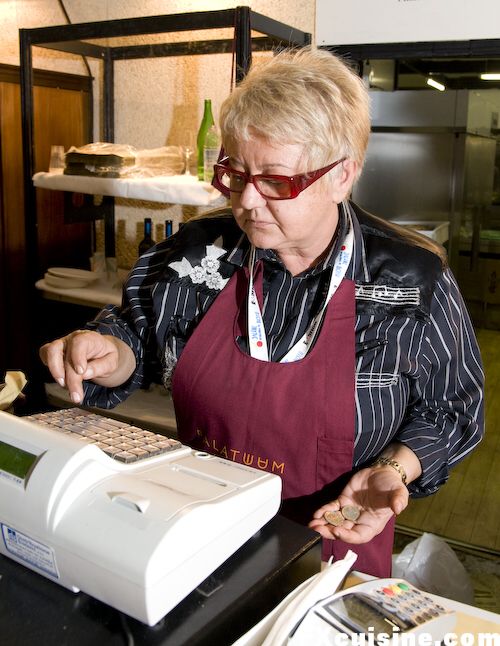 A giant «STREET FOOD» sign brought me to the Lazio booth, where 3 euros paid to this lady ...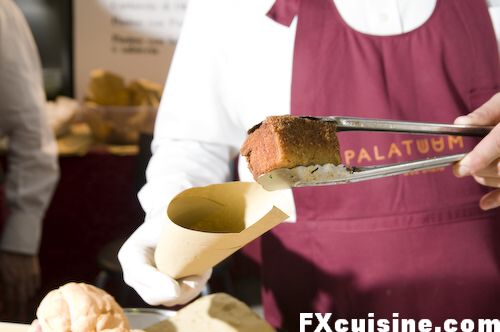 ... got me the most delicious mozzarella in carrozza, ...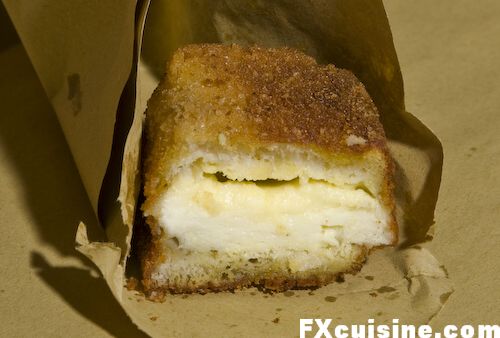 ... a piece of mozzarella with some mustard and anchovies stuff a bread slice folded in half. Everything is covered in breadcrumbs and egg and deep-fried until the cheese melts. Pure coronary heaven. A fitting tribute to traditional Italian street food, nothing like the plastic-wrapped panini filled with processed mozarella one is usually presented with at Italian trade shows.
I must have a good-looking camera (a Nikon D300) for this gentleman from the Slow Fever Bar ran after me to ask if could email me his picture. No problem.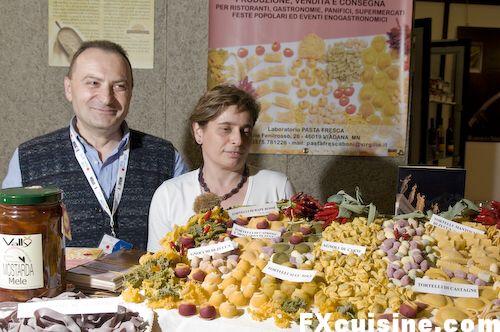 Do I look like a person who buys ready-made pasta? Well, if I did I might stop at Anna Boni's in Mantova for one of her colorful concoctions.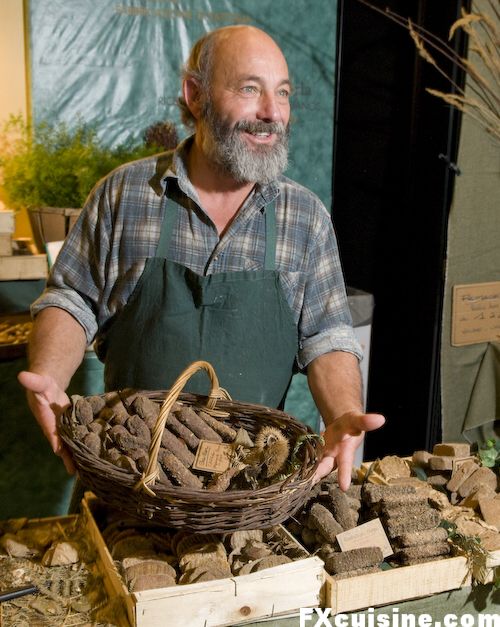 This gentleman makes cheese in the Gascogne, between Bordeaux and the Pyrénées. Do you buy milk or does it come from your own herd, I asked, like I do to all cheesemakers. He smiled. We are very traditional and in full vertical integration. Me and my wife we have a herd and milk and make the cheese and sell it. All by ourselves. I asked him to grab a basket, for the picture, and wondered about the grayish color of his cheeses.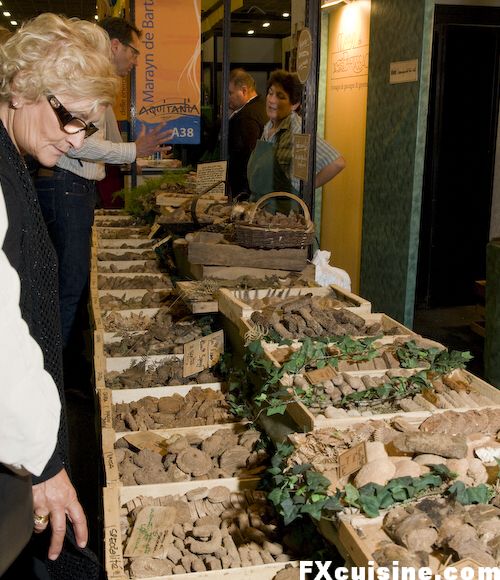 We have a special strand of mold in our wooden trays. As soon as we put the fresh cheese in, the mold starts covering it, and within days it makes for a protective layer that preventy any harmful microorganism from contaminating our cheese.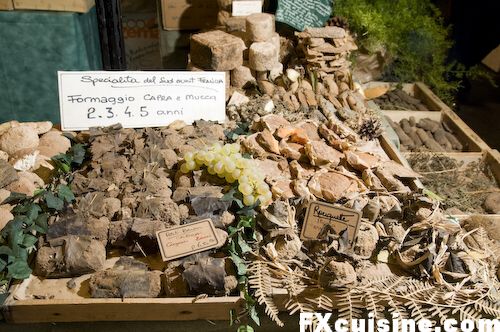 I bought a really old and mouldy cheese, 3 years old, for my father who loves such things. A really intriguing product that would probably struggle to find a market were it not for Slow Food enthusiasts like myself and the 100,000 people who visited the fair.
The second part is not for vegetarians!
...