Foie Gras Terrine (Video)
Home
>>
Recipes
Learn how to make a foie gras terrine from scratch in only 12 minutes.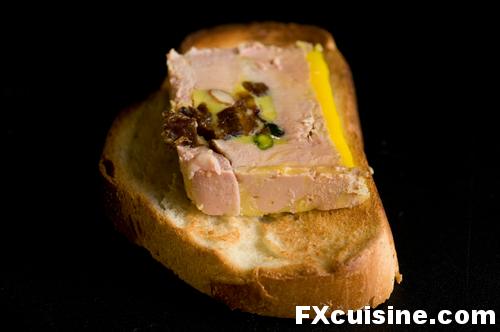 In my second video you will see how to prepare a terrine de foie gras, one of the most extreme delicacies in French gastronomy.
Click on the frame below to play the video. You need Flash player for this, 96% of the world's Internet browser have this software. You can download it free from here. I have uploaded the High Definition version on Exposure Room as Vimeo had a foie gras indigestion.
Will you really learn how to make foie gras terrine in 12 minutes? Well, at least you'll really learn in 12 minutes how to make it. That I promise - the rest is up to the good Lord. For the Gutenbergs among us I include a printable recipe hereafter:
Terrine de foie gras [tayreen duh faw-ah grah]
1 whole duck or goose foie gras, uncooked (not a tin!)
40gr in total of a mixture of dried apricots and prunes
40gr in total of a mixture of almonds, hazelnuts, pistachios
Sea salt
A small glass of whiskey
Wait until the liver is at 18C° (65°F) temperature (measured with a probe inside the liver), warm your knife blade and slice the liver in its two lobes, then each lobe in two pieces. Remove the veins. Soak in cold water for 2 hours. Meanwhile chop the dried fruits and nuts and soak them in the whiskey. After two hours, drain the water and cover the bottom and sides of a terrine dish with 2/3 of the foie gras. Fill the center with the dried fruits and nuts, and cover with the remaining foie gras. Place the terrine on a plate in a larger ovenproof dish filled with water and bake for 30 minutes at very low temperature, between 60°C to 100°C (140° to 210°F). Remove the rendered fat from the terrine and set it aside. Cover the liver with foil and a very flat weight and place in the fridge for 2 hours. When the terrine has set, remove the weight and foil and melt the rendered fat on top to protect the terrine from turning rancid. Serve after leaving 24 hours in the fridge with sea salt and toasted brioche.
Those who oppose foie gras but have eaten duck this year might ask themselves what do foie gras farmers do with the rest of the duck. Yeah, that's right, you ate it.
As for the video, my apologies for it is not perfect as I am still learning to direct and cut from the kitchen, a most demanding craft!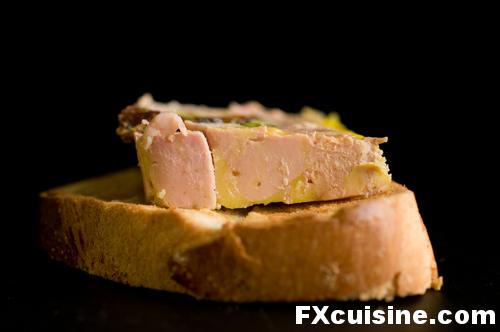 265175 views
Related Articles

Proper French Crêpes **
Getting great-tasting, paper-thin French crêpes is possible at home, but only if you get the proper cookware and know how to use it. Let me show you!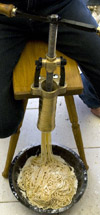 Bigoli, Bigolaro, Bigolarist **
My largest and most unusual pasta-making accessory, the bigolaro, made 28 fat spaghettis, called bigoli, each as long as the room. Served with the traditional duck ragù, this made my guests very happy despite the fact they had to make their own pasta.

Ultimate Speck **
Proper Speck, a cult Tyrolian dried and smoked pork meat, can only be found in a narrow corner of Val d'Ultimo, in Italy. Probably the best dried meat on earth, and you can't really buy it. But let me show you how it's made.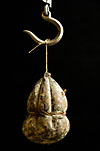 Salama da sugo **
This medieval Italian sausage from Ferrara nearly made me pass out.

Anti Cholesterol Vegetarian Starter **
My doctor just sent me the cholesterol bill for this quarter. Apparently I have already had all I needed for the whole year. I followed his advice to eat more vegetables by preparing these amazing avocadoes in béarnaise sauce with a poached egg.
Copyright FXcuisine 2023 - all rights reserved.
If you do this recipe at home please let me know how it worked for you by submitting a comment or send me a picture if you can. Thanks!