Japanese TV behind the scenes
Home
>>
Experiences
Lots of fun shots including how to light stuff on location for good photo/video,  more stuff about my new kitchen, some advice about dealing with TV people and more.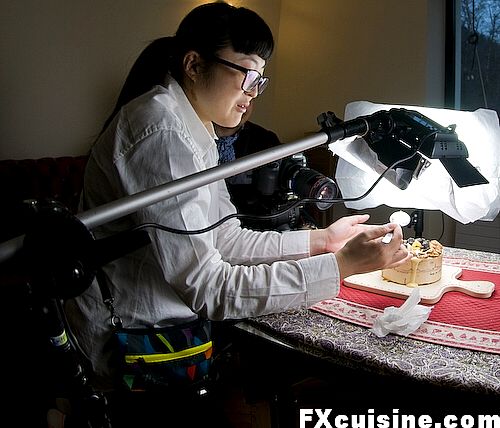 Following my first article on the Japanese TV crew that came to film me for 4 days, I received lots of requests for more information. So here are the behind the scenes of that little adventure with some technical information about dealing with TV people, how to light stuff on location for good photo/video, that may be of use to other food enthusiasts for sharing on the web, a short overview of my kitchen and more!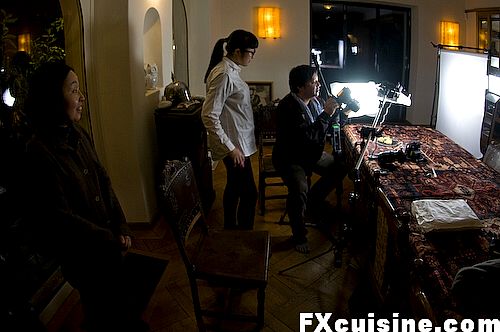 This is how a pro Japanese cameraman does his lighting on the go
Mr Nakamura the cameraman is used to organizing lighting on location with easily transportable stuff. When a professional TV crew travels by plane they need to have all their essential gear in the carry-on luggage, so that if a suitcase gets damaged, stolen or delayed, they can still work. You get the picture, this means travelling with very compact equipment and use the large bags for a tripod and stuff. So I will include here some pictures of Mr Nakamura's lighting setup for the benefit of us food bloggers - maybe there is something to learn.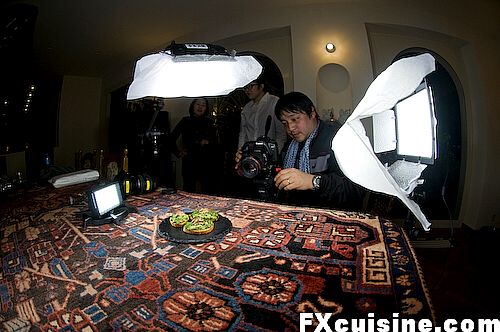 Lighting my agliata verde you have 3 portable LED lamps. Instead of a bulky light box or umbrella, many location photographers use a piece of translucent cloth hung before the light so that what photographers call the apparent light source becomes way bigger than the harsh LED. Why? The larger the apparent light source, the softer the shadows. This is really where you need to start when lighting, a small light source (like the sun at noon) casts very hard shadows with so much difference in light between one side and the other of the subject that the camera's dynamic range cannot expose correctly. Your eyes process such scenes with a number of quick glances and the pupil adjust the light that is allowed through. Then your mind makes one composite image in your mind's eye so to speak. But on a TV you can show only one image.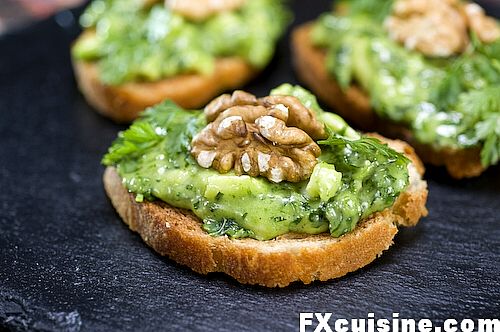 Here is the close up shot of the agliata verde (recipe here) taken with my own Nikon D300 above Mr Nakamura's shoulder with his lighting setup. Unfortunately they did not include in the video which is delicious, beautiful and very obviously easy and fun to make. But the wolfed down every last bit of it!
The decadent Baked Vacherin Cheese (title picture) was really beautiful and tasty ( recipe here) which I sort of reinvented for the occasion. Was not broadcast because the guy they filmed in France made something similar. But they flew back with a couple Vacherin Mont d'Or (and severa kilograms of Gruyère too!) in their suitcases to propose it for filming on stage so it could have been there instead of the Malakoff you see in the video.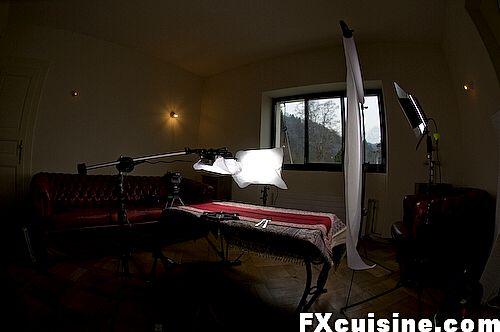 This is another lighting setup they used for the vacherin and malakoff.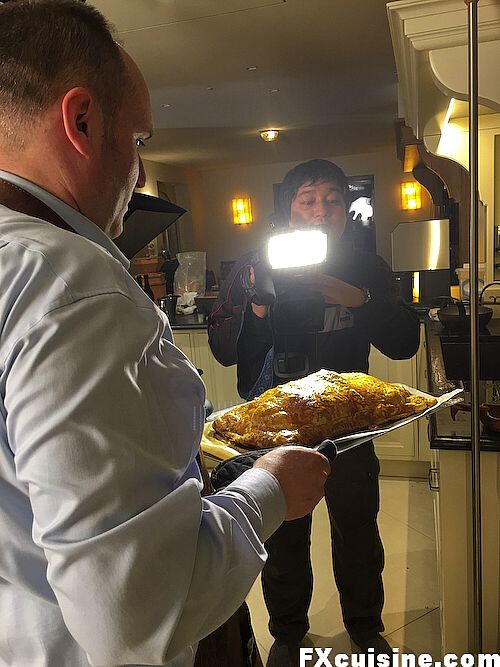 My cholera (recipe here) was really as delicious as ever but looked decidedly unsexy so unsurprisingly it was not included in the video. Here Mr Nakamura uses an on-camera light, this makes rather ugly images but cannot be avoided unless you have lighting crew or lots of time in a controlled environment for filming stuff that moves...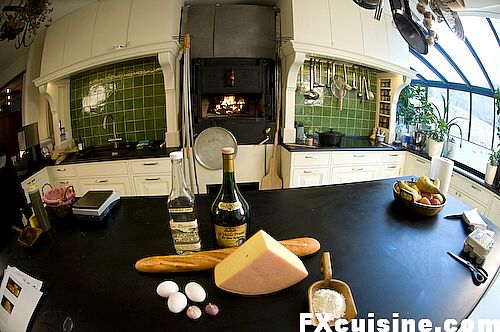 These are the ingredients for the Beignets de Vinzel (recipe here), which show my new kitchen with from left to right Mr Pacojet in the corner, the washing alcove, the wood-fired bread oven, the cooking alcove, the prep sink. Center front is, obviously, the island. Top right you get a glimpse of the pot rack. It may look plain and obvious but it took me an awful lot of time to design and research each part and still there is room for improvement. I hope this may help someone who is redoing a kitchen someday, like looking at other peoples' kitchens helped me!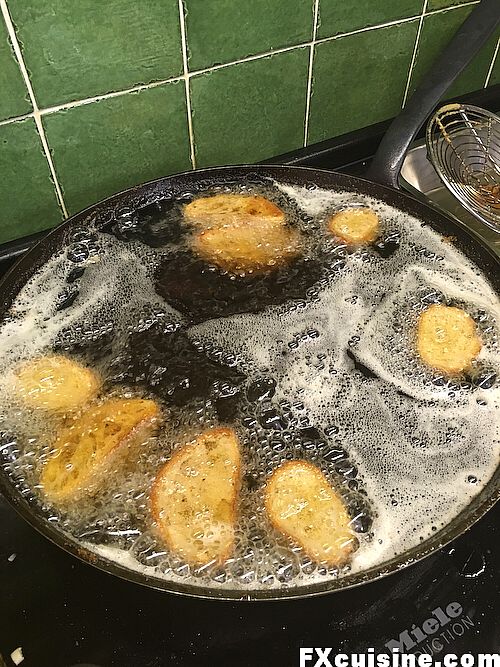 These little cheese fritters are seriously delicious and you see them in the video. These taste better than the Malakoff (see below). I recommend you toast the bread only on the cheese side only so that the other side may fry without burning.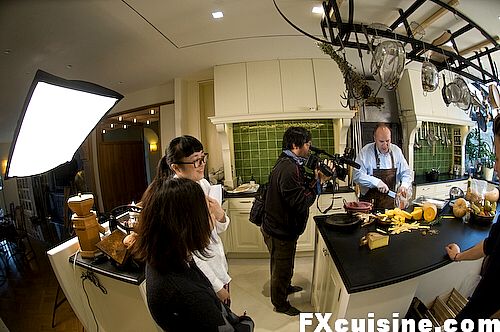 Much to my regret they did not include this recipe of homegrown polenta and squash polenta, for I had sacrificed my most beautiful ears of corn, shelled by hand before the camera, ...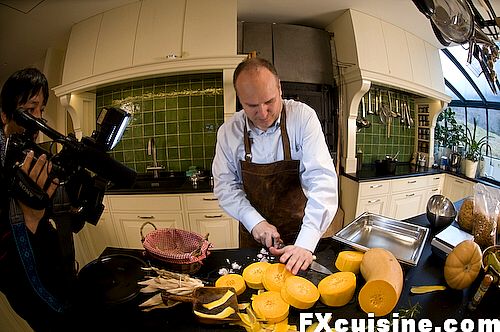 ...swiftly joined by a large and very phallic cucurbita moschata 'Pennsylvania Crookneck' which I grew from seed hanging from a makeshift pergola. Quite a sight during last summer! Then polenta mas milled and cooked in homemade stock, then mixed with the roasted Croockneck. Finally a number of cubes of Swiss vacherin fribourgeois, not the sort that comes in a box, the homonymous cheese that looks like a small Gruyère but is much sweeter in taste.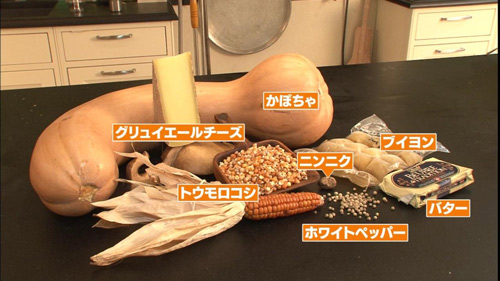 Although the recipe is really fun and the result delicious and extremely conforting to eat, it sort of looks like an orange pudding with gooey cheese, so they did not include it. But Mrs Tamura ate 2 full plates all by herself!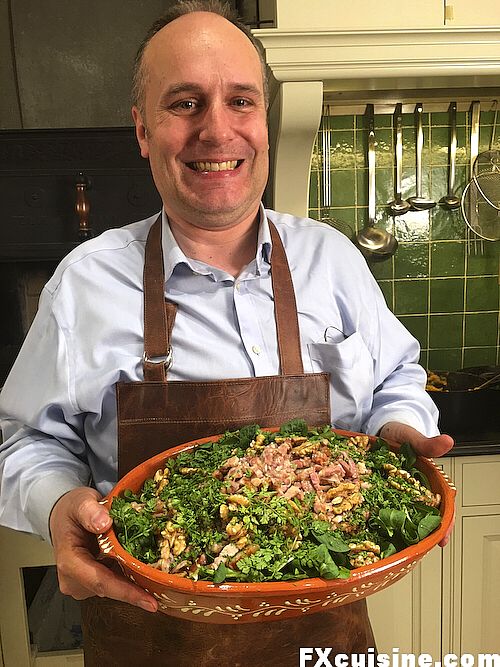 On the picture above is what remains of the author's mortal coil after a 7 years blogging sabbatical holding a rather good corn salad (valerianella locusta) with fried bacon, toasted walnuts, chervil, shallots, walnut oil and paprika. A really tasty backdrop for deep-fried cheese. You can see it with the Malakoff. This is a remake of a dish I loved in a restaurant I used to visit, la Passade in Perroy, Switzerland. The owner retired and things have not improved since, so I had to reverse-engineer the recipe from memory, notes and discussions I had with the cook. Good results I must say! Basically you roast the walnuts prior to this, then sauté the bacon lardons in as little walnut oil as you can, then make a salad sauce with vinegar and more walnut oil, season with the salt and paprika, and serve with very finely cut chervil and shallots and the corn salad. I could live on this!
Finally, some considerations about dealing with TV people based on half a lifetime personal experience. First thing you need to understand with television is that they film way more stuff that will eventually be shown on TV. This is how it works - memory cards are cheap and what is expensive is to get a crew on the ground filming pictures. They'd better come back with all the shots they need to be able to edit something the producer will like. So Mrs Tamura, the director-journalist whom you see above and makes the funny Japanese voice-over in the video, discussed with me at length each sequence that we would film. Every time there was a change she would think how she could make it fit in a meaningful narrative. At the end you see me saying "Tokoro-san, swiss kara demae desu" (Mr Tokoro, here is your delivery from Switzerland!), holding the Malakoff dish. Well, I did that 6 times with 6 different dishes, so that back in Japan they could decide to do one recipe or another and still have all the images they needed.
So if you want to be what journalists call "a good client" you need to be flexible and receptive to what they ask and not forcibly try to impose some pet topic of yours or absolutely bring them over to some pal who owns a ski shop and whom you want to impress or some nonsense like that. On average you will get much better results by trying to be helpful and going in the direction that they want, only offering options that make sense to you so that they have more choices to build their subject. Only a few times have I really lost my time being helpful like that with TV people.
After the long discussions to choose the recipes to be filmed I managed to convince them to film the most basic recipes (fondue, raclette and cheese croûte) in a restaurants where I brought them and had organized permission before hand. For a Swiss foodie, basic cheese recipes are really the last of the last resorts when entertaining, this is what you cook when you need quick calories straight off the piste, so I am quite relieved we could film more appealing stuff in my kitchen!
111518 views
Copyright FXcuisine 2023 - all rights reserved.
If you do this recipe at home please let me know how it worked for you by submitting a comment or send me a picture if you can. Thanks!