Khoresht-e Bademjan
Home
>>
Recipes
Beautiful persian confort food with roasted eggplants and lamb in a fragrant, sweet and sour tomato sauce.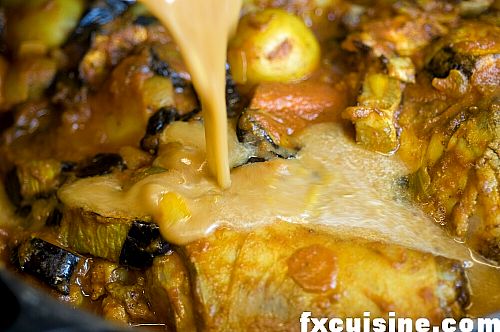 When learning a foreign language, at what time do you start making up entirely new phrases rather than repeating set phrases you learned by heart? Whenever I study one of the many world cuisine, french, sicilian, mexican, cajun, I look at the ingredients, typical flavor combinations, the cooking methods, all while cooking one traditional dish after the other. But after a while I feel confident enough to make a new dish that feels to me like it could belong in that culinary tradition. No doubt, purists don't accept any departure from canonical recipes with list of ingredients and proportions found engraved in stone by early men probably, but people with a deep understanding of their own culinary tradition realize that for each well-known traditional recipe there are a number of traditional variations, of other similar recipes and that tradition is only invention that succeeded.
Persian cuisine poses a special challenge for me, for it loves very tart ingredients that are sometimes difficult for me to enjoy, such as dried limes or sour grapes. So why force myself to cook it exactly like a Persian if this is too sour for me?
Here is a Khoresh Bademjan stew based on the traditional recipe, but instead of using those oh-so-tart sour grapes, I use raisins and a little lemon to balance the acidity/sweetness balance to my own taste. Persians would probably either use verjuice or the sour grapes.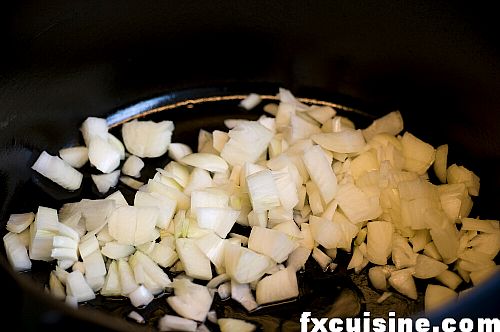 Chop the onions and fry until soft in as little oil as you can...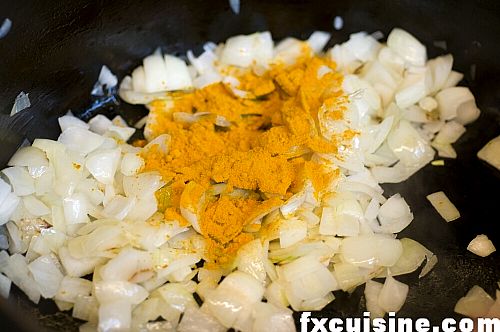 ... add 1.5 tablespoon turmeric...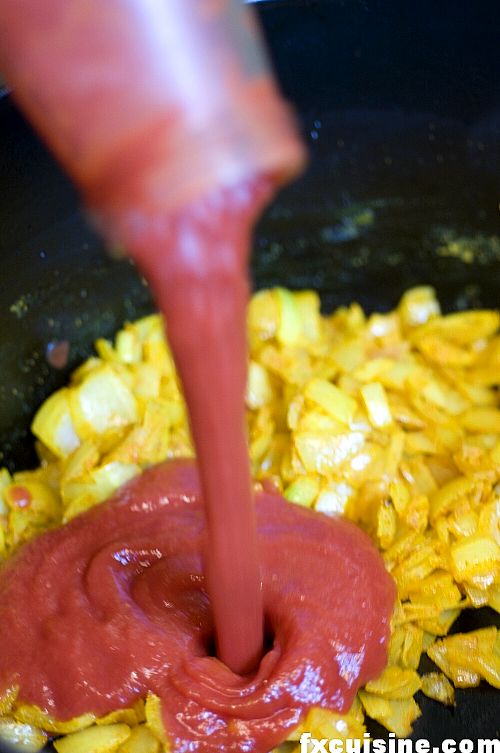 ... then 1.5 litres of tomato passata/puree.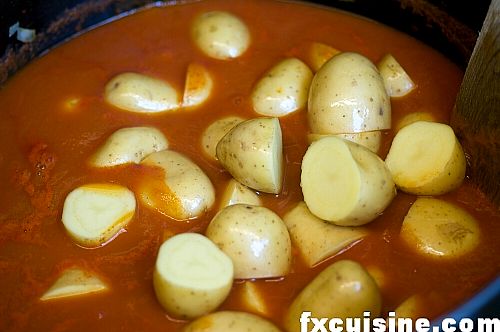 Add potatoes cut bite-sized and briefly parboiled or steamed before (or just cook them longer in the sauce if you can't bother).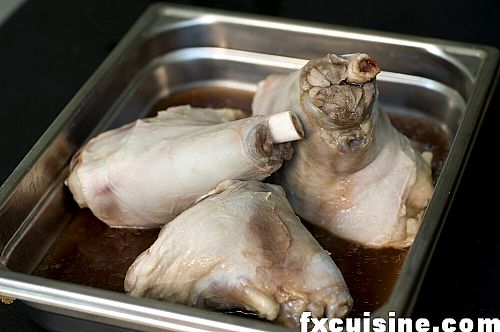 Often this recipe is made with beef, with very good results. But I love lamb and wanted to see how it goes with lamb shanks I cooked overnight in the steamer at 65C until the flesh started melting.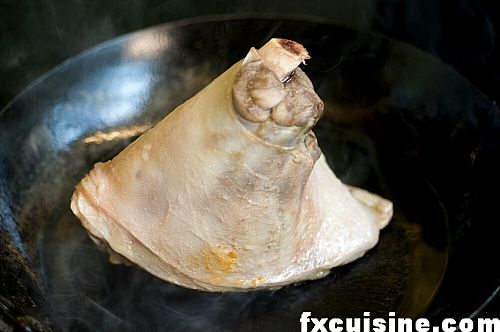 After their nightly ordeal the lamb shanks were very pale and wet, so I quickly browned their surfaces in a very hot pan...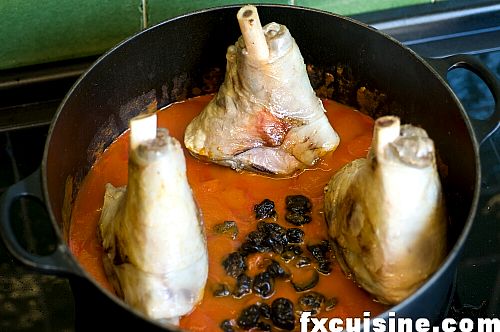 ... before adding them to the pot with a handful of raisins.
Please note that Persians use all sort of very tart fruits in their sauce, and here usually they use sour unripe raisins or just verjuice to achieve a sweet and sour effect. But what if I prefer my sauce to be sweet and not sour? You choose for yourself.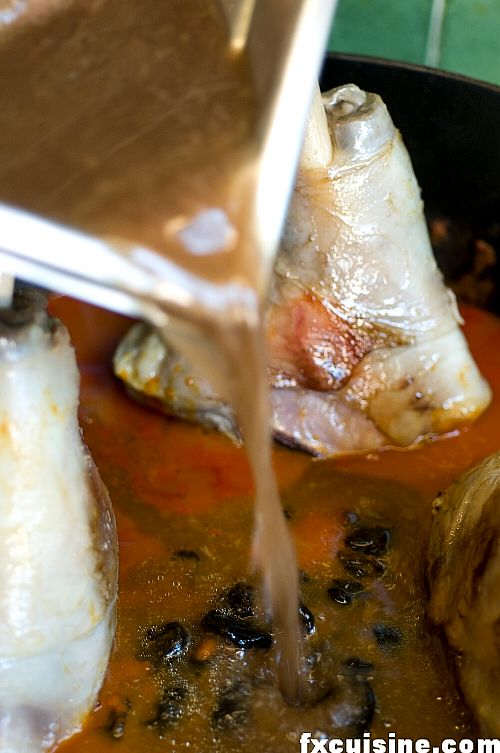 I add the lamb cooking juices (from overnight) to the sauce ...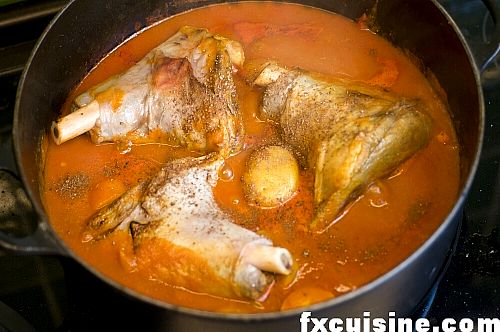 ... and this starts looking rather good!
At this stage I add a tablespoon of homemade advieh, one of many delicate spice mixes used in Persian cuisine. Mine was made using 2 part toasted oriental cumin seeds, 1 part cardamom pods (only use the seeds), 1 part cinammon, a good bit of nutmeg and a few rose buds, all ground to a fine powder.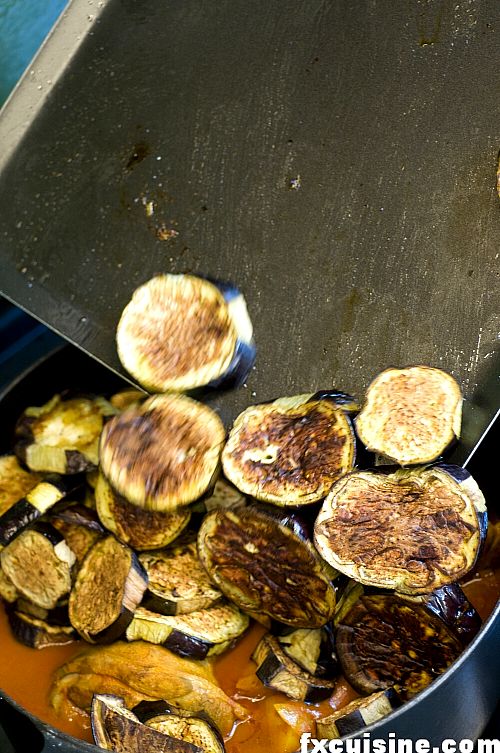 The oven-fried eggplants from my last article, Frying an eggplant like a Persian Mama. They looked so good I wish I had carefully added them at the very last minute, for most of the eggplants disappeared into the sauce.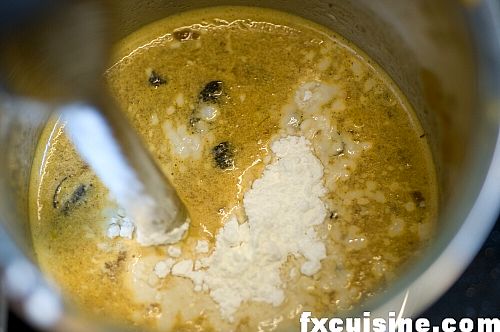 Now here is Uncle Francois' old trick to make painless, tasty and thick sauce. Remove a couple ladleful from the pot, including some potatoes, raising and eggplants with as much juice as possible. drop a pinch of cornstarch or another thickener of your choice, and blitz until smooth. Here the sauce was cold enough for the cornstarch to incorporate fully, if not just dissolve it in some cold water before.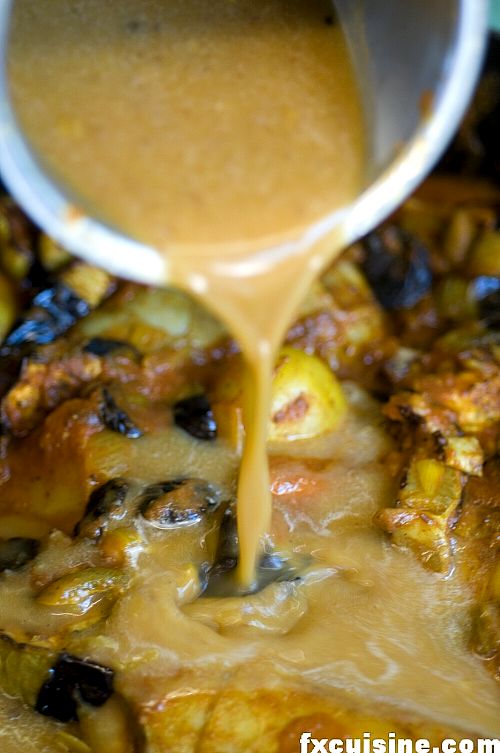 And back into the pot - done!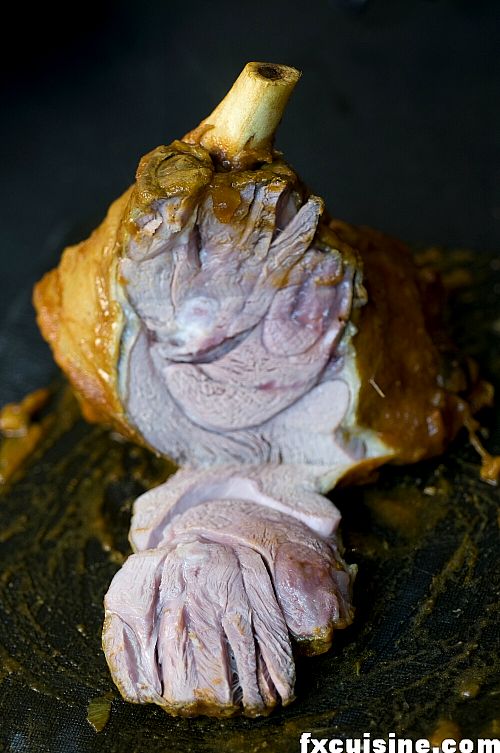 Meat cooked through to my liking - how very unpersian - I cut it down into bite-sized morsels...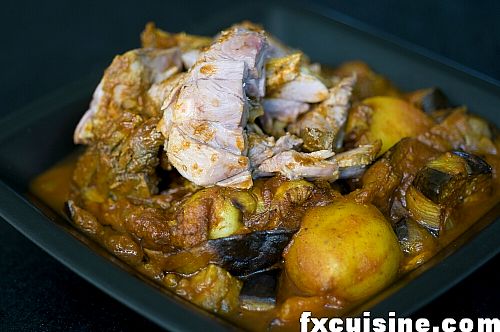 Finished.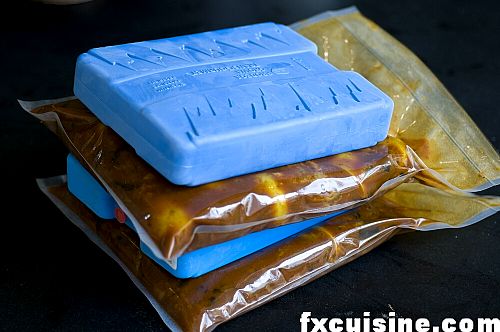 Here is a peek into my new kitchen procedures: Whatever remained from the table is swiftly put in vacuum bags and left like you see on the picture for an hour or so using ice packs removed from the deep freezer (-23C). The food being stretched flat quickly releases its heat and is soon ready to go into the freezer without risking to raise its temperature.
This procedure makes me really good homemade frozen fast-food for when I don't feel like cooking...
116186 views
Copyright FXcuisine 2023 - all rights reserved.
If you do this recipe at home please let me know how it worked for you by submitting a comment or send me a picture if you can. Thanks!