Tsukiji Wholesale Fish Market in Tokyo
(page 2 of 2)
Home
>>
Experiences
Probably the largest fish market in the world. My visit of the first market of 2006 - at 4AM.
The tuna auction
Most people here about the Tsukiji fish market for its tuna auction, the largest in the world, held every morning before dawn. Outsiders are not supposed to enter this room at Tsukiji but I felt I owed it to the readers of FXcuisine.com to grab a few pictures - not the best I reckon.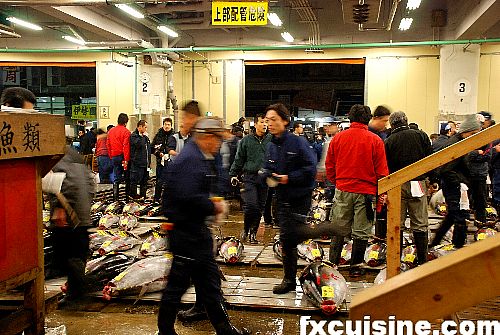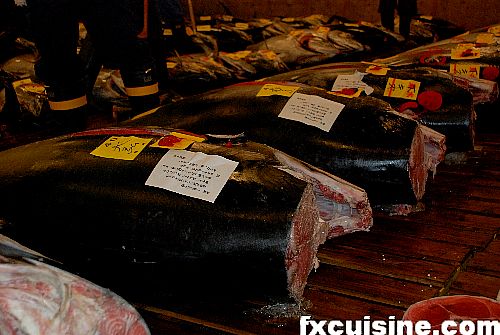 The auction is held in an industrial hall half the size of a tennis court. Headless tunas are laid in rows on the ground, some large, some small.
Every local has a fearsome tuna hook in the hand and sometimes you feel they'd like to use it on the many trespassers. I can't blame them. I counted no less then three TV crews filming the hall. A very postmodernist place indeed. The auction itself is nothing special, it's just a bunch of guys standing up in a small group, watching the auctioneer. If you fancy a peek I don't think you risk very much by entering this hall, which is normally off limits.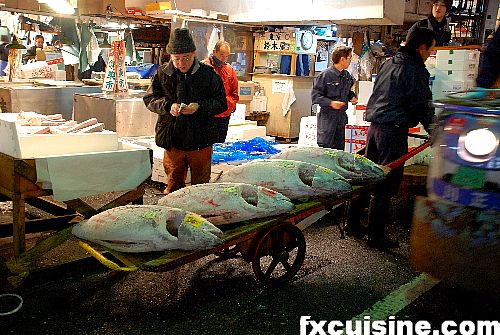 The Tsukiji shopkeepers pile the tunas they just bought on a hand trolley and move it to their shop within the market for carving.
Tuna carving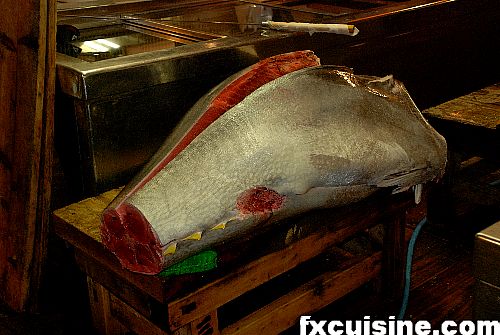 The huge tunas are brought into the jobber's stall and laid on a cutting board.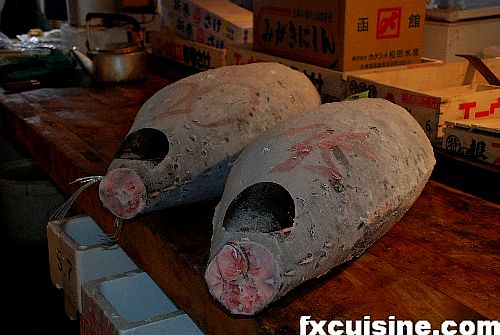 Frozen tunas are left to defreeze before carving.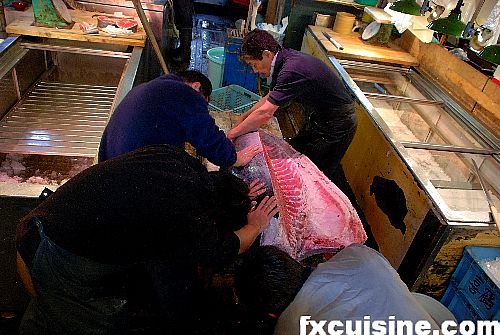 Rolling a tuna over takes 4 huge 'jobbers'.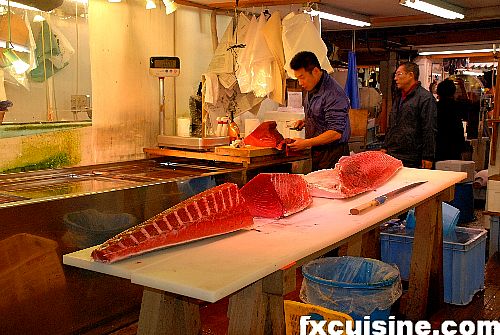 The tuna is then cut with a giant sashimi knife, as long as a sword.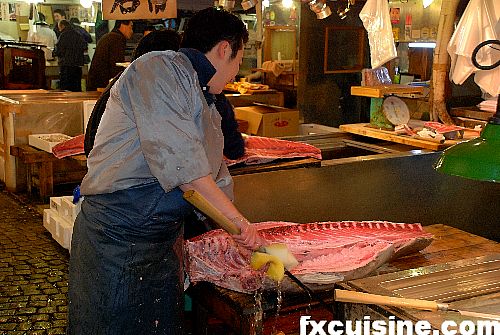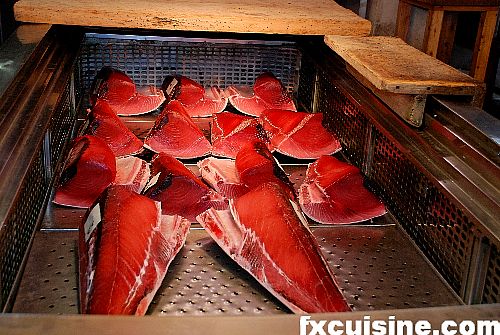 Smaller pieces of tuna are laid in an open-top refrigerator and sold all day long to restaurateurs ...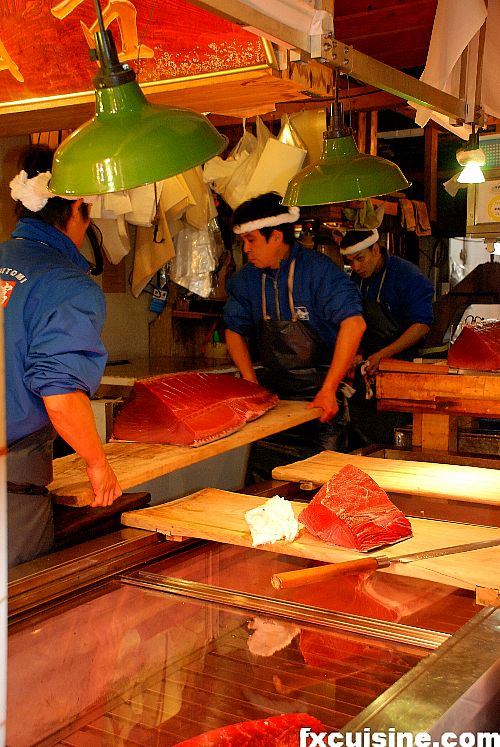 ... while larger chunks are carefully set aside for further carving.
To visit the Tsukiji Wholesale Fish Market, I recommend you arrive before 5AM. They close on Sundays and some holidays, so check the day before. Commuting time is shorter at night so if you come by car you can probably divide the daytime journey duration by two. It still means you need to wake up at 4AM so plan your visit in a jet-lag-compatible time slot. You can walk from Ginza or come by subway. The market entrance is nothing fancy: either you enter through the loading docks, ducking the trucks, or through the maze of little shops on the other side.
Coming by subway, either take the Oedo line to Tsukiji Shijou or the Hibiya line to Tsukiji station.
You'll be surprised to bump into quite a number of fellow tourists at Tsukiji. If you kind of hoped for another alone-with-the-locals experience, be warned. But still only about one person in a hundred is obviously a tourist, so it doesn't ruin the experience. Still, locals can grow quite impatient if you walk into their stalls to take a pictures - and they always carry a tuna hook.
After the visit, you absolutely need to have a fish meal at one of the tiny restaurants in the back. The one we tried was 3 meters wide and about 10 meters long. Freshest fish in Tokyo, for sure!
159547 views
Related Articles
Nishiki Ichiba Food Market in Kyoto, Japan *
This 400-year-old covered food market in Kyoto is one of the best I've ever visited.
Copyright FXcuisine 2020 - all rights reserved.
If you do this recipe at home please let me know how it worked for you by submitting a comment or send me a picture if you can. Thanks!