Scandinavian Sour Cream Apple Pie
Home
>>
Recipes
This gorgeous, juicy vanilla-flavored apple pie is said to have been winning pie contests in the Midwest for decades. One of the first recipes I ever found on the web!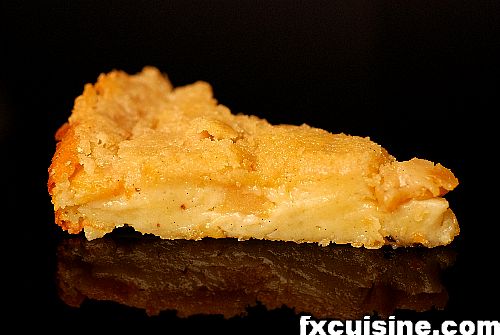 The first time I went on the Internet was at the University of Geneva in 1994. A relative who had a teaching position there let me use his computer for an hour and print all I wanted. After about 10 minutes, I located the rec.food.recipes newsgroup and started downloading and printing amazing recipes. Fascinating! I must have printed at least 80 pages that day. The recipe that most captured my attention had been published by an American lady of Scandinavian decent who said her family's apple pie won all the apple pie contests. Here it is:
SCANDINAVIAN SOUR CREAM APPLE PIE
Posted by klbaldwi@ren.edaco.ingr.com (Karen Baldwin) in rec.food.recipes on February 28th 1994
This is my recipe, which i got from my mom, which she got from *her* mom, which she got from her mom. (my Nonnie). My grandfather, a Norwegian immigrant, planted an Apple Orchard when he was a young man, and the family ran its 200 acres as a business (as my cousins continue to, today). Apples were always on the table and in our meals, and baking was done for customers as well as for pleasure. Contests were entered regularly, recipe books written, etc. And THIS recipe was our whole family's favorite, which ought to tell you something. Keeps winning those pie contents!
INGREDIENTS
3 c apples, see note
3 tb flour
2/3 c sugar (white)
1/8 t salt
1 egg
2 ts vanilla extract
1 c sour cream
TOPPING
1/3 c flour
1/2 c cold butter
1/3 c sugar (1/2 white, 1/2 brown)
1 t cinnamon
Note: Apples should be cored, peeled, each segment cut into 3 pieces.
DIRECTIONS
Mix together the flour, sugar, and salt, and coat the apples in it all. Beat together the egg and vanilla, and add to the apple mix. Fold in the sour cream. Bake in a 9" pie shell for 40 min. at 350 degrees. Mix the topping while the pie bakes, by cutting the cold butter into the flour, sugar, and cinnamon until the texture is crumbly. (You can use all white sugar, but a little brown sugar makes it more attractive. You can use all brown sugar, but it overwhelms the delicate flavors of the filling.) Cover the baked pie with this topping and bake an additional 10-15 minutes.
For a European home chef, measuring everything by volume is very surprising. A cup of this, a tablespoon of that, we are far from the apparent precision found in French pastry recipes where everything is weighed to the gram. Three cups of peeled, cored and cut apples was fun but manageable. The flour was another story. The recipes calls for '3 tb flour', which I understand means 3 tablespoons or about 45ml flour. This is not a lot of flour. The first few times I did this recipe, I used a whole cup of flour. Tell a French pastry chef you changed proportions of flour, eggs, milk or butter in a cake and he'll bake you alive in his oven. I admit you get a very different pie if you use 1 cup instead of 3 tablespoon instead of flour, but both worked terrific and I made this recipe half a dozen times already.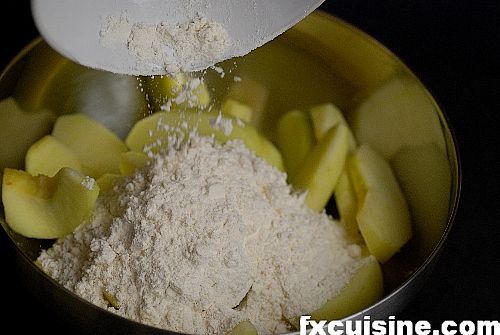 Coat the apples in the sugar, flour and salt before adding any liquid (photo) - in traditional French baking we would first make the dough, then mix the apples in. I have always been surprised by this step, but eh, the recipe works.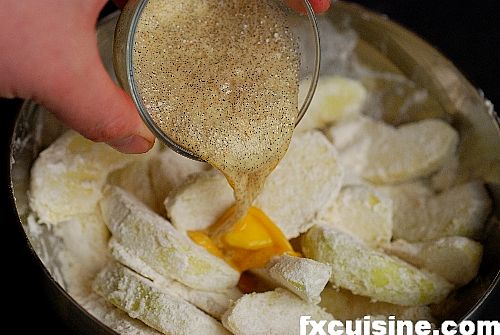 The recipe calls for vanilla extract but I scrape a beautiful Tahitian vanilla pod and mix it with the egg so the seeds will be evenly spread in the pie.
...