Arab Lamb Ossobuco
Home
>>
Recipes
An incredible festive 7-layers dish with lamb shanks, ground beef over rice. Delicious but quite involved if you're alone in the kitchen!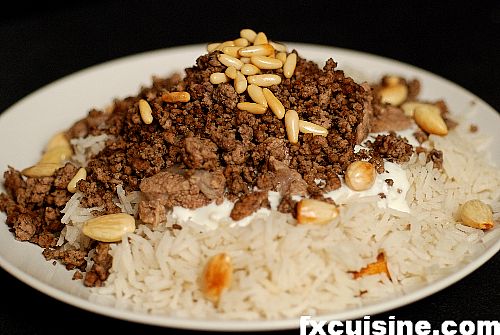 When Lawrence of Arabia was living with an Arab tribe in the desert during the 1920s, every night one family would organize a feast in his honor. As Lawrence explains in Seven Pillars of Wisdom, guests would invariably be served freshly-slaughtered roasted lamb over a mountain of rice with rivers of melted butter. A delicious dish, but eating it every night rendered Lawrence incapable of moving for the entire day as he had to eat again and again not offend his host. Declining was not an option.
The recipe I propose today will not be an ordeal on the guests but you'll be exhausted by the time you finish it. But the result is so original and intriguing that I recommend you try it once. It comes from The Arab Table, a lovely cookbook by an American-Palestinian woman whose mother served this Fatet Lamice as her star dish for serious entertainment.
Arab Lamb Ossobucco
Fatet Lamice from 'The Arab Table'
7 pounds lamb shanks or leg of lamb
Cinnamon
Peppercorns
Cardamom
Allspice
Cumin
Nutmeg
Bay leaves
Salt
2 onions
2 cups
Yogurt
Juice of 3 lemons
10 garlic cloves
French baguette bread
Pine nuts
Whole blanched almonds
Basmati rice
Olive oil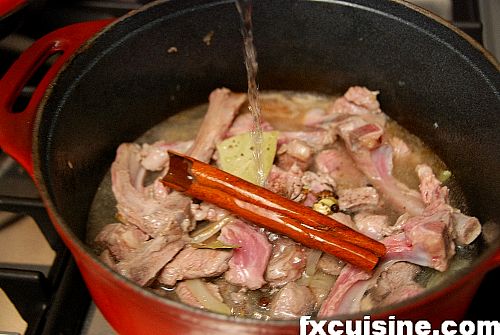 Cut the onions in four and fry them in 4 tablespoons oil in a Dutch oven. Add the lamb cut in 1-inch pieces (
photo
) or whole shanks if using and fry over high heat until colored on every side. Add the spices - cinnamon, cumin, allspice, pepper - and cover with water. Reduce heat to a low boil and skim the surface (
photo
) to remove any foam. Simmer for 1 hour or until lamb is soft.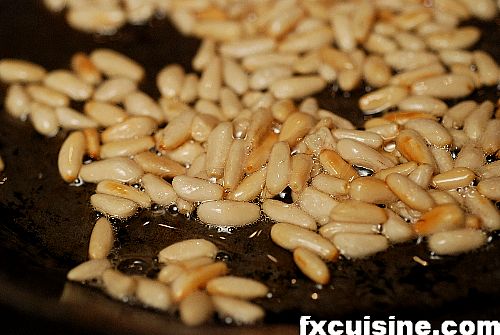 Fry separately pine nuts and almonds (photo) until pale brown on all sides. An Arab mama would certainly use lots of oil but I think a more modern way is to roast them in the oven so as not to add the disastrous calorie imbalance.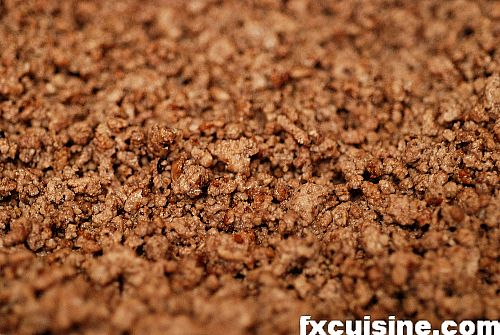 In the same pan, fry the ground beef (photo) over low heat for about 20 minutes. Add the ground cinnamon, nutmeg, salt, cumin, allspice and pepper after about 5 minutes. The book says the meat should become almost black at the end - we need to support oncologists after all.
...