Tony Soprano's Own Neapolitan Ragł
Home
>>
Experiences
How my friend Pasquale came to eat my Maccheroni al ragł 'like in Napoli' and fix my media room so that I could watch the Sopranos.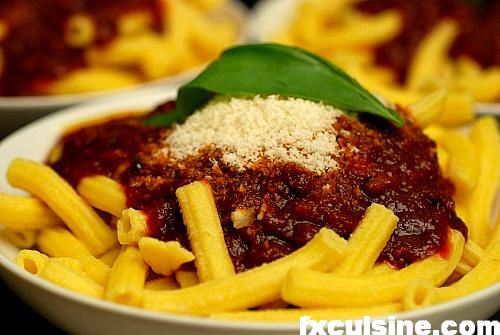 In my previous article you read how I convinced Pasquale, my Italian-Swiss media-room specialist, to come and fix my DVD player the next day instead of next month with a promise of real ragł napoletano and homemade maccheroni. I took yesterday's ragł out from the fridge to let it simmer it a further 4 hours.
With my beloved Kenwood kitchen machine I made 6 eggs' worth of maccheroni rigati, the ones with the large holes and deep groves designed for the sauce to stick.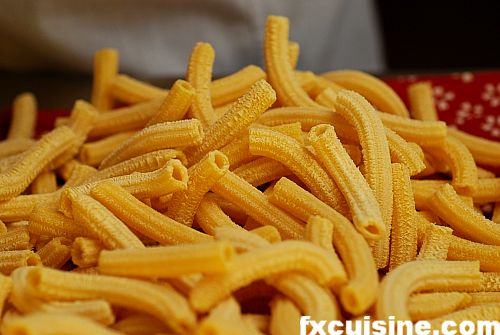 Pasquale arrived bang on time and asked to see the simmering ragł. He nodded when seeing the rich, shiny dark color bubbling in the pot. Being a man of honor, Pascuale then moved to the media room where he wrestled the recalcitrant amplifier for a good hour before anything changed. «The Amplifier stopped talking with the DVD player», he explained. After an hour I saw some light on the screen, and then bang, here was Tony Soprano.
«I'm going to boil the pasta», I told him.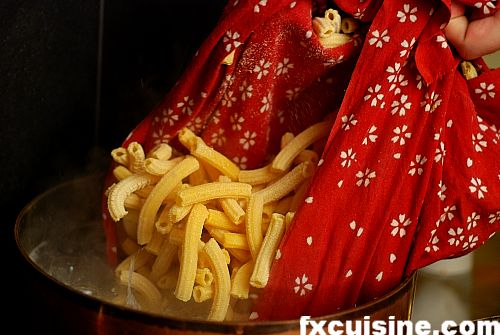 My homemade maccheroni are cooked in about 60 seconds and due to the durum wheat semolina, they have a lot of bite or al dente as they say in Italy.
I decided to add a little flavor boost by finishing my sauce like mezzanelli lardiati. I used lardo di Colonatta, a cult bacon prepared near the marble quarries in the North of Italy, by seasoning big slabs of white pig fat with garlic, salt and herbs and then leaving them in white marble boxes for months. It is entirely white and extremely tasty although clearly a non-Italian must wonder how the hell you are supposed to eat it. Here is how.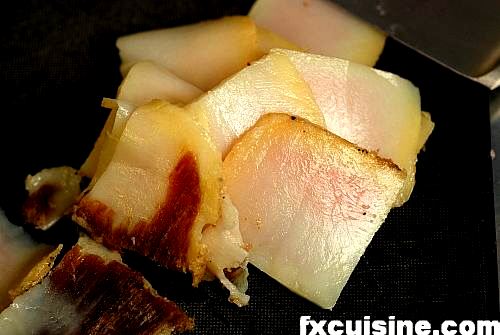 Finely chop a small onion and the bacon, taking care to remove the skin and any excess salt.
...