Cholera Beats Cornish Pasty Any Day!
Home
>>
Recipes
These Swiss Alpine pies 'cholera' taste infinitely better than Cornish Pasties but neither made it to the exclusive club of export-grade European food specialties.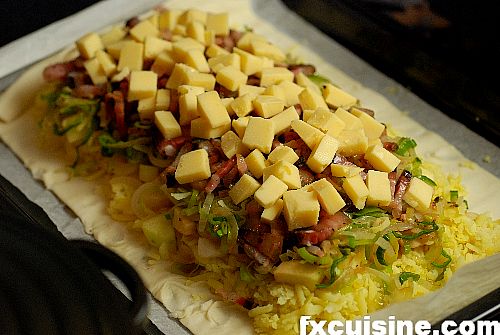 Neither this intriguing Swiss pie nor Cornish Pasty made it to the world's shot list of export-grade dishes. But whereas this is only fair for Cornish pasty, which only starved Englishmen can actually finish, it is my contention that alpine cholera would have deserved a better future. So let me give cholera its five minutes of fame and see a full comparison with Cornish Pasty at the end bottom of the article.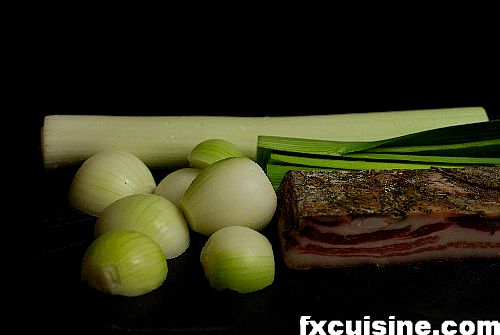 Cholera
Swiss Alpine Bacon, Potatoes & Apple Pie
2 sheets of puff pastry
4 large waxy potatoes boiled the day before
1 leek
4 small onions or 2 large ones
200gr seasoned bacon*
200gr raclette cheesee*
2 pears
2 apples fit for baking
Salt and peper
1 egg yolk
*The proper bacon to use for this is Valaisian petit lard, which you can buy in Switzerland and store for month. It is a thin bacon slice seasoned with salt and spices and air dried for a few months. It is a very fragrant and addictive cold cut. The cheese should be alpine meadow raclette cheese but you could substitute with another quality full-fat semi-hard cheese fit for melting.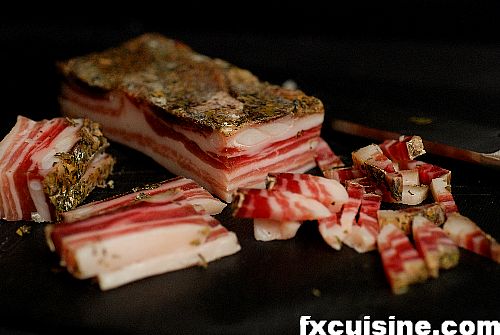 Cut the bacon in small sticks thick as a matchstick and as wide as a cigarette is thick.
Fry the bacon with no added fat over medium-high heat until it becomes soft.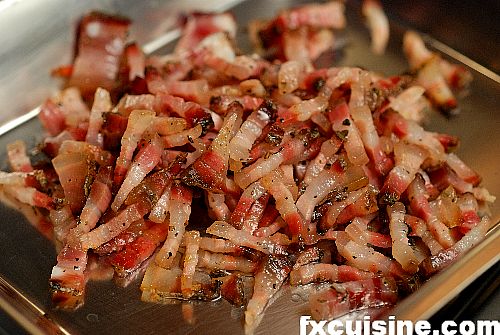 Reserve.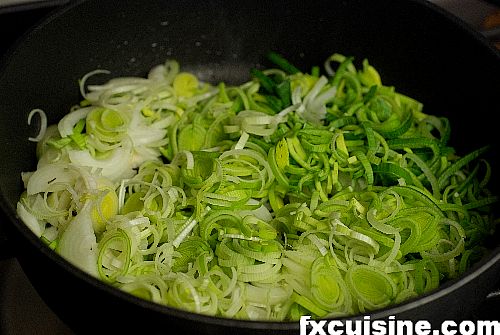 Wash the leek and finely chop it. Peel the onions and slice them thinly (photo). Fry onions and leek in the bacon's remaining fat until they are soft and start turning brown. I can't emphasize enough how important is this browning process. If you add every ingredient raw to the pie it will just boil and you'll miss half the flavor.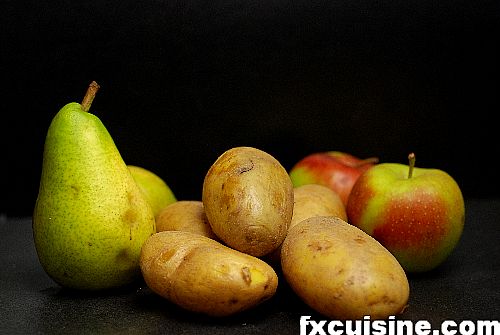 A very original feature of this recipe is its use of pears and apples for a sweet and savory pie.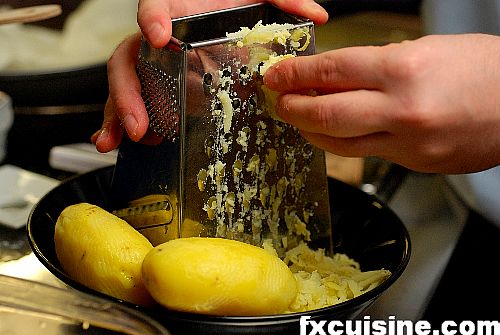 Start by peeling the cooked potatoes and grate them coarsely. Salt.
Peel, core and dice pears and apples. Save this for last lest they turn brown.
Dice the cheese, heat the oven and prepare your ingredients around a large baking tray.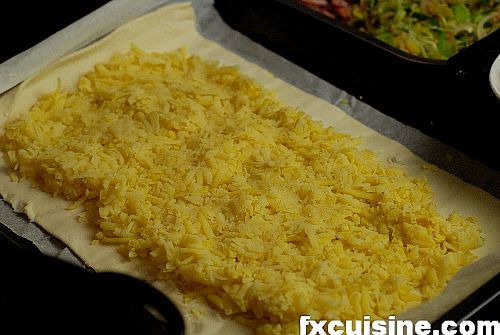 Spread the puff pastry onto a baking sheet. Spread the potatoes evenly on the pastry, leaving a good 2.5/1'' space all around. Please note that on the picture I used nearly twice as much potatoes as needed.
On this bed of potatoes, lay the pear and apple cubes...
... and cover them with the onion and leeks and then the bacon.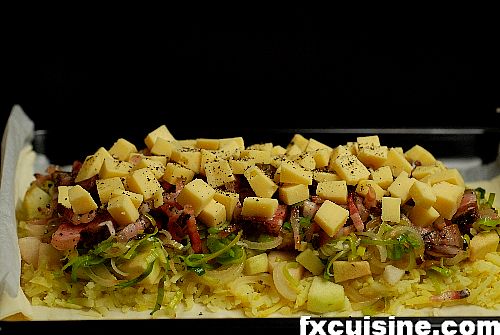 Finish with the diced cheese and sprinkle with crushed black pepper.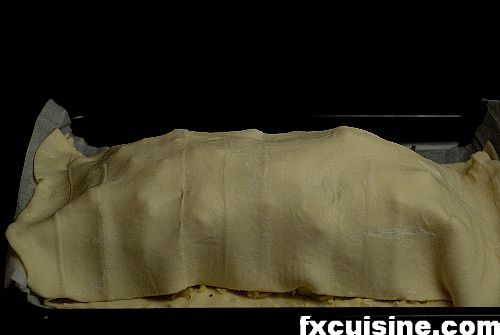 Cover with the second puff pastry sheet and carefully seal around the edges. Make a few holes on top with a fork to let the steam escape.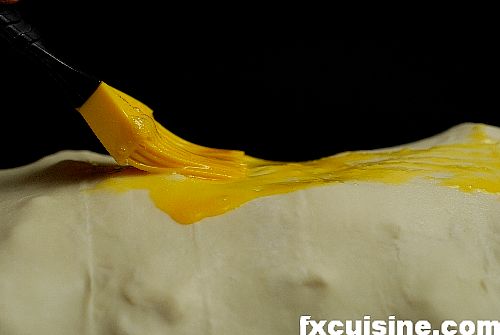 Beat the egg yolk or whole egg and paint the pie with a kitchen brush. This will turn it golden when it bakes.
Bake for 30 minutes in a hot oven (190°C) until golden.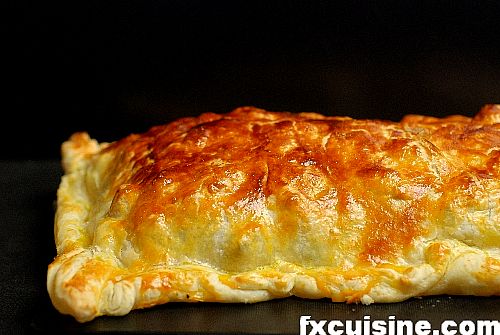 Let it rest for 5 minutes before slicking with a long and very sharp serrated blade.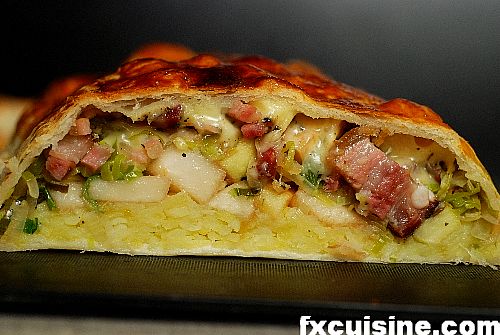 This is a delicious first course or main course. The fragrant fried leeks and alpine bacon sit on the earthy cheese with the fresh tartness of the apples. Amazing and delicate, and not all that filling. Another success in FXcuisine!
How does Swiss Cholera compare to Cornish Pasty?
| | | |
| --- | --- | --- |
|   | Cornish Pasty | Cholera |
| Origin | Cornwall, South of England | Valais/Wallis in the Swiss Alps |
| Dough | Short dough made from lard or kidney fat | Puff pastry (formerly with short dough) |
| Fillings | Steak, leek and potatoes. | Seasoned air-dried alpine pancetta, potatoes, leeks, onions, alpine raclette cheese, pear and apple. |
| Method | Raw ingredients are wrapped in dough and cook inside the pasty. | Leeks and onions are finely chopped and browned in a frying pan to enhance their taste by the Maillard's reactions. Same process for bacon. |
I love Cornwall and you may accuse me of being partial here - after all I'm a Valaisian and this is a traditional recipe from my neck of the Alps. But cholera is a real hit and I've never been able to finish a cornish pasty, even those bought in those special bakeries in the Cotswold or in Cornwall said to make the best Cornish Pasty in England. If you are British, please do not feel insulted, because despite its relatively discreet audience Cornish Pasty still enjoys much greater success than the cholera ever had. The closest I've come to it is in Swiss cookbooks. This recipe comes from High-Valais, where for centuries scientists have mistaken the local dialect for throat cancer. It has now been established it is an Alpine brand of Swiss-German. Even there most young people have never heard about cholera.
105513 views
Copyright FXcuisine 2023 - all rights reserved.
If you do this recipe at home please let me know how it worked for you by submitting a comment or send me a picture if you can. Thanks!