Sicilian Chocolate Lasagna
Home
>>
Recipes
Savory lasagna in a chocolate meat sauce, a century old recipe from one aristocratic Sicilian family. Easy, quick, delicious and no, it doesn't taste funny.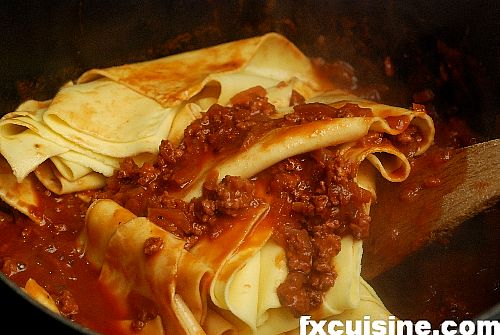 This Sicilian recipe is over a century old. I found it in several blue-blooded Sicilian cookbooks and settled on the recipe from Il Diamante della Grande Cucina Siciliana, the most accomplished of these cookbooks. It uses cinammon and chocolate in a meat sauce - unusual but very successful.
There are two ways you can serve this dish. Either you mention it's a chocolate meat sauce and people will treat it as a curiosity. Most will end up thinking that it tastes great despite the chocolate. Or you can shut up and just serve the homemade pasta and people will wonder about the secret ingredient. The chocolate really does not show much in the final product and not all of your guests will guess where that luscious, velvety shine comes from. In any case it's a delicious, highly authentic and really quick pasta sauce to make.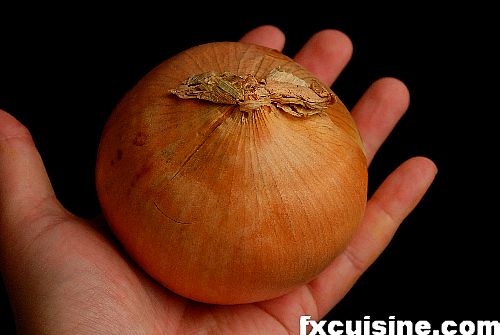 We first prepare the rag¨ [ragoo]. Take one large onion...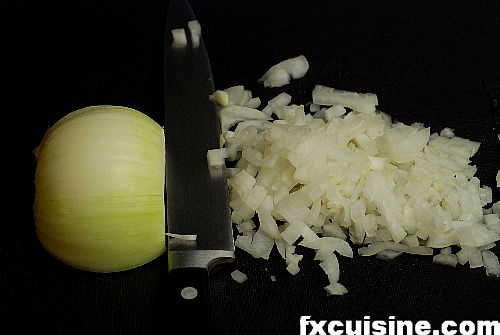 ... peel and finely chop it.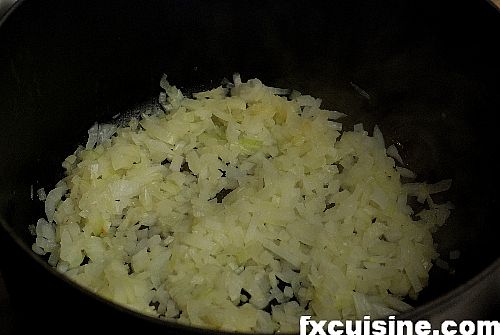 Gently fry the chopped onion in a heavy-bottomed pot with a little oil.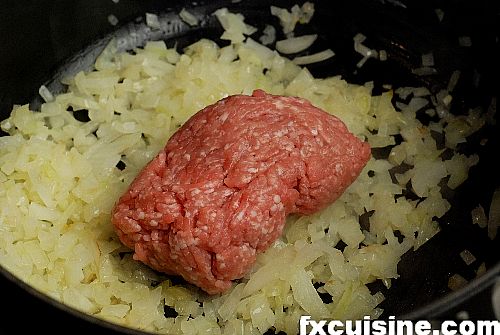 When the onion is soft, add the meat mince...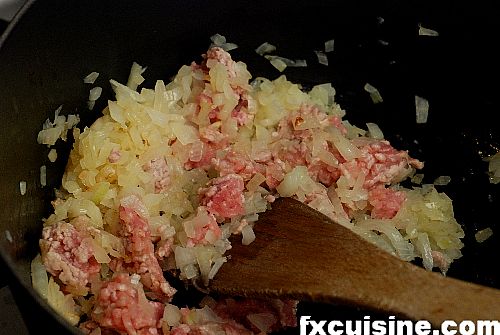 ... and sautÚ over high heat, mixing constantly.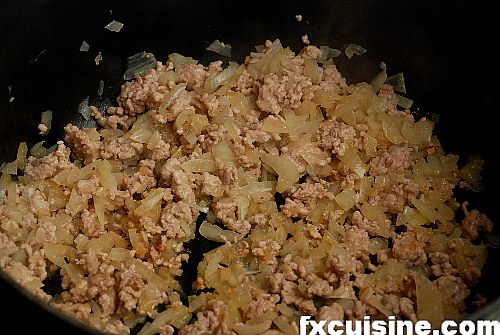 The goal is to brown the meat all over. You need enough surface and enough heat to do so, otherwise the meat will render its juice, lowering the heat and making any further browning impossible. If this happens, just remove half the onion-meat mixture and sautÚ in two installments. The browning is an important part of the flavor base.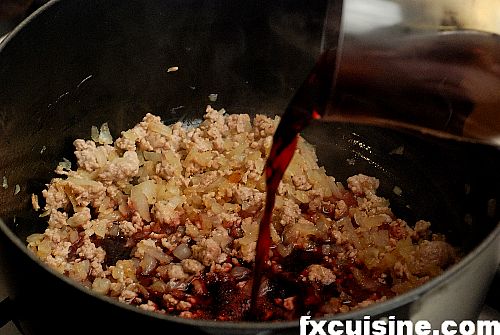 With the heat still on high, add a glass of red wine and let it bubble and the alcool evaporate.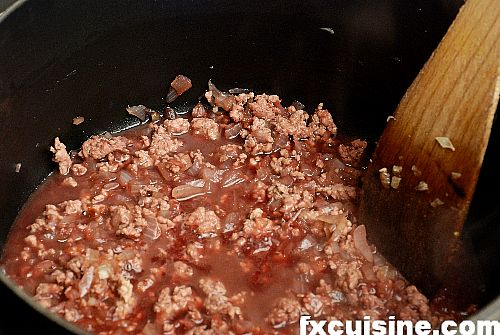 Scratch the bottom of the pot with your spoon to dissolve any browned bits stuck to the pot.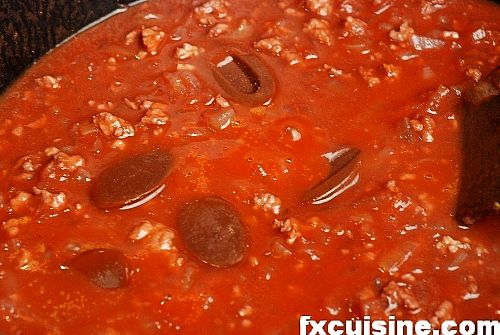 Add 1 cup tomato purÚe, and then about 30 grams dark chocolate. Let the chocolate melt and mix. If you feel bad about adding chocolate to a meat sauce, try first with a little bit, mix, taste and then add the rest. If it can make you feel better chocolate is a popular ingredient at US chili con carne competitions. It really works well and will not taste funny.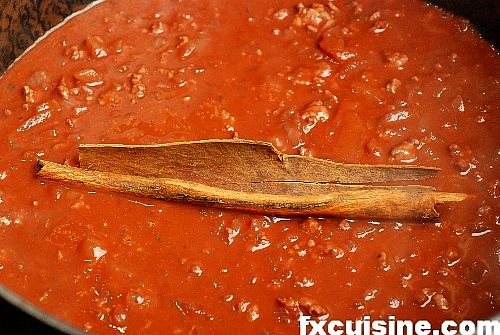 Finally the cinammon, a very common ingredient in Sicilian meat rag¨ and a clear oriental influence on Sicilian cuisine. Cover and simmer on a very low flame for at least 40 minutes.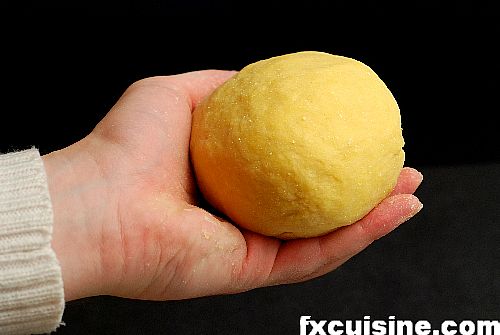 Now for the pasta. You can serve this on any flat egg noodles, but for the authentic, tradition-approved pasta shape you'll need a little work. We don't fear work at FXcuisine and prepared the sciabb˘, ([shiabaw] from French jabot, frill) a sort of lasagna with ragged edges. Combine 4 eggs with flour in the usual manner (see my other recipes) and let it rest for 30 minutes.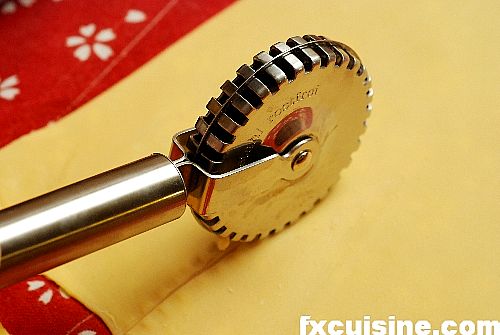 Laminate the pasta but not too thin, and cut in 10cm/4'' long strips about 2.5cm/1'' wide. Here I used a fancy ravioli cutter but a more appropriate tool would have been a straight roller with jagged edges.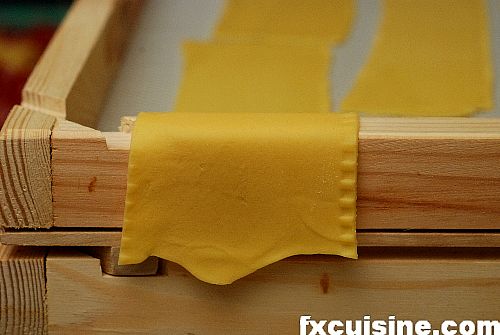 Work on a cloth or wood bench so that the pasta won't stick and let it dry for a moment either on another piece of cotton cloth, a towel or a pasta drying rack (picture).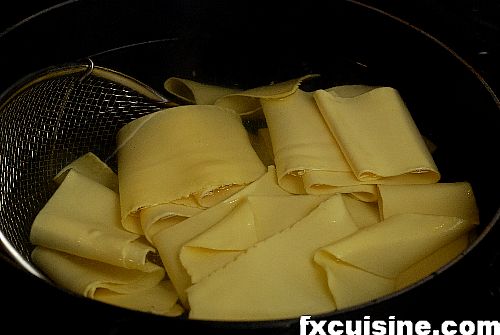 Plunge the pasta delicately in a large pot of salted water brought to a rolling boil ...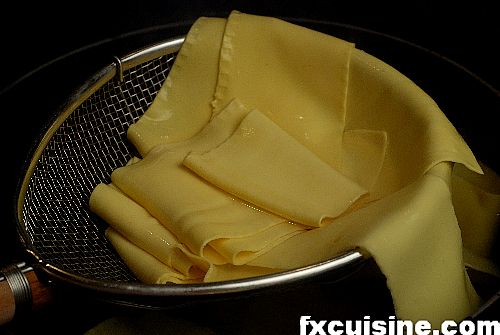 ... and remove after only about 60 seconds. DO NOT pour the water off on some strainer as this would break the pasta.
Combine with the sauce, using a little bit of the pasta cooking water to make it more liquid if needed.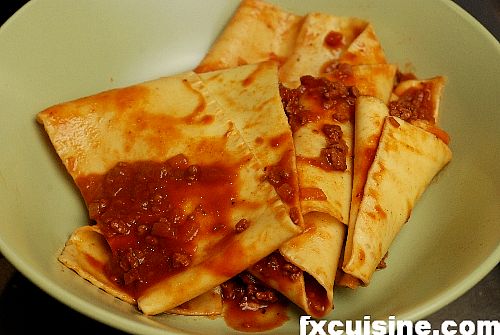 Serve as a first course or main course.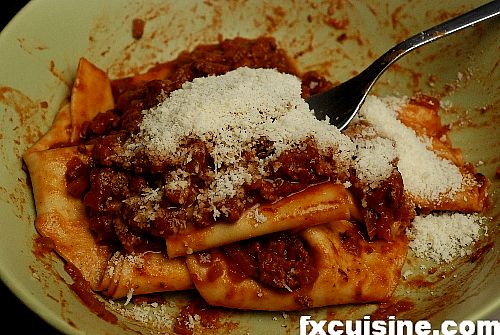 Serve with a little bit of grated Parmesan.
158471 views
Related Articles

Priest-stranglers in Neapolitan Meat Sauce ***
These gnocchis served in the cult Napolitan rag¨ sauce would be a world-famous dish if they didn't take 7 hours to cook.

Pasta for the Sopranos ***
How I convinced Switzerland's top custom installer to come and fix my home cinema the next day with a promise of homemade maccheroni with real Neapolitan rag¨.

Papardelle in Sicilian Walnut Meat Sauce ***
My best pasta meat sauce - pork, red wine and walnuts. Spectacular photos!

Authentic Sicilian Pasta With Broccoli ** Popular
This traditional Sicilian recipe brings together North African and Italian culinary traditions. A cult dish!

Serious Pasta alla Norma ** Popular
Pasta alla Norma, a divine combination of eggplants, tomatoes, basil and ricotta, is one of the most elegant traditional Sicilian recipes. A real cult classic!
Copyright FXcuisine 2023 - all rights reserved.
If you do this recipe at home please let me know how it worked for you by submitting a comment or send me a picture if you can. Thanks!