Asparagus like Green Peas
Home
>>
Recipes
Delicious 19th century French dish - asparagus served like green peas. This was a favorite of Napoleon's Foreign Minister
Talleyrand
. Simple, healthy and thoroughly decadent.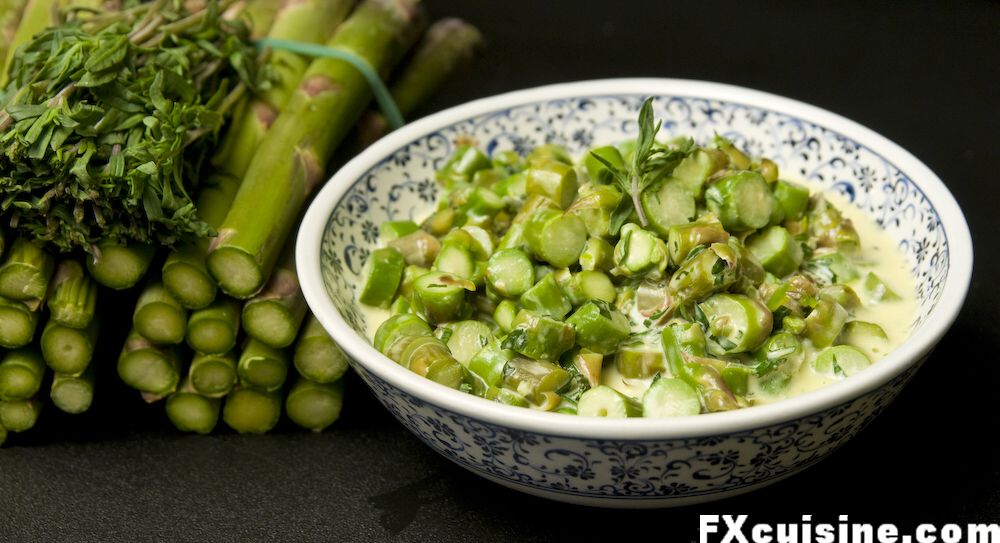 Talleyrand (1754-1838) was despised by most of his contemporaries. Having served in turn every of the many political regimes that came upon France in the 19th century, he ended up the richest man in the realm. Most 19th century French politicians ended up in exile in France, Switzerland or Austria or had their neck cut. But Talleyrand died in his bed. He was one of the most brilliant minds of the century and the prince of diplomats.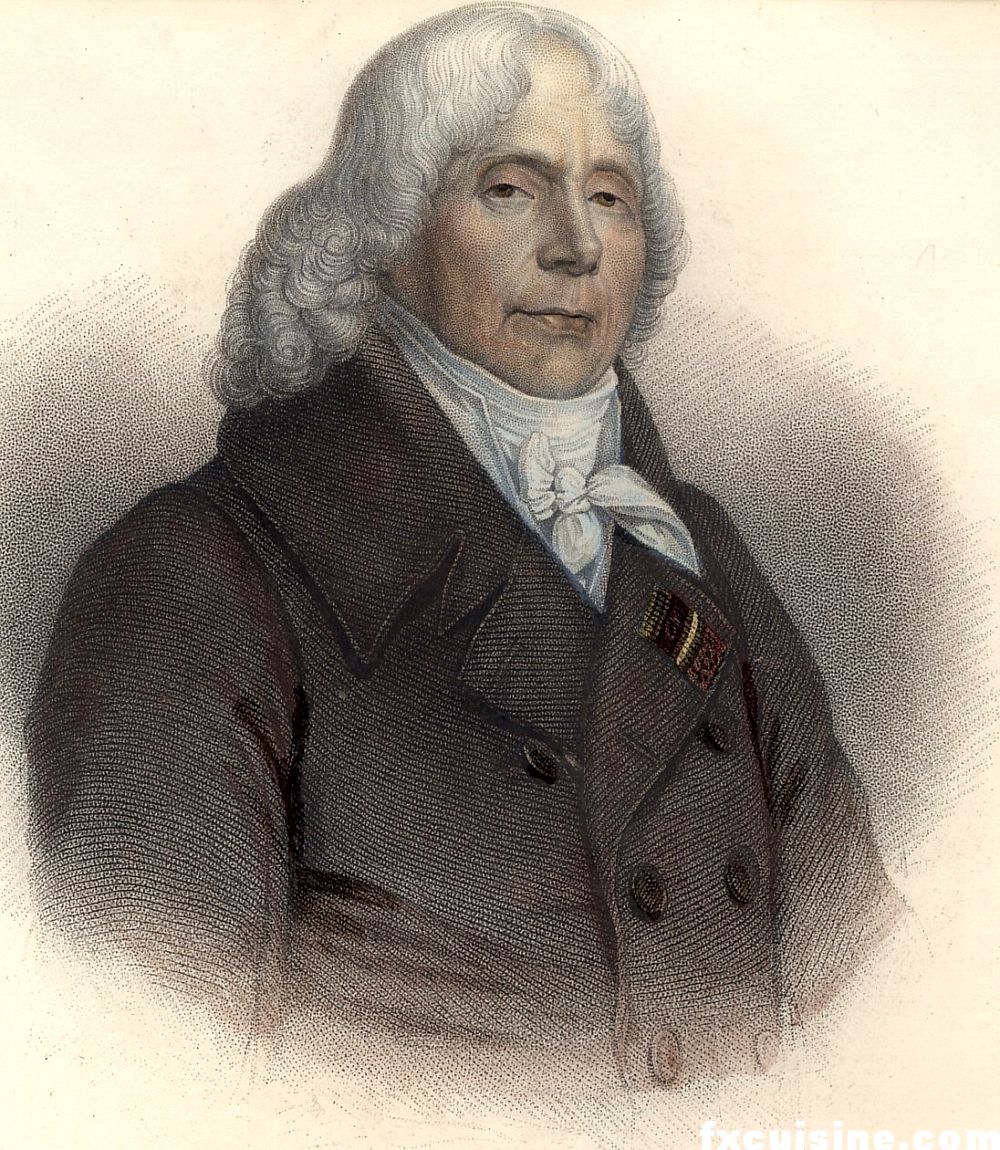 Portrait of Talleyrand, courtesy of antique-prints.de for FXcuisine.com
American readers not content with the state of their country's military affairs will find much solace in the study of Napoleonic wars. When you visit Paris, the names of the streets and train stations might lead you to think his was a heroic time for France. Austerlitz, Avenue d'Iéna, Avenue de Wagram, Avenue d'Eylau, Avenue de Friedland, Rue d'Ulm, all of them victories. Until you cross the Channel and stroll on Trafalgar square or take a train a Waterloo Station, you might even think this was a pretty successful guy. I mean, they even have this huge Napoleon mausoleum at Les Invalides in Paris. Even Kim Jong Il would have found it a bit too extravagant a tomb for his tastes.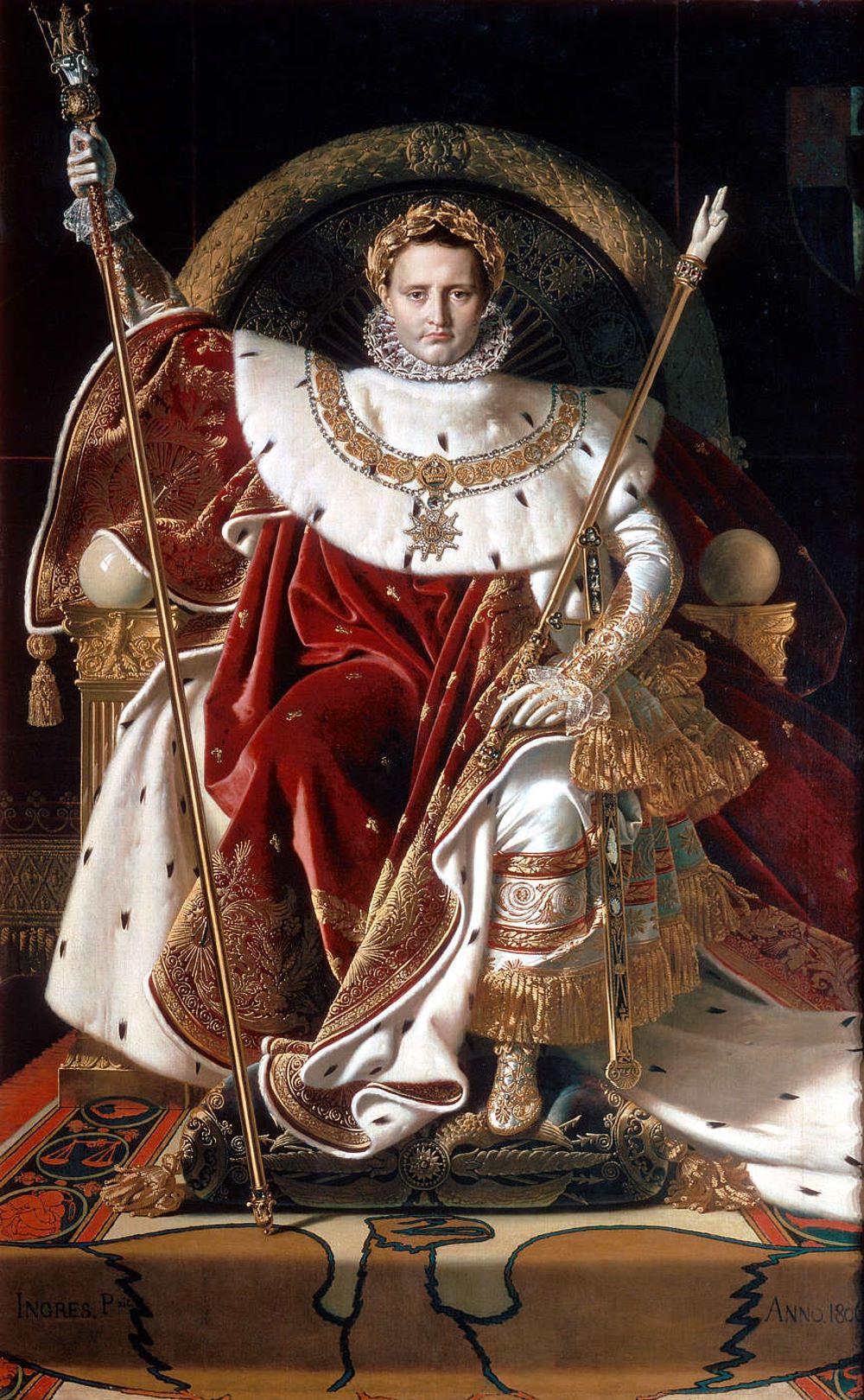 A modest Napoleon by Ingres
Of Napoleon's many failed military adventures, Talleyrand warned him most about his Spanish Campaign. When this turned into an Iraq-style fiasco, Talleyrand derided Napoleon behind his back for the bloody fool he was. Napoleon became increasingly angry at his advisor, calling him once 'shit in silk stockings'. If you want to check how horrible and useless this particular war was, check out Los desastres de la guerra by Fransisco Goya. But, a Napoleonist might say, didn't Napoleon bring democracy and modern laws to other European countries? Didn't he reform the antiquated French weight and measure system? He most certainly did, but Hitler built visionary highways and people still drive his Volkswagens. This doesn't change the fact that Napoleon was a bloodthirsty egomaniac. In France, Talleyrand is the role model of spin doctors and governement advisors, the consumate consigliere who crossed his time like a shiny ghost, never letting anybody get to him and ending up the richest of them all. In the movie Napoleon, Talleyrand is played by John Malkovitch.
I recently had a former French government minister for dinner (Beef Daube) and, after I explained my fondness of food and history, he kindly sent me his copy of Le Souper (The Supper), a French costume piece about a dinner between Talleyrand and Joseph Fouché, Napoleon's sinister interior minister and henchman. The movie's undertitle is French writer Chateaubriand's observation, as he saw these two guys passing him by, that he just witnessed 'Vice at the hand of Crime crossing the street'. As the movie opens, Talleyrand shows what his chef Antonin Carême, the most famous chef of his century, had prepared "Asperges en petits pois, culs d'artichauds à la ravigote, saumon à la Royale, filet de perdrix à la financière.".

Fouché: 'Pss. Asparagus like green peas, that's what you said?'
Talleyrand (while Fouché is tasting it): 'Yeees. A recipe I owe to Mr de Cuçy. You slice the tender part of the asparagus in the shape of green peas, precisely. You wash it, scald it, the put in on the fire with a good piece of butter, a bit of savory, a clove and finally you bind the sauce with cream and an egg yolk. '
Fouché (laughing): 'I'll end up believing my agents who ensure me you spend one hour everyday in your kitchens!'
Talleyrand: 'They mislead you, Monsieur Fouché, I spend two hours every day in my kitchens.' Talleyrand describes his favorite dish, asperges en petits pois or Asparagus like Green Peas: "You take green asparagus, you cut them into tiny slices until the knife starts to feel resistance, then you sauté them in butter and sprinkle with two cloves and a freshly snipped savory. The recipe is also found in Alexandre Dumas Culinary Dictionary as well as Jules Gouffé. Here it is for you: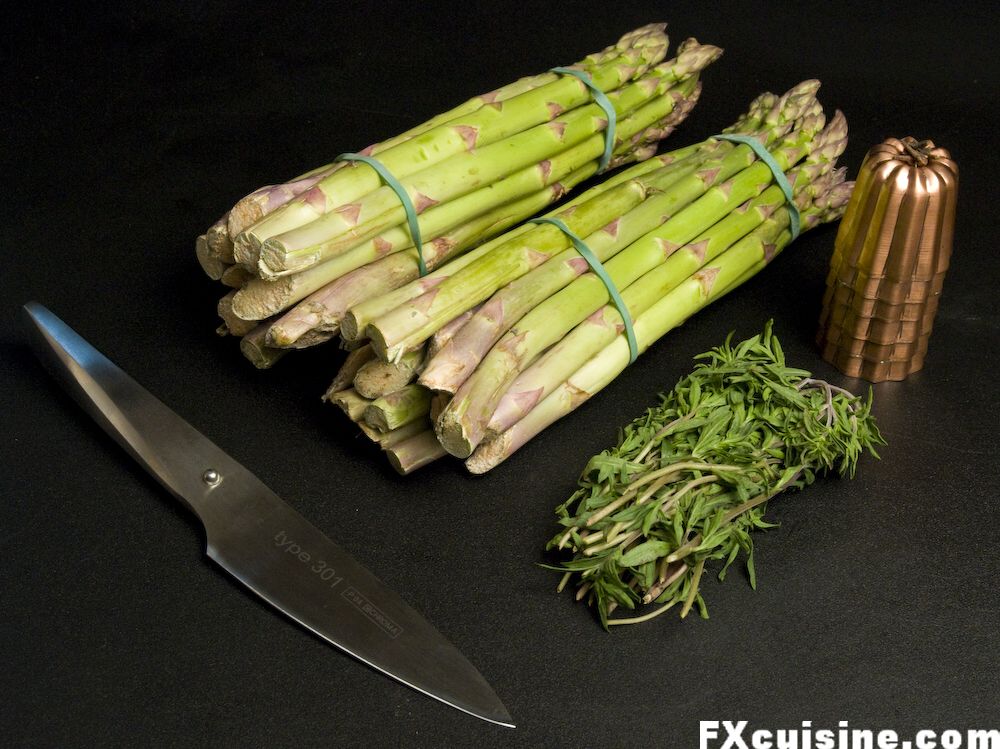 Two bunches of green asparagus from Italy, a bunch of savory, the old-fashioned herb (satureja montana or hortensis), two cloves on my copper cannelé molds and a fancy Porsche knife.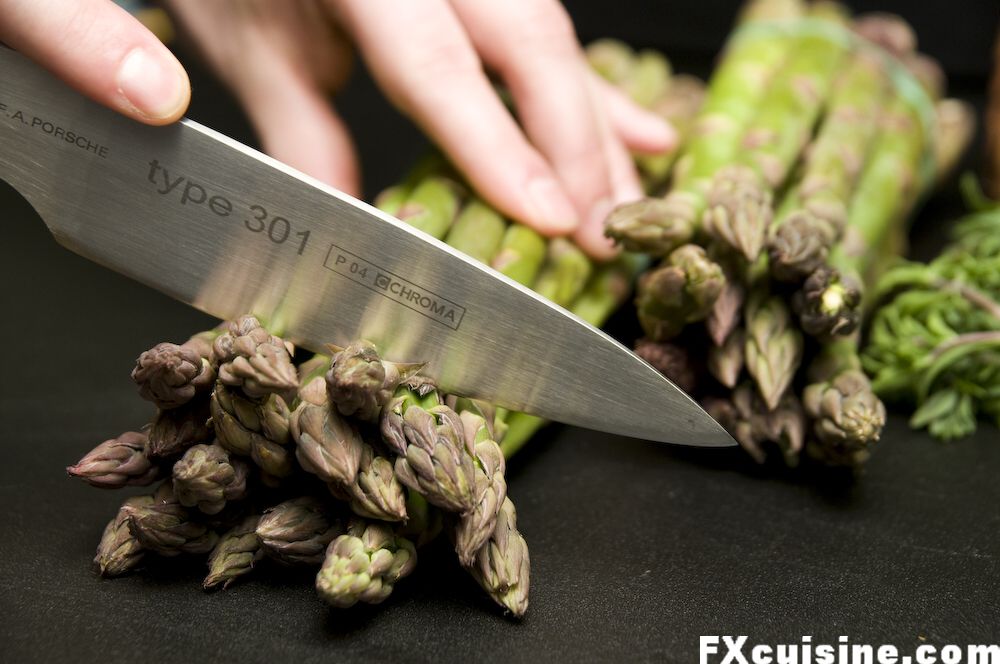 Cut the asparagus in small segments, starting from the tips.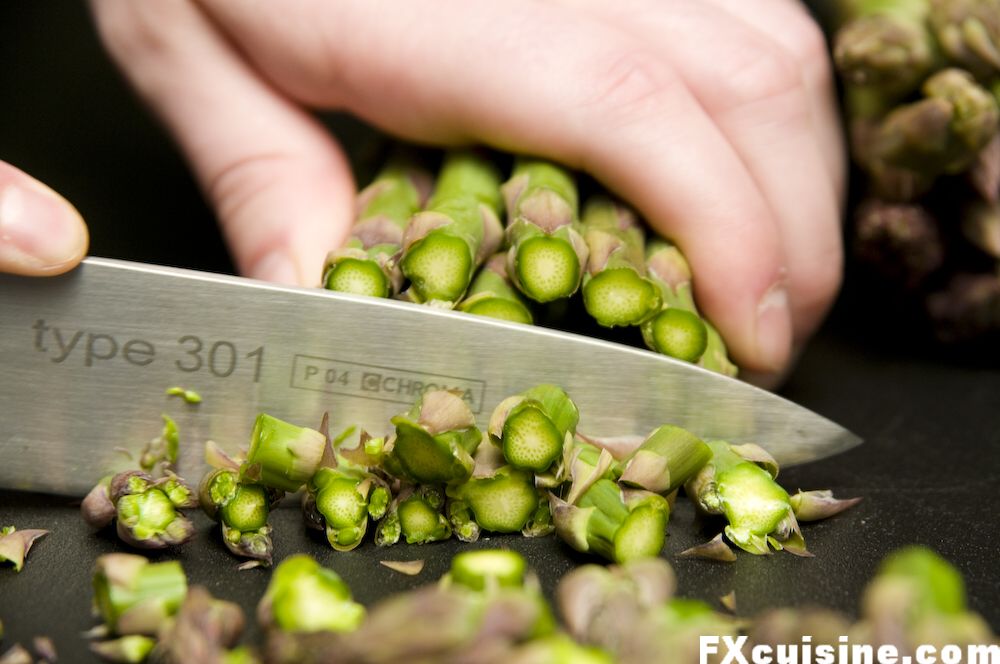 Proceed 'until the knife feels the first resistance'.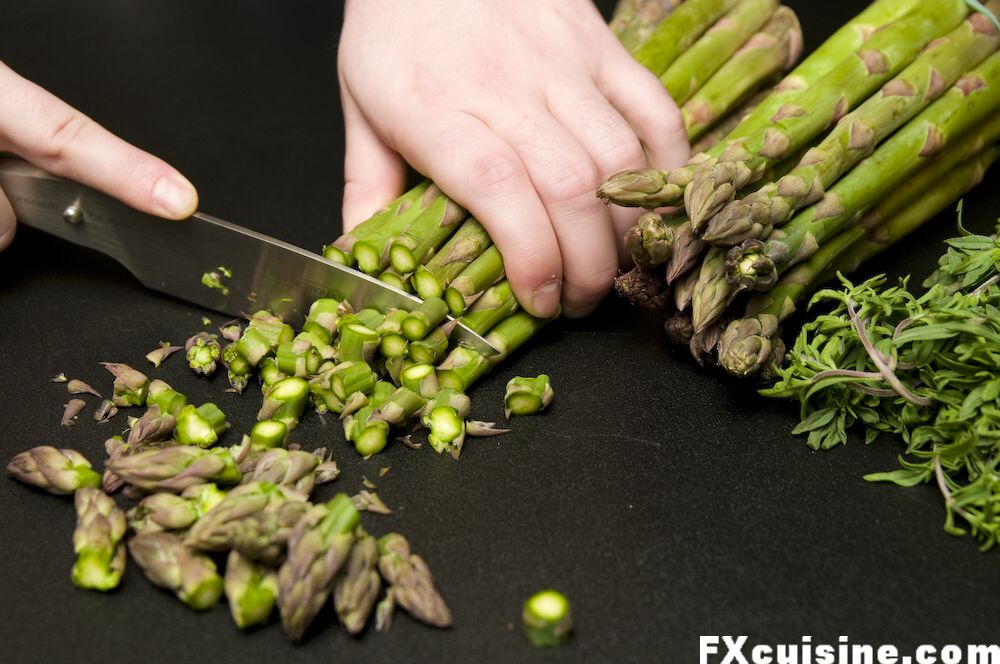 Don't feel bad about discarding half of each asparagus, the farmers include as much of the inedible stalk as they can to increase the weight, but nobody eats the hard, lignified stalk anyway.
...