Asparagus à la Pompadour
Home
>>
Recipes
This recipe invented by Louis XV's mistress will not Enlighten your waist.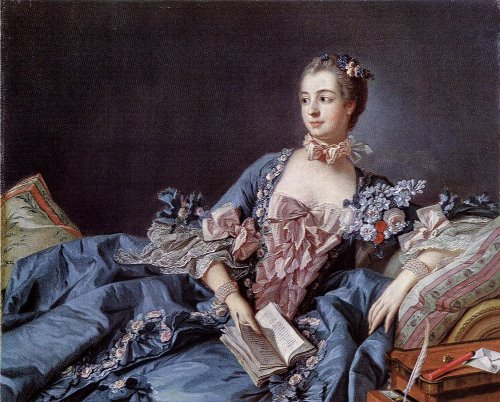 Madame de Pompadour (1721-1764) was the most famous mistress of French King Louis XV. Everybody knows this, but who knew she was also a passionate cook? She certainly did not clean the pots but the following recipe has apparently been invented by her. I could not resist trying. If you want to follow suit, try first making a béarnaise, a better sauce altogether. But if you can find the verjuice you may try Madame de Pompadour's version. In the meanwhile just enjoy it here: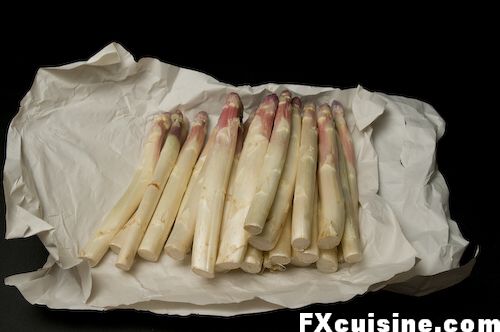 We have reserved this recipe as the last so that it can be kept out of line. We will see that it is at the same time exquisitely delicate, of a charming simplicity and a perfect elegance.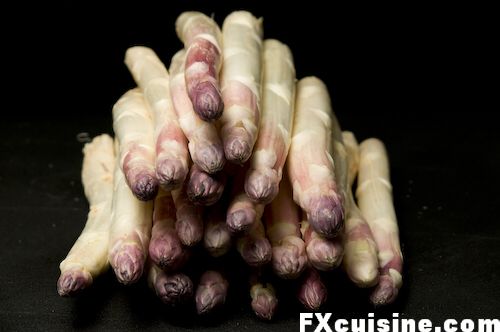 select three bunches of the nicest asparagus of the great plan of Holland that is those white with the purple tip.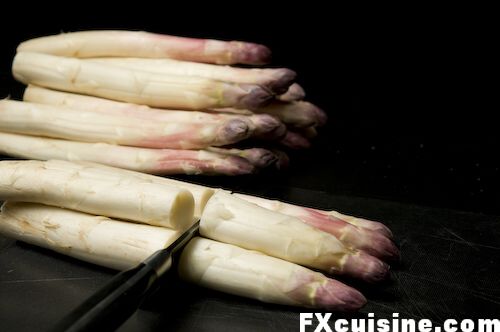 Let them be cleaned and pared. Then cut them crosswise on the side of the tip, as long as your little finger.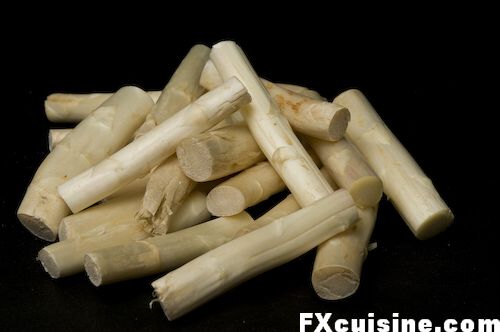 Worry only about these choicy morsels and discard the remaining stem.
Cook them in the usual manner by plunging into salt water.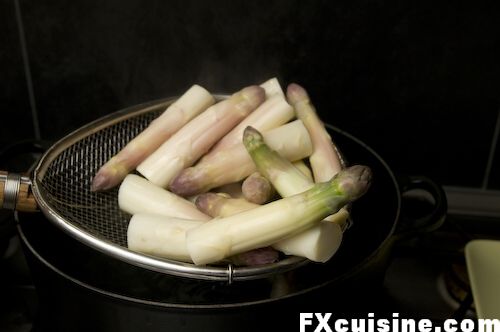 Remove them ...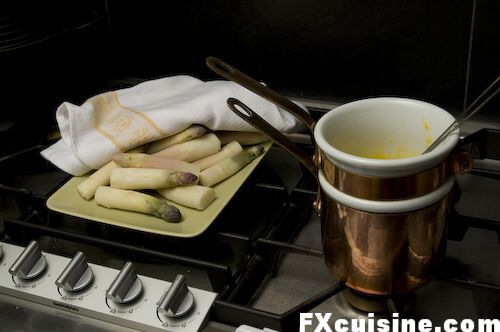 ... to a towel to let them drip and keep warm while you will make their sauce.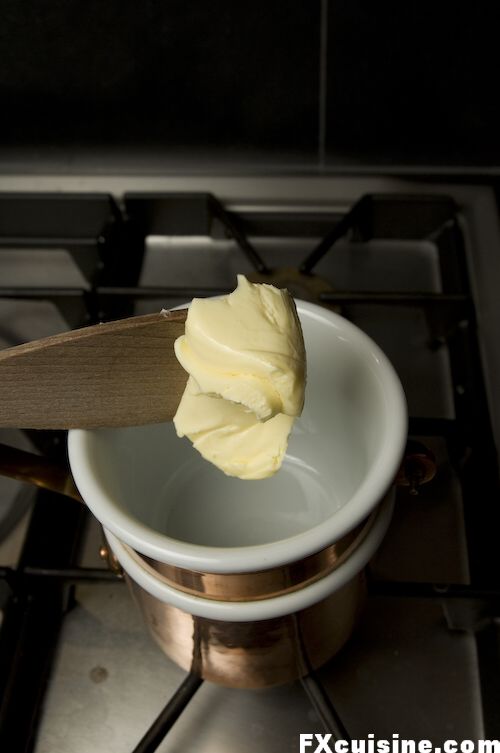 Empty a middle-sized pot of butter from Vanvres or the Prévalais in a silver pot.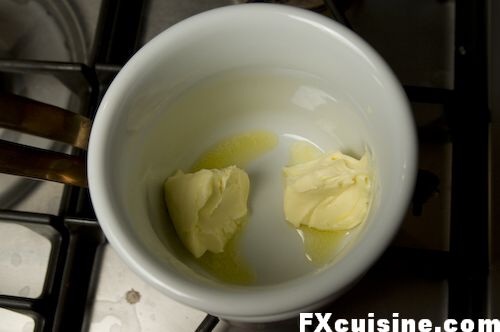 Melt the butter.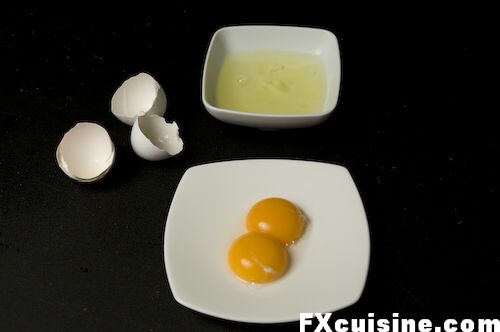 This sauce, like a hollandaise or a béarnaise, is thickened by mixing it with egg yolks and slowly heating it. You absolutely need a waterbath to do this and to watch your temperature constantly, as any foray beyond 68°C will ruin the sauce - death by custardization.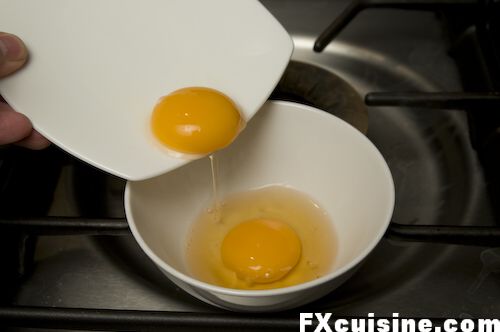 Two egg yolks ...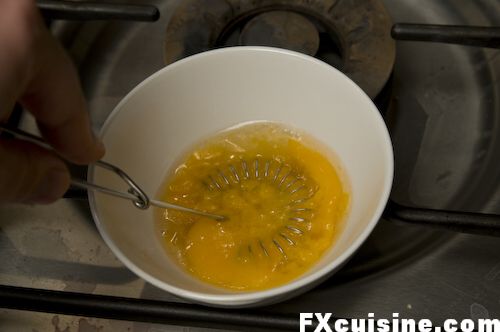 ...well mixed with 4 spoonfuls of Muscat verjuice.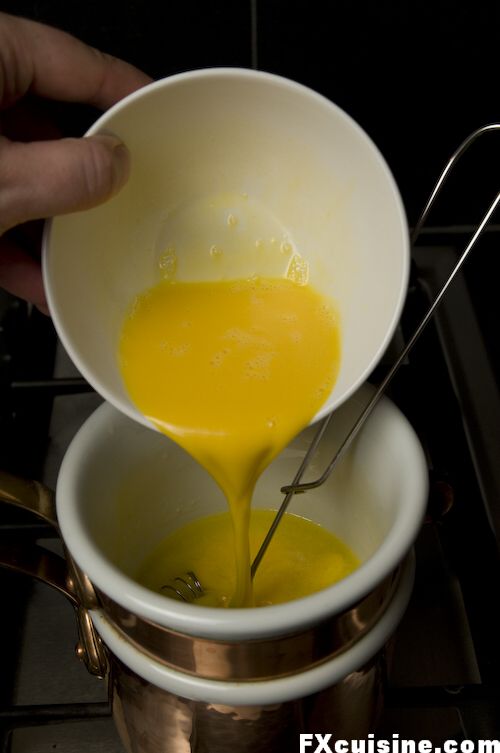 Add to the butter in one go. If you pour it too slowly, you run the risk of custardizing the first drop of egg yolk.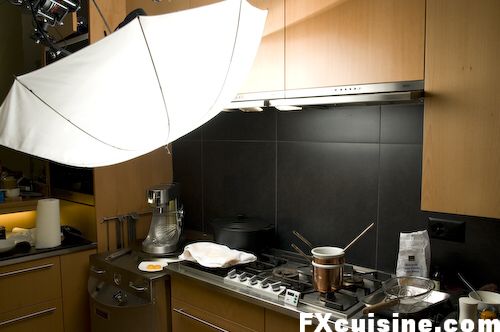 My umbrella watching over the proceedings like the Sun King.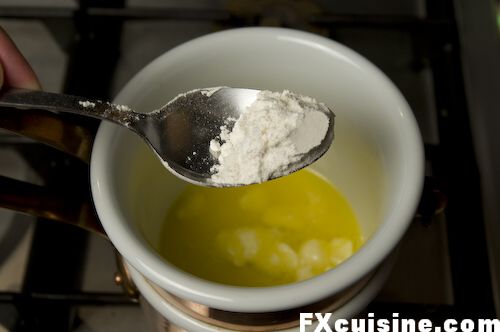 Add a few grains of salt and half a spoonful of spelt flour ...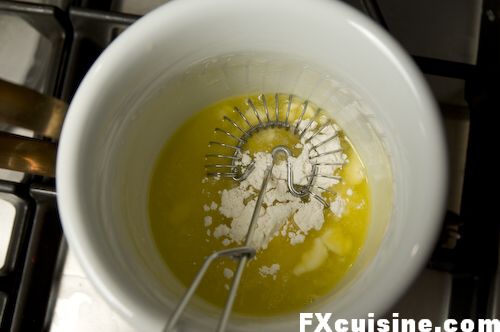 ... and mix well.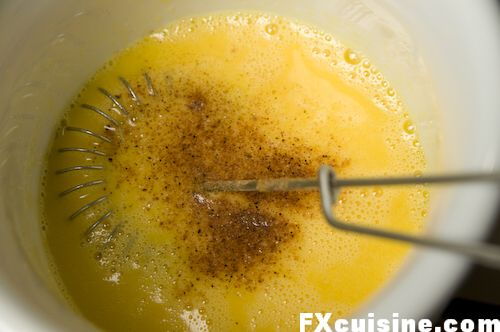 Add a strong pinch of powdered mace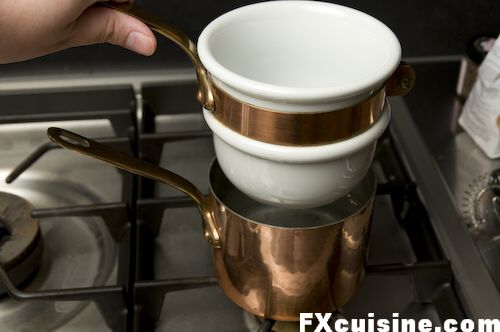 Let the above-mentionned sauce cook on a bain marie waterbath...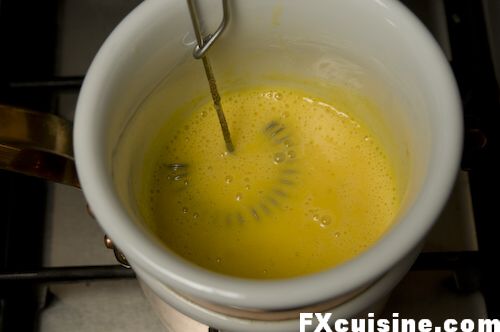 ... avoiding not to make it heavy by letting it become to thick.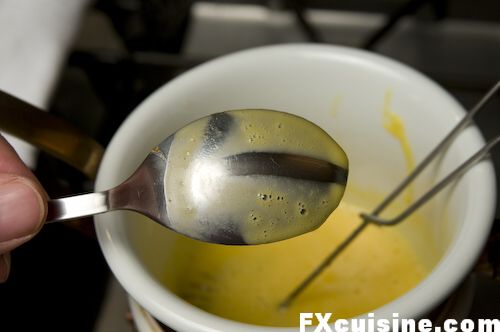 The sauce is ready as soon as you can leave a trace with your finger on the back of a spoon - it means the egg yolk as coagulated enough. Do not let the sauce linger in the water bath or your'll ruin it.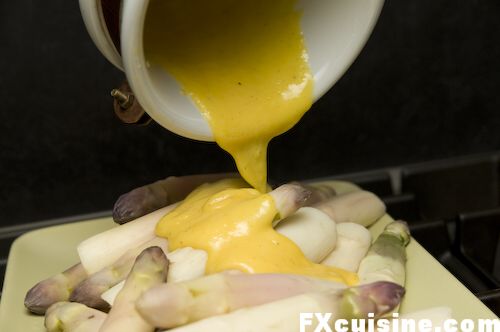 Place your sliced asparagus pieces in the said sauce and serve both in an open casserole as an extra dish, so that this excellent dish will not languish on the table and can be enjoyed in its full perfection.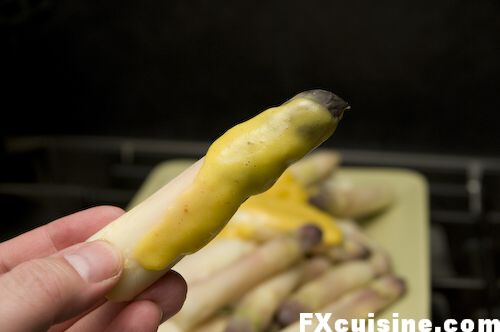 This interesting formula reached us through the archives of Monsieur Grimod de la Reynière, who had it through the estate of his great uncle, Monsieur de Jarente, minister of state during the period when Madame de Pompadour was in favor. The author of the original manusript took the care of mentionning that these Asparagus à la Pompadour must be served with a spoon but eaten with a fork.
The recipe is cited in Alexandre Dumas' Gastronomic Dictionary, but I found it in Néo-Physiologie du Goût, a 1839 cookbook. For my article I cut the asparagus before blanching it, which changes a bit the order. Here is the full text - pardon my French:
Asperges à la Pompadour
(On a réservé cette, presription pour la dernière, afin de, la maintenir hors de ligne. On verra qu'elle, est tout à la fois d'une, délicatesse exquise, d'une simplicité charmante et d'une élégance, parfaite). Choisissez trois bottes des plus belles asperges du gros plan de Hollande, c'est-à-dire blanches avec le bout violet. Faites-les parer, laver et cuire, en les plongeant comme à l'ordinaire dans de l'eau de sel bouillante. Tranchez-les ensuite en les coupant en biais, du côté de la pointe et de la longueur du petit doigt. Ne vous occupez que de ces morceaux de choix et laissez de côté le reste de leurs tiges. Mettez lesdits morceaux dans une serviette chaude afin de les égoutter en les maintenant chaudement pendant que vous confectionnerez leur sauce. - Videz un moyen pot de beurre de Vanvres ou de la Prévalais en en prenant le contenu par cuillerées et le mettant dans une casserole d'argent : joignez-y quelques grains de sel avec une forte pincée de macis en poudre, une demi-cuillerée de fleur de farine d'épautre, et de plus deux jaunes frais bien délayés avec quatre cuillerées de suc de verjus muscat. Faites cuire ladite sauce au bain-marie, en évitant de l'allourdir en lui laissant prendre trop d'épaisseur: mettez vos morceaux d'asperges tranchés dans ladite sauce, et servez le tout ensemble en casserole couverte et en extra, pour que cet excellent entremets ne languisse point sur la table, et puisse être apprécié dans toute sa perfection. Cette intéressante formule nous est parvenue des archives de M. Grimod de la Reynière, qui l'avait eue par succession de son grand-oncle, M. de Jarente, ministre d'État pendant la faveur de madame de Pompadour. L'auteur du manuscrit original a eu soin d'observer que ces asperges à la Pompadour doivent se servir à la cuillère, et se manger à la fourchette.
170251 views
Related Articles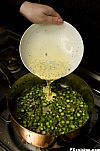 Asparagus like Green Peas **
Delicious 19th century French dish - asparagus served like green peas. This was a favorite of Napoleon's Foreign Minister Talleyrand. Simple, healthy and thoroughly decadent.
Copyright FXcuisine 2023 - all rights reserved.
If you do this recipe at home please let me know how it worked for you by submitting a comment or send me a picture if you can. Thanks!