Clam Juice Risotto
Home
>>
Recipes
Nobody does it like the Italians, but under my patient tutelage you'll give a most convincing performance.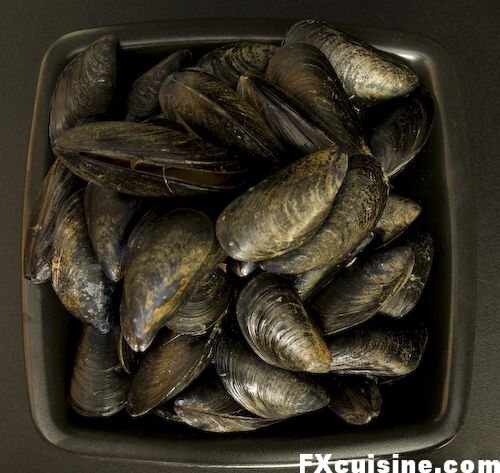 My friend Terry, a cunning linguist, read this article and told me «With a title like this you could draw the wrong sort of people to your website». But I liked the title and it really is about clam juice. So let me be clear from the outset - there is nothing here but the lowest kind of culinary pornography.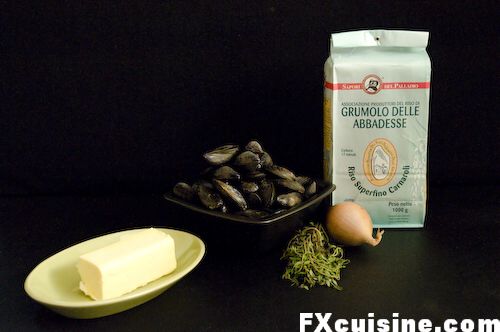 Clam Juice Risotto
1 kg / 2lbs mussels or clams in their shells. You can use most other edible sea shells for this recipe.
1 small onion
1 garlic clove
1 thyme twig
1 bay leaf
1 dried chili
Olive oil
1 stick butter
Mascarpone (optional)
Cognac
2 cups risotto rice
1 small glass white wine
Salt, pepper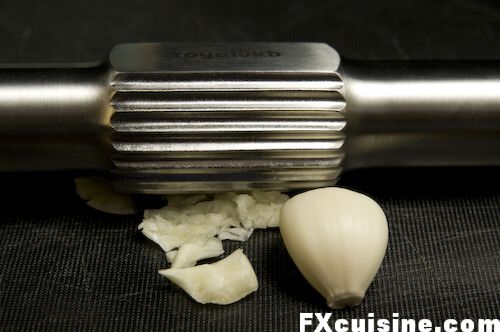 Crush the garlic, under the blade your largest knife like a he-man or like I did using a fancy Dutch kitchen gadget.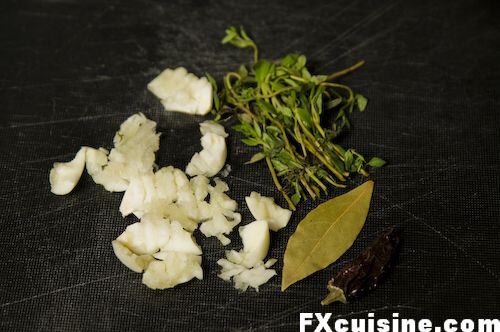 Meet our participants to the 'Let's flavor that mussel' show. Clockwise from the left : crushed garlic, thyme, bay leaf and a dried Serrano chili. No salt will be needed.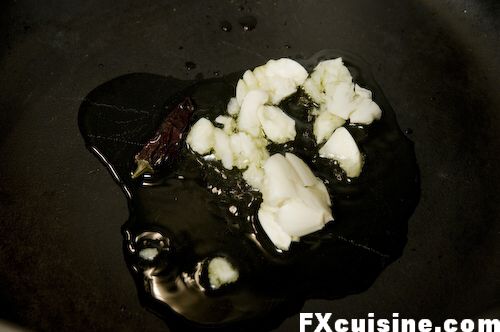 Heat a little olive oil in a large pot and add the garlic. When the garlic starts to turn slightly sandy ...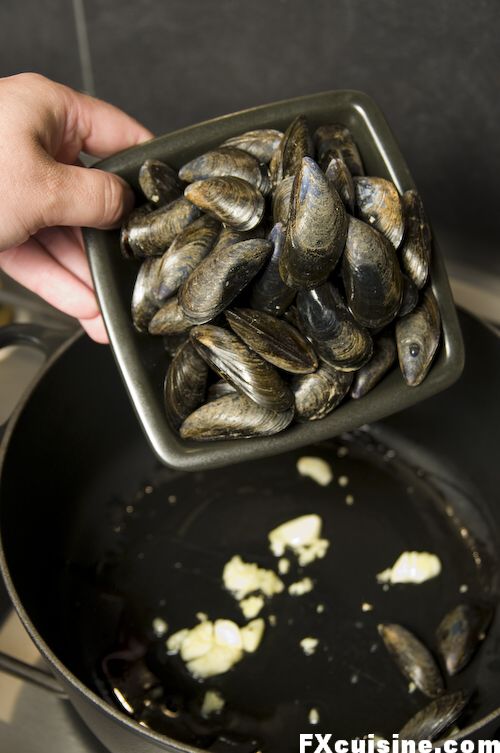 ... add the mussels and the rest of the aromatic garnish.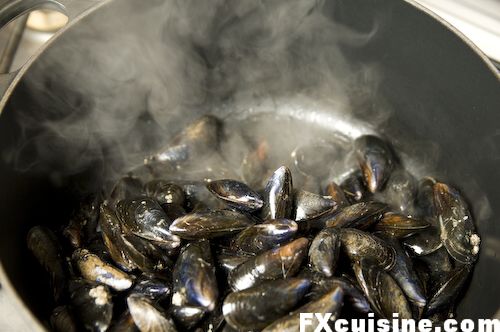 Keep the pot on a high heat. At first the mussels will play it like nothing happened. But soon they'll start opening up, with this heat who could blame them?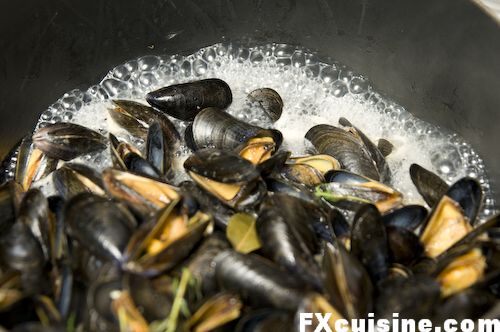 As the mussels open up, they will release the precious mussel juice that will start to boil. If you have too many mussels and fear that the ones on top might not be hot enough to open just yet, you might add a small glass of water to increase the quantity of steam in your pot.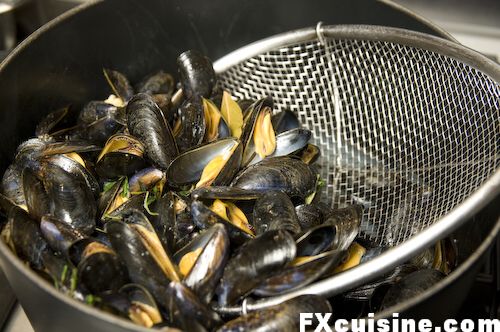 Remove the mussels to a cooler spot...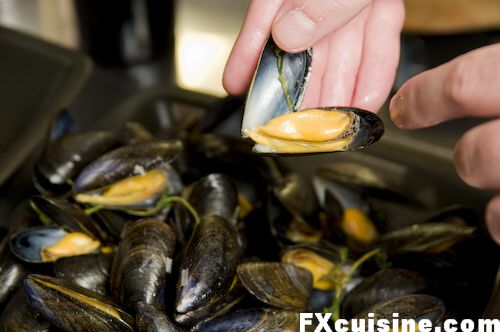 ... and delicately take out the fleshy portion inside.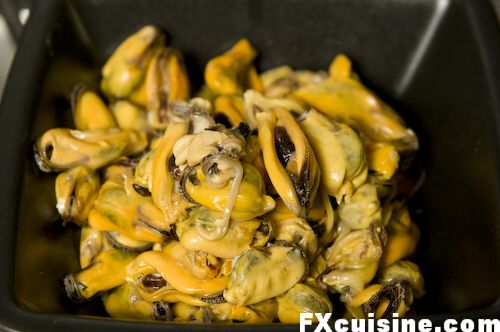 Do not throw away the shells just yet...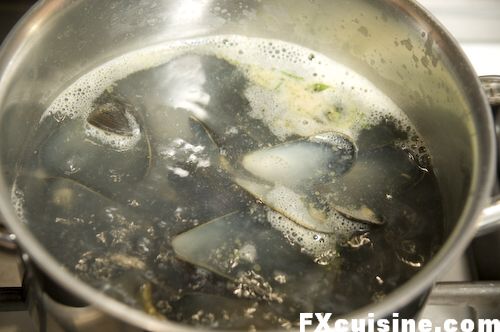 ... but add them to a small pot of boiling water or fish stock which we'll use for the risotto. You don't really need anything but hot water with some mussel shells thrown in as the mussel juice has enough power to flavor a gallon of risotto, and then some.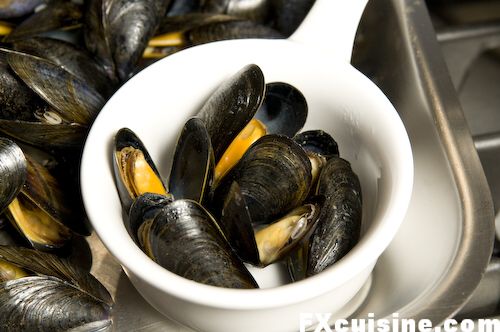 Choose the nicest looking mussels and save one per plate, with the flesh intact.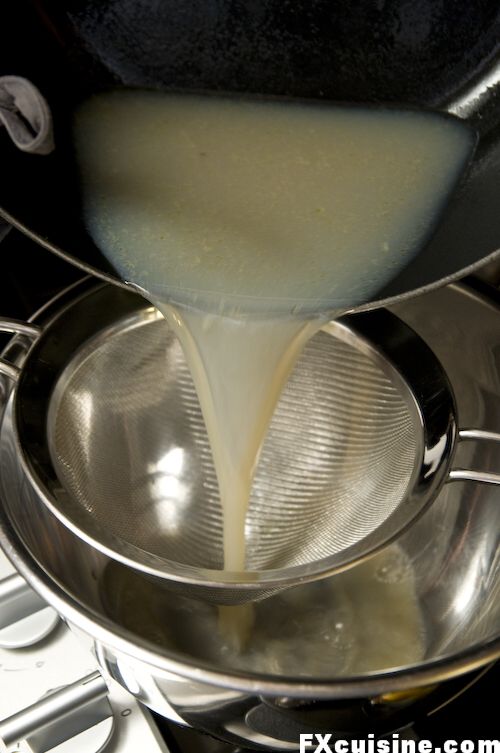 Now for your mussel juice. You have to be careful as it is rather poisonous in its current stage, laced with brittle shell fragments and sand. Filter through the finest sieve you have or, better yet, through a clean cotton cloth.
Finely dice your onion.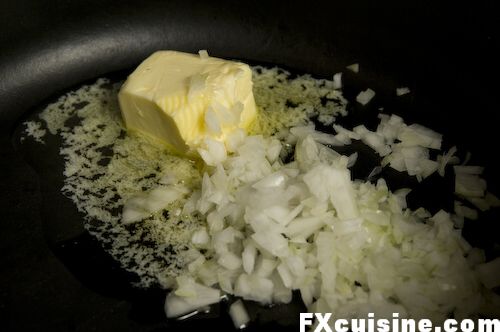 Let's start making our risotto. Melt a generous piece of butter in a saucepan and add the onion.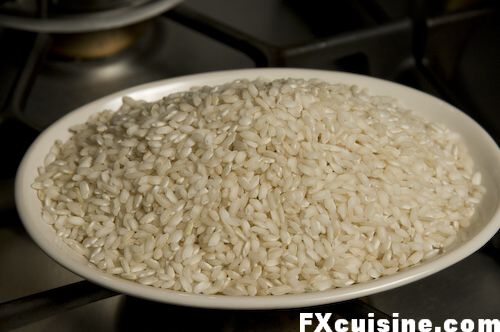 You can use any rice for this dish, as long as it is risotto rice. I use a fancy slow food 'Grumolo delle abbadesse' but that's only because it was available at COOP, my local supermarket. Please do not wash the rice, this is an insanity spred by some non-Italian cookbooks. What we need is to coat each rice grain in melted butter, and you just can't do that with wet rice. Washing rice is designed to remove the microscopic rice flour generated by rice grains rubbing each other in the bag. You want that flour as it will help make your risotto sticky.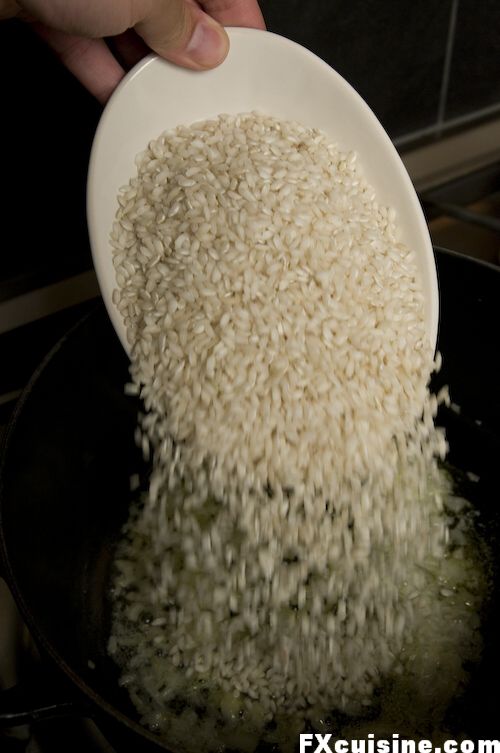 When the onion is soft, add the rice.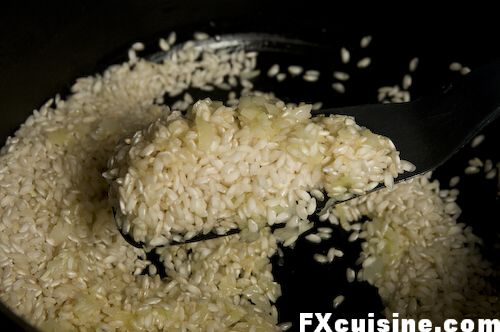 Toss until each rice grain is fully coated in fat.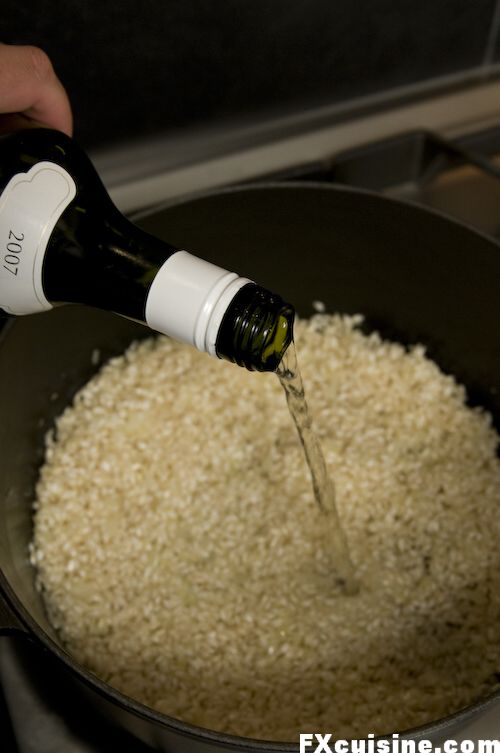 A drop of a nondesript white wine...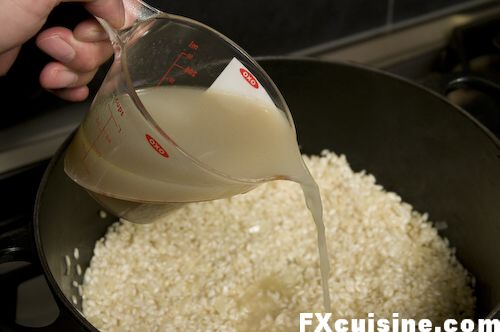 ... then, as soon as the alcohol has evaporated, the mussel juice. Mix well over medium-high heat.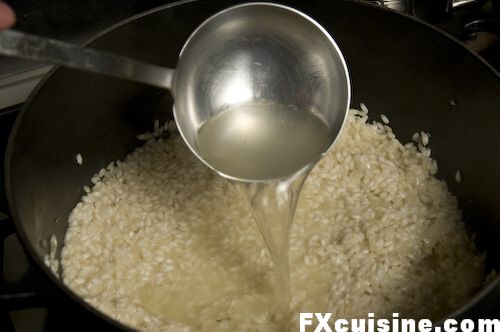 Add half a cup of hot mussel water ...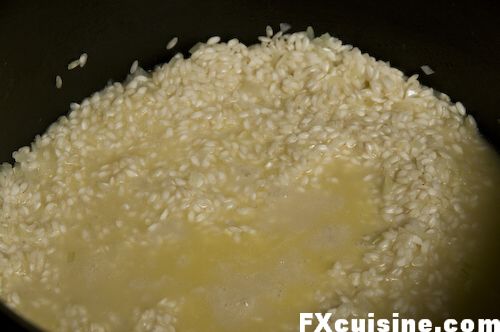 ... mix it in.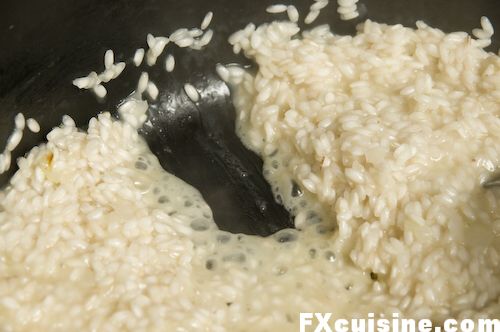 Keeping the risotto on a hot fire, continue to stir regularly until all water is absorbed.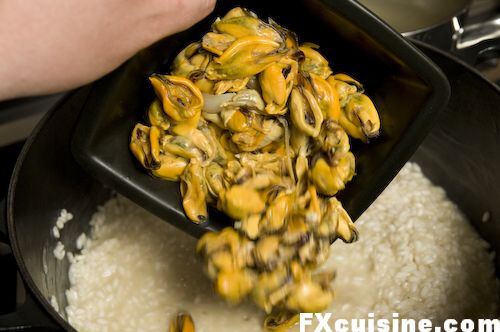 Add the mussel flesh halfway through cooking.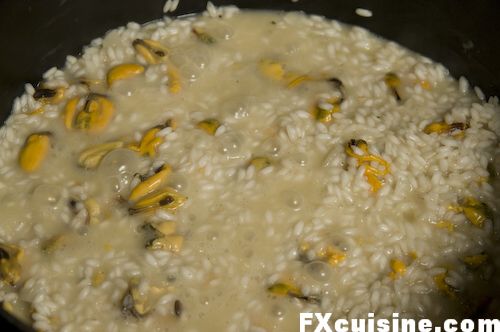 Continue to add liquid half-cup by half-cup until the rice is just nearly cooked through. You as the chef, are now faced with a choice. You can cook your risotto al dente, keeping the grain rices with a slight bite. That is the preferred option for Italians as for myself. Otherwise just leave it a couple minutes longer until the rice becomes soft as a marshmallow. I don't recommend that since you can get all the overcooked risotto you want in any restaurant. The second choice is how much liquid you want to keep in the risotto. Some italians keep it rather wet, not so much as to see puddles of the mighty mussel juice, but still enough liquid so that your risotto can be poured onto a plate rather than needing to be spooned. Liquid risotto, al dente or not, is called all'onda (wave style). A smartass chef in a cocktail could say «I serve my risotti», notice the plural in i, «al dente and all'onda». I like my risotto dry, so I let most of the liquid evaporate before moving to the next step.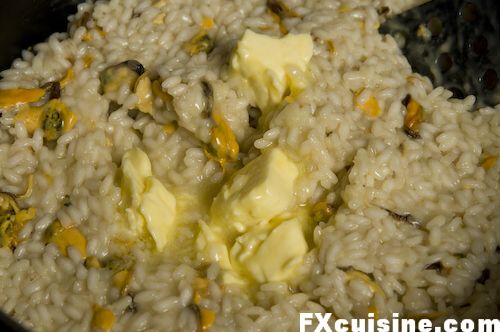 Physically remove the risotto pot from the plate, cover and let it rest for 2-5 minutes. We need the temperature to come down a bit before we fold in the butter. Cut the butter into small dices and fold them in quickly so that the butter won't have time to bleed its fat out before it is emulsified with the remaining liquid in the risotto. How much butter is a question best asked to your physician, but as far as I am concerned there is no limit. Start with 2 tablespoons / 50 grams.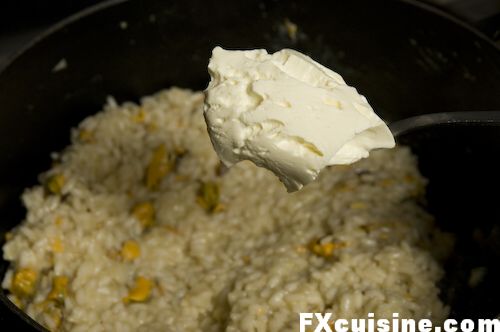 The mascarpone I usually add to my risotti is here superfluous. I know because I tried. However, you could add a drop of Cognac for a beautiful and most effective result in a romantic context.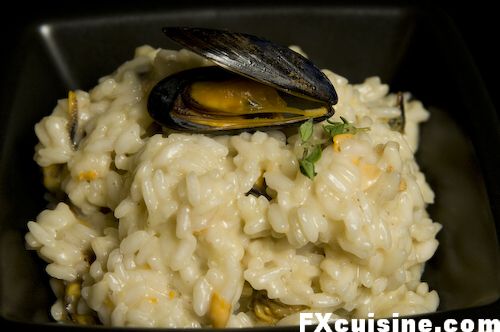 Decorate with a mussel and a little thyme and serve.
Of course all of this may look like a wee bit too fattening, but hey, you know the old Italian proverb: «Un risotto al giorno tiene il medico sveglio» (A risotto a day keeps the doctor awake).
82406 views
Related Articles

Arancini, the cult Sicilian dish * Popular
These glorified deep-fried stuffed rice croquettes are a cult sicilian dish celebrated in a recent best-selling Italian novel.
Copyright FXcuisine 2023 - all rights reserved.
If you do this recipe at home please let me know how it worked for you by submitting a comment or send me a picture if you can. Thanks!