A night at the Liboson
(page 2 of 2)
Home
>>
Experiences
A memorable fondue in an over-the-top dungeon chalet straight out of a Hammer film. Our host, Paul du Marchie, has been building an architectural fantasy in the middle of the woods for the last 50 years. Dont' miss my eight 360° panoramas!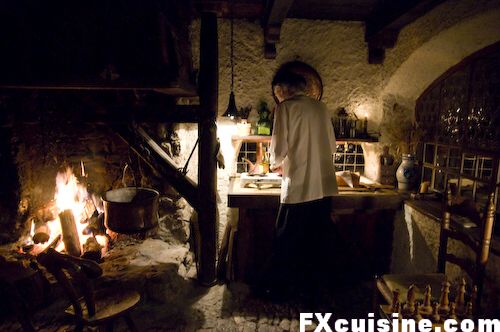 Du Marchie starts preparing the fondue. It is the only dish I cook, he explains, I'm just not into cooking. If I spend more than 10 minutes in the kitchen a day, that'a already too much. For us a microwave dinner is all we need. As I heard the word 'microwave', I reach for my garlic plaid.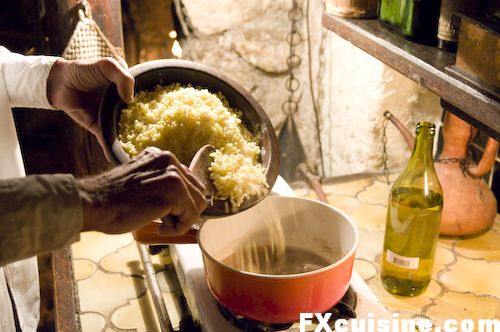 He brings some white wine to a boil and mixes it with pepper. That's his touch, explains Nicole. This is pepper from the desert, I buy it from the Bedouins when we go spend a month living with them, says Du Marchie, focused on the task.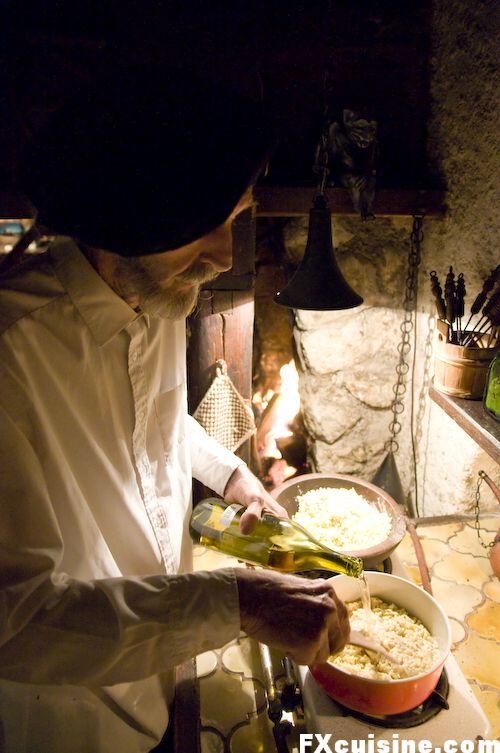 I point out that pepper doesn't grow in the desert but in the jungle. Du Marchie stares at me coldly. Nicole sees the tension and intervenes delicately Indeed this pepper is grown somewhere in Sub-Saharan Africa, where the Nomads buy it and carry it through the desert. We buy it from the Bedouins in the desert, she says.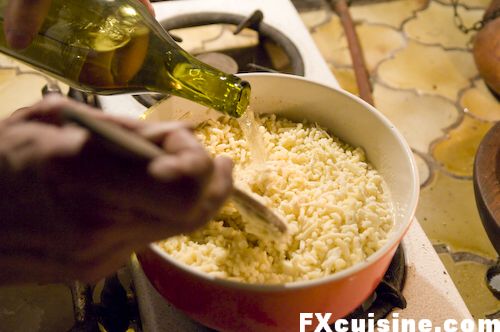 From time to time he adds a little more wine until all cheese is melted in a smooth fat-in-water emulsion.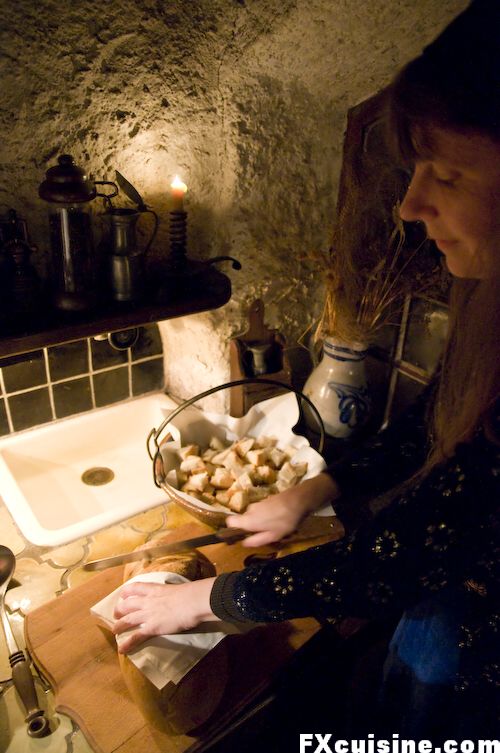 Nicole comes and cuts the bread in large dices. The meal is almost ready.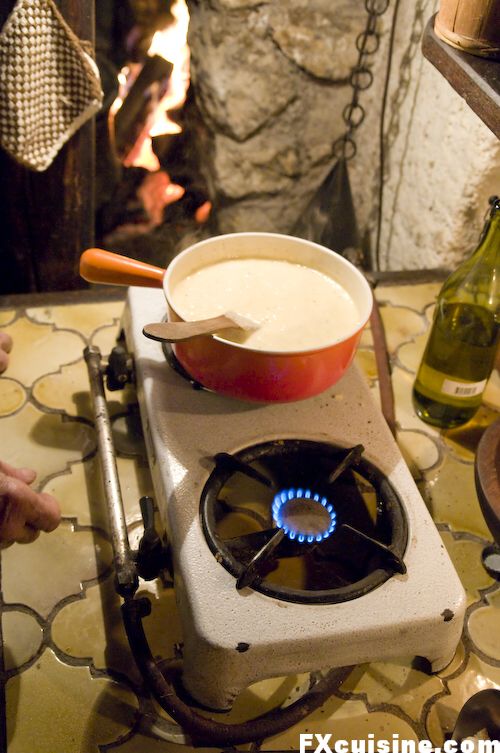 When the pot is bubbling nicely and the surface is smooth, ...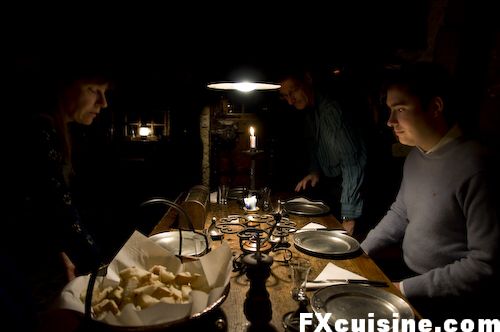 ... we all rush to the table, cleverly lit by a low hanging lamp that gives the place enormous intimacy. The huge table looks medieval but upon closer inspection, loads of names are carved on the surface. A school table maybe? The old-looking tin plates complete the look. Nothing is really medieval, but nothing looks fake. You feel that these furnitures have been made by hand and used for decades. Highly atmospheric.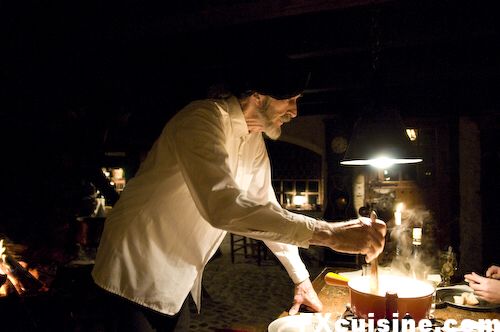 Du Marchie gives the fondue one last whisk ...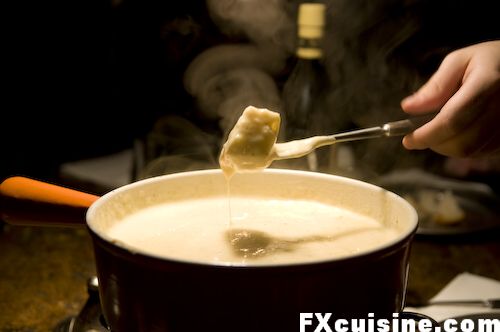 ... and we tuck in, placing a bread cube at the end of a long fondue fork, and dip it in the cheese emulsion until thoroughly coated. In Switzerland there is always a clift at any given fondue table - those who like pepper and those who don't. I love pepper, cracked black pepper, and always ask people at the table if they agree that we put some more in the soup. Well, not this time, plenty of delicious freshly cracked pepper «from the desert».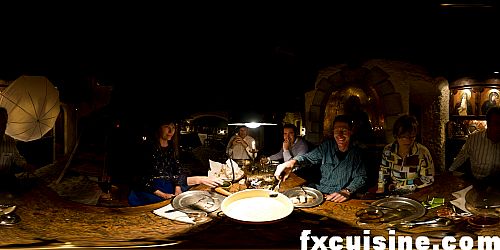 How to convey the convivial ambiance of sharing a fondue, with all guests eating from the same warm pot? How about two over-the-pot fondue panoramas? They are interactive if you have Flash installed (96% of browsers have Flash, in case of click but no bang just use the alternate Jpeg version, not quite the same thing though).

Interactive 360° panorama #4
John is dipping a piece of bread intot he fondue with my unsightly photographic umbrella behind me. I didn't use it, Du Marchie's lighting was nicer. (Jpeg version)



Interactive 360° panorama #5
Paul du Marchie exchanges a sweet look with his wife Nicole du Marchie I moved the brolly so you can see the beautiful byzantine portraits they have painted on the dresser behind me. (Jpeg version)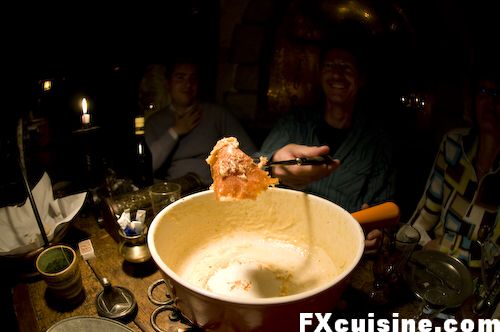 As we finish the pot, I ask du Marchie if I can have the bottom crust. He looks at Nicole, who says Well you can't really get any crust, I think. I ask if they mind if we try. Please be our guest, she says. While I increase the flame below the empty pot, John pours some white wine on the curst. After a few minutes, the crust starts to warp and john manages to pry it off. We offer some to the du Marchie but they really don't look tempted, It's burnt, explains Nicole. Not at all, this is the best bit, just brown but not black. John splits it in half and we eat it with relish.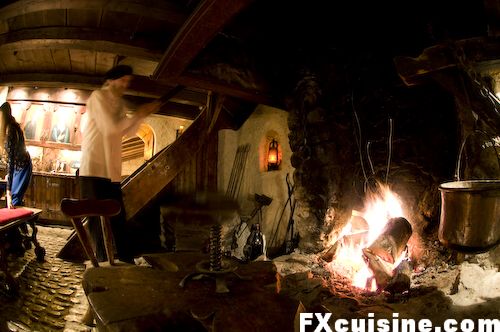 From time to time, Paul du Marchie leaves the table to put another log in the huge fireplace or to action the with a gigantic forge bellows. I tell him that there are so many great things he could cook in such a fireplace, but he snaps To achieve anything in life you need to focus, and cooking has never been my thing.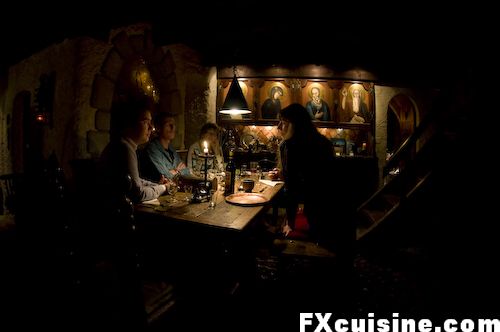 I start talking organ music with Nicole and pulls out my Iphone to play some of my own favorite organ music. John Butt playing Pachelbel's Hexacordum Appolinis, Guy Bovet reviving the oldest playable organ in Valère with old scores by Giovanni Gabrieli. Finally Cléarambault's Dialogue sur les grands jeux seems to fill the kitchen from my palmtop as all stop speaking. Du Marchie seems very intrigued by the device - The quality is very good, he says.
Let's move to the room for an organ concert, says Nicole.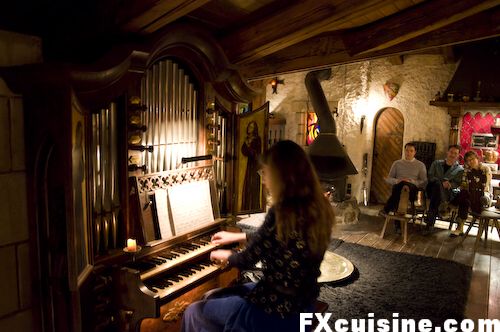 We follow her into the suite, where we sit down...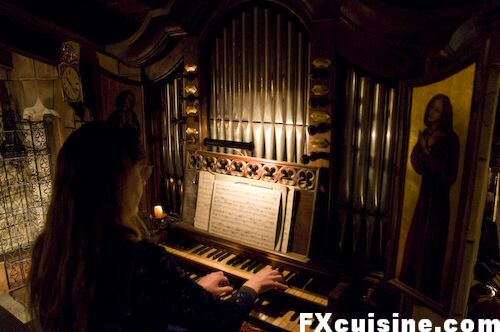 ... while Nicole starts playing the organ.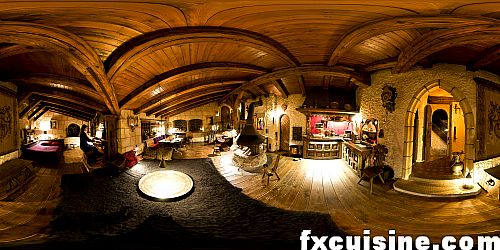 Interactive 360° panorama #6
The du Marchie's suite, with Nicole playing the organ, an open kitchen, a crawl-on carpet with a large Moroccan tray for meals. A TV set is hidden behind the tapestry right of the doorway that leads to the kitchen. Most what you see, walls, beams, furnitures, has been built from scratch by du Marchie himself (Jpeg version)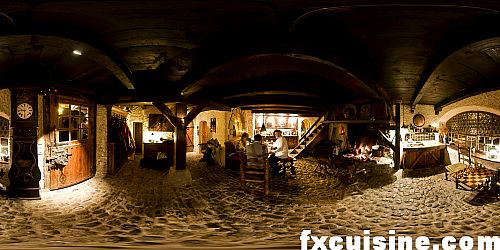 Interactive 360° panorama #7
Du Marchie takes us two by two to show his famous 3D slides (Jpeg version)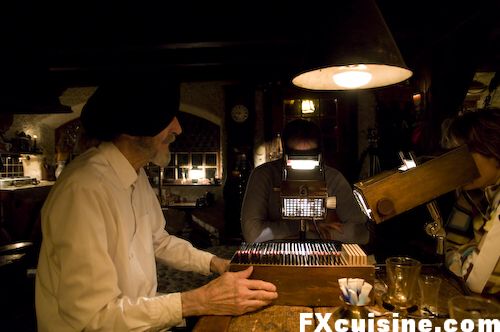 Du Marchie built a system from scratch to take 3 dimensional pictures and display them backlit in a wooden box. He showed us mostly pictures of his former girlfriends in the desert, but the results are stunning, we a strong sense of depth. He has more than 700 pictures that he'll show you for a small fee (20 Swiss francs I think) if you call ahead.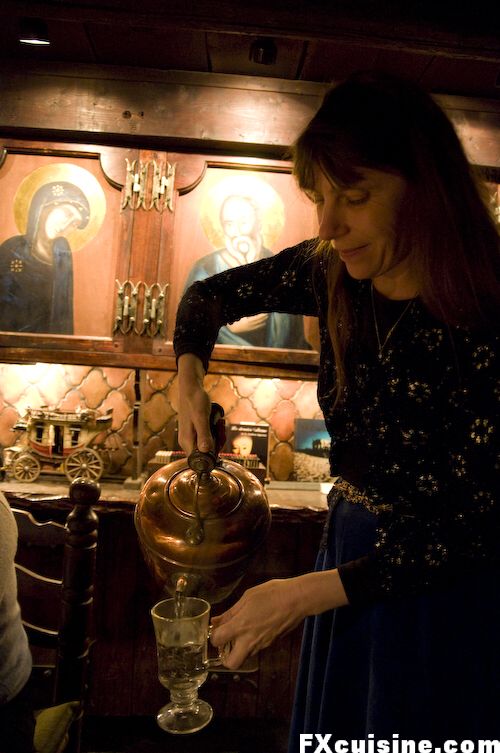 We all have a good time while Nicole poured some hot water from a large copper kettle they bought from a Nomadic family in the Sahara.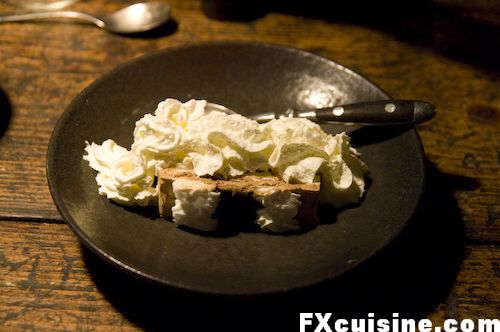 Dessert was some bought ice cream, nice but not worthy of being featured on FXcuisine by itself. But you must agree that there is more than just food to a memorable meal!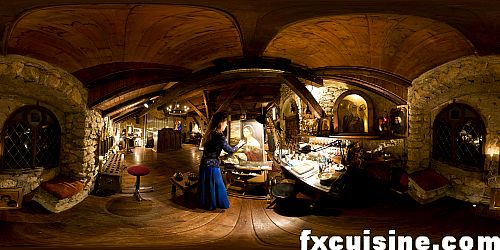 Interactive 360° panorama #8
You can buy some Byzantine icon reproductions and other paintings Nicole crafts in her beautiful Renaissance painter studio. They mix their own pigments as you can see on the table. (Jpeg version)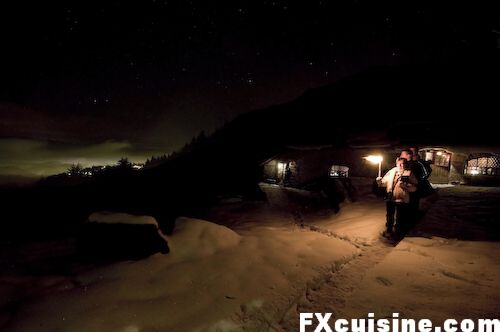 Some time after midnight, we leave. Du Marchie lights us a torch and we start our kilometer-long walk across the pitch-black woods.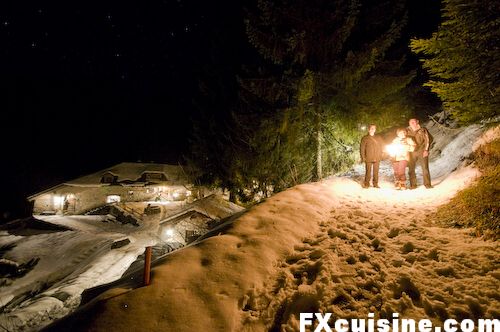 As we climb the path, we look back one last time on this eerie chalet glowing in the snow.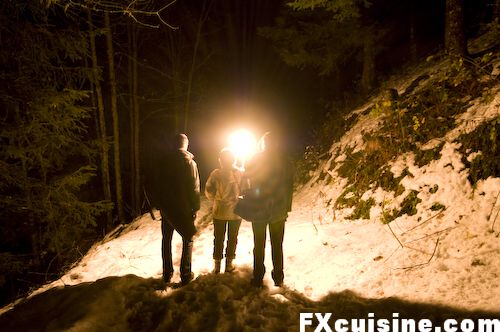 Christine leads the way across the dark woods and to the car. A most memorable evening.
Chalet le Liboson [leebohzon]
Paul du Marchie van Voorthuysen and Nicole du Marchie
CH-1824 Caux (above Montreux)
Switzerland
+41 (0) 21 963 30 19
No email, no website
Google Maps
You too can spend a night at the Liboson. In the wintertime, you need to leave the car about 1km from the chalet and walk on the road. You can't really miss it as there is a large wooden sign on the road for Le Liboson. Paul and Nicole speak good English. A fondue evening costs 70 francs per person and you can spend the night in a large and beautiful suite for 110 francs per night for the first person and 60 francs for each additional person. It is not a restaurant nor a café but more like an extravagant bed and breakfast. Although this is not a foodie place, I highly recommend a visit. If you come an afternoon to see the 3D pictures they only charge 8 francs a person. Call ahead.
160268 views
Related Articles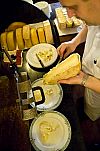 Swiss Raclette *** Popular
The national dish of Valais, my Swiss canton, raclette is the most gorgeous melted cheese you will ever have. Here at its best at the Manoir de Villa in Sierre.

Hard Core Swiss Vacherin Cheese ***
Follow me as I wake up in the wee hours of the morning to see Swiss armailli make a unique cheese in a small chalet up the Gruyere Alps.

A Day Out in the Swiss Alps ***
Last weekend my friend John invited me to spend the day at his chalet in the Swiss Alps. We sledged down the fearsome 5-miles-long run and finished with cheese fondue.

Swiss Alpine Pasture Cheese Croûte ***
How I bought cheese in a small cheese making chalet in the Swiss Alps 2 hours walk from the last road and how I turned it into a delicious Croûte au fromage.


Montgomery's Cheddar ***
My Christmas article will show you how the best cheddar since King Arthur is made in Somerset, including a 4 minutes video.
Copyright FXcuisine 2018 - all rights reserved.
If you do this recipe at home please let me know how it worked for you by submitting a comment or send me a picture if you can. Thanks!