Swiss Alps Ricotta
(page 2 of 2)
Home
>>
Experiences
See how we make
sérac
, the Swiss ricotta, up in the Swiss Alps and learn about about Swiss cheese botanics with a field trip to see what the cows graze up there.
Moulds count as some of the finest connaisseurs of cheese, and it takes hard work to brush the cheeses in brine every other day to keep them away. It is this lady's job.
During the summer, they have 40 white cows and 40 black Hérens cows (see below). With two milkings a days, and plenty of pastures around, this makes about 700 liters (185 gallons) a day. Mathilde makes 10 big 5.5kg (12lbs) cheeses and 15 tommes of 1.4kg (3lbs) each.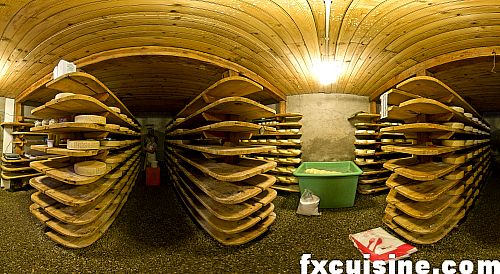 Interactive 360° panorama #1
The large cheese ripening cellar where cheeses spend the first few months of their life. That's where Mathilde the cheesemaker will take you if you ever knock on her door, so that you can pick the exact cheese head you want - or ask her to cut you as slice.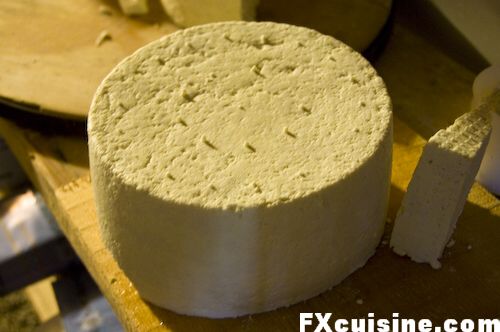 I couldn't resist buying one of her séracs...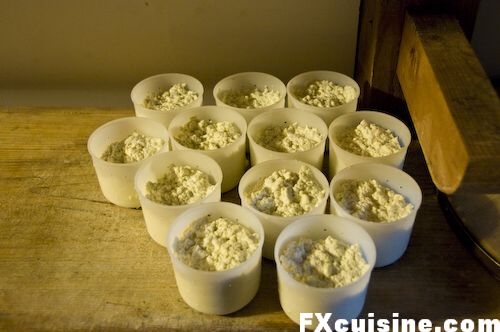 ... as well as a few super-fresh, ricotta-like mini séracs.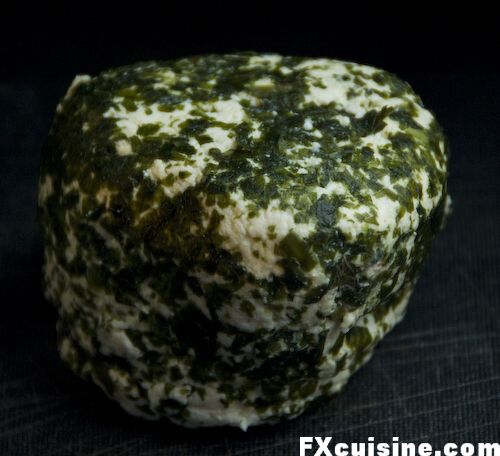 Swiss dairy chalets produce oceans of whey and mountains of sérac is made from that whey. It is not always easy to find a market for this whey cheese and cheesemakers propose it in various guises to attract new consumers. Here is one I bought, coated in chives. Sérac only contains proteins and almost no fat.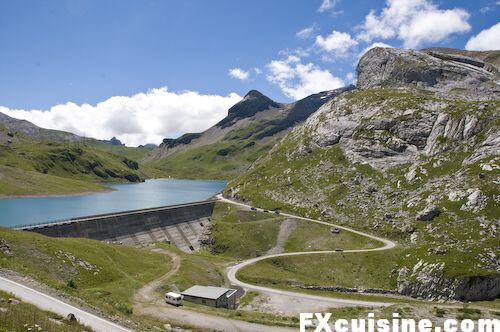 Mathilde goes for a well-deserved nap and we go back to the car and drive the last mile up the Sanetsch path. We pass an intriguing house nested against a huge boulder, the Swiss Alpine Club hut, opened during winter only.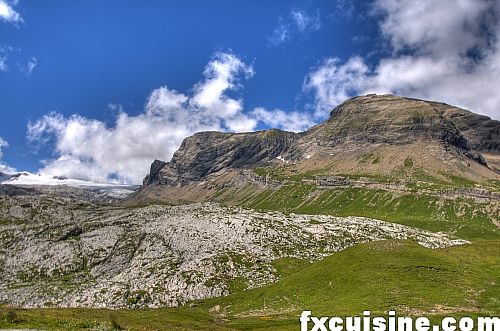 We have lunch at the inn on the Sanetsch path, run by a pony-tailed local man who once rode a mule to Rome to meet the pope. While we wait for food, I place a 19th century plumb-bob in my fist and challenge my friends to guess what it is. All I'll do is answer yes or no to any question they ask. After 10 minutes they run out of steam but won't give up. Finally my father guesses and I gift him the beautiful brass implement, which I bought for a song on Ebay the week before.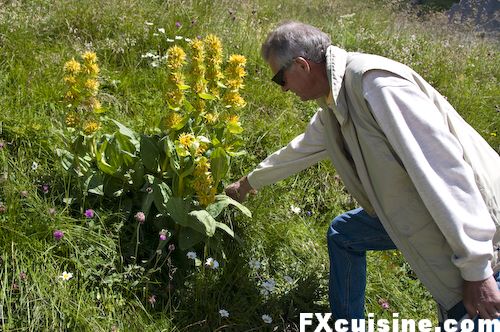 Our guide is Alphonse Jacquier, my father and him go back 50 years of rock-solid frienship. He held me in his arms as an infant. Alphonse is a big man in the Swiss dairy industry and loves passionately everything about cheeses. I rung him up one day to ask if he could recommend a chalet d'alpage where I could see some serious traditional cheesemaking. Alphonse gave me a long list, each with lyrical comments about the chalet's location, the cow breed and the cheesemaker who runs the chalet. Let's go together, he offered. I said I'd love to, but could he find a chalet that would be accessible by car so that I could take my father who is not found of Alpine slopes? That's how we went to the Tsanfleuron.
Alphonse stopped at the roadside to show us Gentiana Lutea, a beautiful plant ignored by cattle due to its bitterness but much loved by friends of the bottle. They macerate the flower's roots in alcohol to prepare Gentiane, a popular digestive in the Alps. I ask him about how plants affect milk and cheese taste, and a huge smile appears on his face.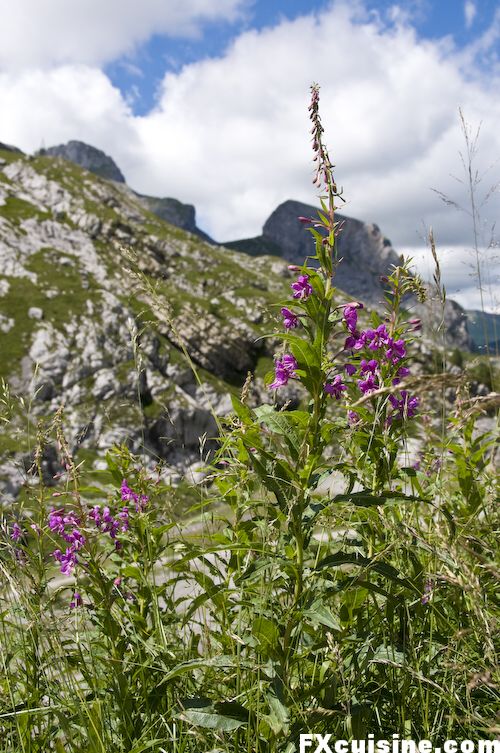 Alphonse is a son of the Alps and a keen amateur botanist. He paused many times as we made our way up from the chalet and through the meadows, to show me plants of interest. This one is l'Epilobe à feuille étroite (Epilobium Angustifolium). Our grandmothers prepared fireweed tea for old men who had trouble urinating. And recently it was discovered that the plant contains a substance that fights Benign prostatic hyperplasia, and it now made into a drug., explains Alphonse, clearly relishing the old woman's tale vindicated by modern science.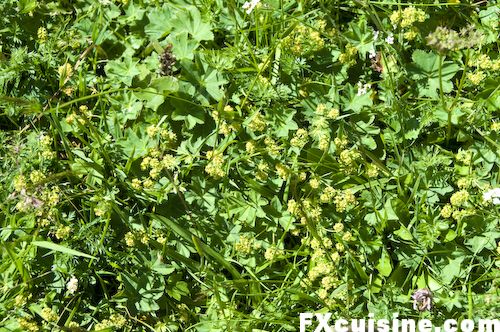 Alchemilla vulgaris L. As we are standing on the border between Swiss-German-speaking and French-speaking Switzerland, Alphonse tells me that It is called Frauenmantel in German, that means ladiesmantle, for the leaves look like the mantle of Saint Mary. Alchemist collected the dew that accumulates on the funnel-shaped leaves for they believed it could transmutate vulgar metals in gold. This is a great plant to have your cows graze to make good chese as it contains tannins, natural dyes that give the Alp milk and the cheese Omega 3-6 and HDL rich cholesterol. Cows love it.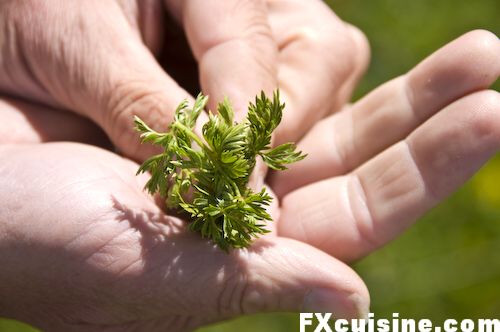 Alphonse grabs a fews leaves and explains that These are what we call refus, those renonculaceous and anemons that is hopelessely bitter and sometimes toxic. Cows usually avoids it.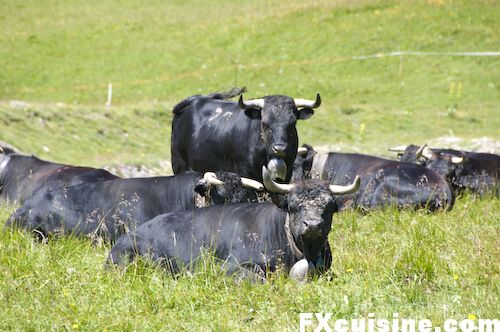 Alphonse leads me close to the slopes where the cows are grazing. Cows are only aggressive if they feel threatened. All you need is come quietly and they'll leave in in peace, Alphonse explains. Those are beautiful Hérens cows, a symbol of Valais. We have cowfights in Valais with these cows, not the cowardly kind where 10 guys on horses hurl javelin into the cow until it bleeds to death, but cow to cow, locking horns until one yield and the victor becomes queen of the Alp. The Cantonal bank of Valais even has such a cow on a billboard with a slogan - «The cantonal bank of Valais : Valaisian by nature».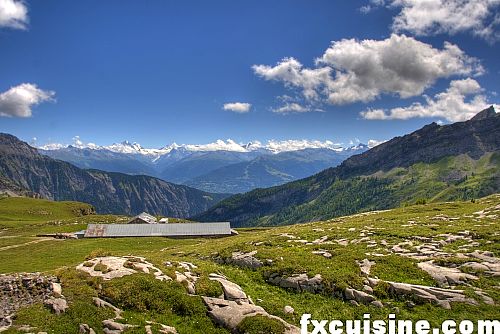 This is the essence of what makes fromage d'alpage so unique. The cheese made during those 3 summer months up the Alp is imparted with unique flavor coming directly from the cows' diet. Those cows eat fresh alpine plants, eaten right from the ground and they pass on many substances into the milk such as tannins, carotenoids, flavonoids, anthocyans and other natural dyes, told me Alphonse. The carotène is that substance also found in carrots and self-tan lotions, and its higher concentration in Alpine plants make fromage d'alpage slightly yellow. If you ever have to buy Swiss cheese, you absolutely need to buy fromage d'alpage. Surprisingly, this cheese is not more expensive than regular cheese made from hay-fed cows. But there is less of it. If the cheesemonger doesn't know what you mean, well, he doesn't have any Alpine cheese. It should say alpage on the label. Don't miss that.
154736 views
Related Articles

Hard Core Swiss Vacherin Cheese ***
Follow me as I wake up in the wee hours of the morning to see Swiss armailli make a unique cheese in a small chalet up the Gruyere Alps.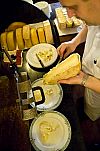 Swiss Raclette *** Popular
The national dish of Valais, my Swiss canton, raclette is the most gorgeous melted cheese you will ever have. Here at its best at the Manoir de Villa in Sierre.

Montgomery's Cheddar ***
My Christmas article will show you how the best cheddar since King Arthur is made in Somerset, including a 4 minutes video.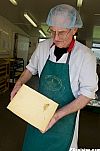 Quicke's Slow Food Cheddar ***
My visit of Quicke's Dairy in Devonshire, the largest of the nine remaining producers of real farmhouse cheddar, or how to produce world class traditional cheddar on a large scale.

Swiss Alps Cheesemaking *** Popular
My visit of a 8000'/2400m high cheesemaking chalet in the Swiss Alps where cheese is still made like 300 years ago - and not one tourist in sight!
Copyright FXcuisine 2018 - all rights reserved.
If you do this recipe at home please let me know how it worked for you by submitting a comment or send me a picture if you can. Thanks!