Kampot Pepper Plantation
Home
>>
Experiences
Adventure in a remote black pepper plantation run by a young Frenchman.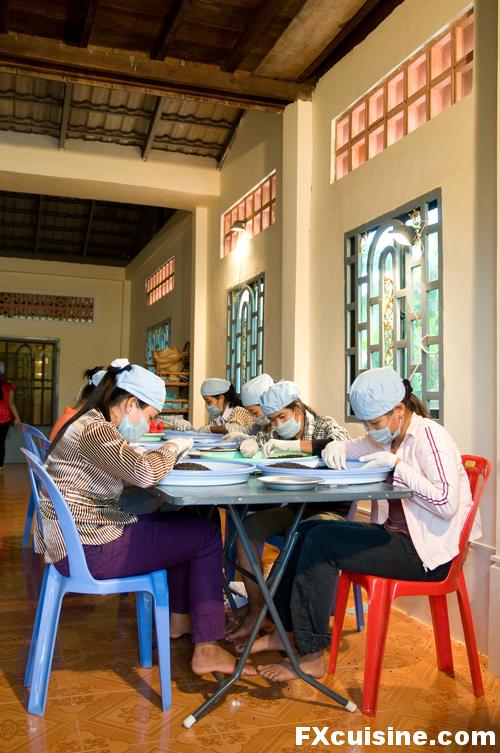 In the 1930s, French chef only ever used Kampot pepper. But that was the only pepper available in France, coming from its Indochine colony, and every Frenchman used it. After the French left, the country's long ordeal, culminating with the atrocious Khmer Rouge regime that killed a quarter of its population. No surprise that there was little left of the prewar pepper production.  When I arrived as a young traveller on an overnight stop in Kampot 5 years ago, farmers where uprooting their pepper plantations because the tumbling world prices did not make any money for their long hours.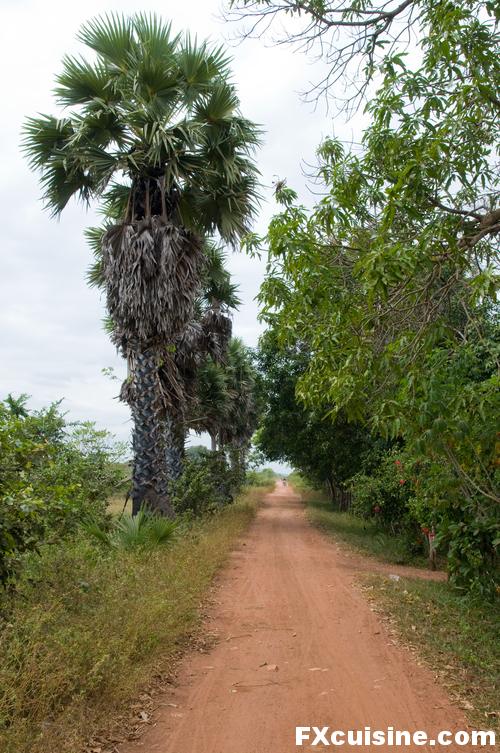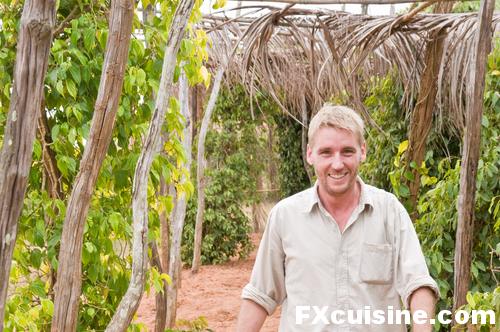 Benezech, a youthful French IT engineer, was asked by a local to help marketing Kampot pepper better so that farmers could make a living. And the young man said yes. Now this is not an American story, where he would now be driven around in a limousine. This is a very French story, and five years on, Benezech doesn't make a living from all his pepper efforts.
You read all the time that Cambodia is one of the poorest countries in the world. Having visited India, I expected to bump into some people who were half starving. Not quite.

Cambodians seem to have a very unique attitude towards worldly possessions. In a week in the country, I have not encountered once the abject poverty which is ubiquitous in India. Everybody seems fed correctly, dressed with clean clothes and have a roof.
Now, what striked me most when visiting remote settlements in the countryside was that there seem to be a strong national preference towards leisure vs more material possessions. Let me explain. When the Americans came in the 1950s to offer fertilisers to boost yield of smallholders' rice paddies, Cambodians farmers were much pleased to see that with the same surface, the fertiliser let them get twice as much rice. So when those Americans came back a couple years later to check on the progress of Cambodian farming, they were faced with a wall of cross cultural imcomprehension. The farmers had decided to cultivate half the surface, getting the same amount of rice as before with half the work.
When I asked Benezech about this, he said that Here farmers work 3 hours a day maximum. I have lived 5 years in Kampot and never seen one kitchen garden. People just prefer to buy vegetables imported from Vietnam at the market. Now this is really surprising. On the road to Sianoukhville, a lovely resort on the Gulf of Siam, I saw hundreds of little Cambodian houses, each set in a half-acre plot. The climate here is like a greenhouse, you could grow pretty much any tropical plant. And yet, no orchards, no kitchen gardens. Houses are all unpretentious. Not at all like what we would do in the West. Place a German, a Portuguese or an American in one of those houses, and the next day he would set out clearing the litter of plastic bags that surrounds these houses. Then he would improve the garden to make it look nice and productive. And finally he would try to make the house look better. Look like something that it is not. But the Cambodians seem to be happy with their lot and prefer to enjoy time with their families under the cool porch rather than toiling away in a permanent race for more material possessions. Visiting as a tourist one can only have superficial impressions, but it seemed to me that these people are much happier than other countries in similar economic circumstances but with more appetite for money and things.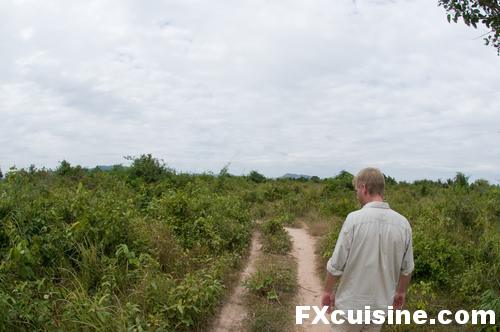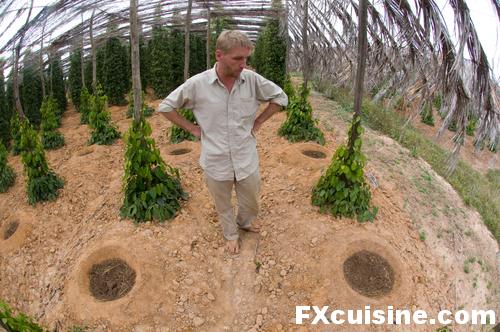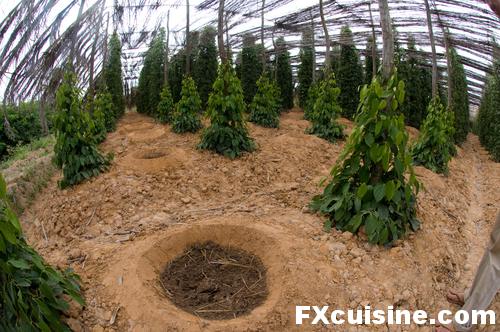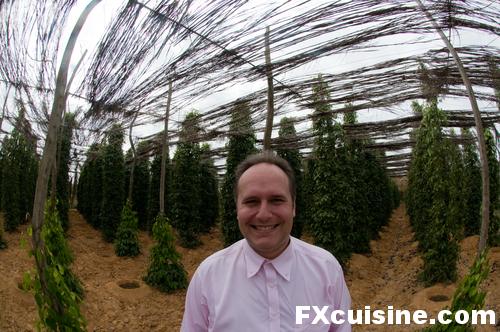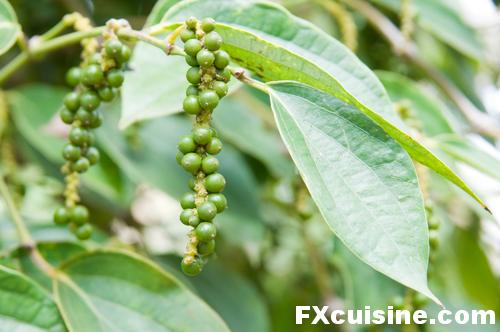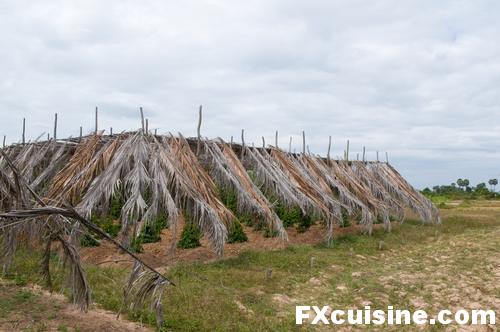 >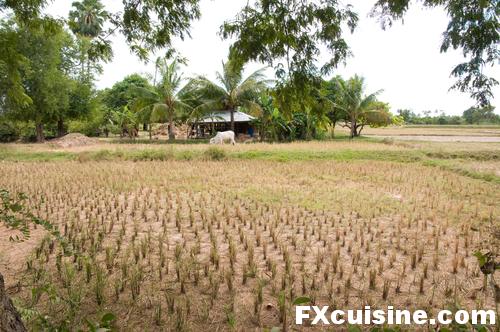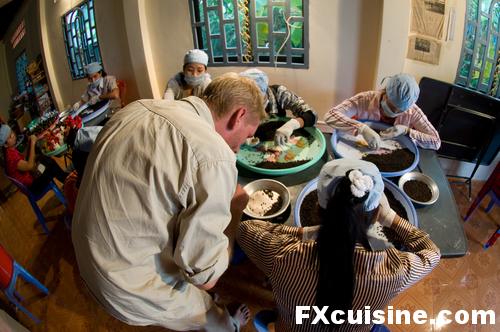 Back at Benezech's home peppercorns are sorted one by one by local women. The ambience is like some drug lab scene in the jungle although of course the agricultural commodity here sorted is not of the regulated kind!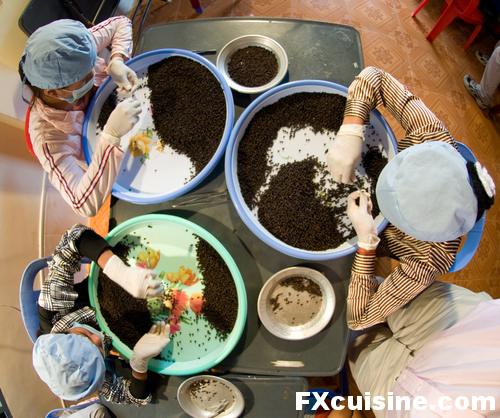 It is rather striking to imagine that each single peppercorn has been inspected by a person before it is packaged. I thought this sort of work would be done in bulk or by machines. Quality pepper indeed.
106623 views
Copyright FXcuisine 2023 - all rights reserved.
If you do this recipe at home please let me know how it worked for you by submitting a comment or send me a picture if you can. Thanks!