Pasta alla Norma - Pasta en Serio
(página 2 de 2)
Home
>>
Recetas
Pasta alla Norma, una combinación divina de berenjenas, jitomates, albahaca y ricotta, es una de las recetas sicilianas más elegantes.  ¡Un verdadero clásico que es todo un culto!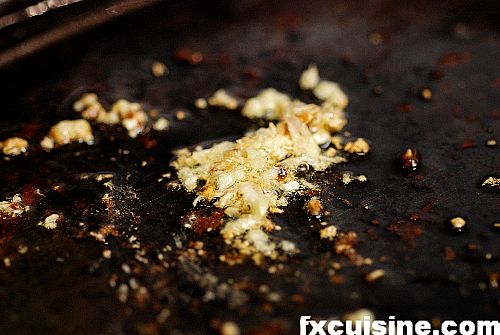 Calienta 4 cucharas de aceite de oliva en una sartén grande.  Añade la mitad del ajo machacado y deja que se dore despacio.  Cuando el ajo esté seco y medio dorado, retíralo y descártalo, véase foto (photo). Se trata de dar sabor al aceite.  No dejes que el ajo se queme o se ponga negro, porque amargaría mucho.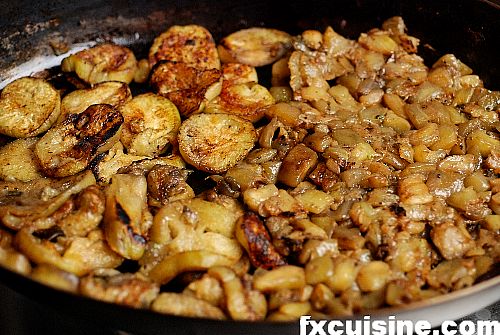 Pela y corta las berenjenas en rebanadas.  Corta la mitad en cubos pequeños y el resto en rebanadas de 1 cm / 0.5".  Añade las berenjenas a la sartén, como en la foto (photo) y fríelas e fuego medio el tiempo necesario para que se ablanden y se doren por ambos lados.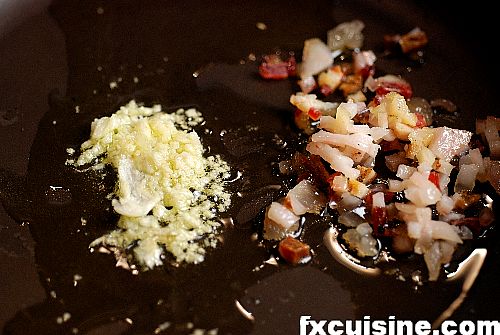 Mientras, en otra sartén, fríe el resto del ajo machacado con 30 gr de guanciale picado, o pancetta o una cebolla pequeña picada.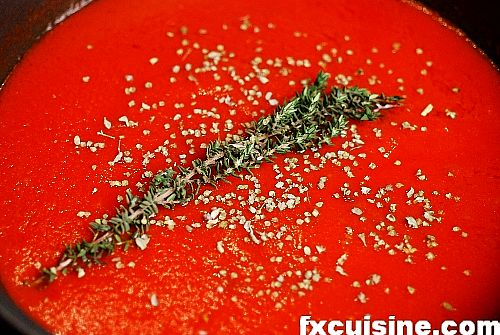 Una vez que el ajo se haya secado y dorado, retíralo y añade los jitomates (véase foto) (photo).  Sazona con sal, pimienta y una pizca de hojuelas de chile seco, así como un poco de tomillo y orégano, o un poco de albahaca cortada con tijeras.  Las especias dependen de tu gusto, ¡Las salsas de jitomate son algo muy personal!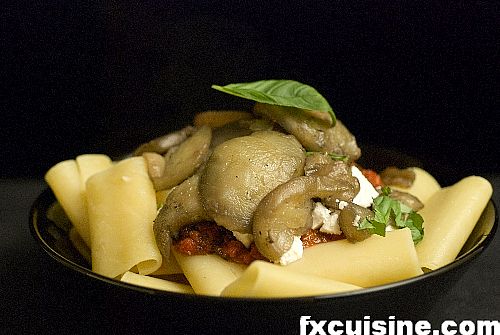 Cuece y escurre la pasta, desmorona el ricotta y corta con tijeras la albahaca a(cortarla en tabla con cuchillo arruinaría su sabor por razones que quedan sin explicar).  Calienta los platos y llama a tus invitados a la mesa.
Con cuidado pon una porción de pasta en cada plato, añade unas cucharas de salsa de jitomate.  Luego una cantidad generosa de ricotta desmoronado y cubre con la berenjena.  Salpica con una cuchara de albahca cortada para adornar y termina con un hoja especialmente bonita de albahaca.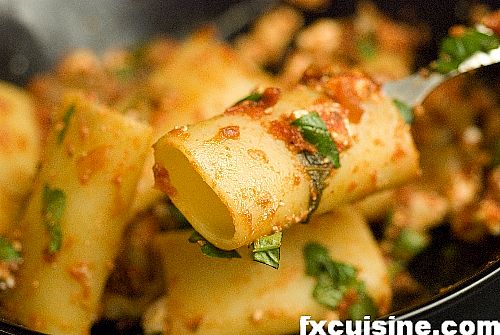 Aunque me tomo todo el cuidado para montar una bonito montecito en cada plato, el platillo realmente arranca cuando los invitados mezclan los ingredientes con su tenedor.
Este es un platillo que te hace llorar y cantar y azotar la cabeza; todo al mismo tiempo - Así de bueno es.  ¡Un auténtico culto clásico de Sicilia!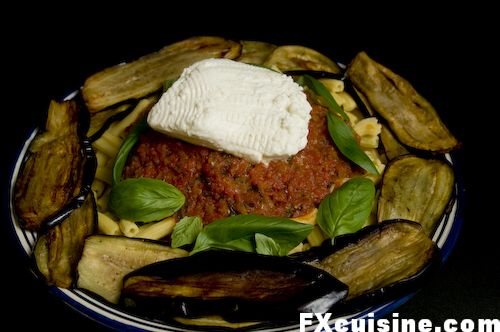 De última hora: Esta fue otra vez que hice Pasta alla Norma para unos amigos.  Demasiada pasta, y demasiado poco tiempo.  La serví en un platón grande.
565516 visitas
Artículos Relacionados

Authentic Sicilian Pasta With Broccoli *** Popular
This traditional Sicilian recipe brings together North African and Italian culinary traditions. A cult dish!

Arancini, the cult Sicilian dish *** Popular
These glorified deep-fried stuffed rice croquettes are a cult sicilian dish celebrated in a recent best-selling Italian novel.

Sicilian Cash Cow ***
This baked eggplant pasta dish has been keeping client queuing at the door of Geneva's most successful popular Italian restaurant 15 years. Find out how you can milk the Sicilian cash cow for yourself.

Sicilian Watermelon Folly ***
Eleonora makes Gelo d'anguria, the cult Sicilian dessert, in her home on Mount Etna.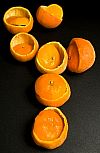 Sicilian Tangerine Sorbet **
Extraordinary sorbet served in the shell for a spectacular dessert suited for the calorie conscious vegetarian and the truffle-eating epicure alike. With no cooking and no ice cream machine required, this is an offer I can't refuse.

Artículos màs populares ¦ Ultimos artículos ¦ Por temas ¦ Ultimos comentarios
Copyright FXcuisine 2023 - all rights reserved.
If you do this recipe at home please let me know how it worked for you by submitting a comment or send me a picture if you can. Thanks!