Curry Hindú de Sandía
(página 2 de 2)
Home
>>
Recetas
Este inusitado curry convierte, de manera rápida, simples sandías en un auténtico y espectacular curry hindú.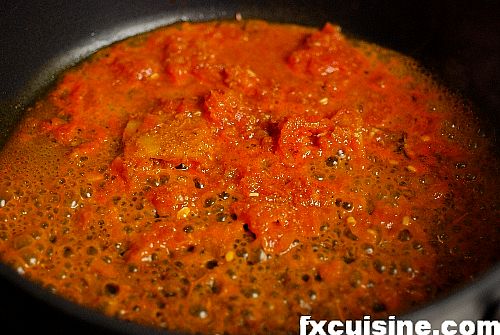 Vierte la mezcla de sandía y especias en la olla.   Psssssh, hierve y burbujea como aguas termales de Islandia.  Reduce el fuego y déjalo espesar un poco, 3-5 minutes. Pruébalo y añade un poco de azúcar si la necesita.  Las sandías se ven muy dulces pero no lo son.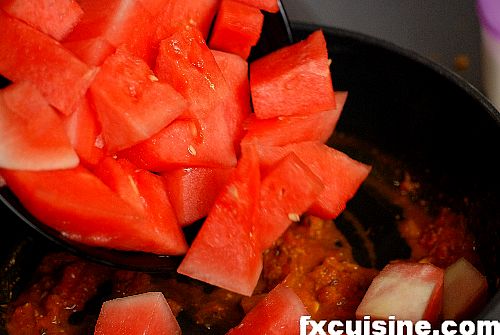 Agrega los cubos de sandía a la salsa.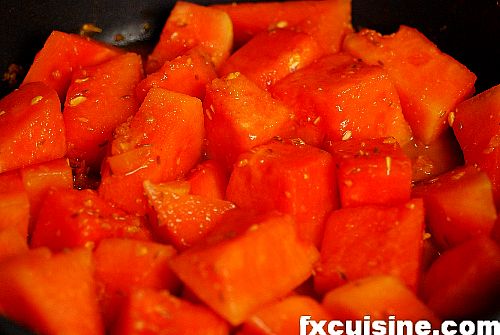 Cocínalo unos 3-4 minutes, removiendo suavemente hasta que los cubos estén totalmente cubiertos de la salsa.  Sazona con un poco de 
jugo de limón
(
photo
).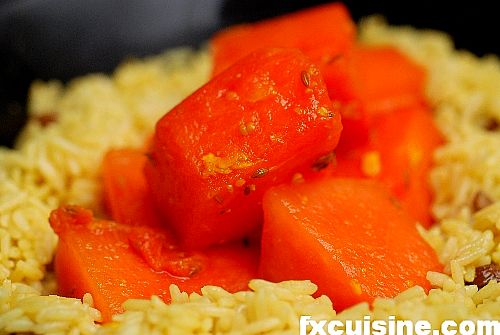 Sírvelo como acompañamiento o como una cena ligera y refrescante con arroz y pan naan.
Esta receta es más que una curiosidad - te agradará mucho.  Yo la estaré cocinando de nuevo.  El curry pica mucho por los chiles y a la vez explota con frescura en la boca, un poco como un primo rojo de una raita.
301471 visitas
Artículos Relacionados

Engine Room Dosas **
Rick makes giant Indian savory pancakes on the towboat he steers through the Snake River system.
Artículos màs populares ¦ Ultimos artículos ¦ Por temas ¦ Ultimos comentarios
Copyright FXcuisine 2023 - all rights reserved.
If you do this recipe at home please let me know how it worked for you by submitting a comment or send me a picture if you can. Thanks!