The Road to Hell Is Paved With Truffles
Home
>>
Experiences
My
Parmesan-White Truffle sauce
's hit-me-back flavor turned me into a truffle-hunting pig worthy of a glutton in Hieronymus Bosch's Hell.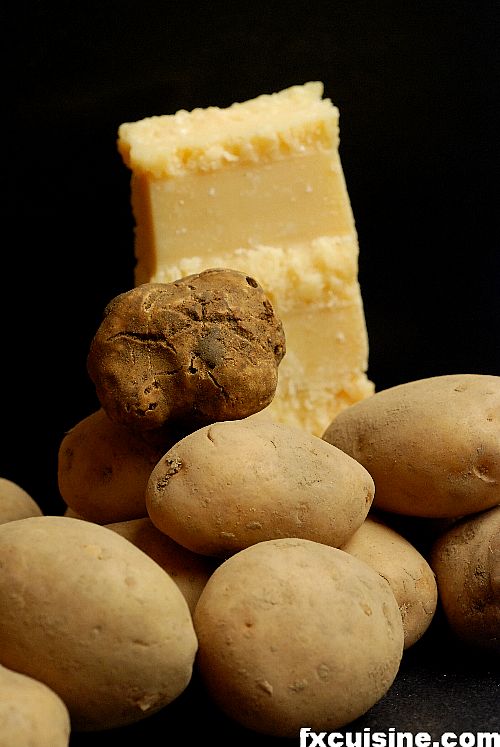 Many wonderful things are found below the earth. Some, like potatoes, are mundane and familiar to all. Others are extremely rare and most people cross their life without ever seeing one. Such is the white truffle, a unique plant that will attract people from across the world to smell its divine fragrance. The truffle itself is not really the plant - just its sexual organ. It releases a godly smell that permeates the earth until it finds the nostrils of a pig that will dig her out and help spread the spores. This truffle dragged me into the Third Circle of Hell - the circle of the gluttons.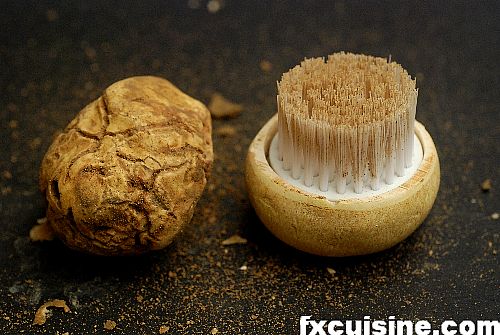 Two pounds of these mushrooms will buy you a nice car. But hurry, truffles soon lose their flavor and within three or four days all you'll get for it is a bus ticket. I have seen chefs store their truffles in a safe built in their fridges. In France, where they produce the humbler black truffle, the poor relation in the truffle family, every year truffle gatherers are robbed at gunpoint or their modest warehouses burglarized.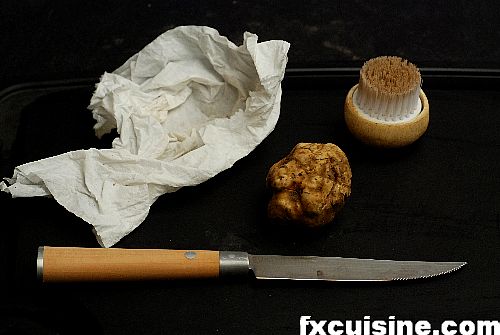 Prepare a clean workspace fit for administering the last rites to this unique gift from nature. It is a privilege for any home chef to work once with this legendary ingredient, so honor him with an elegant setup.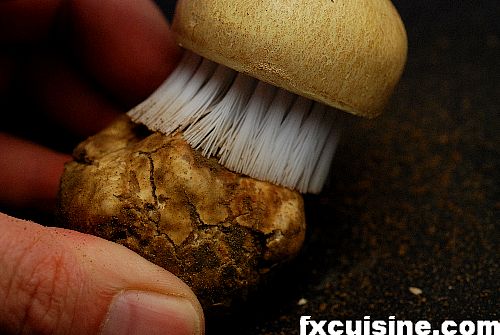 One never washes mushroom. Even Steven Spielberg knows this, as you can see in his movie Munich. You remove the dirt with a clean mushroom brush, then wipe them with a wet towel.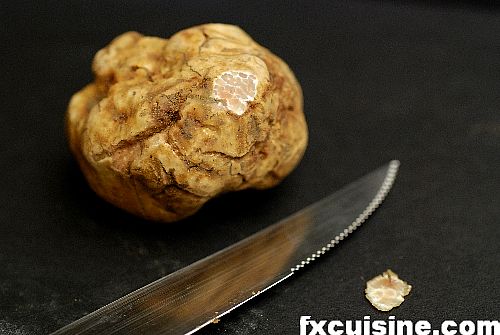 The quality of a truffle can be told by the clean aspect and good contrast of the veins inside the mushroom. When you buy the truffle, it is imperative you check that. Mine come from Philippe Rochat's own stock. He is Switzerland's top chef and he only gets top quality truffles, so this test is superfluous. But I have been offered poor quality of truffles at inflated prices in various prestigious shops and it is my duty to warn you. When it comes to truffle quality, when there is a doubt, there is no doubt.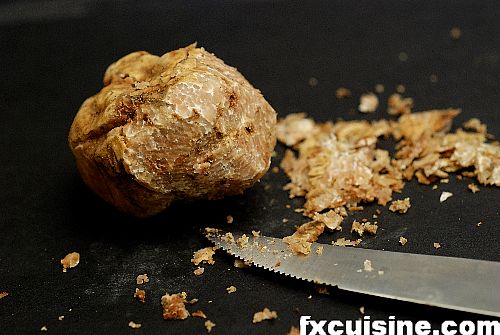 The days when chefs discarded truffle peel are gone. At almost 10,000 dollars a kilogram, quality white truffle are eaten down to the last speck of dust. In fine establishment and in my home, the truffle peel infuses the sauce and is then filtered out.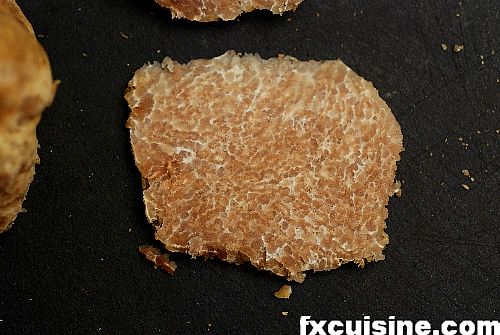 In restaurants truffles are usually shaved right in front of you over the finished dish. But if the goal is to flavor sauce, you need to finely dice the truffle, which can be done with a sharp knife. No need for fancy mandolines today. Thinly slice the truffle...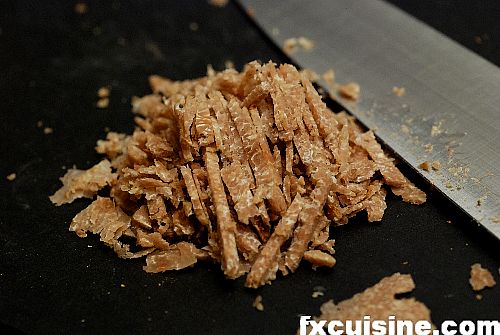 ... then cut the slices crosswise like a julienne...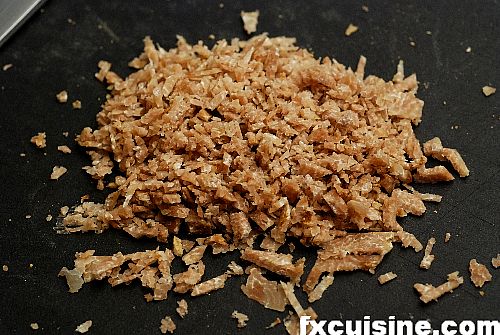 ... and finally crosswise again in little cubes. I know you will achieve more regular cubes than I did.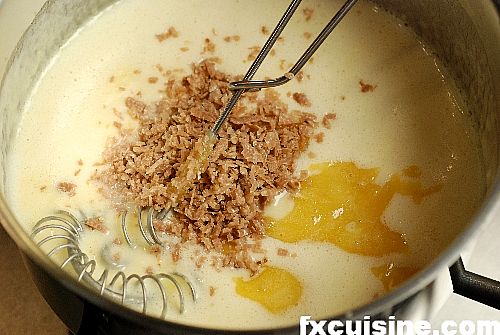 Heat a glass of milk with a glass of cream, then mix a cup of freshly grated Parmesan into the cream (photo). Prepare a roux by heating 2 tbsp flour with 2 tbsp butter until both are intimately mixed, then add the roux to the Parmesan cream. Take the pan off the heat lest the subtle truffle flavor vaporizes and is sucked up the sky through your kitchen vent. Mix the diced truffles into the cream.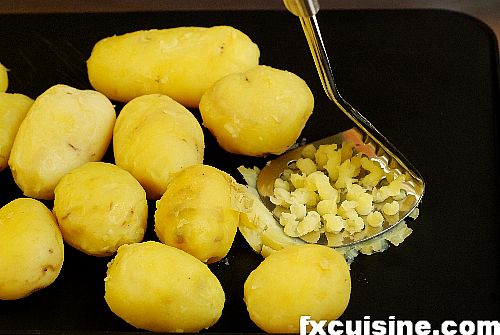 I prepared gnocchis by washing then boiling and peeling waxy potatoes before pureeing them...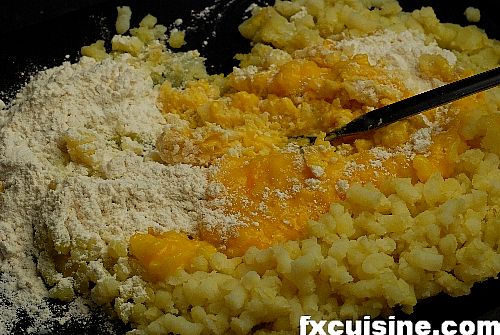 ... and mixing with an egg and just enough flour for the gnocchis to hold together.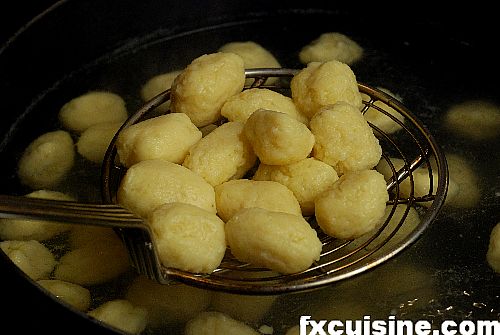 Let the gnocchis gently slip into the boiling water, swim for a minute before fishing them out with a slotted spoon.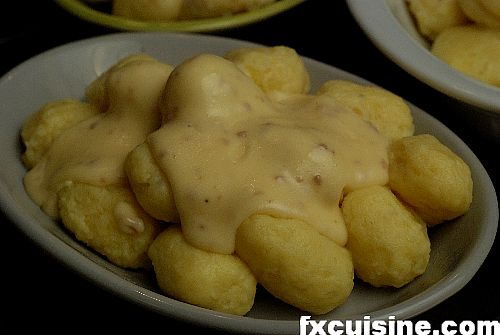 The extraordinary truffle-parmesan cream transformed my humble, earthy gnocchis into a heavenly dish. Gosh, you could live to be 300 years old and not eat such as sauce again! The hit-me-back flavor kept me going back to the kitchen all night, first to lick the spoon, then the plates and finally the saucepan itself. Finally my reptilian brain just took command turning me into a truffle-hunting pig worthy of the gluttoons in Hieronymus Bosch's Hell. Only difference is that I could get to the truffles whereas they are stuck in eternal want.
I hope you have the chance to cook a white truffle one day. Perhaps you can't find them where you life or they are prohibitively priced right now, but a day will come when you'll be able to get one. If heaven exists they must grow truffles like houseplants. But who knows, one day we might be able to grow them commercially here on earth?
157871 views
Copyright FXcuisine 2023 - all rights reserved.
If you do this recipe at home please let me know how it worked for you by submitting a comment or send me a picture if you can. Thanks!