The Four Hour Lunch
Home
>>
Experiences
Lunch with my father at the best restaurant in Switzerland - and beyond. Don't miss the exclusive behind-the-scenes 360 panorama of the kitchens!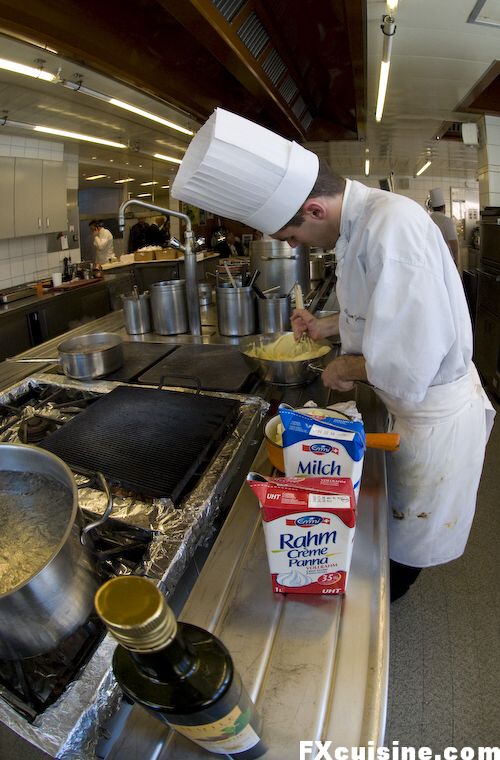 Last Friday I was lucky enough to be invited to have lunch at Philippe Rochat, Switzerland best restaurant and twice named as best restaurant in the world by Gault Millau, the leading French restaurant guide. Although I work only 10 minutes away from the restaurants, I had never been invited at the chef table. I just get to peek at the kitchens every time I go buy them a truffle. But this time we were eating with a friend of the chef-owner. Let me share with you this extraordinary four-hour lunch.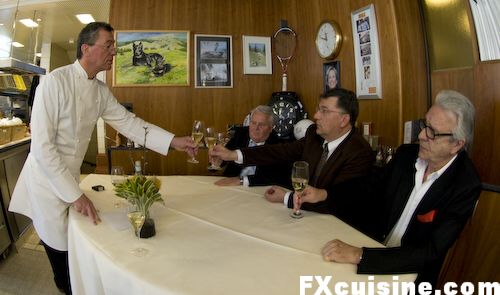 The chef table where regulars get to have a drink with Rochat before the meal DON'T MISS MY 360° PANORAMA! Chef Rochat is standing up in white apron, heated up before the battle but exchanging pleasantries with us, the guests. On the table, three Swiss gentlemen. One of them is my father. On the back wall the clock says it's 11h45 sharp. As you turn the panorama to the right you discover the kitchen, with a TV monitor showing the reception area. This is the first 360/180 panorama I publish and in the future I hope to make more and better panoramas.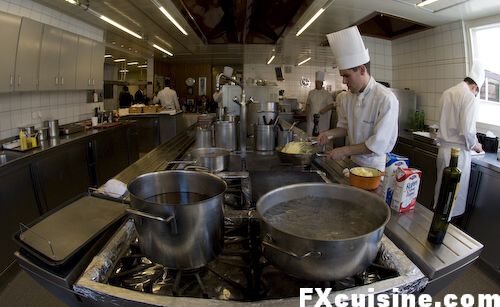 We were sipping of champagne as other people came to sit at the table. I absconded to visit the kitchen. This is a rare honor and Mr Rochat only narrowly allowed me to take the pictures. All the cooks were silent, working purposefully in deep concentration. Stock pots were quietly simmering on the stoves. The large square you see is set on top of burners and is ultra hot. A cook was carving scallops while another cook cut little pockets in pork slices. like in all efficient restaurant kitchens, you get the impression that one false move and you'll get a pan on your head. The cooks discover with interest who they are cooking for - a world apart behind the kitchen wall.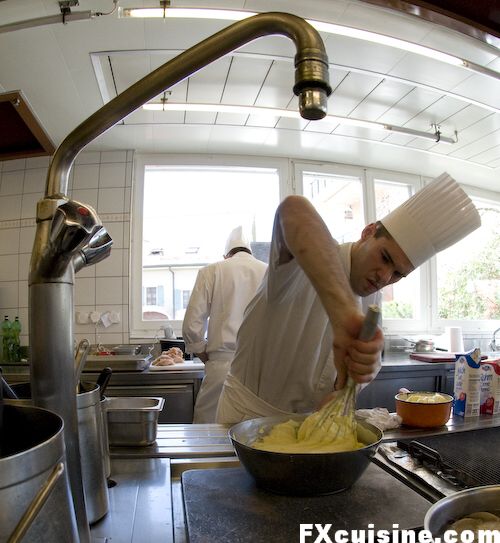 Making the potato purée - Hard work, whisking butter, milk and cream in the sieved potatoes directly on the hot stove.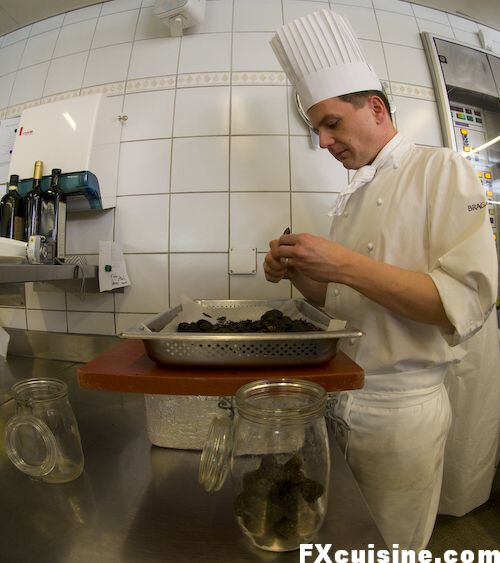 I see this gentleman, Franck Giovannini, almost everyday on TV in a beautiful short promotional film where you see him side-by-side with a Swiss watchmaker both making delicate preparations. Watches and truffles. I believe he is the second in command and usually sports the blue-red-wide collar showing him as Meilleur ouvrier de France, a high distinction for French chefs. He also won third place in the Bocuse d'or last year. Here he is peeling what looks like a good two pounds of black truffles.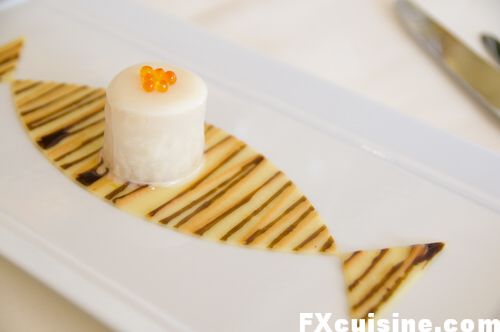 We move back to the dining hall. What shall we eat? Let the chef decide. I manage to convince my host to order duck rather than pig's foot and off we go for an amazing succession of starters. The trademark Rochat dish rests on a strong contrast between a sweet or blandish produce resting on an flavorsome, intensely tart juice. Duck foie gras on a tart quince jelly. Sole in a carrot and orange juice reduction emulsified with butter - my favorite. Then some fancy sea shells on a lemon - lemon oil jus. This divine contrast was intermixed with local cardoons in the most gorgeous black truffle juice and caviar macaroons as an interlude. The only dish I didn't like was the lobster flesh in a salty violet artichoke jus. But again, I usually choke on them so don't let this detract from trying it. This is such a brilliant binary composition I wonder why young chef spend their time fooling around the plate with a thousand and one ingredients. If you know what you want to achieve, let's go for it and be done. A sharp contrast is a strong backbone for any dish.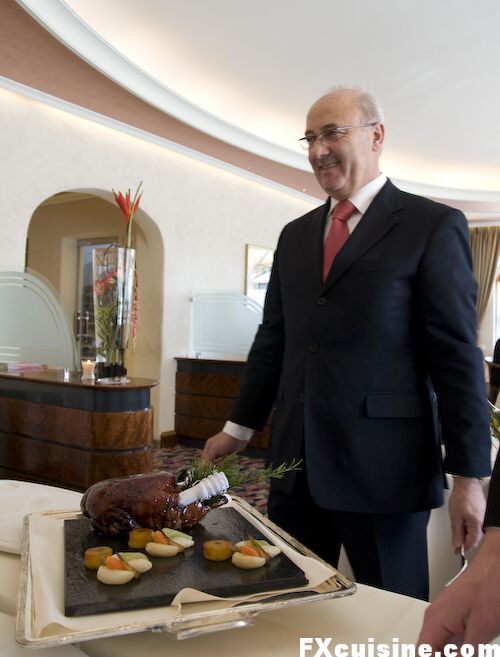 My friend Mr Villeneuve brings in the three-persons duck. He has carved over 20,000 ducks at Rochat's. He is such an exceptional maître d' that he was recently awarded l'Ordre National du Mérite medal by the French President, a rare honor bestowed on a Frenchman living and working in Switzerland.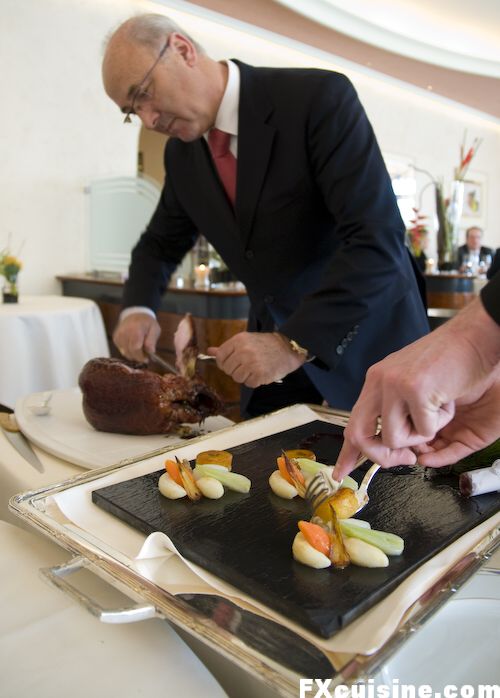 While Mr Villeneuve is carving, his assistant starts to garnish our plates with the vegetables.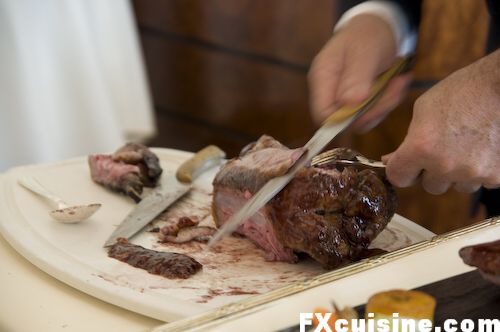 Villeneuve cuts extremely thin duck breast slices with a long knife.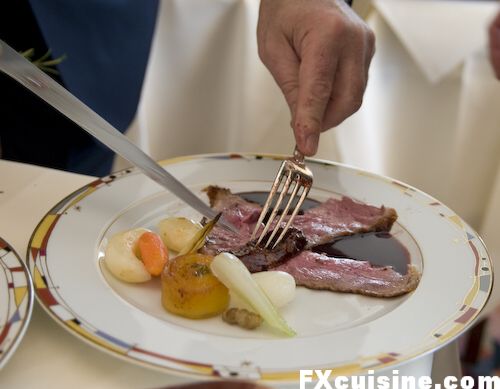 There we are. The most marvellous rosy duck in bigarade sauce with a few hand-carved vegetables. Bigarade are very sour oranges grown in Nice. Rochat changes his menu four times a year but he always has two different roasted birds in a tart sauce. The only thing that changes is the type of bird and the sort of sauce. The Tour d'Argent might have a better view, but Rochat's ducks are definitely superior. No question there.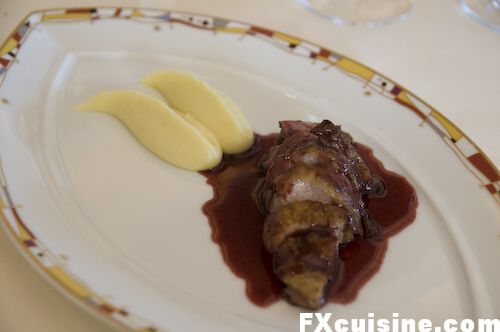 Duck is a tricky bird. If you want to keep the breast rosy - the only proper cooking - then the legs will be rare. French chefs start by serving the breast, then return the duck to the kitchen for further roasting. Here is my second helping - a duck leg deboned in the kitchen with two more dollops of potato purée.
...