My New Italian Chitarra Pasta Cutter
Home
>>
Tools & Ingredients
Homemade pasta with the legendary Italian
chitarra
, a harp-shaped pasta cutting tool.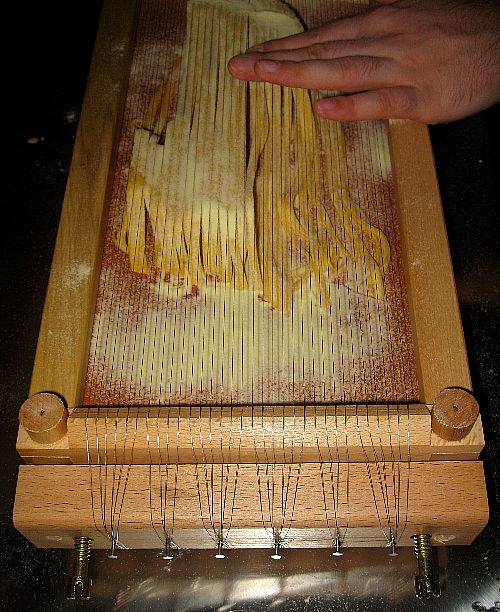 Pasta alla chitarra is homemade pasta cut using the instrument above. It's a kitchen guitar of sorts. It has 36 chords on one side and 72 on the other.
When I opened the box yesterday I explained a friend I was about to realize an old dream. As I passed my hands over the chitarra's chords, he looked at it and asked 'So, you want to become a musician?'. He really meant it.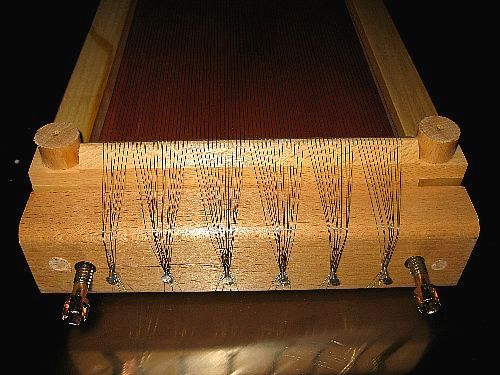 And the chitarra really looks like a small harp, only much cheaper. The instrument and 3 cassetti asciugapasta, wire frames to dry fresh pasta cost only Ç44 from Centro Casalinghi near Mantova. Many people sell it in the US as well. It comes from Abruzzo where they call it carrature.
First you need to make fresh pasta. I made mine with about 100 grams of regular flour for each egg, but I think it would be best to use semolina for a harder, less elastic dough that cuts better.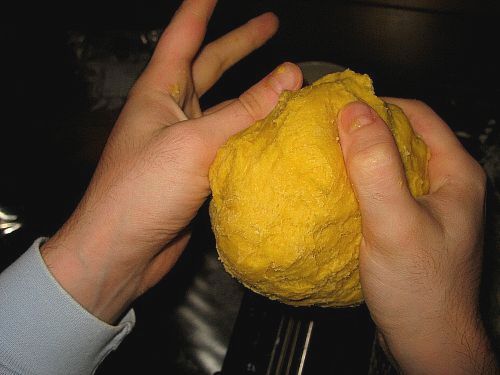 Then you laminate the pasta using the machine, folding it in two every time to get a smoother structure and no holes.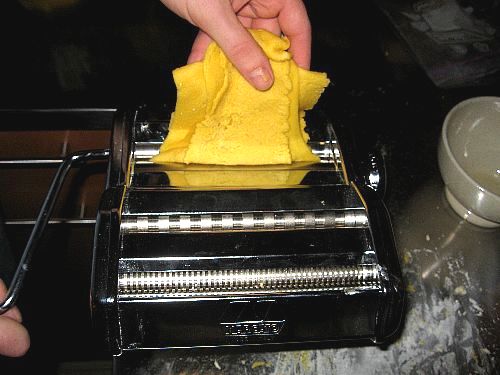 Below you see the pasta sheet in the middle of the process, still not smooth.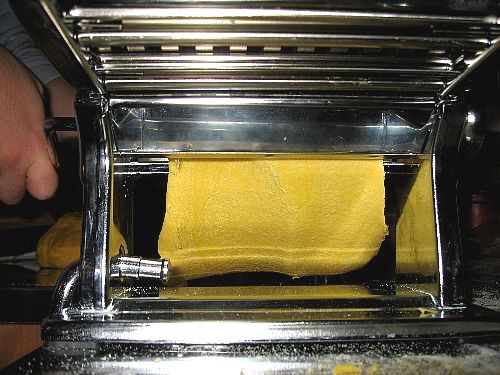 You lay a sheet of pasta on the chitarra and use a kitchen roll and your hands to press it against the chords. A bit like the movie Cube.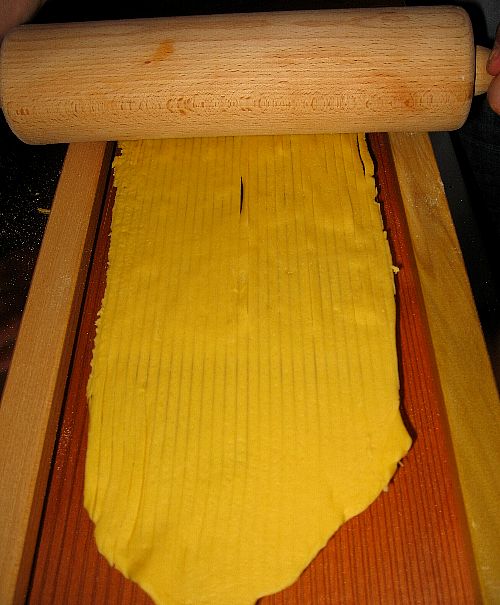 Put a lot of flour on each side of the pasta sheet otherwise it will stick again as soon as it is trough. Press with your fingers. My first two batches were ruined on the other side of the chitarra, where cords are much closer to each other. The dough would just heal and make a whole sheet a second after it went through. I will try again some day with a harder dough.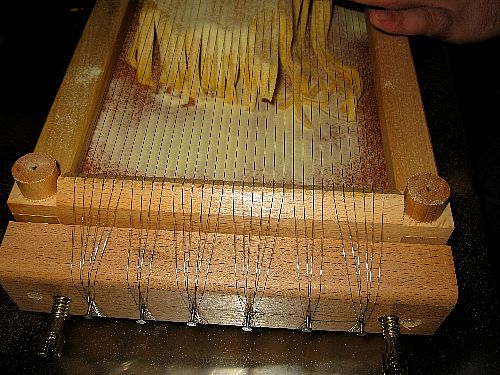 Remove the pasta and lay it on a floured cloth, or better, on pasta drying frames like I did here.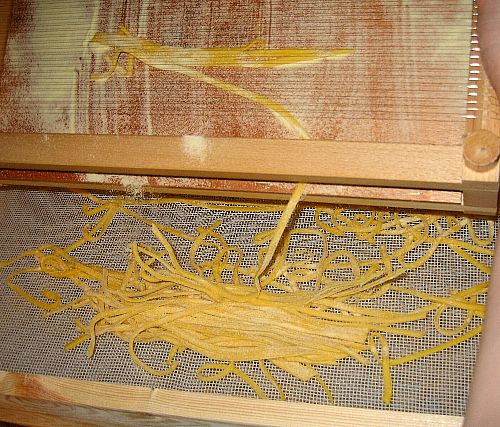 Nice texture.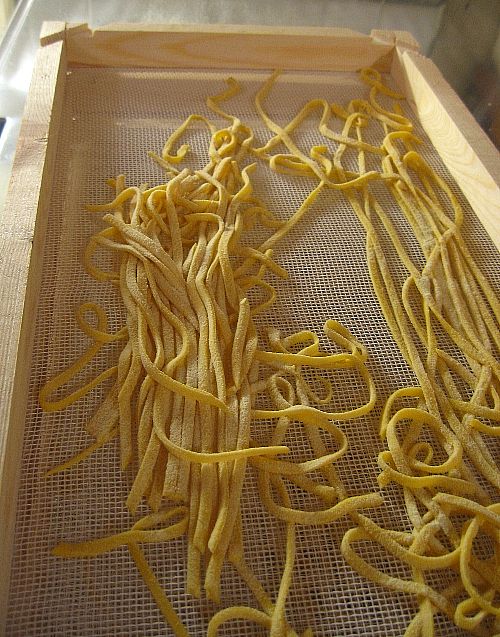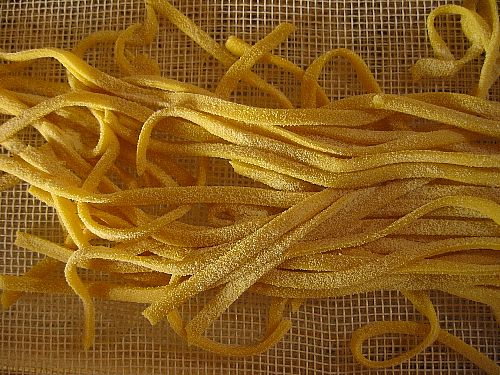 Boil it about 2 minutes in salted water. Don't put any oil if you want the sauce to stick even better.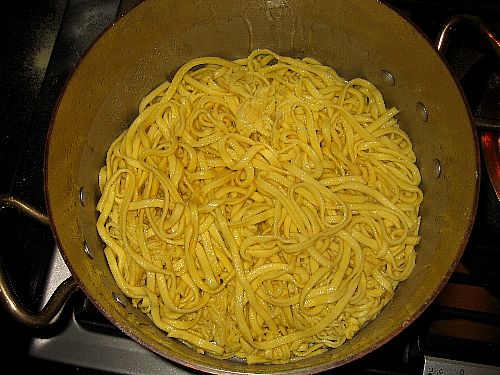 <>╚ pronto! Here is my pasta served in a rag¨.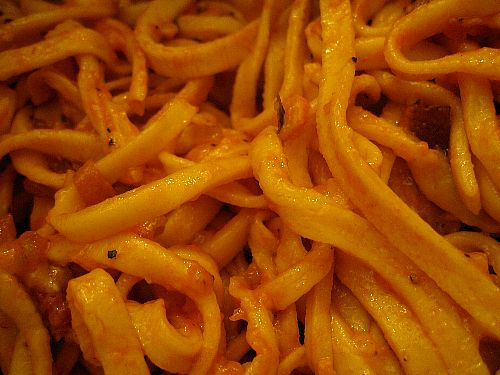 The spaghetti side of the chitarra is trickier to use. With twice more chords, regular pasta dough will stick and spaghetti stick together. Using semolina flour (hard grain flour) and water only, I managed to make the most delicious spaghetti alla chittara: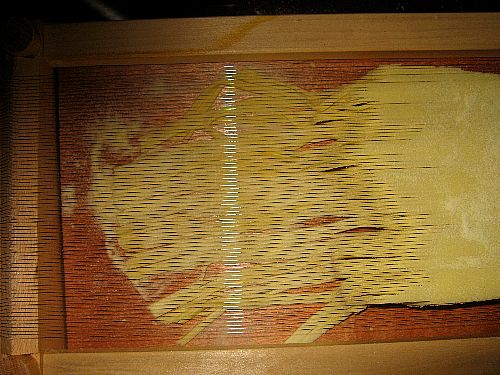 You can see the generous quantity of flour I used to coat the spaghetti so they won't stick together: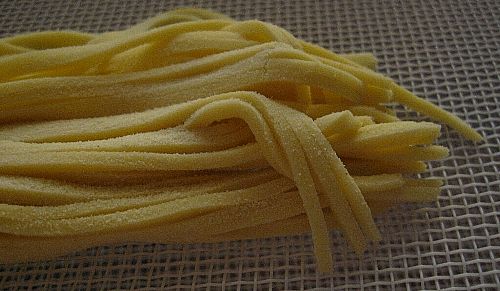 You need to separate the spaghetti one by one and leave them to dry. It is great fun!
<>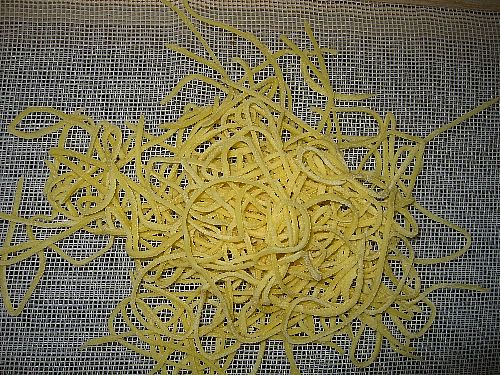 <>The spaghetti cook only 2 minutes in hot water. I made this batch with garlic, oil and chilies. Delicious!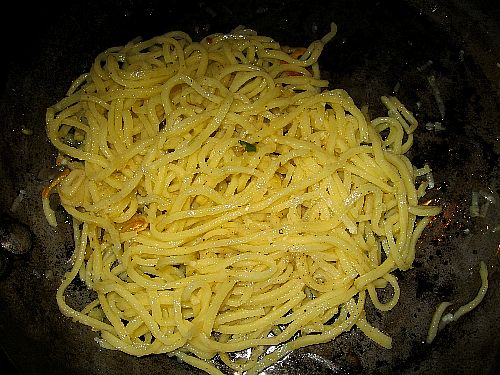 457249 views
Related Articles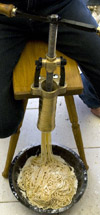 Bigoli, Bigolaro, Bigolarist **
My largest and most unusual pasta-making accessory, the bigolaro, made 28 fat spaghettis, called bigoli, each as long as the room. Served with the traditional duck rag¨, this made my guests very happy despite the fact they had to make their own pasta.

Homemade Garganelli Pasta **
Thanks to a tiny a garganelli comb ordered from Italy I was able to make these legendary hand-rolled penne. A treat!

I Made My Own Macaronis From Scratch **
How do they make the hole in the maccheroni? I had thought about it long and hard only to conclude you just can't make tubular pasta at home. I was wrong - see how I made my first batch of macaronis!

Priest-stranglers in Neapolitan Meat Sauce *
These gnocchis served in the cult Napolitan rag¨ sauce would be a world-famous dish if they didn't take 7 hours to cook.

Pasta con l'anatra - pasta in duck sauce *
Using a whole duck to make pasta sauce is uncommon outside Italy.
Copyright FXcuisine 2023 - all rights reserved.
If you do this recipe at home please let me know how it worked for you by submitting a comment or send me a picture if you can. Thanks!