Ramadan Kebabs in Istanbul
Home
>>
Experiences
A reader invited me in a neighborhood kebab house in Istanbul for the first night of Ramadan. After a short introduction, 50 pictures to take you through the whole meal from preparation to finish. Don't miss this!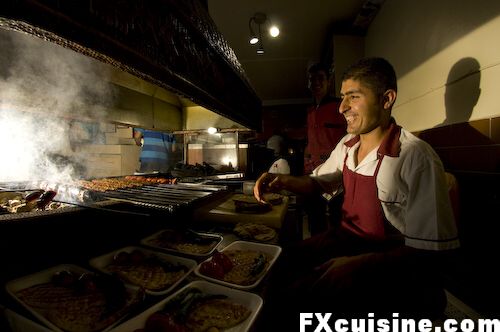 You could visit a country for a lifetime and always remain a tourist, if it were not for a few golden-hearted people proud of their country's heritage and eager to make it better known abroad. Last year I received this comment about my Istanbul's Egyptian Bazaar article:
First of all I want to say, I can't stop reading your wonderful blog. Everything is so nice about it. Thanks for it. I'm very happy, you visited Turkey and Istanbul. I am a resident Istanbul and I must agree with all you have written here about the bazaar, shops, desserts etc. I must say you are a very good observer but I want to add some more to your observations just to help people who thinks of visiting Turkey. Turkey has a nice kitchen which have the origins from Ottoman Empire. Some of them, became popular like Turkish delight (actually it's called "lokum" in Turkish), kebabs, doners etc. When they became popular, tourist hunters tried to make them or some people tried to make them cheap and sell them in streets. So the real and good ones became very hard to find in even Turkey. Only Turkish people can tell you where to eat kebab or get lokum. For example you can't find any eatable lokum in Istanbul because it's made in another city called "Afyon". You can only find good kebabs in %5 restaurants in Istanbul because it's made in another city again "Adana". So Istanbul seems to be a good place to find anything you want but it's not a good place for quality stuff. You need to learn the exact place of it in Istanbul. But your choices were great, nuts were very fine in that Bazaar and maybe some spices. [...] Hope you visit Turkey again, I'll show you where to get the quality ones next time. :)
Utkun
A reader after my own mind! We exchanged a couple emails but I did not know when I'd have a chance to take on his kind offer. And then, a few months ago, a couple of friends decided to swim across the Dardanelles strait - from Europe to Asia in under an hour. I'm more of an armchair jock, but I joined the party as a way to visit another time my beloved Turkey. While my friends where fighting to decide who was the biggest jock, I contacted Utkun to take on his offer of finding authentic kebabs. All the other articles I tried to write failed to meet the standards of the fine readers of FXcuisine.com. Balikçi Sebahattin had turned into a tourist trap, the fisherman who had agreed to take me on his boat from dusk till dawn did not get approval from the port police who were bait fishing afghan refugees, and the olive oil factory hadn't started pressing any oil. But on my last night, I made this most memorable meal thanks to Utkun. See for yourself: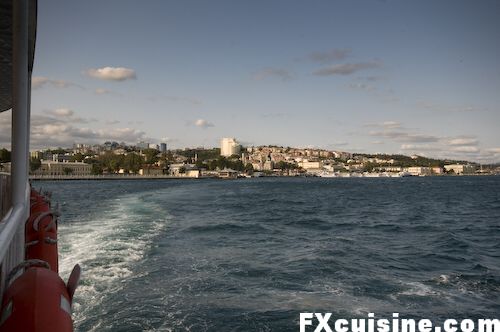 I was staying in a hotel on the Bosphorus, on Istanbul's European side. Utkun had recommended me two posh kebab houses - Develi and Sahan, both quite far away and very Westernized-looking. But this really got me excited:
I can recommend a very small kebap house which I find it the best one I ever had but I am not sure you'll like the place because it's very small. Chefs are coming from Adana (the eastern part of Turkey) where kebaps are born [...]. They make delicious food but you'll find it difficult to communicate with them. I can easily say, if you want some guidance I'll be happy to help you here. I can take you to these places even the small one I mentioned. I can guide you through the large menus and try to explain the food as best as I can. Don't hesitate to contact me if you ever need any help. But if you rather go alone I want to give you some tips about what to eat in these locations.
Utkun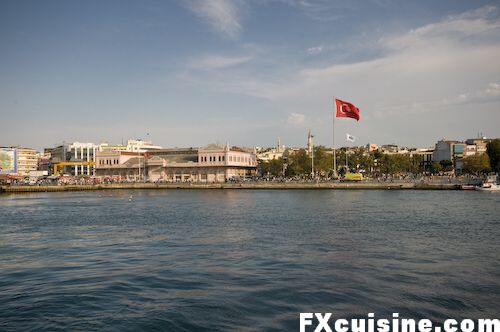 On September 2nd, I jumped into the ferry at Beşiktaş, and crossed from Europe to Asia as the sun was setting. You really need to take a ferry in Istanbul once in your life. The Bosphorus looks like a river, but in fact it's a giant highway. You see most of Russia's and Ukraine's foreign trade passing by on giant tankers and container ships. The waters are patrolled by loads of police and military boats. And then the pleasure vessels. Leander's tower, an ancient lighthouse on an island facing the historical district of Sultah Ahmet. You can look all day long. If you bring binoculars, you get to see the ornated facades of the many 19th century Ottoman-style mansions on the river front. Just amazing.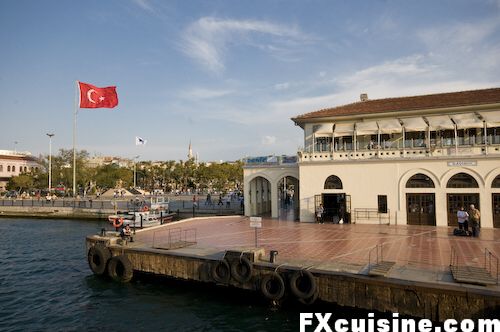 After 20 minutes, my ferry arrives at Kadiköy.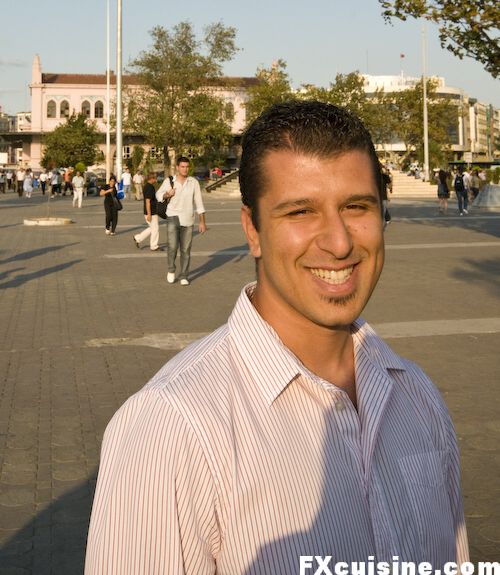 How will I recognize you?, I had asked before the meeting. Is that you in the Knoedel article?, Utkun said. It is. Then I'll recognize you when you come out of the ferry - don't worry. As soon as I exit the ferry, I see this boy-next-door student type with a big smile. You must be Francois, he says. I managed to take Utkun's picture in the magic light of Istanbul's glorious sunset and at 18h15 we all climb in his limousine for a drive down in the guts of Istanbul's Asian part.
In the car Utkun tells me how he reads FXcuisine.com regularly but did not manage to try many dishes. I study econometrics in Bursa, a town 2 hours from Istanbul, and the kitchen is just too small. But I printed some of your recipes and showed them to my mother. She did the Beef Bourguignon, but you know how Turkish mothers are, they always know better than the recipe. So she removed the bacon and put much less wine. In the end it was very tasty but probably quite different from the original!, explained Utkun. But she wouldn't cook the 300-minute egg - a waste of energy she said, he continued while driving through Istanbul's heavy traffic.
After half an hour, Utkun stops the car in a genteel residential neighborhood and his father Metin Birsen and his good friend Irfan Sidar climb in. Irfan is the one who knows the owner of the kebab house. They look quite excited with the whole idea of the foreign gourmet visiting their favorite kebab joint. Both are professionals, working in banking and insurance, but they speak in Turkish. Utkun translates me into English and back.
It is your good luck that you could come to Istanbul on the first day of Ramazan, Utkun explains. Indeed, when I had entered Ciçek Pasaji, the lovely 19th century restaurant arcade in Galatasaray, earlier that day, every restaurant inside was empty. I nearly couldn't get out as all the restaurant owners tried to get me to sit down. Although not a legal obligation, Ramadan is taken seriously by most people in Istanbul. It's a test of one's character, explains Utkun. You want to see if you are able to resist the calls of your body to eat and drink, smoke or have sex. It goes on for a month. I'm not surprised you didn't see anybody at Ciçek Pasaji, the specialty there is fish and Turks only eat it with raki, the anise alcohol. You don't drink raki on Ramazan, even at night.
Utkun shows me a queue of people lining up for bread. like in Soviet Russia, he jokes. The baker makes a special bread for Ramazan (Ramazan pidesi).
At 19h00, we arrive at Eda, their favorite neighborhood kebab house. Let's see what's cooking.
Preparing the meal at Eda Kebab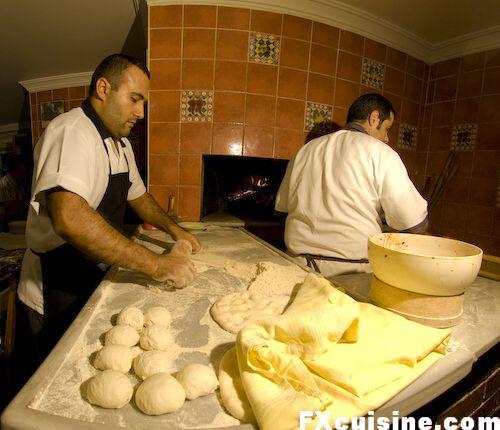 As we arrive, we go to the back of the restaurant near the wood-fired bread oven. This almost looks like a bakery - they sift the flour and work the dough all by hand.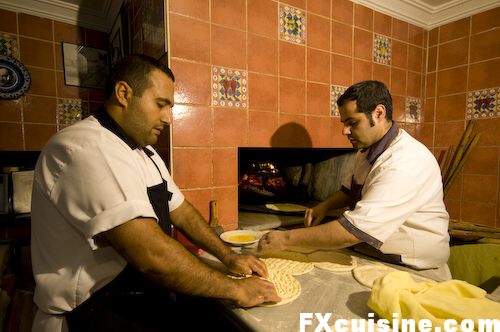 Soner Renginoglu and his colleague are making ramazin pidesi from a dough made from flour, bicarbonate of soda, yeast, olive oil and sugar.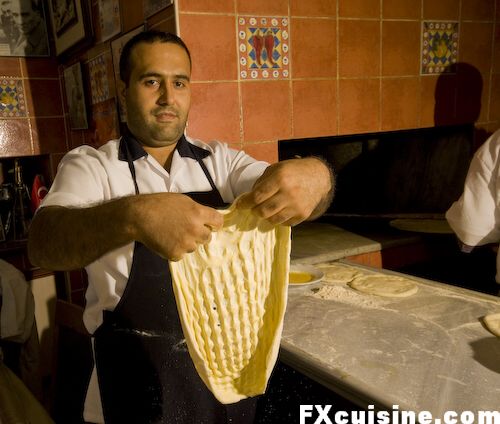 In their expert hands, the breads and flattened and stretched and scored until they fly into the oven. Just before baking the flatbreads are glazed with an egg and yogurt mixture, then sprinkle with sesame seeds and baked.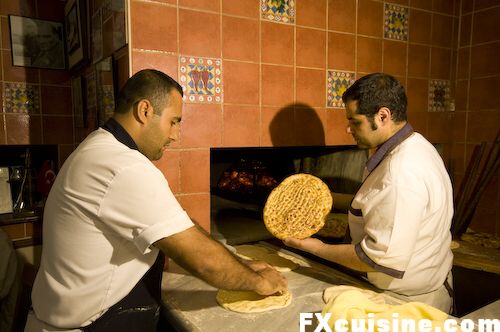 A few minutes in the wood-fired inferno, and the flatbreads are removed from the oven, now gloriously fragrant and crispy and brown all over. I can't wait for the sun to set so we can have taste!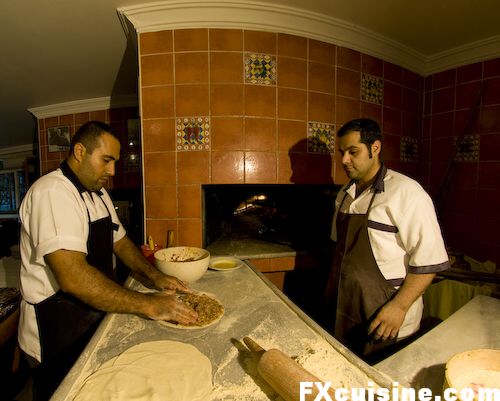 Using the same dough, Soner now prepares lahmacun by spreading ground lamb mixed with pine nuts, tomatoes, cinammon, onion and garlic on top of a flatbread. I really hate it when people call this «Turkish Pizza», says Utkun.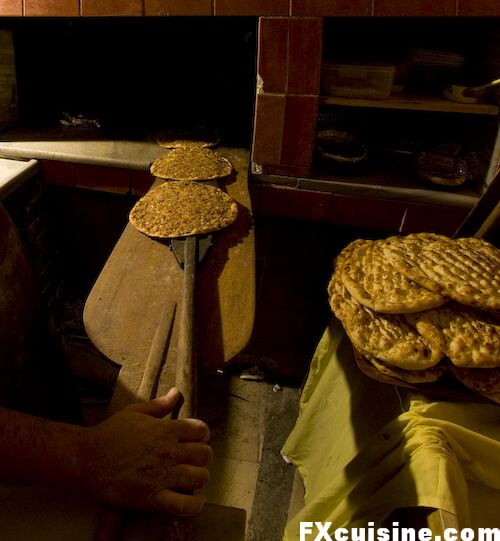 The lahmacun is baked for a couple minutes only.
THE KEBAP PIT
We now move to the other side of the restaurant, where the open kebab pit is now in full action. The kebabs are grilled on a hot charcoal fire. This is the realm of M. Melih and Mehmet Ali. The sun has not set yet but they are already preparing to-go-boxes for people to bring back home. First the freshly-baked bread is sliced and is spread on the bottom of each box.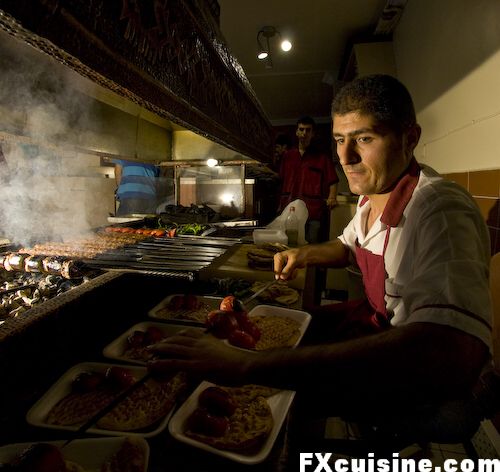 Mehmet mixes ground lamb meat with thyme, pepper and salt, then shape their kebabs on the long, flat skewers used in Turkey. The idea is to grill the meat on a very high temperature on smokey hot charcoals. You couldn't do this with a grate as the meat would stick. Turks are more clever, they use very long skewers made to rest on both sides of the grill much as the bars of a grate does in our Western grills. (See lead picture). This lets the meat hang from the flat skwers and fully enjoy the scorching heat radiated by the charcoal. It cooks fast, with a brown crispy crust with a smokey taste outside. Really nothing like the döner kebab crap we see in the West, where the meat is dry and tastes of nothing but cheap grease.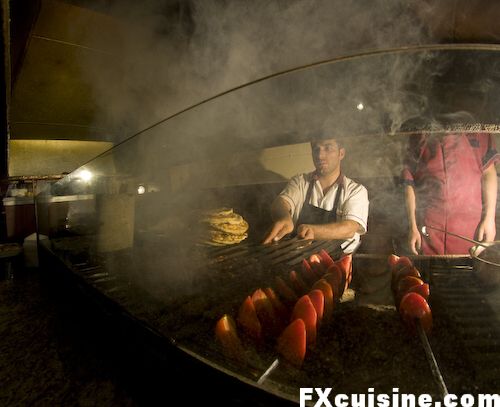 Everything goes fast, with huge whiffs of smoke sucked up by a giant copper chimney. A glass window lets the patrons enjoy the show without smoking them out.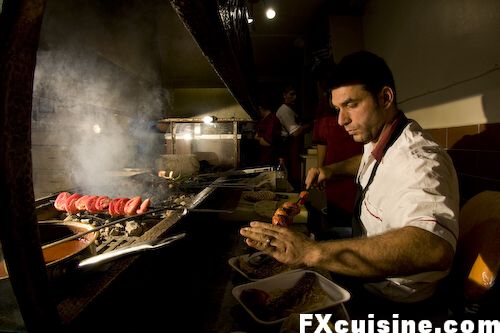 Plump, tasty tomatoes are grilled along hot green chili peppers, right above the hot coals, just long enough to soften them up.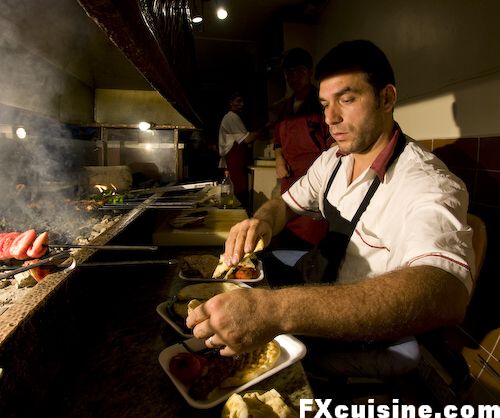 Can you imagine living in a city where you can order this «to go»?
Click below to read the second part of this article - the meal.
...