Glace au Malabar
(page 2 de 2)
Home
>>
Recettes
Alain Ducasse
sert cette glace à base des chewing gum Malabar dans son restaurant Spoon à Paris. Voici comment la faire chez vous!
Prenez 70 grammes de bubble gums Malabars (environ 10 pièces).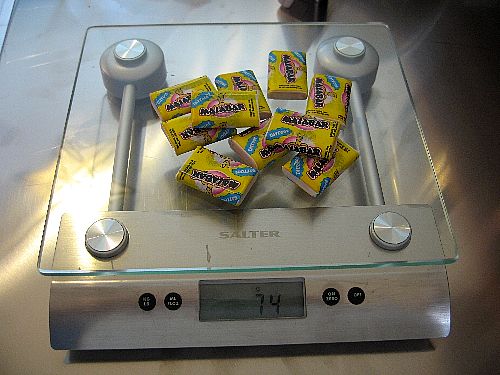 Déballez-les (sans blague). Vous pouvez les hâcher ou simplement mettre plus de Malabar pour un goût plus intense.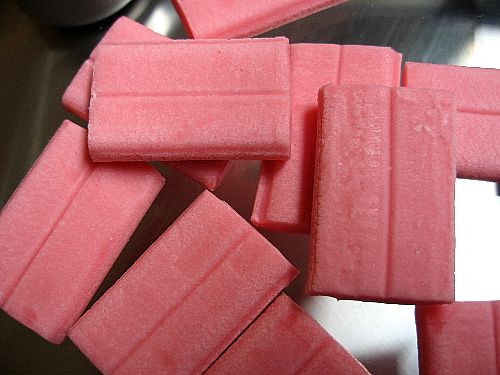 Mélangez 240ml de crême avec 240ml de lait dans une casserole et amenez à ébullition.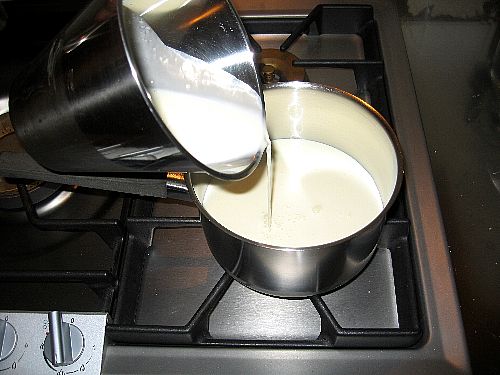 Retirez du feu et ajoutez les chewing-gum. Laissez infuser pendant 10 minutes ou plus si le goût n'est pas assez intense à votre goût.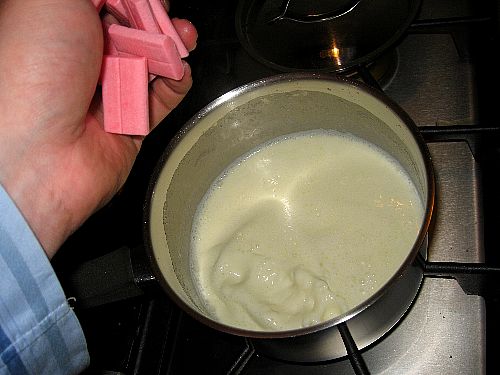 Filtrez l'infusion dans le tamis le plus fin que vous ayez. N'hésitez pas à utiliser une passoire à thé voire même de la mousseline ou un linge propre. Les chewing-gum peut fondre et faire des petits filaments d'un effet vraiment moyen.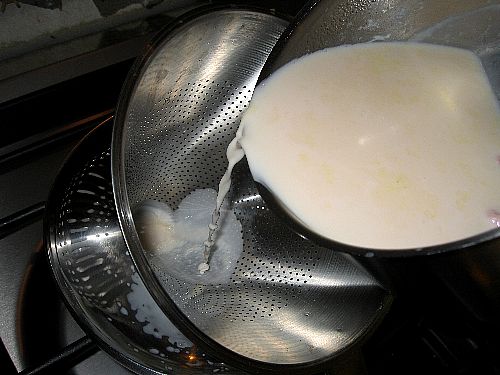 Dans un cul-de-poule versez 5 jaunes d'oeufs avec 120 grammes de sucre blanc.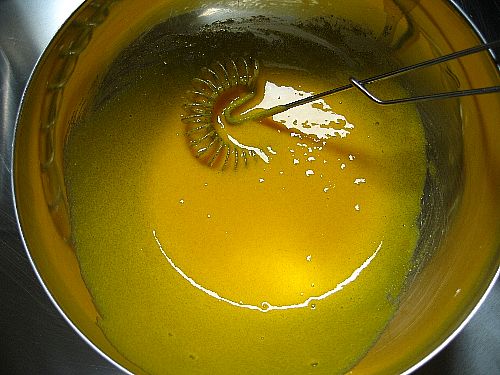 Mélangez au fouet en introduisant le moins d'air possible - pas besoin de blanchir.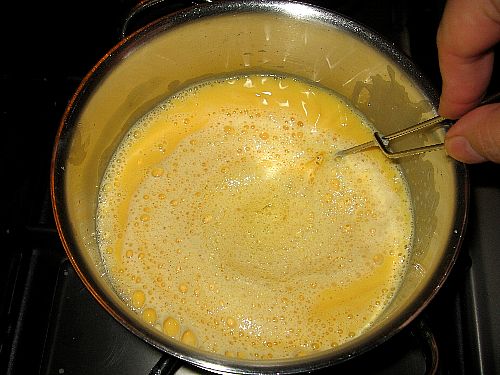 Tout en battant constamment, versez graduellement le lait dans les oeufs et le sucre.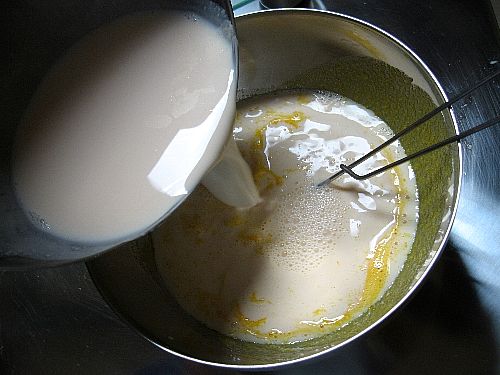 Nous allons maintenant faire coaguler les jaunes pour épaissir la sauce. C'est une crême anglaise, base de toutes les glaces à la crême. Remettez sur la plaque, si possible au bain-marie et chauffez doucement tout en remuant constamment jusqu'à ce que la crême atteigne 85°C et que la crême nappe le dos d'une cuillère, c'est à dire que la marque que fait votre doigt en passant sur le dos d'une cuillère trempée dans la crême, cette marque doit rester bien visible et la crême doit être assez dense pour ne pas couler et la remplir dès que le doigt est passé. Attention à ne pas dépasser 85°C ou vous aurez des morceaux de flan. Si ça arrive il faudra filtrer pour les enlever.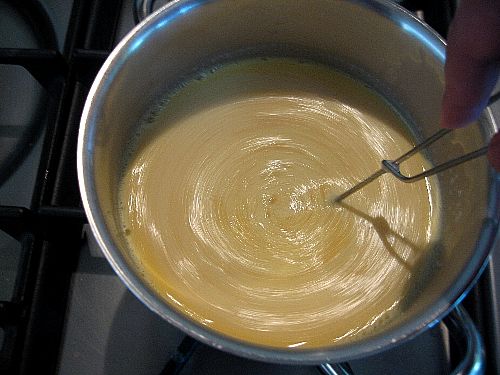 Laissez au réfrigérateur jusqu'à refroidissement complet. Démarrez votre machine à glace et versez la crême froide dedans.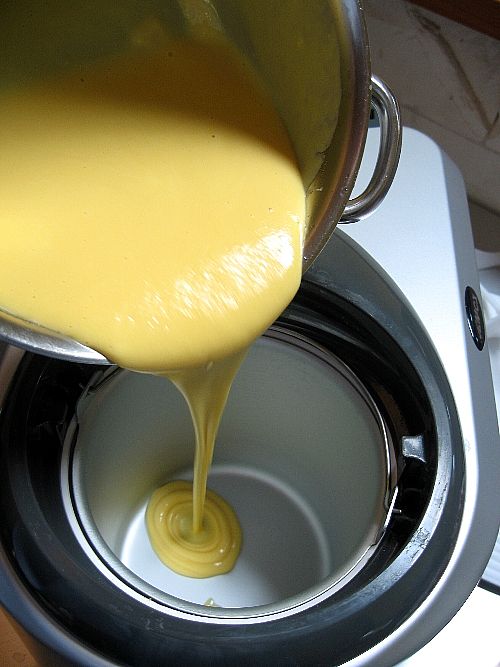 Lorsque la crême à pris, transférer dans un récipient en plastique ou en métal et stockez au congélateur. Veuillez noter que la glace préparée sans agents conservateur est meilleure servie fraîche et qu'après quelques jours au congélateur des cristaux d'eau se formeront.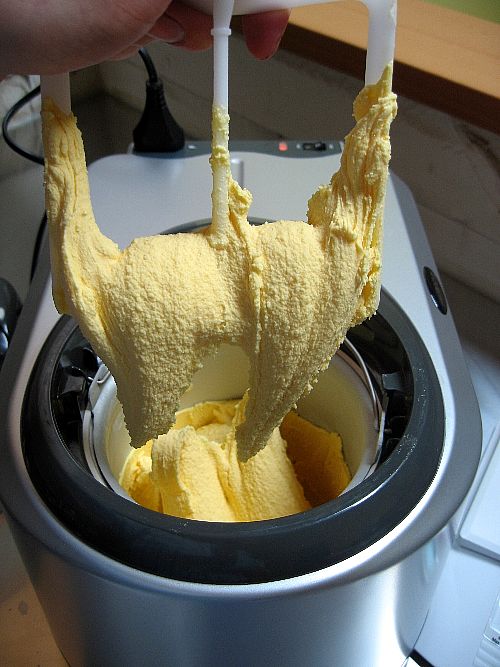 Voilà! Le reséultat est parfaitement comparable à ce qu'on mange chez M. Ducasse. Vous pouvez ajouter un peu de colorant alimentaire rouge pour colorer votre glace en rose. C'est une glace délicieuse à servir sans dire comment elle est faite. Laissez vos convives spéculer un peu avant d'abattre vos cartes, ou tout ce qu'ils sentiront est le goût de leur préjugé anti chewing-gum!
494613 visites
Articles similaires

Black Truffle Soufflé **
How you can make this astonishing dessert from La Truffière, a Paris restaurant specialized in black truffle.

Duck Tour d'Argent * Popular
Probably the most spectacular classical French recipe, le canard à la presse, here made at La Tour d'Argent, a Paris restaurant open since the 16h century.
Articles les plus lus ¦ Plus récents ¦ Par sujet ¦ Derniers commentaires
Copyright FXcuisine 2023 - all rights reserved.
If you do this recipe at home please let me know how it worked for you by submitting a comment or send me a picture if you can. Thanks!