Italian Minestrone Vegetable Soup
Home
>>
Recipes
The most delicious traditional Italian peasant soup, simmered for three hours. Learn how to make this soup with your local seasonal vegetable and the
three secret ingredients
that will make your soup really Italian.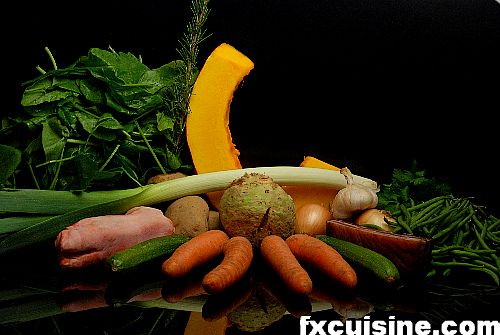 Last week I went to the local farmers market and bought a whole basket of vegetable to make minestrone, an Italian peasant vegetable soup. This is a traditional recipe from Monferrato, that corner of Italy between France, Torino and Switzerland. There is no fancy chef's legerdemain involved, only good vegetables and a lot of work to prepare them. The recipe calls for seasonal vegetables as you can find them (see below). Read below to learn the 3 secret ingredients that will make your soup really Italian:
Minestrone [meenay-STRAW-nay]
1 kg soup potatoes
1 kg seasonal vegetables (onions, garlic, leeks, fresh or dried beans, green beans, carrots, celery, turnips, pumpkin, spinach, celery root, etc...)
150gr bacon
1 Parmesan crust
1 pig trotter
Bay leaves
Fresh parsley, basil, thyme and rosemary
Cloves
Salt, pepper
Freshly grated parmesan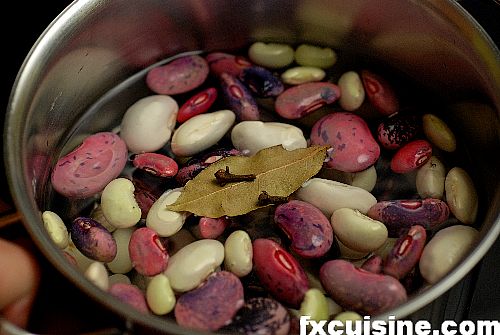 I bought myself these extraordinary beans 'For sure my last this year' told me the white-haired mama at the market. 'I shelled them yesterday night. I have dry ones too if you want, but these are the very last fresh ones.' I was so enthused I showed them to another farmer at the next stall who wouldn't believe I could buy fresh beans in November - 'You'll need to cook them separately otherwise they'll taint your soup black'. And so I did, in a little water with a bay leaf, peppercorns and two cloves.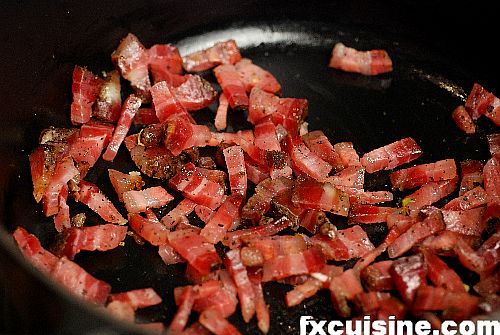 Many Italian simmered dishes, such as pasta sauces, ragù, or soups, begin with a soffritto. Start by sautéing finely diced bacon - in my case I used Swiss air-dried pig chest bacon.
Add finely chopped onions and leek and continue to sauté over medium-high heat until the onion and leek starts to brown slightly.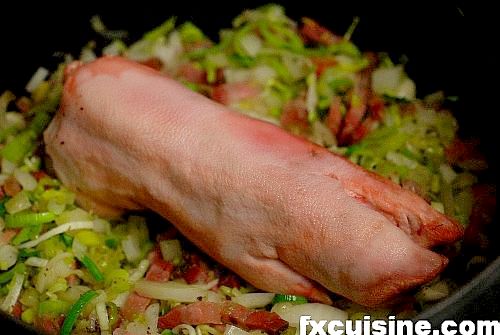 Add our first secret ingredient, her majesty the piggy trotter - ah these lovely piggy trotters, the butcher gave me this for free, he was amazed somebody would still eat these. In fact I am not too keen on trotters but they pack a large amount of gelatin that helps thickening the soup. You might use a marrow bone instead, but it would not be so authentic anymore.
Add the diced potatoes and other root vegetables (carrots, turnips, celery root, etc...). I also added cubed pumpkin from the market at this stage. Cooking time is not so vital here since the soup will cook for about 3 hours and every vegetable will fall apart. Cover with water, mineral water if you have it. Bring to a boil and then decrease the heat to simmer the soup for hours.
My enthusiasm for minestrone and my confidence I could keep it for several days convinced me to make a very large quantity. After all, there are economies of scale when making soup, and making twice as much won't take twice as long. My visits to a number of shops to by a very large soup pot were useless. When I reached this stage in the recipe, it became clear that I would not be able to fit 2 gallons of soup in a 1 gallon pot. So I used two pots instead and moved the pig trotter from one to the other!
...