Italian Minestrone Vegetable Soup
(page 2 of 2)
Home
>>
Recipes
The most delicious traditional Italian peasant soup, simmered for three hours. Learn how to make this soup with your local seasonal vegetable and the
three secret ingredients
that will make your soup really Italian.
Now for the fancy Italian touch. Secret ingredient #2 is a slice of pig skin (left) recycled from the chopping of the bacon. You won't eat it and I'll remove it from the soup at the end, but it will add flavor. As for secret ingredient #3, the most important and most Italian ingredient is the Parmesan crust (right), cut from a piece of Parmesan used later. Kids in Italy will fight over who gets to eat that, and it adds flavor to the soup.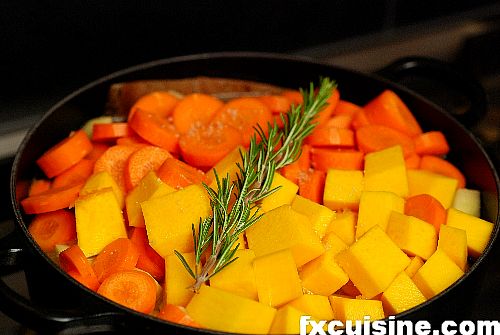 A twig of rosemary or thyme will cook with the soup. You could add bay leaves and sew everything in a leek outer skin for a little French technique.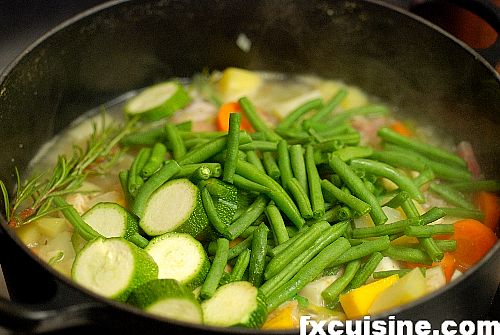 The freshly cut green beans and zuchini. Do not worry about overcooking the zuchini, they are meant to be so overcooked they'll turn to a delicious purée that will help thicken the soup.
After 20 minutes spent washing, stemming and cutting spinach leaves, they are finally ready to be added to the soup (left). The cooked beans (right) are filtered from their black cooking broth (same picture in the background, click to zoom).
Cover and simmer until most vegetables start falling apart without your needing to really crush them - about 3 hours.
Remove the pig skin, bay leaves and herbs. Add some finely chopped parsley or basil. Correct the seasoning with salt and pepper if needed.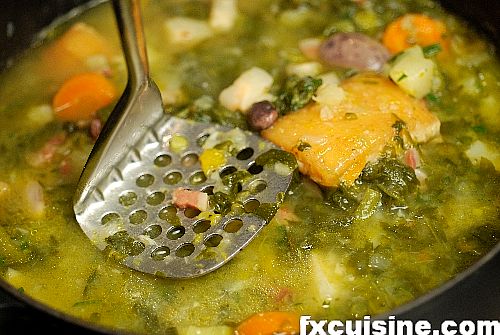 With a potato crusher crush the vegetables. The spirit of this soup is very different from today's soups where vegetables should be cooked al dente, remain a bit crunchy and be fully recognizable. Here we cook everything for very long until the taste of every component joins together in a coarse mix of pure plant heaven. Vitamins are certainly lost in the long cooking process though.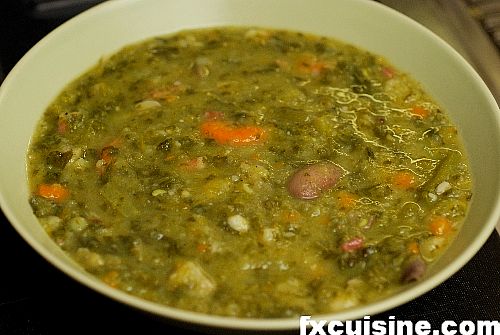 That's it. Serve the soup hot with grilled bread, raw olive oil and a sprinkling of freshly grated Parmesan cheese.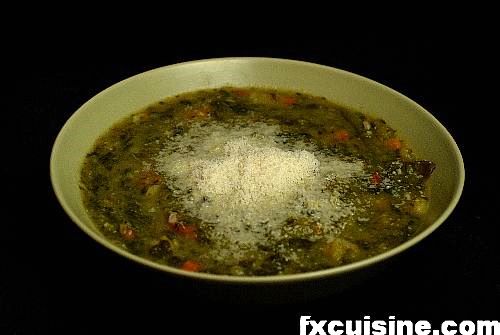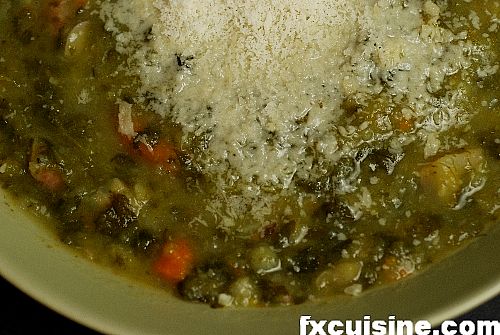 You can reheat this soup the next day and the day after and even eat it cold. Since most ingredients are dissolved in the soup, the texture remains fine and palatable. I made this soup last Tuesday and ate some every night until Friday. 2 gallons of soup in 4 meals is still a commendable performance!
1415451 views
Related Articles

Magical Italian Pesto Soup ***
This legendary Italian and French traditional vegetable soup is turned into an elixir of long life by mixing in fresh pesto. A cult summer delicacy ready in under an hour.

Proper Pea Soup ***
Probably the best soup in the world, provided you get the key ingredient - a smoked ham bone.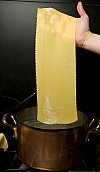 Lasagna From Scratch **
One of the most memorable pasta ever - lasagne bolognese made from flour, eggs and sweat!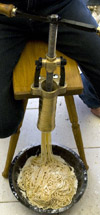 Bigoli, Bigolaro, Bigolarist **
My largest and most unusual pasta-making accessory, the bigolaro, made 28 fat spaghettis, called bigoli, each as long as the room. Served with the traditional duck ragù, this made my guests very happy despite the fact they had to make their own pasta.

Halloween Pumpkin Risotto **
Serious gourmet traditional pumpkin risotto from Lombardy (Italy) anybody can cook in under 40 minutes.
Copyright FXcuisine 2018 - all rights reserved.
If you do this recipe at home please let me know how it worked for you by submitting a comment or send me a picture if you can. Thanks!