Halloween Pumpkin Risotto
Home
>>
Recipes
Serious gourmet traditional pumpkin risotto from Lombardy (Italy) anybody can cook in under 40 minutes.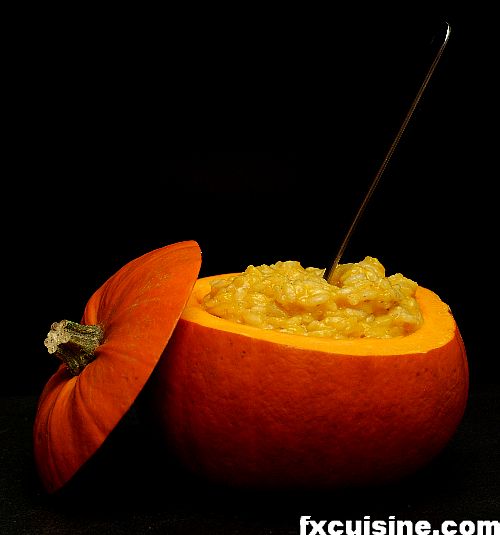 In Europe we celebrate the dead on Halloween, visiting them in their graveyards and honoring their memories. What would they tell us if they could speak? I don't know, but my recollection of speaking with those on the verge of that trip bring up one point : enjoy life while it lasts, it is much shorter than you think and soon you'll be the one they'll come visit on All Saints' Day. What better way to celebrate life and honor the dead than to prepare a delicious traditional Italian dish in their honor?
There are a hundred ways to make pumpkin risotto. This is the traditional Lombard recipe well used in neighboring regions of Northern Italy. It is one of my favorite risotti and anybody can do it in under 40 minutes.
Pumpkin Risotto
Risotto con la zucca [reezawtaw conla tsookah]
As a main course for 2 or a starter for 4
1 glass (1/2 cup) risotto rice
1 small glass white wine
1 medium white onion
50gr butter (4 tbsp)
1 small pumpkin slightly larger than a grapefruit for serving
300gr/1.5 cups pumpkin flesh
4 amaretti (Italian bitter almond dry macaroons)
100gr Parmesan cheese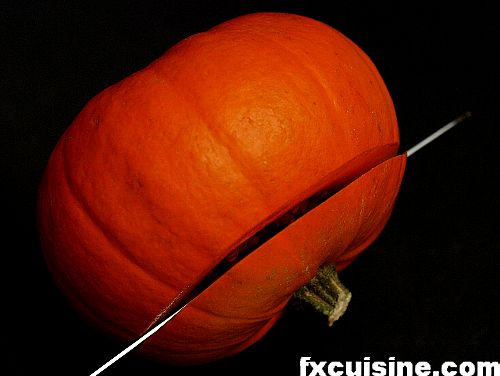 With a large knife cleanly cut off the serving pumpkin's top (where the stem is).
Deseed with a spoon, wash and reserve.
I recommend you use the flesh from another pumpkin for the risotto itself. Why? First, it is hard to scrape the flesh from inside the serving pumpkin without damaging it, and these nice Halloween pumpkins do not always taste as good as other types.
You can cook the pumpkin flesh in several ways. Either peel and cut in large cubes and cook with a small glass of water in a saucepan until soft. Or cut in large chunks with the peel on and roast in the oven in a dish covered with foil. Finally, you might even cook the peeled and cubed pumpkin in the microwave. Whichever way you use, when the pumpkin is soft and breaks down under your finger, it is cooked.
Proper risotto requires hot broth/stock. You can't use cold water. If you don't have time or energy to make stock from scratch, heat some water in a small saucepan and add a stock cube, a bay leaf, clove, pepper and a couple vegetables. Here I used an onion and a clove garlic, hardly my best stock ever but still infinitely better than cold water. Set up your work space with a large pot on a hot burner and two side pots with the stock and pumpkin flesh. Have a ladle close by.
Start by melting 1 tbsp butter with a little oil in the large pot. Gently fry the onions. The point is to soften them by evaporating their vegetation water. DO NOT let them become brown.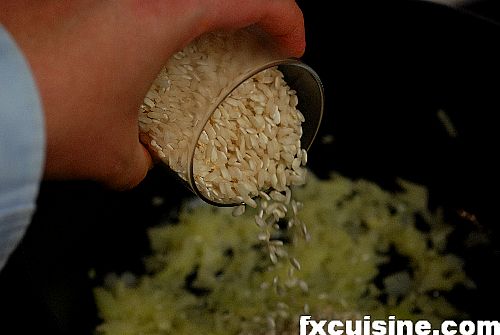 As soon as the onions are soft, pour in your rice. Here I used some fancy 'slow food' risotto rice grown by lady monks in Lombardia, but you can use any rice that says 'risotto' on the box.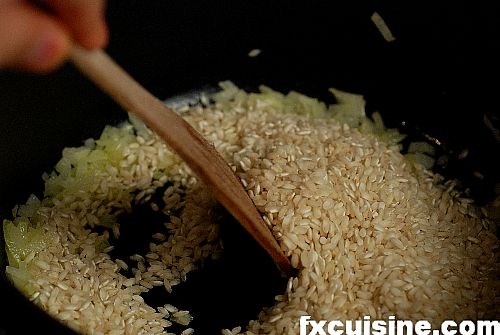 Mix the rice with the fat and onions over high heat for about 2 minutes or until every rice grain is coated with butter. Do not be afraid to let the grains toast a little.
Pour in your glass of wine and turn briskly so that all of the rice will be in contact with the wine. Risotto usually calls for dry white wine but I found this recipe to work best with sweet white wine, which you can then serve in glasses with the risotto.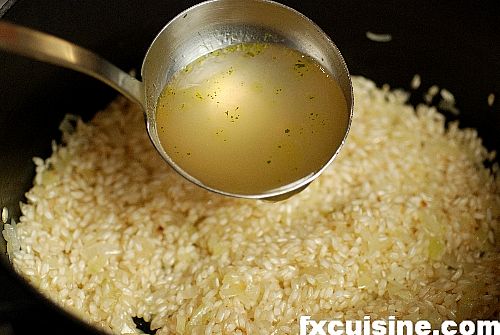 When the wine has completely evaporated, add one generous laddle of stock and mix briskly. Do not put more than ONE LADDLEFUL AT A TIME.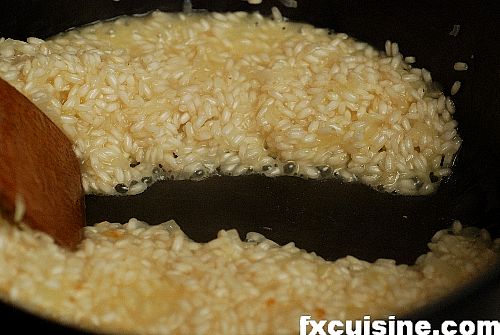 Risotto is a demanding mistress and requires the chef to stand next to the pot for the better part of 20 minutes. Turn the rice every 20 seconds or so in order for the liquid to bathe all of the pot. With the high heat your rice will dry out at the bottom and you'll need to move the rice with a wooden spoon so that the remaining stock on top goes to the bottom. Only when the rice is almost dry (see picture) can you add your next laddleful of stock. Proceed like before for about 10 minutes, adding the stock laddleful by laddleful.
After about 10 minutes, add the pumpkin flesh to the rice and mix. Continue to cook as before with another laddleful of stock, making sure the risotto never sticks.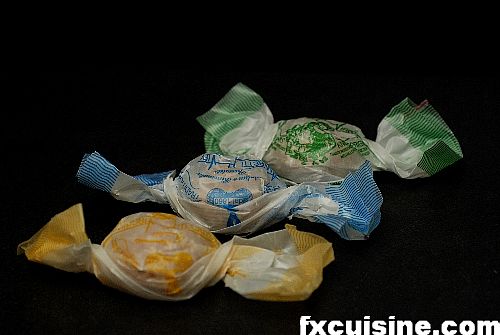 This is the secret ingredient that makes this dish such an aphrodisiac extravagance. It is not of my invention but a traditional ingredient in risotto con la zucca : tiny amaretti [ahmahraytee], bittersweet almond macaroons made from sugar, bitter almonds, egg whites and flour. I wouldn't cook this dish without amaretti and you need to get the right sort - dry amaretti with no extra flavoring. They store well and don't be afraid to buy too many. Make sure you don't get the amaretti teneri - these are soft. The ones you need are as hard as dry wood but they crumble easily.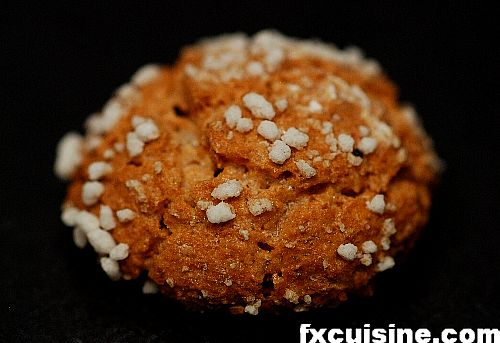 Crumble your amaretti in a mortar or with a large knife or rolling pin. Be sure to leave larger crumbs to add interest to the dish. I used to remove the large sugar crystals on the surface but not anymore - this is a sweet savory dish after all.
Add the amaretti crumbles to the risotto and mix in. Continue to cook, tasting every 30 seconds now, until they rice is almost done but still about 1 minute away from having just enough bite but not too much. Don't be afraid if it's your first risotto, only a seasoned risotto fiend will notice if you have overcooked it slightly. But try to go for this bite in the rice - risotto al dente.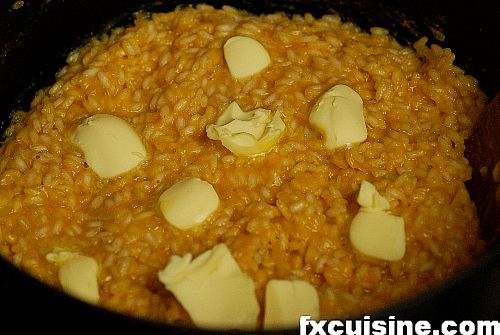 Now for the last stage - the mantecatura. We will emulsify a number of tasty fats in the rice to finish its seasoning. Do as I say and you will be fine. First remove the pot from the heat and let it rest for 1 minute covered. If you don't do this the butter will break down due to the high heat. Then cut the rest of your butter in small teaspoon-sized chunks and add them to the rice. Vigorously mix in the butter. You need to avoid the butter melting before it's mixed in. Use quality unsalted butter for this.
Grate the best Parmesan you can find and add it to the risotto. Mix it in. The best Parmesan there is - but you won't always find it - is the one made from red cows' milk, mucche rosse. I was able to get a piece of it from a slow food initiative at COOP here in Switzerland. Otherwise go for Parmigiano Reggiano, made to much higher standards than the Padano. In any case do not buy pregrated cheese.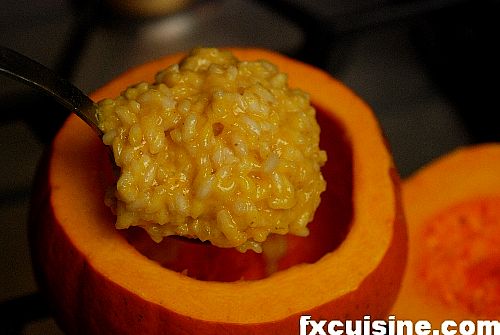 Heat your serving pumpkins shells by filling them with the remaining broth. Empty the broth and fill them with the risotto.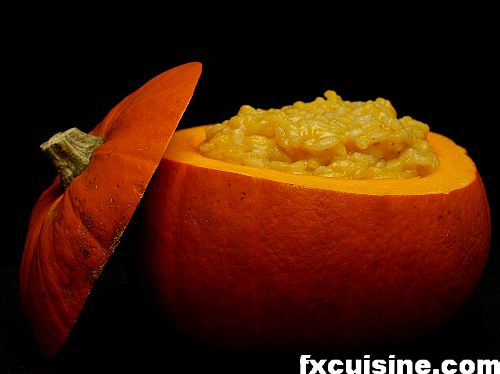 You can serve one large pumpkin for two if this is for a romantic dinner, with both lovers eating from the same pumpkin. alternatively, you could serve one per guest or a large on from which you'll spoon the risotto onto plates.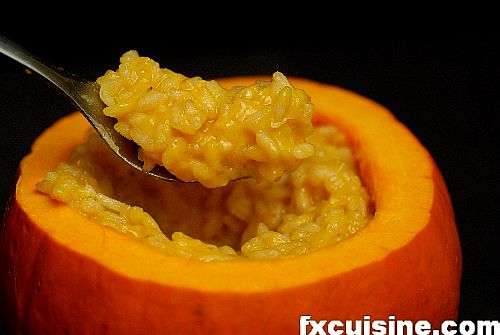 A resounding success! This is the third time I do this recipe this year. Try it, follow my directions and you won't be disappointed or your pumpkin back.
150779 views
Related Articles

Magical Italian Pesto Soup ***
This legendary Italian and French traditional vegetable soup is turned into an elixir of long life by mixing in fresh pesto. A cult summer delicacy ready in under an hour.

Pumpkin Gnocchis ***
After nearly 20 years of trials I finally succeeded in making these delicious gnocchis - my own personal culinary holy grail.

Italian Minestrone Vegetable Soup ** Popular
The most delicious traditional Italian peasant soup, simmered for three hours. Learn how to make this soup with your local seasonal vegetable and the three secret ingredients that will make your soup really Italian.

Authentic Sicilian Pasta With Broccoli ** Popular
This traditional Sicilian recipe brings together North African and Italian culinary traditions. A cult dish!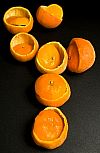 Sicilian Tangerine Sorbet **
Extraordinary sorbet served in the shell for a spectacular dessert suited for the calorie conscious vegetarian and the truffle-eating epicure alike. With no cooking and no ice cream machine required, this is an offer I can't refuse.

Copyright FXcuisine 2023 - all rights reserved.
If you do this recipe at home please let me know how it worked for you by submitting a comment or send me a picture if you can. Thanks!