Buckwheat Pancakes Secrets
Home
>>
Recipes
Successful buckwheat pancakes in 7 secrets. I make them with home milled buckwheat flour for extra taste but you can use bought flour. Probably the simplest dish on FXcuisine!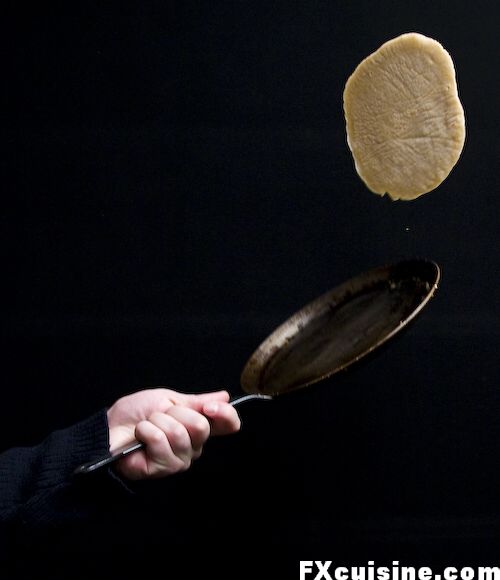 Outside of Brittany and the Latin District in Paris you may find only one or two pancake joints in any French town, but they are always full. Most offer two types of pancakes: sweet pancakes from regular flour (crêpes au froment) and savory pancakes from buckwheat flour (crêpes au sarrasin). There are two styles of Breton buckwheat pancakes - thick and thin. Restaurants make them thin on large electric heaters. This is the style in the North of Brittany. Today I'll show you how to make them like in the South of Brittany - thick, and will give you the 4 secrets that will make your buckwheat pancakes a success.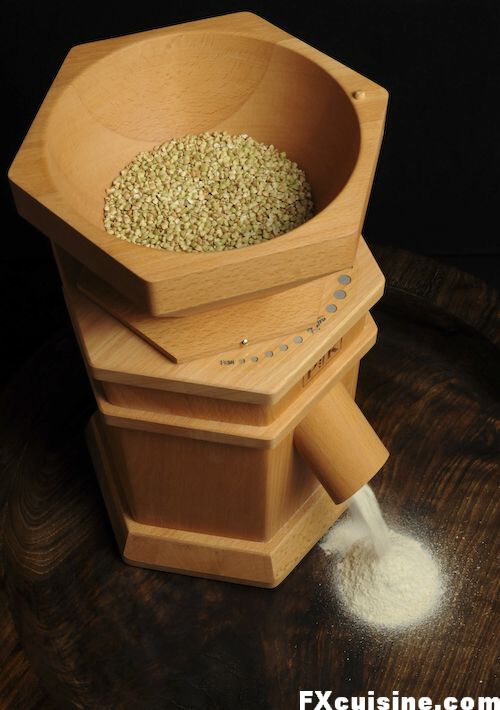 First grind your buckwheat flour. You could use bought buckwheat flour, but in most shops buckwheat flour is a slow seller and is invariably stale.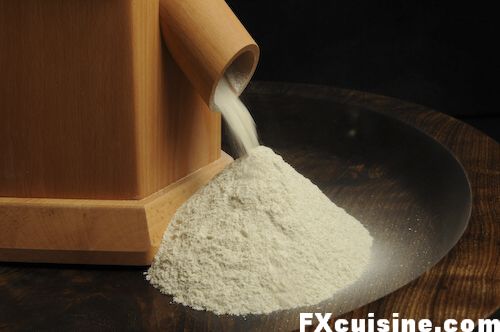 Grinding your own is much tastier and it takes only a 5 minutes for a pound. All you need is a flour mills. Even better, the flour is very fine and does not require any sifting to remove the bran, since the buckwheat bran is like a nutshell removed when harvesting. This is definitely the easiest and nicest-looking flour you can grind at home.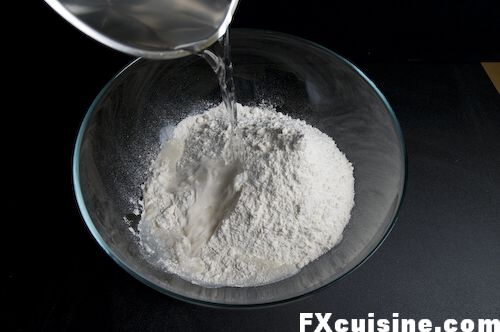 I used to be a buckwheat purist and made pancakes from 100% buckwheat flour and water. No eggs, no oil, no milk, no nothing. Well, not anymore. Buckwheat has no gluten, which may be the reason you are reading this article if you are allergic to gluten. But this means the dough is rather brittle unless you add a little regular flour. I recommend you use at least 1 cup regular white flour for every two cups buckwheat flour - that's the secret #1 to a successful buckwheat crepe. Sift the flours together, then add a cup water.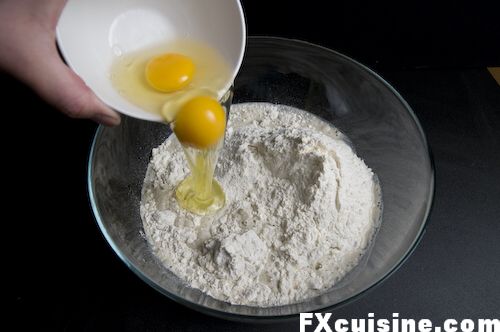 Add two eggs. If mixing by hand you should beat the eggs before adding them to the flours.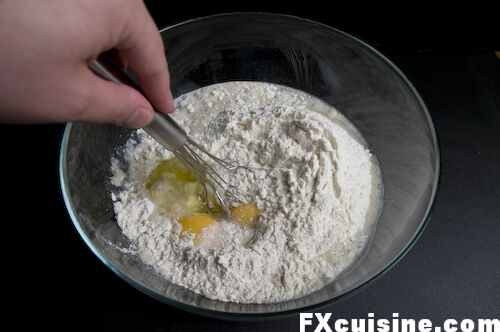 Whisk by hand. Why? Mr Hervé This, a prominent French food scientist every bit as serious as Harold McGee and the inventor of molecular gastronomy, has tested various ways of preparing pancakes and found that hand beaten pancake dough is more elastic and tastes better. That's the secret #2.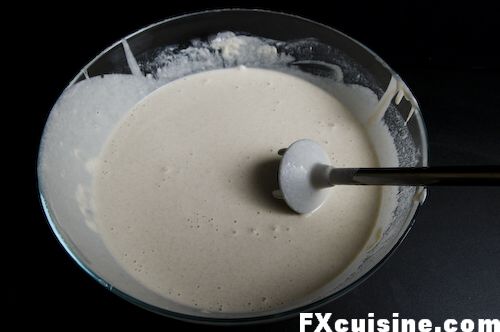 Now you may have trouble dissolving every last flour clump in the liquid with a hand whisk. If you don't succeed, briefly use a plunging mixer while nobody is looking. Tell them you whisked by hand. Now you need to let the dough rest. Mr This tested various resting time and it makes an awful lot of difference on the dough - that's our secret #3. Cover and leave in the fridge for 12 hours. If you are in a hurry leave it at the very least for 1 hour.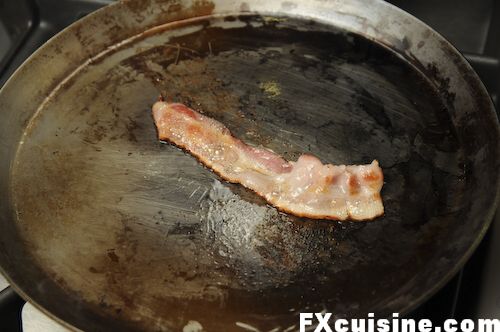 You need to cook crepes and pancakes on a cast iron or steel pan. No non-stick nonsense. That's barely a secret but we'll call it our secret #4. Then the pan must be as flat as possible, with only the smallest and flattest sides. That's our secret #5. It sounds very obvious but I've been offered a number of so-called 'pancake pans' at Mora, a very serious professional cookware shop in Paris, all deep as bathtubs. If you want to flip your pancakes like I show below, you need a flat pan. I must have spent 15 minutes discussing pancake pans with the guy at Mora, and finally he went down the cellar to fetch this humble iron pan that cost me only €10. When I moved to the checkout counter, another attendant tried to help me finalize the order but this guy pointed at me and said "Don't speak to him - he is a curmudgeon". Everybody in the shop looked at me. The two ladies standing next to me took a full step back. Then the guy added "I'm joking, serve him first!" . I knew that my keen interest for crêpes pans had won me the shopping attendant - Parisian style! Then you need to use a little oil as possible. When you begin cooking pancakes on cast iron pans, you fear the dough will stick and you douse the pan with oil or butter. I used to do this and it took me well over a tablespoon of butter for each crepe, the butter turning brown because of the heat. Don't do like I did then - do as I tell you now. Just lightly rub a piece of bacon on the hot pan or wet a towel with heat-resistant vegetable oil gently pad the pan. There should be no visible fat on the pan, just a shine. That's our secret #6.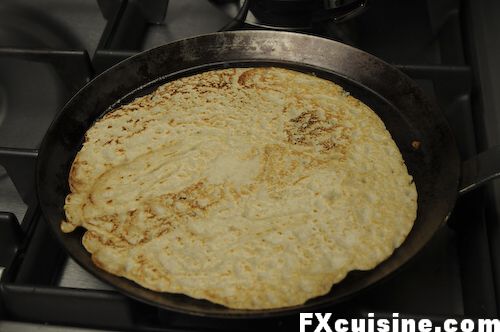 Using a ladle, pour the buckwheat dough in one go into the hot pan and move the pan about so that the dough covers the entire surface in a regular disc. You can use a wooden paddle to help but don't scratch the bottom where the dough starts to stick to the pan - just caress the liquid surface.
Now for our secret #7. Do not touch the pancake until the top has set and the pancake is almost cooked through. This is totally counterintuitive, so let me explain why. You will worry that the pancake might stick to the pan and want to slide a wooden spatula between the pancake and the pan as soon as you can. Seeing that the dough somewhat sticks to the pan, you will feel a sense of urgency and try to put your spatula all around and below the pancake, sensing that this may be the last opportunity to save your pancake - and your pan. Doing this will do precisely the opposite. The pancake is still brittle and weak as only the part closest to the pan will have set. You will tear your pancake and the parts where the pancake has stuck to the pan will stick for good. Don't do this.
The way to go is to let the pancake set, so that when you finally use your spatula to move it, the crepe will have a much stronger structure that will resist to tearing both from the spatula and from the tiny bits that stuck to the pan.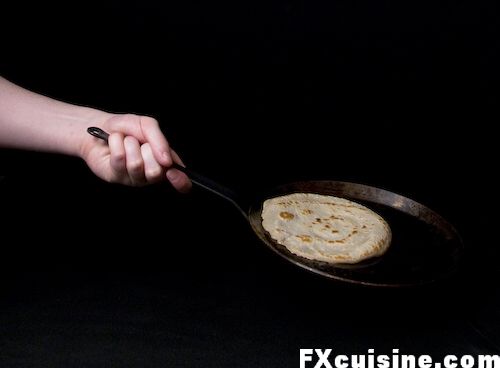 And now for the fun part - pancake flipping! Actually you don't really need to flip pancakes, you could do everything with one of them large flat spatulas. But you and your guests would be missing something. Just make sure the pancake is rigid enough not to fold when being flipped. Start by moving the crepe about on the pan held firmly in your strong hand. Move it to the side furthest from the handle and quickly raise that side in one sharp move. The crepe will start flying and slowly turn in the air, allowing you to catch it back. Make your your have enough clearance above the pan, these things fly high.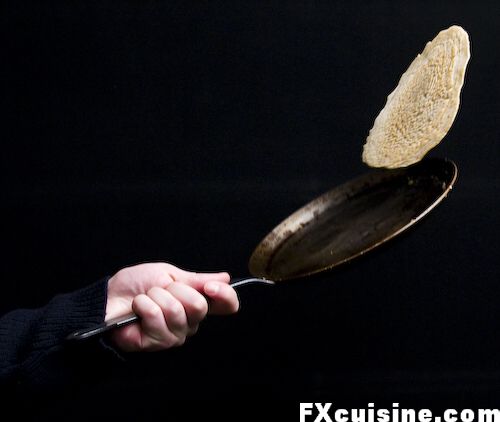 I had this one with freshly grated Gruyère cheese and a pinch of Espelette chili. Some days I add a few strips of crispy bacon, others I top it with caramelized onions or an egg. But you could make this a dish fit for the worthiest monk by serving it with chives and a spoonful of sour cream. No doubt you'll find your favorite toppings.
Please consider that this is one way of making great buckwheat pancakes and not the one you see in most restaurants. I'll post another article in the future for super thin pancakes!
331203 views
Copyright FXcuisine 2023 - all rights reserved.
If you do this recipe at home please let me know how it worked for you by submitting a comment or send me a picture if you can. Thanks!