Anti Cholesterol Vegetarian Starter
(page 2 of 2)
Home
>>
Recipes
My doctor just sent me the cholesterol bill for this quarter. Apparently I have already had all I needed for the whole year. I followed his advice to
eat more vegetables
by preparing these amazing avocadoes in
béarnaise
sauce with a poached egg.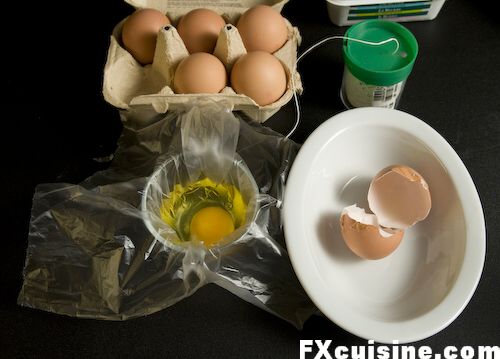 Now we will poach the eggs. Most people fear egg poaching and would never dream of doing this for guests by fear of ending up with egg white shrapnel soup. Well, from now on you will be able to poach eggs like a chef with no fear in your heart. Here is how Philippe Rochat poaches his eggs. It is burger-flipper-proof.
Take one egg per guest, a very small bowl or glass, kitchen string and plastic foil. Place a large square of plastic foil inside the bowl (bottom left), slightly oil the plastic foil inside the cavity to ensure the egg won't stick. Break the egg into the bowl.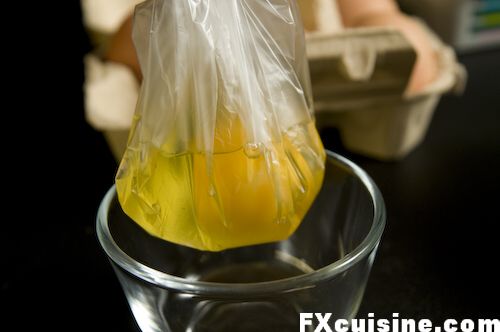 Carefully remove the plastic paper like a little bag.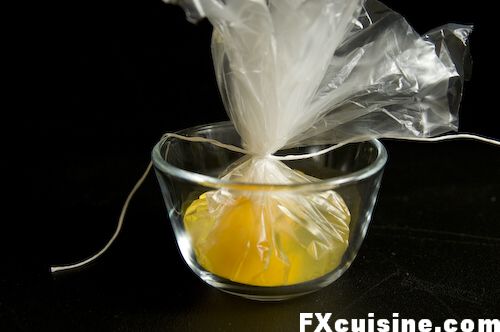 Tie it up with a piece of string. Do not worry, the hen inside the yolk won't get out. Proceed with three more eggs.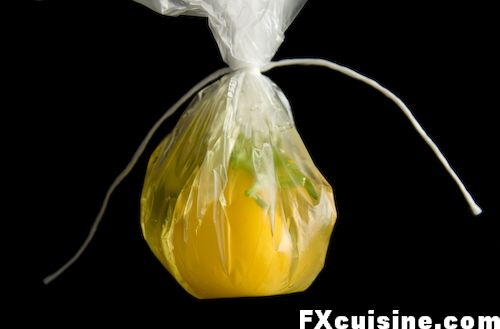 You can also add a few tarragon leaves inside the bag with the egg (look closely above the yolk).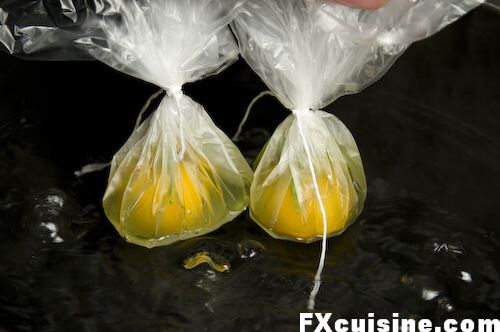 Poach in hot water for 3 minutes or 300 minutes, as you like your eggs.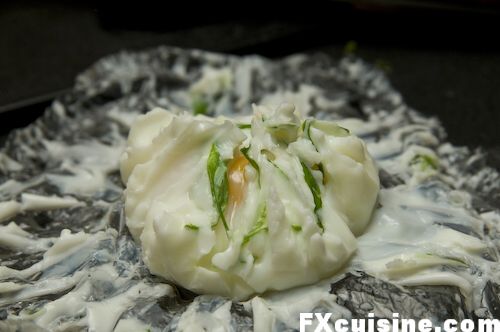 Remove, cut the string and open. If you forgot to grease the plastic with a little oil, some of the egg white might stick to the sides like it did here. But no big deal, and perfect poached eggs every time!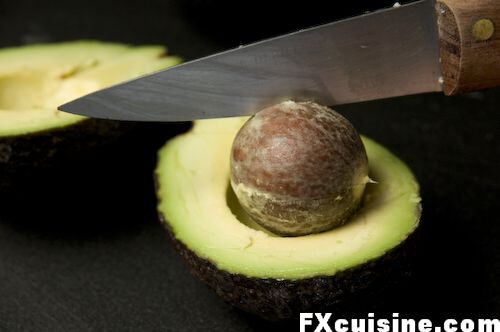 Cut your avocadoes in half, then use the blade like I do above to remove the pits, unless you plan to plant them. I'm told that if the avocadoes you found are too hard, you could simmer then in hot water for a few minutes. Frankly, I have never done this and like my avocadoes so mature that the grocer often hesitates to charge me. Sincere avocado gerontophilia, as Gérard Oberlé would have it.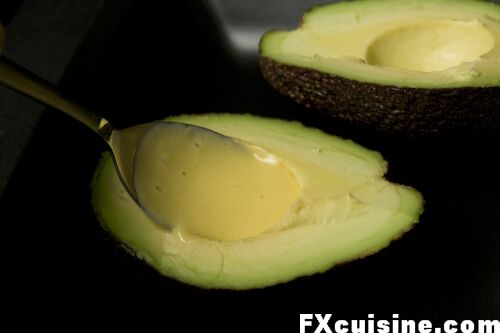 A spoonful of béarnaise sauce...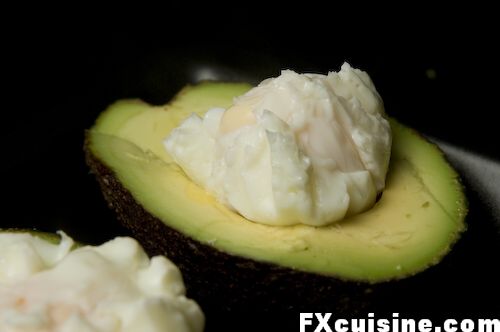 ...then an egg...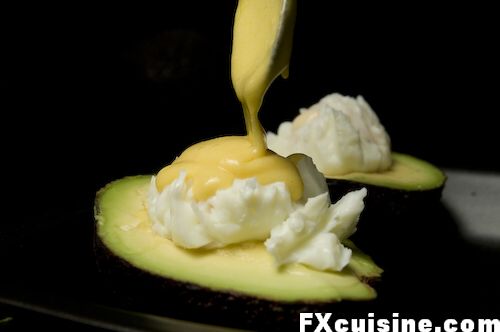 ... and then more béarnaise sauce.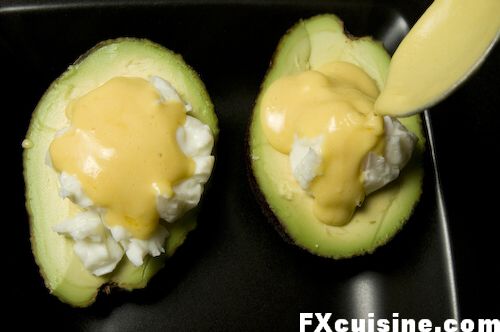 That's it. I could eat half a dozen of these, as a vegetarian first course.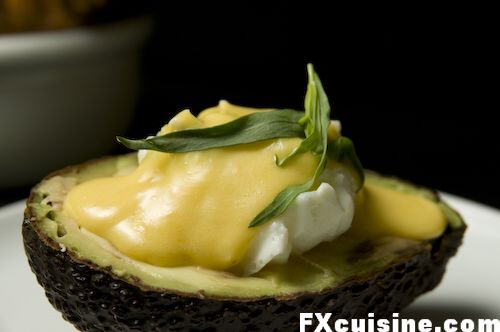 You could serve this with salad, but then it would become a real calorie bomb. Let's keep reasonable here.
Book tips: For an excellent discussion on béarnaise and many more detailed, serious explanations on fundamental cooking techniques, Madeleine Kamman's The New Making of a Cook is a must and worthy investment for anybody serious about cooking. For a more scientific angle, Harold McGee's On Food and Cooking: The Science and Lore of the Kitchen is the best available in English.
528646 views
Related Articles

Foie Gras Terrine (Video) **
Learn how to make a foie gras terrine from scratch in only 12 minutes.
Copyright FXcuisine 2023 - all rights reserved.
If you do this recipe at home please let me know how it worked for you by submitting a comment or send me a picture if you can. Thanks!