Italian Buckwheat Torta
(page 2 of 2)
Home
>>
Recipes
A unique Alpine recipe from those mountains where Italians speak German. For hardcore buckwheat lovers only!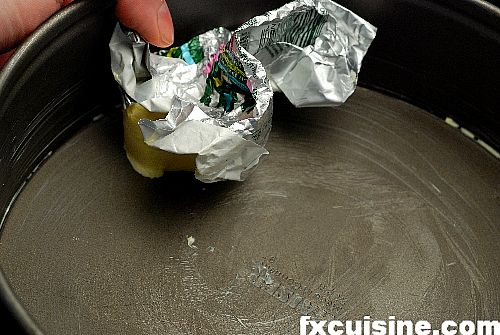 Grease the circular cake pan with a piece of butter. I know a pastry chef who puts the cake pan in the frige after that, then, when the butter has set, he greases it a second time, and finally sprinkles flour on top to ensure a smoothless unmolding.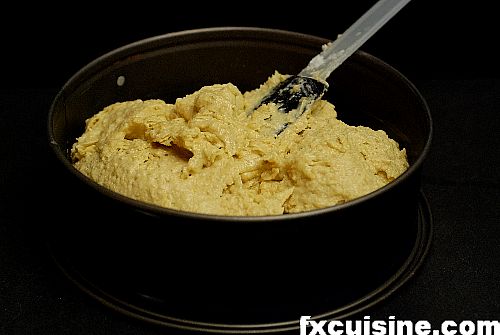 Fill your pan with the dough, trying not to make a mess around the edges. Smooth the surface and remove any bits on the sides - these would burn.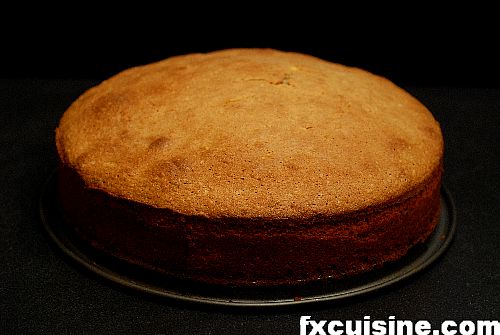 Bake for about 45 minutes at 180°C/350°F. Unmold with care and leave it to cool for a couple minutes.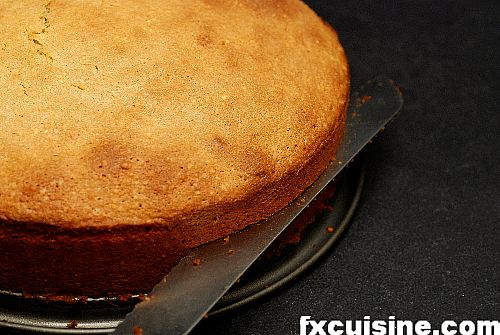 With a long serrated blade, love and care, delicately slice through the cake like I do on the picture so as to obtain two discs of equal thickness.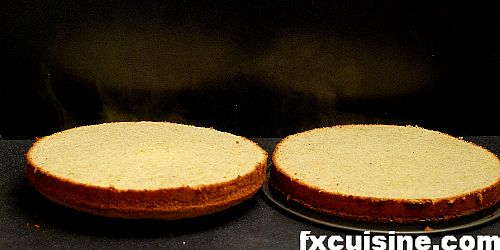 Split the cake in two.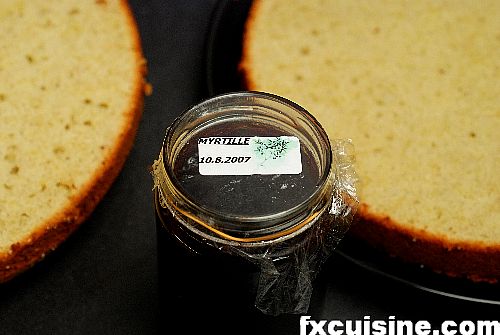 Time for the blueberry jam. I got this one from a mama from my local farmers' market, a very fine product really. If you can't find any decent jam, you might substitute with a different black fruit jam. By decent I mean a jam not having half of it made from pumpkin flesh.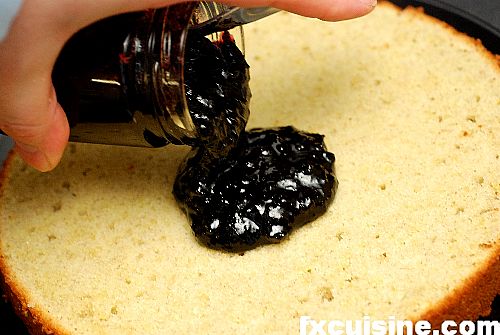 Spread the jam on the bottom half...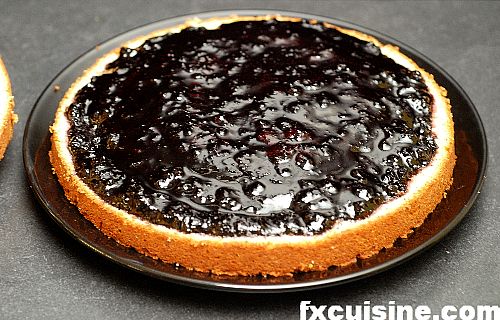 ... until you run out of jam or of surface, whichever comes first!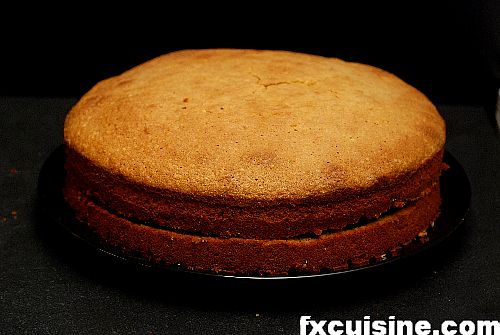 Cover with the top half. Try not to make a mess, you don't want jam splurting across the kitchen as you press on the top.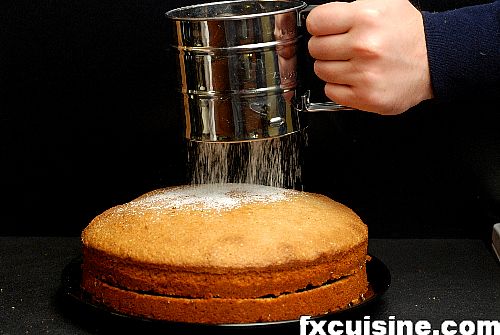 Now we'll decorate the cake with some very fine confectioner's sugar and a fancy device designed to create sweet snow on cakes.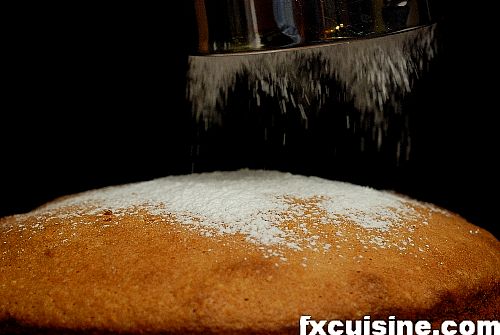 Proceed to cover the entire surface.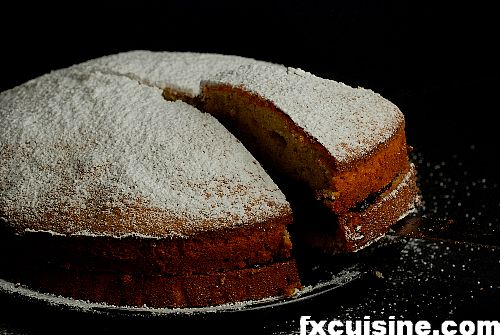 There we are - time for the reward. Use a serrated blade and sharp movements to cut the cake without making the top half slide on its bed of jam.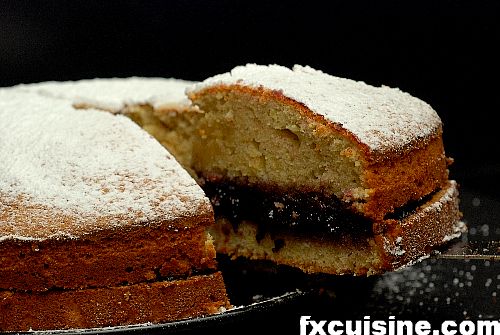 Remove with caution.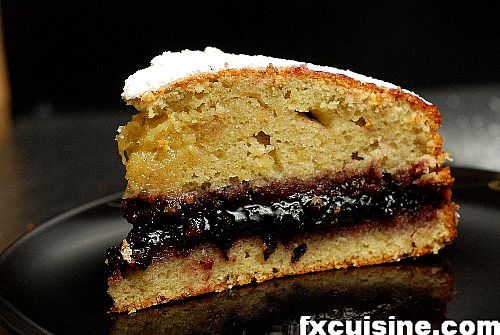 Enjoy this filling but very authentic and characterful cake!
This recipe comes from:
Osteria Nerina
Via De Gasperi, 31
38010 Malgolo di Romeno (Trento)
Phone +39 0 463 - 510111
Some recipes include cocoa or hazelnut powder and grate apples.
Thanks to Mascha for her proofreading!
143241 views
Related Articles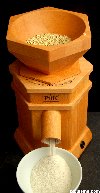 Italian Alpine Buckwheat Pasta Pizzocheri ***
Traditional buckwheat noodles from the Italian Alps with cabbage and Fontina cheese. I made them from scratch with my own freshly milled buckwheat flour. Hard core pasta!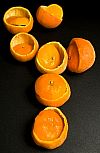 Sicilian Tangerine Sorbet **
Extraordinary sorbet served in the shell for a spectacular dessert suited for the calorie conscious vegetarian and the truffle-eating epicure alike. With no cooking and no ice cream machine required, this is an offer I can't refuse.


Pasta con i fagioli **
Homemade wholewheat spaghetti with a delicious beans ragu for a typical Tuscan peasant dish.

My Boyhood's Hungarian Plum Dumplings **
I had eaten these dumplings only once, when I was 12, but boy did they make an impression! Such a rich combination of gorgeous juicy sweet prunes covered in a soft potato-based simmered dough.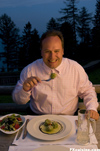 The Battle of the Knoedel **
The story of a German secret weapon transformed into a delicious dish by the Italians.
Copyright FXcuisine 2023 - all rights reserved.
If you do this recipe at home please let me know how it worked for you by submitting a comment or send me a picture if you can. Thanks!