Pasta con i fagioli
Home
>>
Recipes
Homemade wholewheat spaghetti with a delicious beans ragu for a typical Tuscan peasant dish.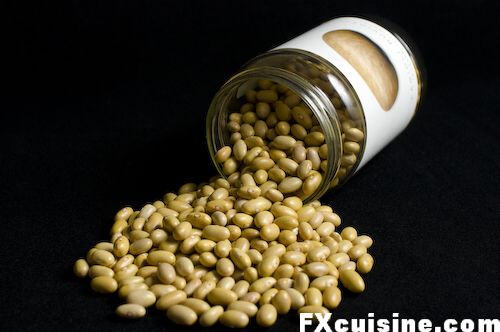 You won't draw many people at a party if you write beans pasta on the menu. But Pasta con i fagioli, a humble peasant dish from Tuscany, could be the most refined and satisfying pasta you'll ever make.
Pasta con i fagioli
A hearty dinner for 6
500gr dry beans or 1kg fresh beans or 2 cans of beans (no sauce)
1 large onion
1-3 garlic cloves
2 large carrots
1 stick of celery
1 stick of cinammon
1 bay leaf
2 cloves
1 dry chili
1 bunch parsley
1 branch fresh rosemary
1 400gr (28oz) can of chopped tomatoes
1 parmesan rind or 100gr/3oz piece of parmesan
1 glass red wine
More parmesan to grate when serving
A couple tablespoons olive oil
Salt and pepper to taste
Bigolis or fat spaghettis for 6, about 1200gr (2.5lbs) dry weight
Please consider that there are many ways Italians eat pasta with beans, many of which are soups. My guests being of the vegetarian persuasion, I omitted much needed bits of porky fat and I'd have much enjoyed some pancetta, guanciale or prosciutto in the ragł.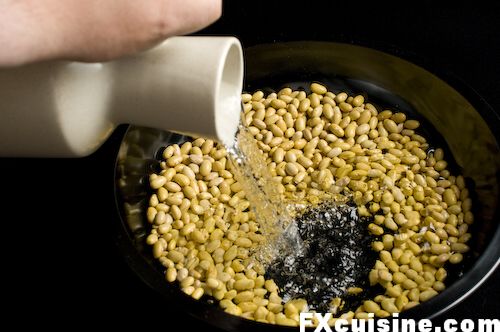 You could prepare this with canned beans, but it's more fun with fresh beans, in season, or plain dry beans. Cover then with a generous amount of water.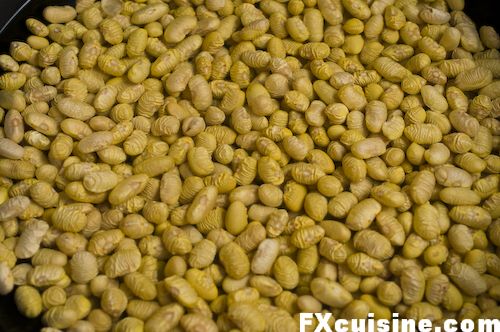 The dry beans' skins will start to shrivel, then slowly, as they suck up all available water, the beans will bloat until their size has doubled. You may have to add some more water.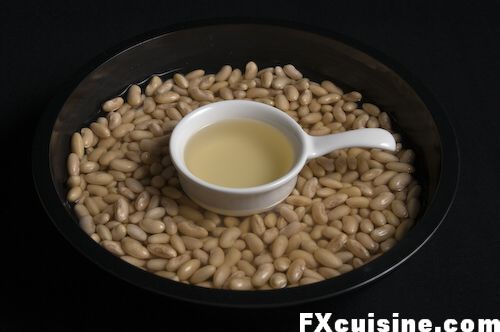 The next day, the beans have turned beige but the water has become yellow with what the Ancients called the yellow bile, the acquae fartorum. Many a cook of centuries past has lost his life after forgetting to discard this evil liquid, some in a kitchen fire as their bloated stomach released a cloud that exploded as soon as it met an open flame; others in their sleep, as the putrid vapours crept out of their exhausted bodies and poisoned all in the house. Yet others were spared thanks to an open window, only to be marked as stinking pariah and cast out of society in those houses they called domus peditum.
So my friend, if you want to continue reading FXcuisine.com for many years, discard this water and rinse the soaked beans.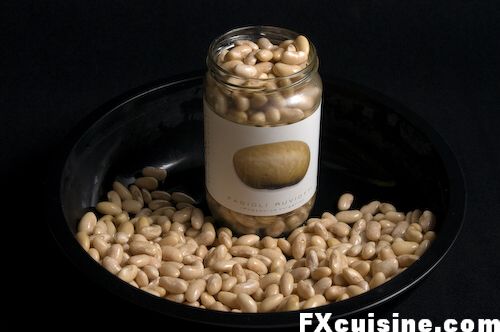 The beans have tripled in volume, a sure sign of a recipe from la cucina povera.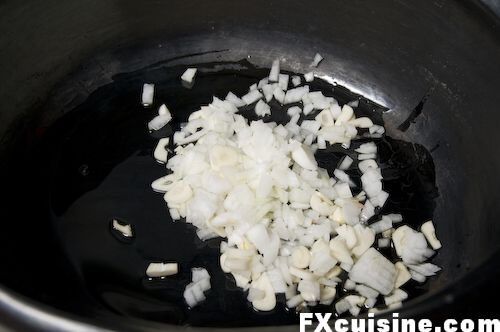 Finely dice garlic and onions and fry in a little olive oil. Here I used a terracotta pot because it looks fancy but terracotta really sucks when it comes to exchanging heat. You'll have quicker results with a cast iron pot.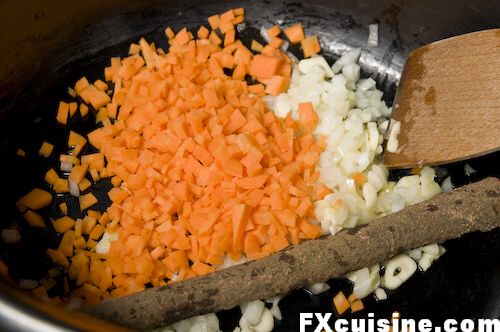 Peel and dice the carrots and celery and add to the onions and garlic when they are soft. Add the cinammon stick. I admit I forgot the celery that night.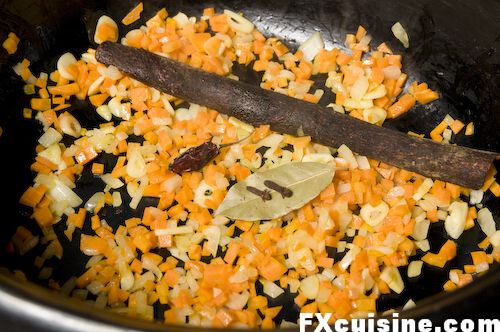 Fry until soft, then add the cloves and bay leaf. If you are using pork fat, you can add it at this moment finely diced, about 100gr (3 oz) of guanciale would work great. But my vegetarians guests were complaining about candies that contain gelatin of animal origin, how disgusting, etc... so I decided not to hurt their feelings and abstained from adding any animal fat.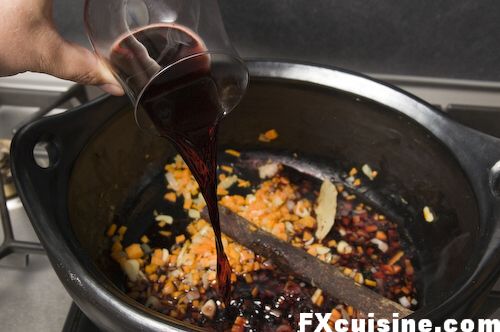 Pour the wine and scrape to dissolve any brown bits that might have stuck.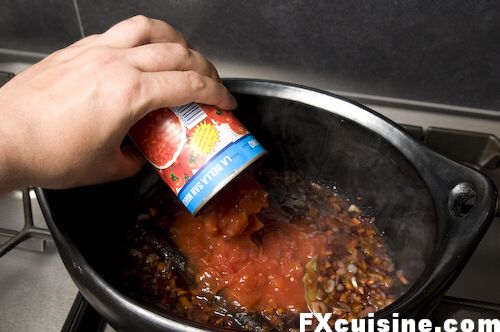 Add the tomatoes...
... the beans into the sauce ...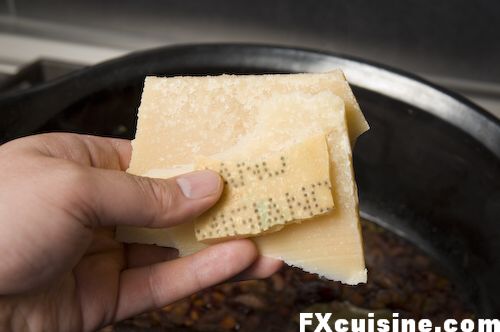 ... then the parmesan rind and the rosemary. Normally I use a whole Parmesan piece, not only the rind, but in the morning the lady at the Italian food stall at the farmers' market was about to throw away these rinds.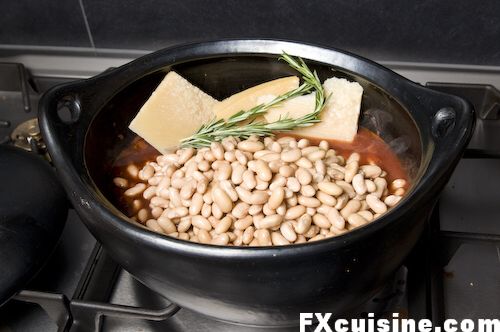 If you have to add any water to prevent the sauce from drying up and sticking, try to use water with low hardness (filtered to remove dissolved minerals) because research indicates that beans cook faster and become softer in soft water. How long should you let the beans ragł simmer? It all depends on your beans. If you are using canned beans, 30 minutes might be all you need. But with hard-core dried beans like I did here, after 2 hours they might still be a bit tough. My advice is to cook this in advance, possibly the day before, so that you have all the time needed to make them tender. Reheating improves the taste somewhat, so no worry.
...