Schabziger Pasta
(page 2 of 2)
Home
>>
Recipes
Swiss pasta made from a thousand-year-old Alpine cheese so pungent it will bring you back from the dead.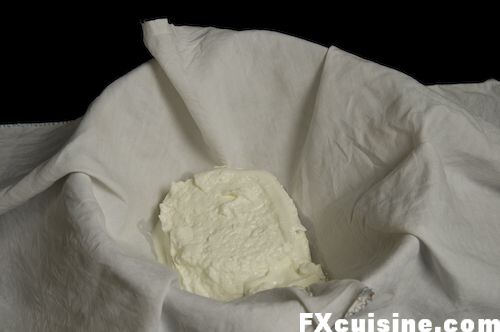 Let's make the stuffing, based on séré (German : quark) a lean fresh cheese made from whey, a Swiss cousin of ricotta. We need the cheese to be as dry as possible so as not to rip through the ravioli dough.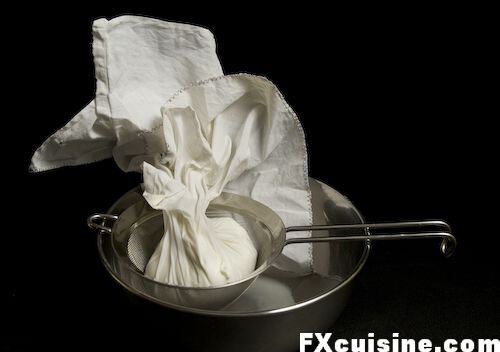 Place the cheese in a clean cotton cloth or a cheesecloth if you have it. Let it drip overnight.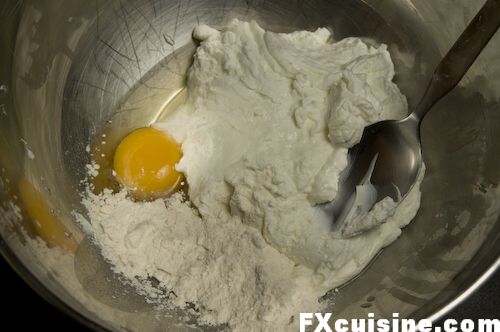 Mix séré, quark or ricotta with the flour and egg.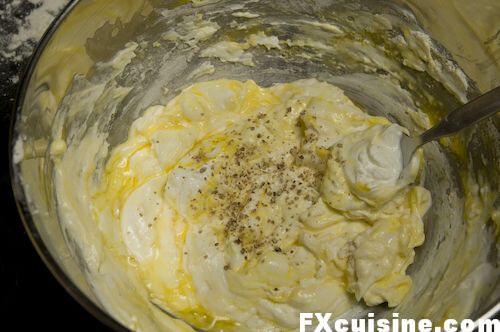 Season generously with white pepper and salt.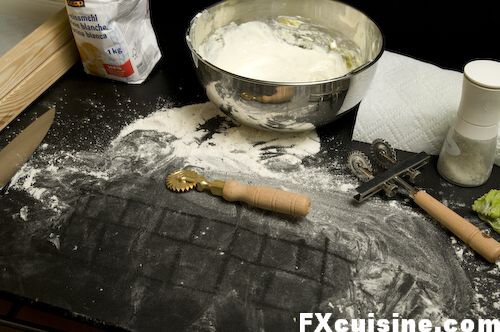 Prepare your workspace, with the pasta machine or rolling pin, ample flour, rolling cutters (how about my fancy double cutter?), filling and a clean cloth or pasta drying rack.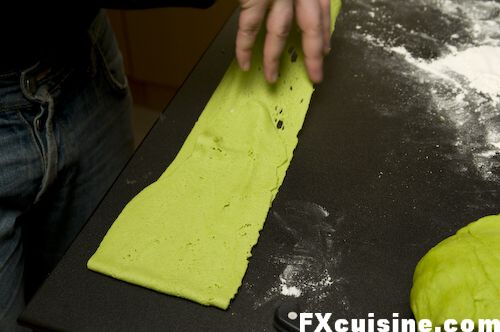 Start laminating prune-sized pieces of your dough through the pasta machine, folding it in half between each pass. Stop when the dough has gone through the next-to-last setting on the machine and is smooth as silk.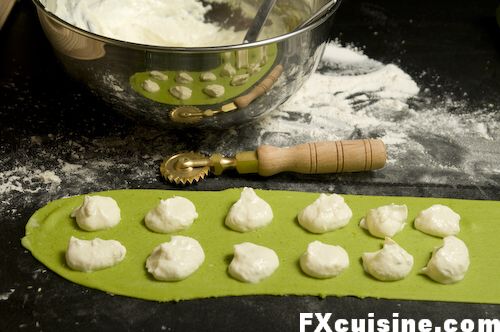 Decide the size you want fo yur raviolis before you start. Place little balls of stuffing at equal interval, not forgetting that you'll need another pasta sheet the same size or to fold in half the one you use.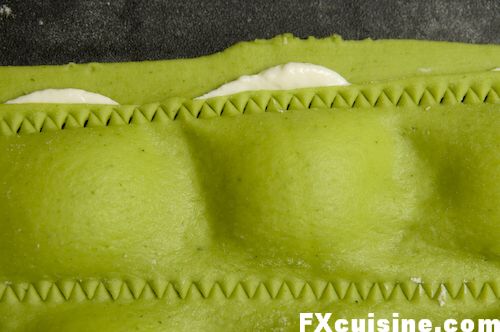 Seal and cut using the rolling cutter. Do not worry if a little dough oozes out as you roll...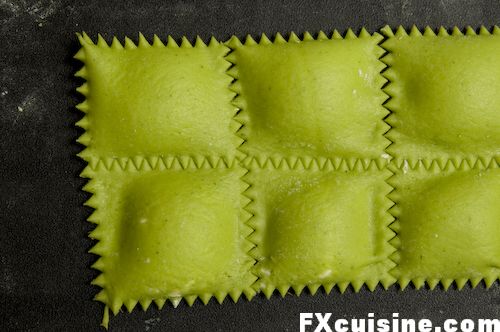 ...nor if you can't roll straight. Irregular raviolis denote homemade pasta and most guests will forgive you. Tell them 'That's the way it's done in the Alps' if anybody complains.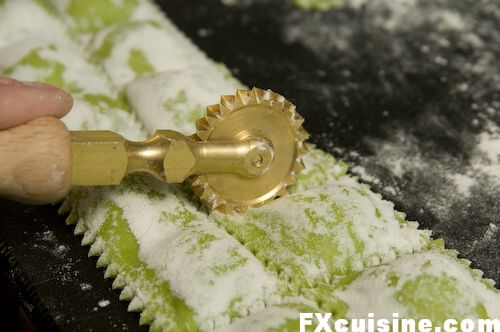 If the dough is too sticky, cover with flour before cutting.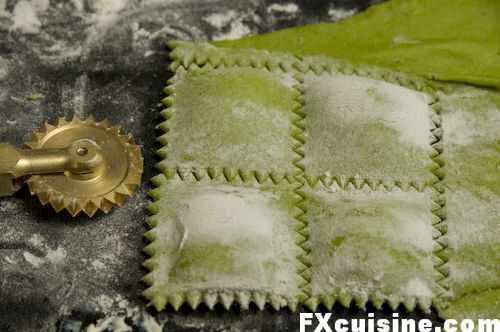 Try to obtain raviolis of the same size.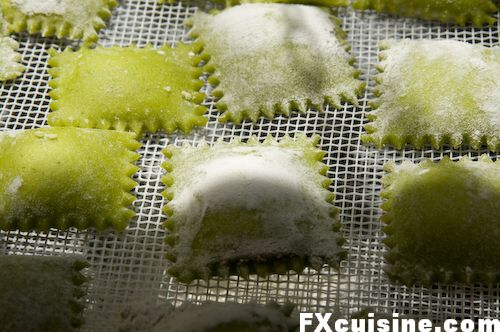 Flour generously and leave them on a rack or floured cloth so they don't stick.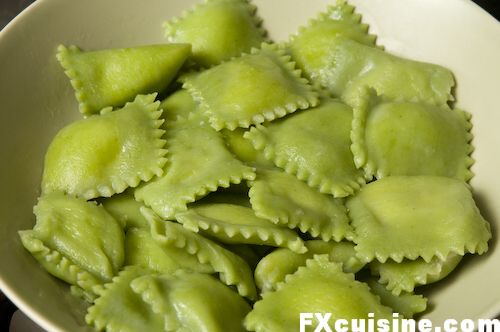 Boil for a minute or so in your largest pot filled with salted water brought to a rolling boil.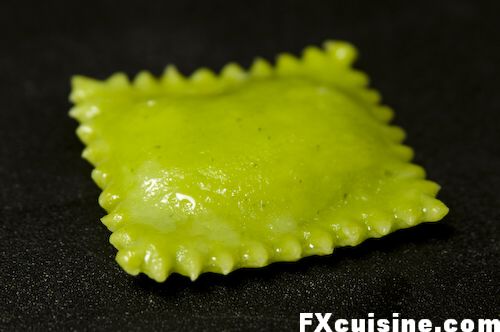 How about that? A delicious, intensly green ravioli with a delicate but very present Schabziger pungency ...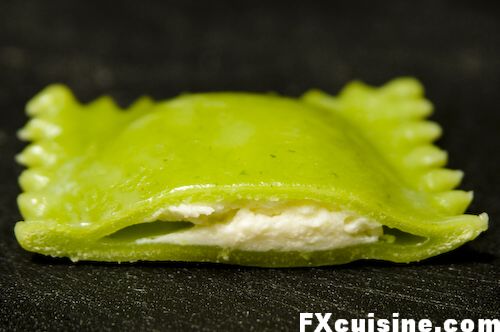 ... and filled with a light cheese filling. Diet, FXcuisine-style!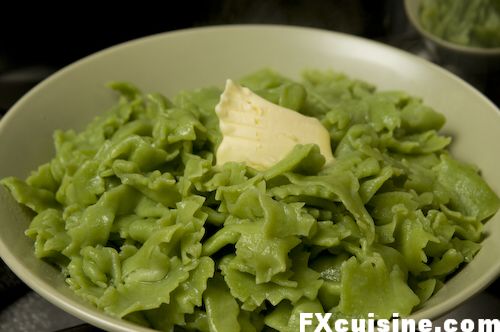 If you feel that this is too much for you, just omit the ravioli and stuffing stage and cut your pasta in your favorite shape, and serve with butter ...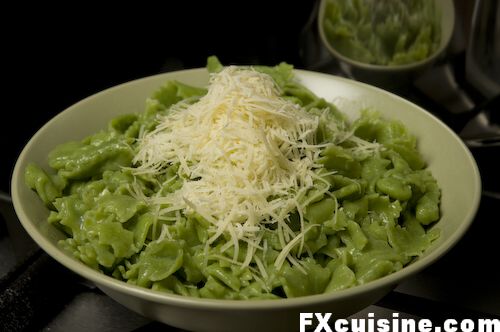 ... or grated Sbrinz. A really unique pasta!
Original recipe from:
Schwert Restaurant
Jürg Weber
Landstrasse 13a
8754 Netstal
Glarus, Switzerland
127903 views
Copyright FXcuisine 2022 - all rights reserved.
If you do this recipe at home please let me know how it worked for you by submitting a comment or send me a picture if you can. Thanks!