Slow Food Fair
(page 2 of 2)
Home
>>
Experiences
My visit of the largest traditional food fair in the world in Torino, Italy.
Slow Food is not a vegetarian movement, and there was a world of pigs at the fair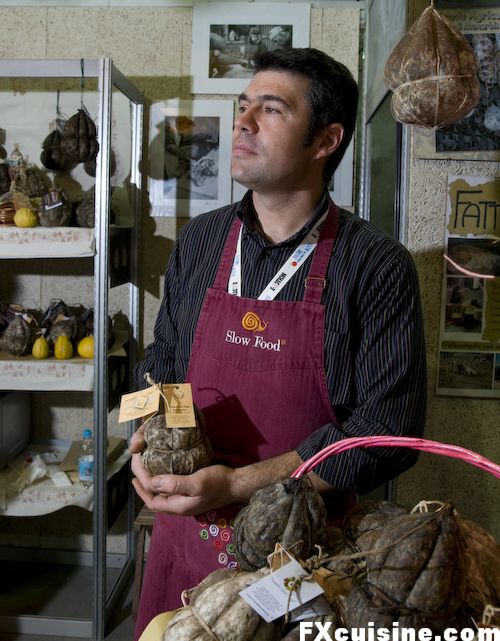 I bought a salama da sugo from this gentleman who comes from Ferrara. Not at all like those fresh sausages Italian mamas buy to crumble in their tomato sauces to make a quick ragù. Instead, this rock-hard sausage must be soaked in water for two hours and then boiled for five more hours before being emptied onto potato purée. I can either cook you some or tell you what's in it, but probably not both as I just shampooed the carpet. It is a sausage of impeccable lineage first mentioned in the 14th century.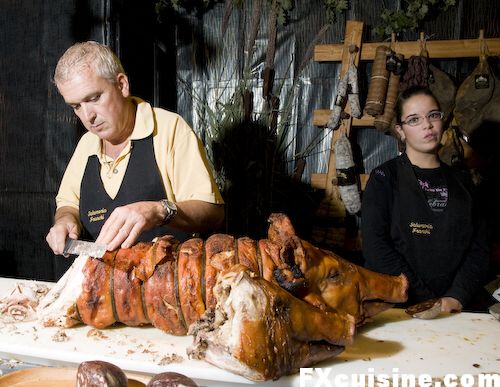 This gentleman spent the week end slicing one stuffed pig after the other and serving it to queuing foodies!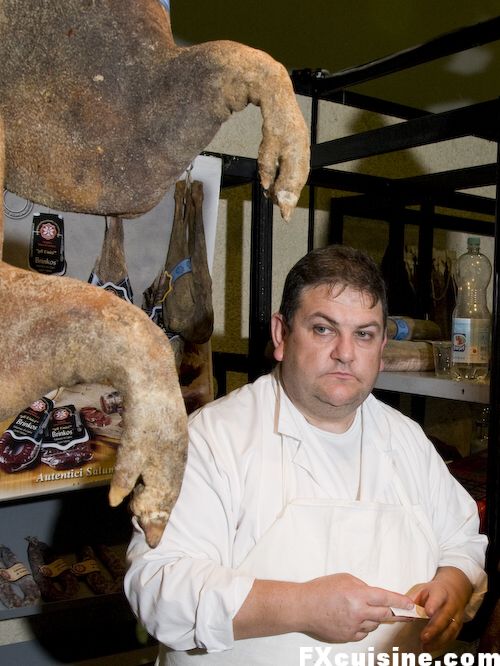 This gentleman makes hams that don't hide where they are coming from ...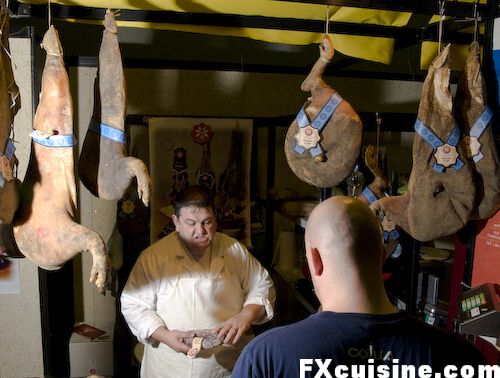 ... and prove popular with people of the shaved head persuasion.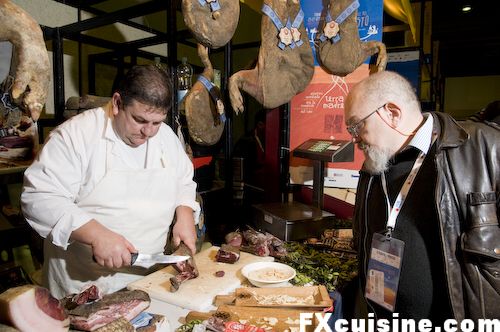 He'll be glad to have you taste one.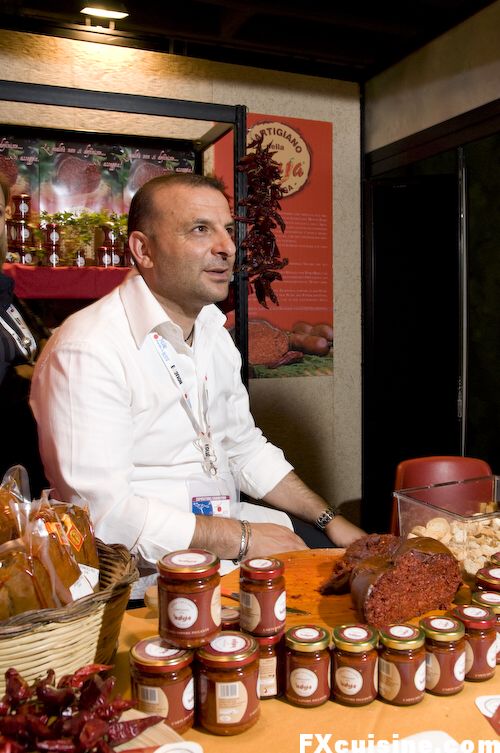 Nduja is spreadable hyper-spicy salami, it is a trademark food of Calabria. The more you hear what it contains, the less hungry you feel. But have you asked what's in your beloved Frankfurters, Mortadella and corned beef?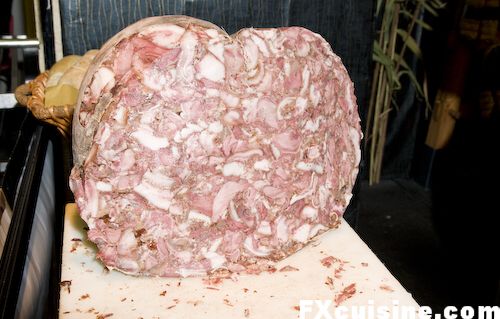 How many piggy heads to fill one like this? Disgusted? How many have you already eaten in your hot dogs?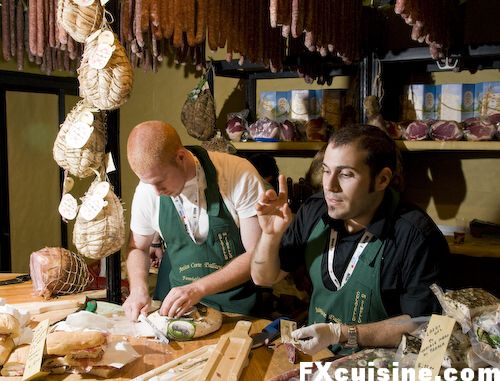 A typical Italian salumeria, those mom and pop shops where you go buy seasoned meats and sausages ...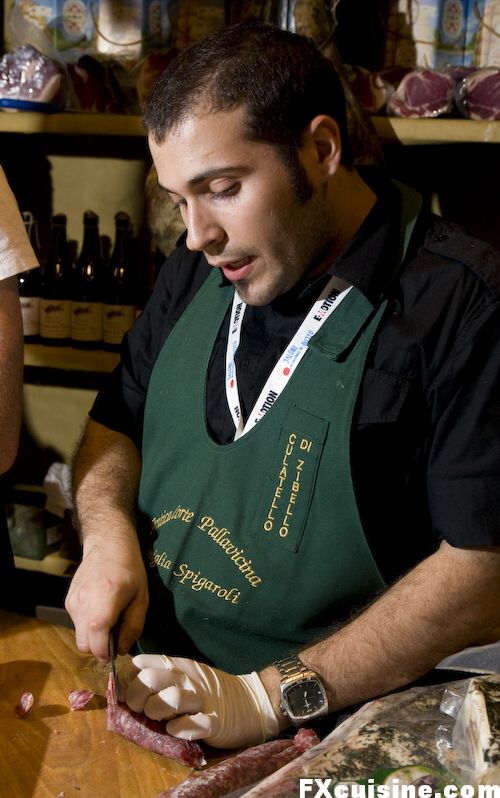 ... and where you can always taste a slice of sausage.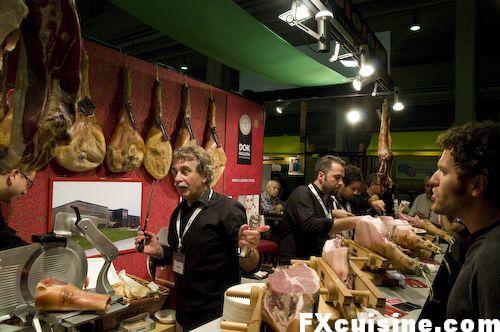 This ham bar was so busy that staffers could not slice fast enough...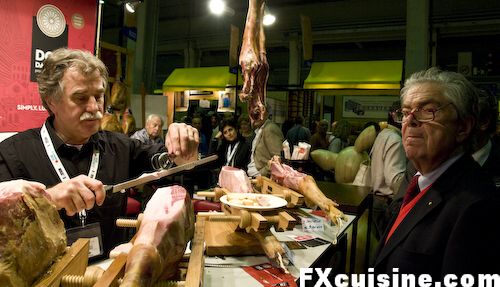 ... to feed the discerning foodies flocking the bar.
I dragged myself back to the hotel for a night of sound sleep and sweet dreams.
I am not sure if in the future they will again host both Terra Madre (the Slow Food convention) and Salone del Gusto (the artisan food fair) at the same time in Torino, but this was a mighty fine idea. Same types of products and you could taste, talk and buy at every single booth. I'll be back for more!
If you missed this, don't cry and wait for my Eataly Slow Food Supermarket article next week - this one is open 7 days a week.
How 'Slow' Is FX?
Most of my articles speak about traditional food specialties that speak as much about history and identity as they appeal to our palates. I have have every single book
Slow Food Editore
has ever published. I cook everything from scratch using mostly fresh produce bought from local farmers. Does this make me a Slow Food person? Well, although I love what 'Slow Food' does to protect dying historical food specialties, I don't share all of their
political views
. While I am not often seen under
Mac Donald
's golden arches, I don't condone the yahoos who go and
trash fast food joints
in the name of slowness. I like the idea of fostering the eating of dishes cooked from scratch using fresh local ingredients, but I don't see the point in disparaging the way of life of people who don't have the opportunity of spending much time to cook. While I love to buy vegetables from a local mama and turn them into slow-cooked traditional dishes, I don't like
opportunistic yokels
who summon the press to see them
ransack a field of genetically modified plants
, featuring themselves as modern-day Christ scourging the seed merchants under the Temple of Nature, or like Attila the Hun trampling the Heathen Grass until nothing will grow back. These people do their cause a great disservice. And when finally
supermarket chains
start buying the very same products Slow Food is protecting, I really don't have much understanding for those who claim this is an alliance with the devil.
So, if I was a badge-totting teenager in need of belonging, I'd already have placed a Slow Food Snail on my banner long ago. Why wouldn't I - after all I approve most of what this association does. But I don't need a badge to tell me who I am and can't carry the weight of ideas that are not my own. So I'll just carry on sharing my love of traditional foods without being a member. Please do as you must - to each its own.
481120 views
Related Articles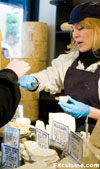 Neal's Yard Dairy **
My visit to the cult London cheese shop, selling no less than 57 types of British cheeses.

Ultimate Speck **
Proper Speck, a cult Tyrolian dried and smoked pork meat, can only be found in a narrow corner of Val d'Ultimo, in Italy. Probably the best dried meat on earth, and you can't really buy it. But let me show you how it's made.

Montgomery's Cheddar **
My Christmas article will show you how the best cheddar since King Arthur is made in Somerset, including a 4 minutes video.

Hard Core Swiss Vacherin Cheese **
Follow me as I wake up in the wee hours of the morning to see Swiss armailli make a unique cheese in a small chalet up the Gruyere Alps.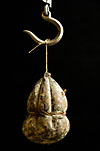 Salama da sugo **
This medieval Italian sausage from Ferrara nearly made me pass out.
Copyright FXcuisine 2023 - all rights reserved.
If you do this recipe at home please let me know how it worked for you by submitting a comment or send me a picture if you can. Thanks!