Eataly - Slow Food Superstore
Home
>>
Experiences
My day at Eataly, the biggest slow food grocery store in the world, just outside Torino, Italy.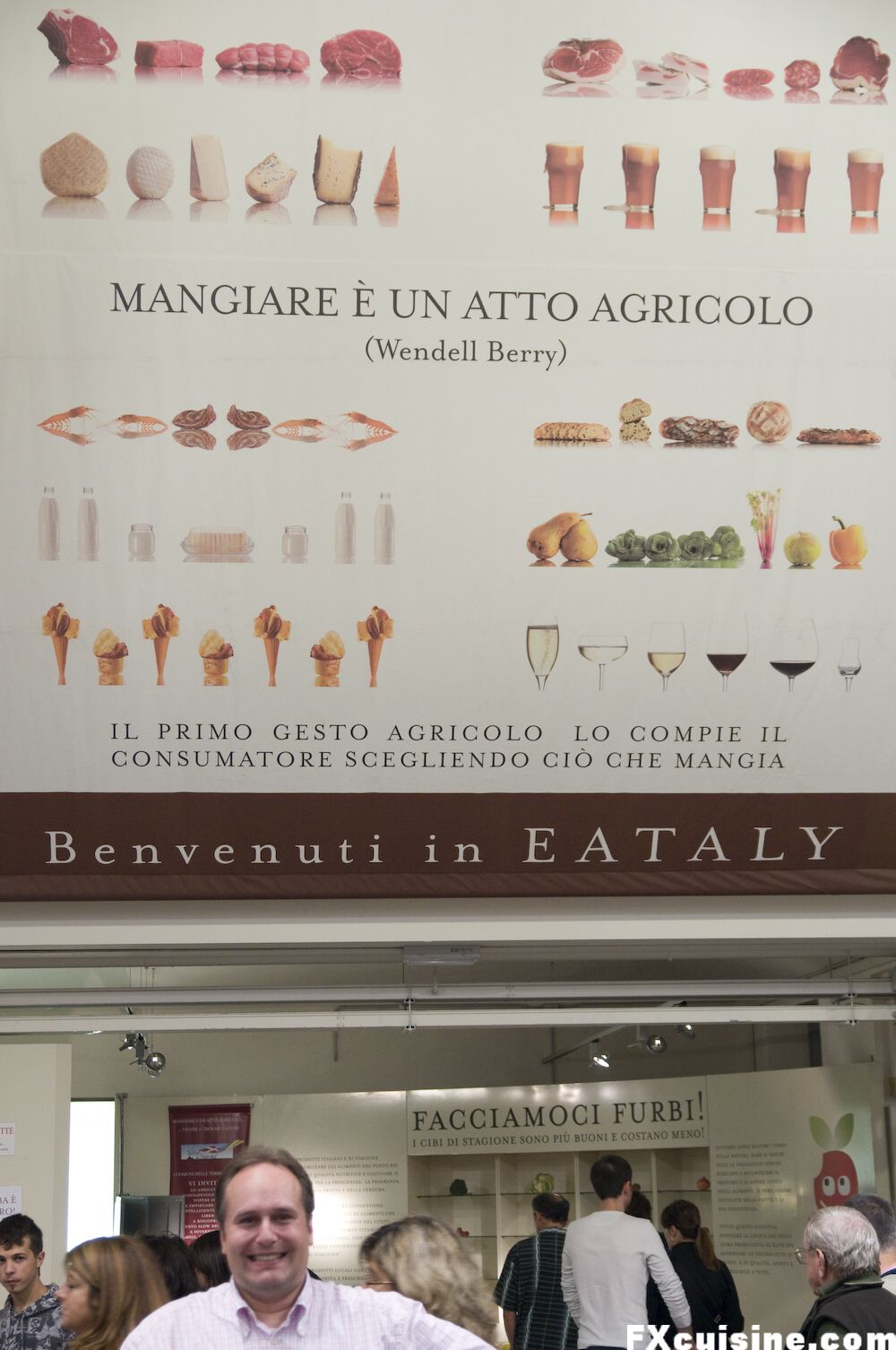 The foodie driving up the Meditterranean into the Swiss Alps now has a must-stop on his road. Eataly, despite its tacky name, might just be the best grocery store in Italy. Don't let it's location in the industrial suburbs of Torino fool you - this is an upmarket store located right next to Torino's industrial landmark - the Lingotto.
Some of you may have seen the memorable car race on the roof of the Lingott in The Italian Job (1969) with Michael Caine, Noel Coward and Benny Hill. The building is a huge ingot-shaped block of concrete where Fiat used to make cars. Now it's a large convention center, shopping mall and then some.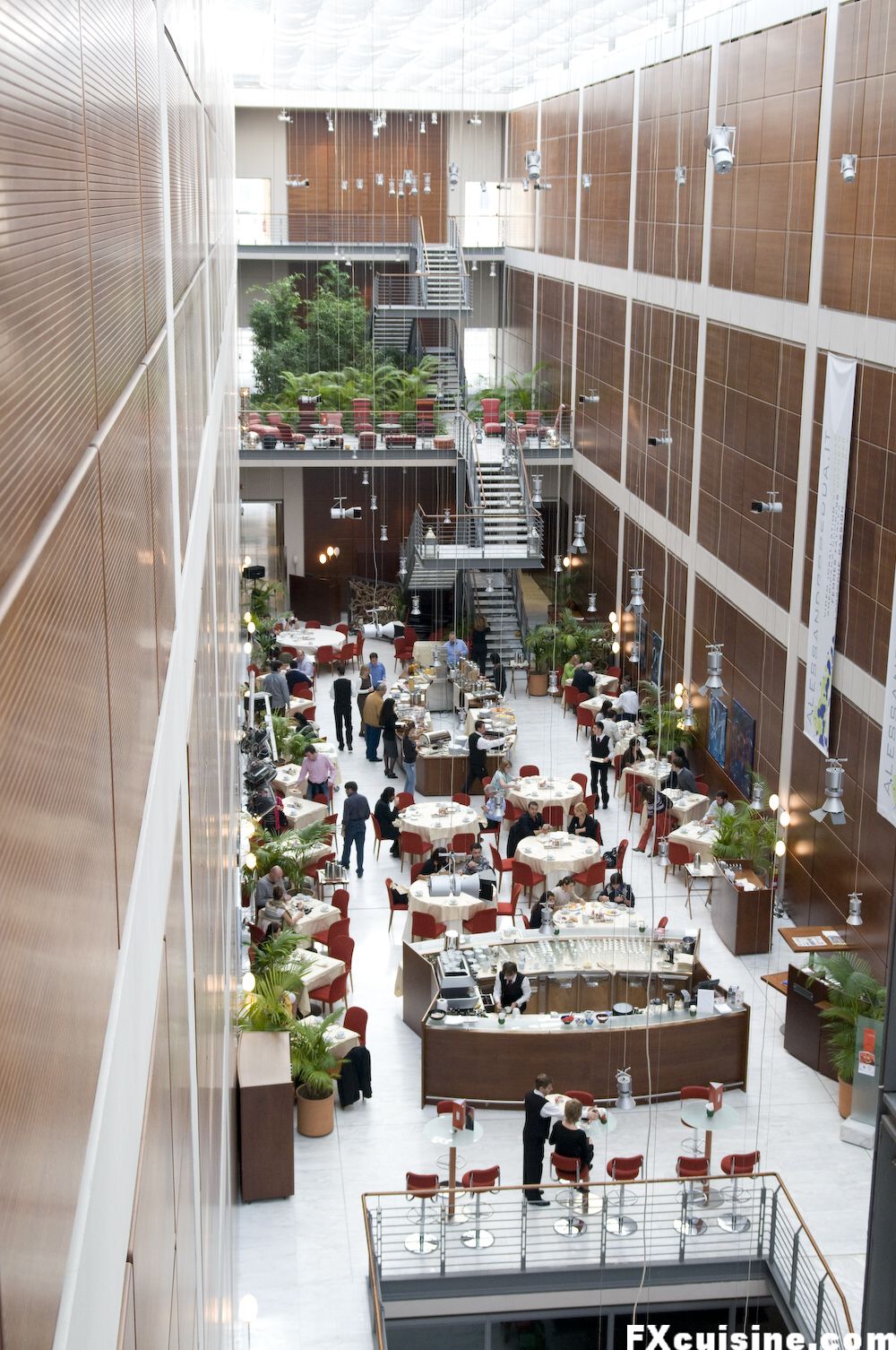 If you are on the road or attending the Salone del Gusto next door, you can sleep in one of the two fine hotels located in the Lingotto, 2 minutes walk from Eataly. From dawn till dusk, 7 days a week, you can then just mosey over ...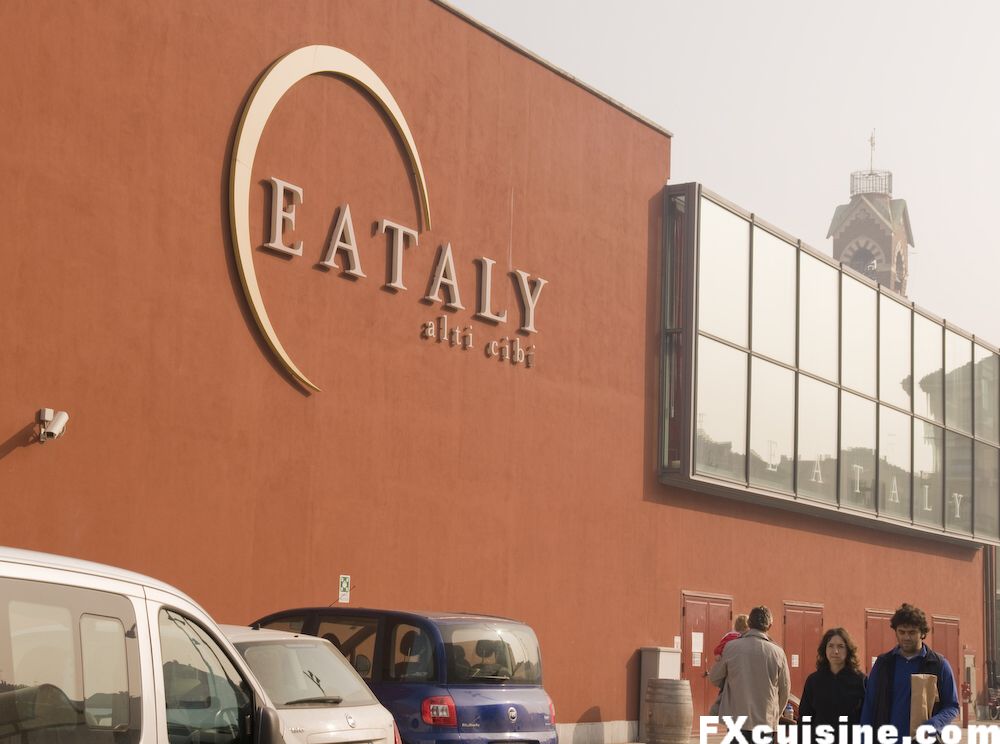 ... to Eataly, a modern-day temple for the well-heeled slow food connaisseur.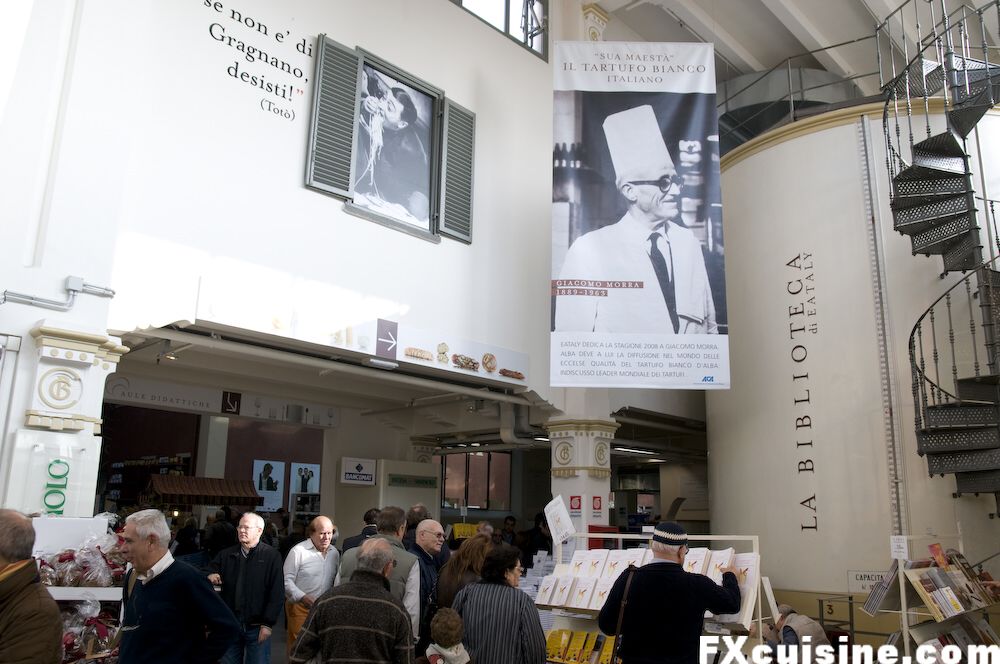 As you enter Eataly, a host of slow food quotes ...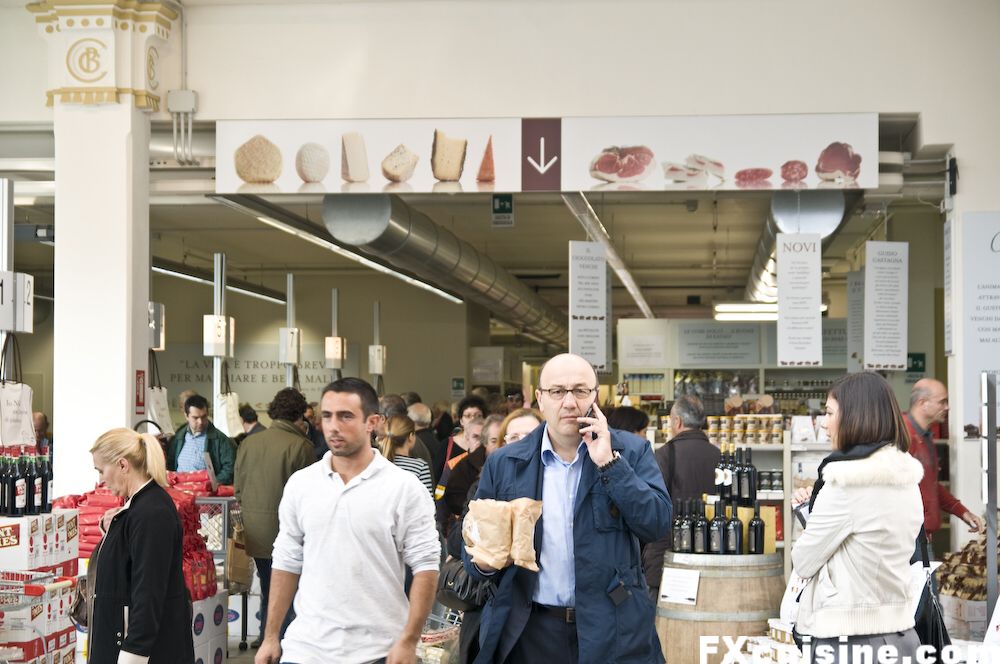 ... while habitual gluttons stroll inside blissfully ignorant of the store's philosophy.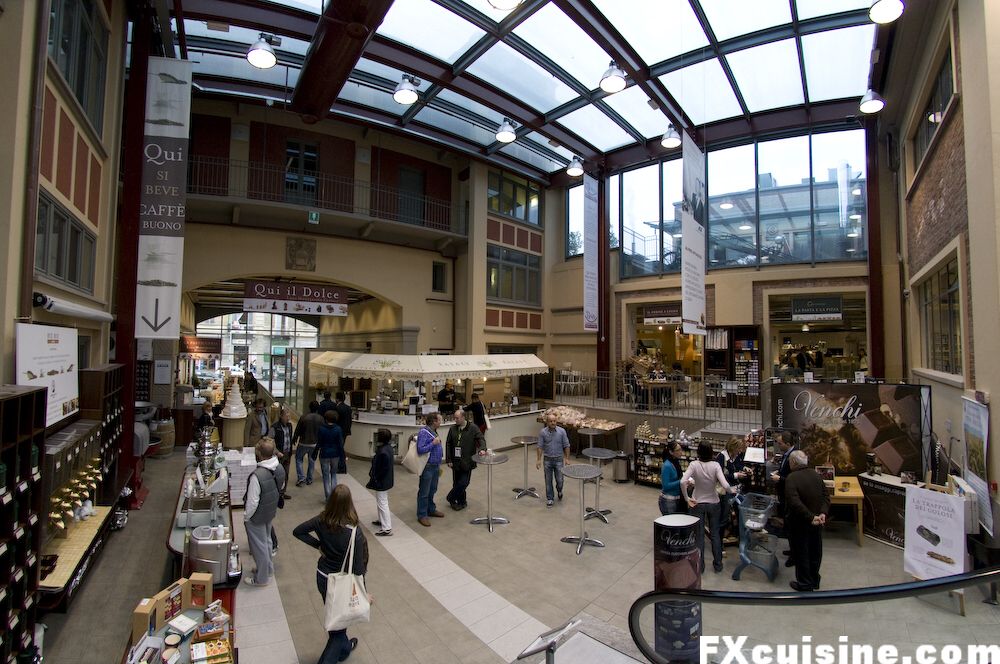 Eataly is built with good taste on two and half levels in a converted factory.
I was pleased to see that my beloved Kenwood Kitchen Machine with the amazing pasta extruder was prominently displayed. Praise from Caeasar!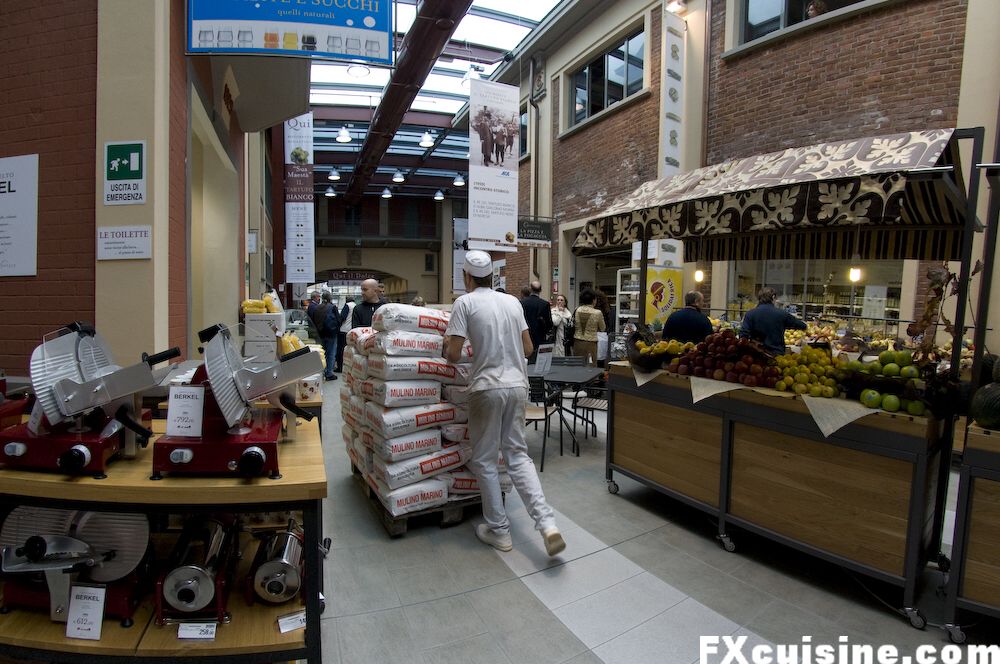 Pizza dough is made from scratch using huge flour bags.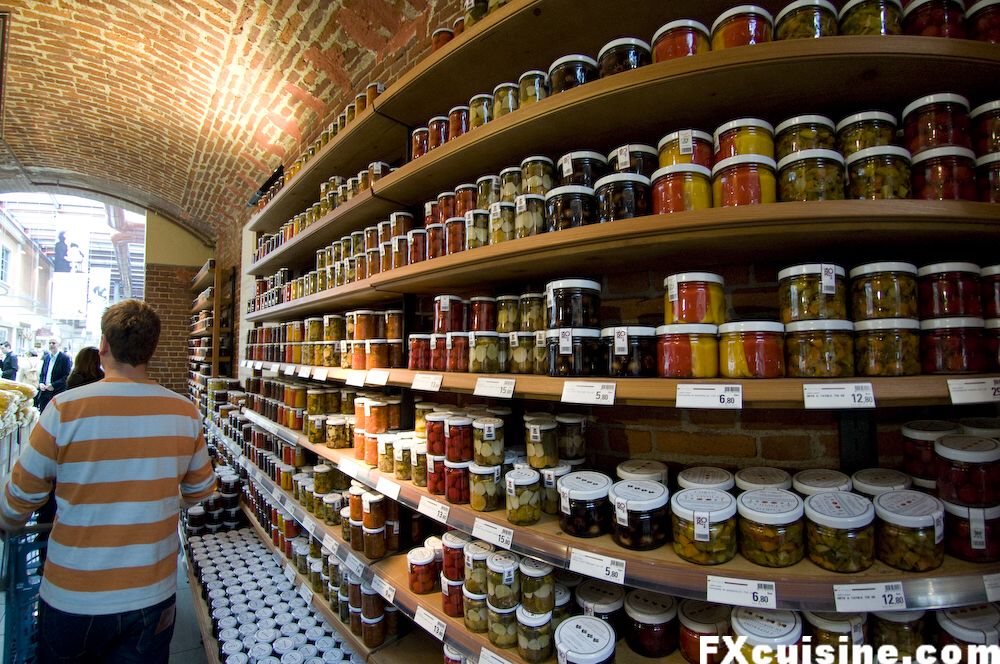 An escalator leads down to a huge cellar filled with Italian wines and beers from all over the world. You can even eat great pizza at the beer counter.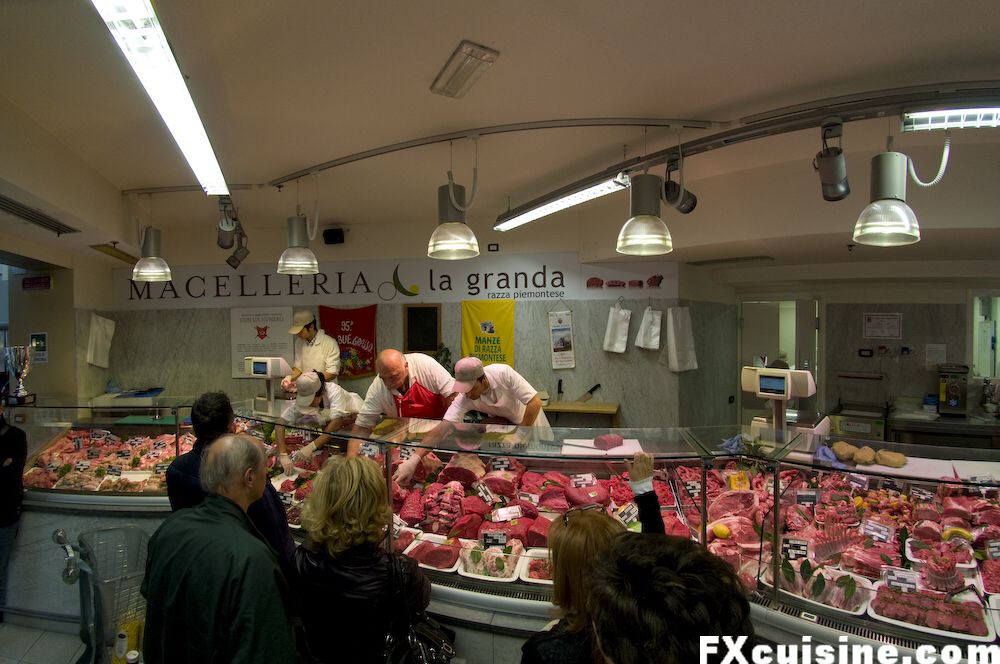 The imposing meat stall sells beef from selected Italian breeds, while their colleagues at the fish stall used try and tested techniques to lure young clients in using live bait.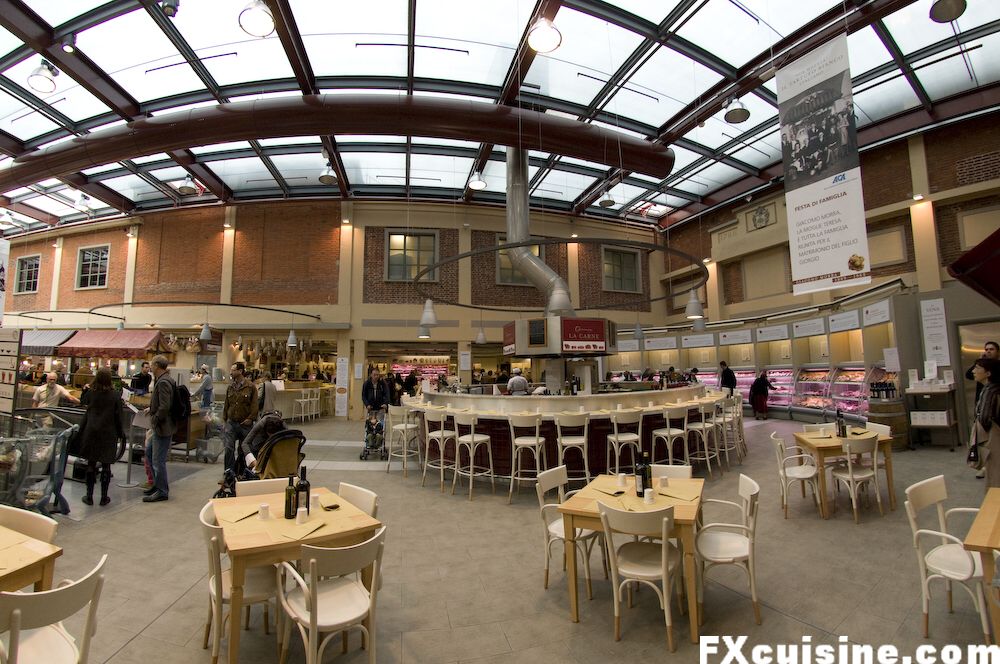 You could spend the entire day at Eataly, walking from aisle to counters, counters to bars. That's what I would have done had I not been so busy at the Slow Food Fair next door.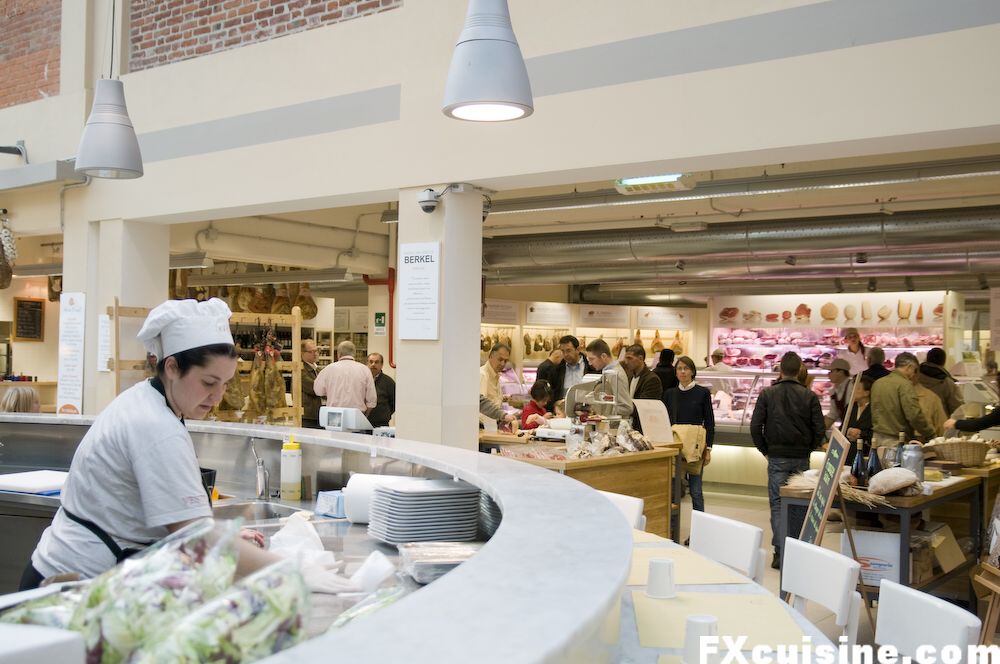 Sit down at the salumi counter and order a plate of freshly sliced traditional hams, coppa, guanciale and sausages of every persuasion. Wine is not complimentary but very good too. You can also visit the fish counter for various hot and cold dishes prepared with carefully selected Italian fishes, or have a coffe in a beautiful Italian coffe shop complete with its trademark triple-queue system, or at the gelateria for some ice creams. I tried them all. Then at night I hit the pizza and pasta counter with serious pizza made from fresh local seasonal ingredients.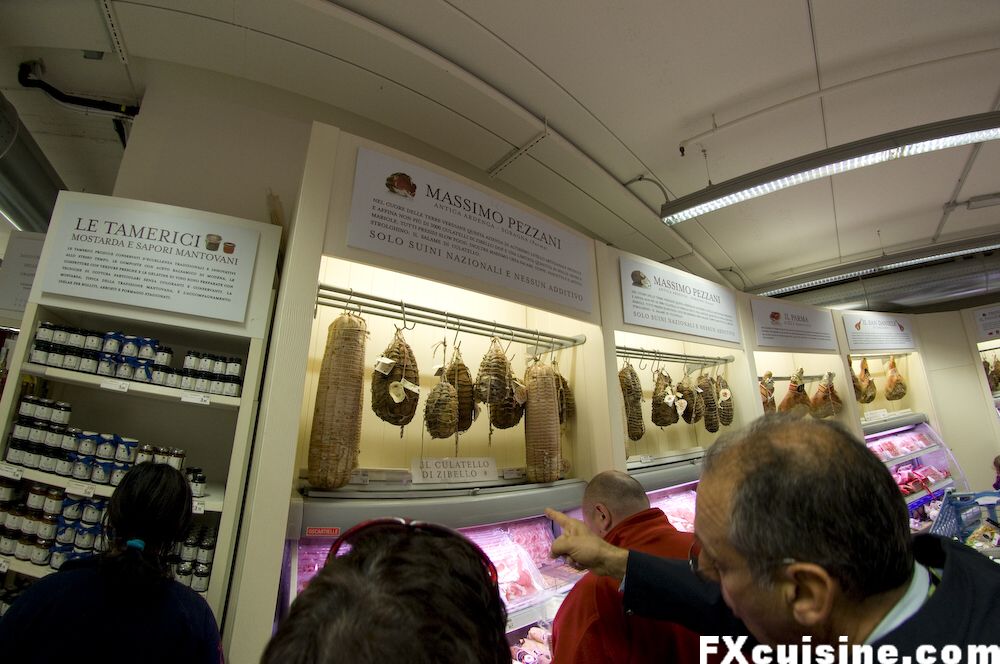 You can certainly extend the fun at home buy buying many fine salumi, ...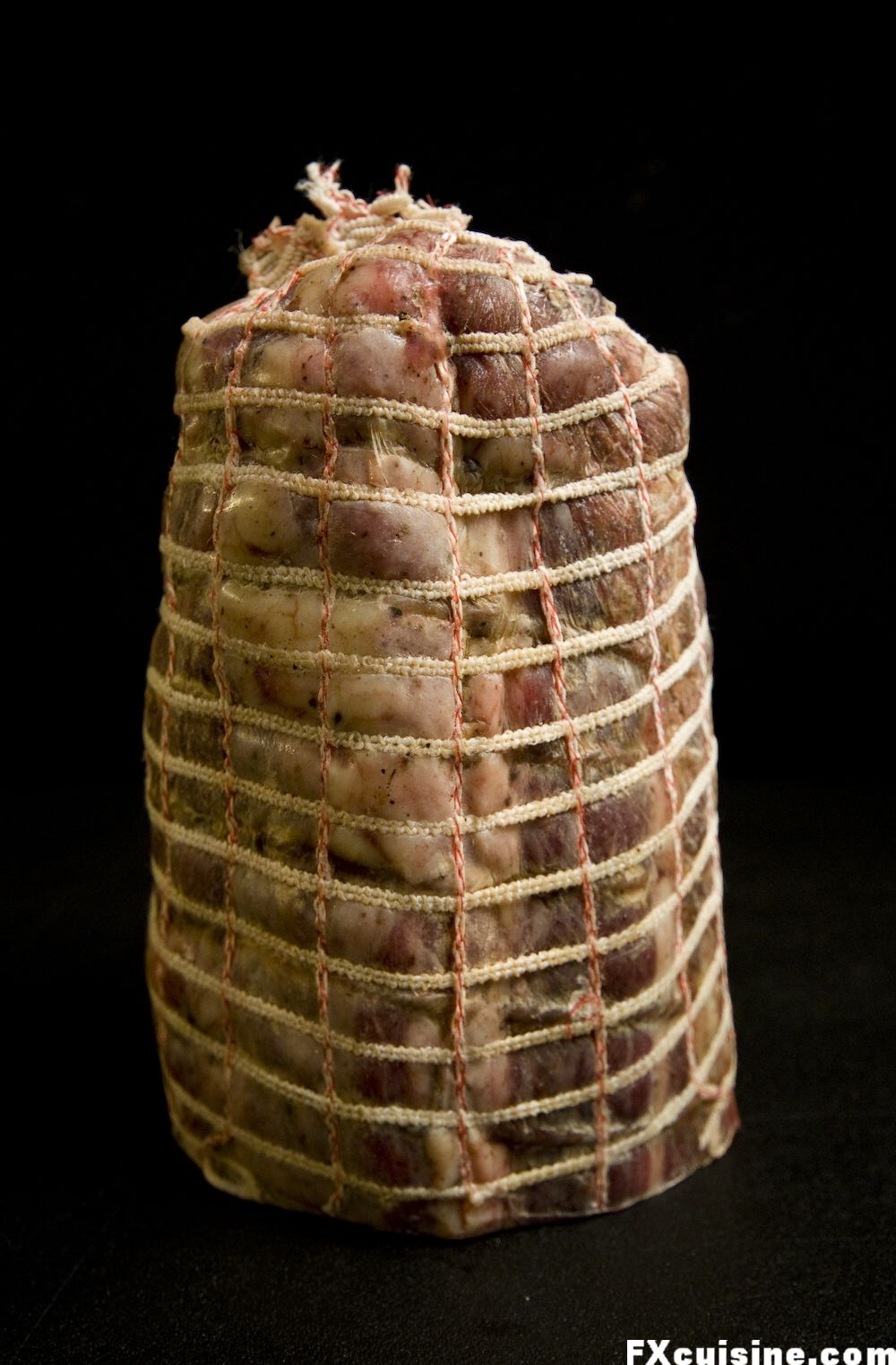 I could not resist the manly appeal of this Capocollo di Cinta from organic pigs (I am an organic pig of sorts myself).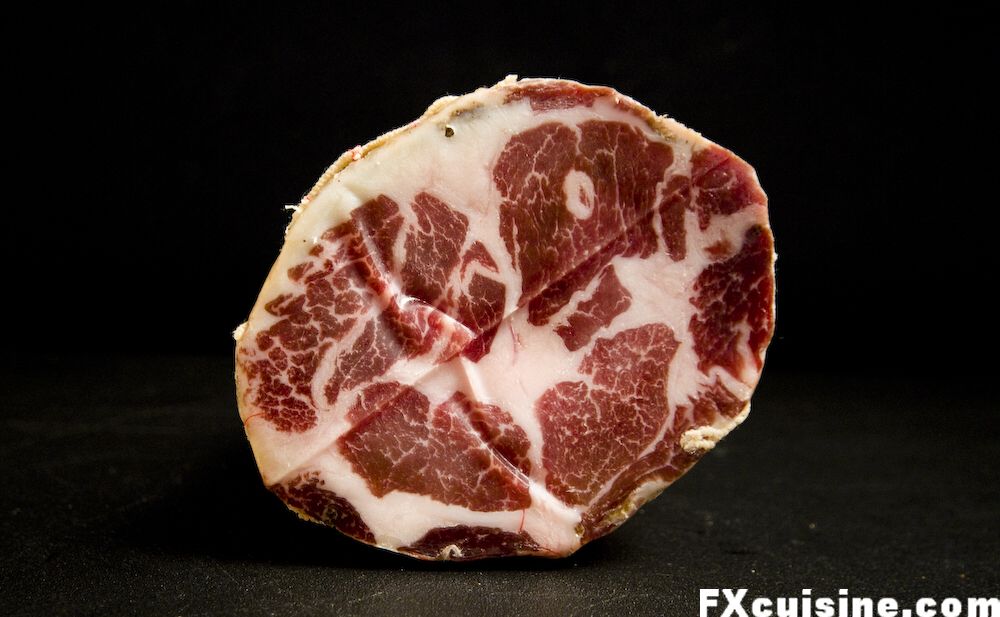 This is a seasoned coppa, the muscle between a pig's neck and shoulder, made by Savigni in Pavana Pistoiese, a small village in the mountains between Tuscany and Emilia-Romagna. Not a sausage and rather lean.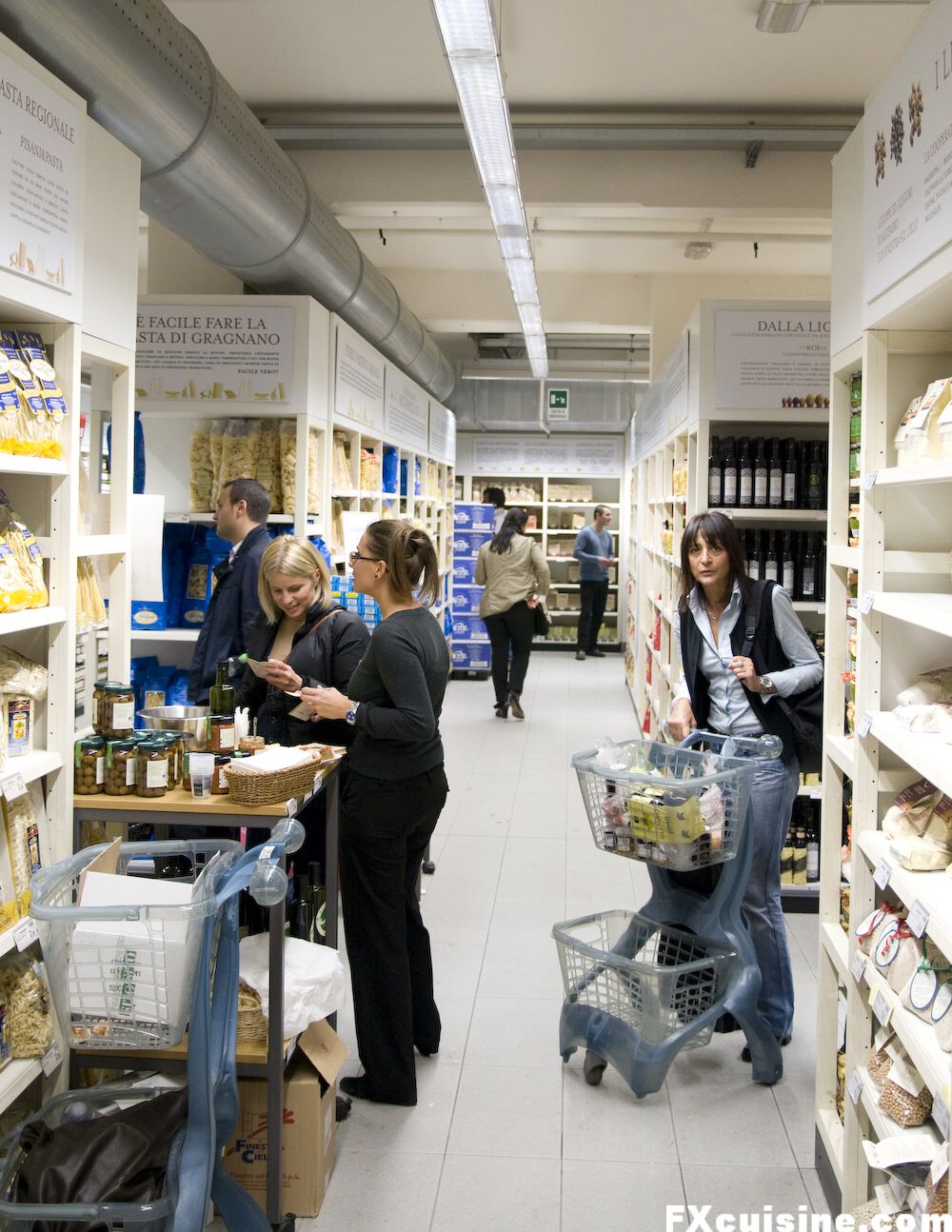 You can get a silly-looking but highly practical trolley even if you haven't fought in WW1. Besides the geriatric look them trolleys are really convenient, especially if you try filling your car to the brim with pasta. If you do, I recommend the Gragnano pasta that comes in red papers bags.
...