Tea with Sir Hugh
Home
>>
Experiences
Last week I had tea with Sir Hugh and his lovely wife Gaynor in one of their favorite haunts in London - a uniquely British experience.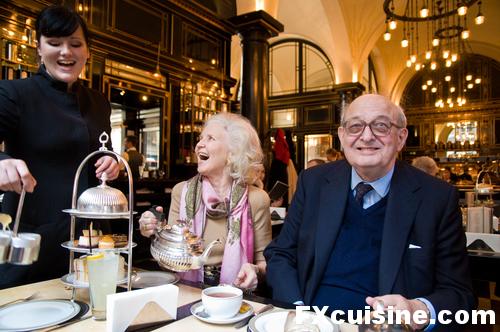 This is a very good restaurant, says Sir Hugh with his eyes staring in mid air, obviously relishing some gastronomic memory. For lunch you need to book, he adds curtly, concluding the argument. And indeed while not all London restaurants requiring a booking are good, all good restaurants do need advance booking.
We are at the Wolseley, a spectacular 1920 building that looks like as much as a church, a bank or a posh S&M club. Originally built in the 1920s as a grand showroom for Wolseley cars, it was soon bought by Barclays and remained a bank until 2003 when two bright restaurateurs turned it into one of the most stunning architectures I've eaten in. Sir Hugh Leggatt is in London only a few weeks a year and rarely leave the vicinity of St. James's, a minuscule elite enclave bang in the center of London just off Piccadilly Circus. Most people don't actually know St. James because the few shops in this district only sell art, the sort you see in museums.
And that was Sir Hugh's specialty - selling Great Masters and defending Britain's cultural heritage. We speak about George de la Tour and Caravaggio, two of my favorite painters. Sir Hugh happens to have sold several paintings by Caravaggio to American museums. In every exhibition there are always three fakes, he says.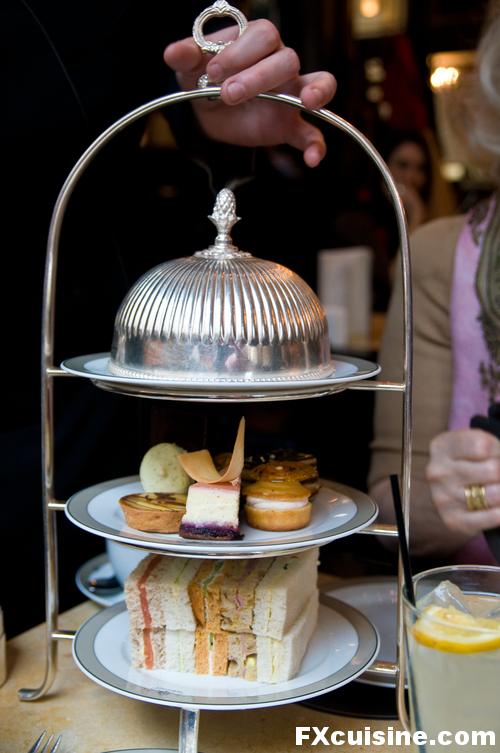 You can have tea in many places in central London, from the stuffy affair in palaces with jacket and tie mandatory, to neo punk organic places. But they always tend to include, besides tea, sandwiches, pastry and scones. The sandwiches are done with some crumb-bread sliced in rectangles. We have smoked salmon, ham with English mustard, a sort of ode to crustless pizza, cheddar and finally my all-time favorite, the cucumber sandwich, a refreshing classic that makes me think of a play I studied in school:
Lady Bracknell: I'm sorry if we are a little late, Algernon, but I was obliged to call on dear Lady Harbury. I hadn't been there since her poor husband's death. I never saw a woman so altered; she looks quite twenty years younger. And now I'll have a cup of tea, and one of those nice cucumber sandwiches you promised me.
Algernon: [Picking up empty plate in horror.] Good heavens! Lane! Why are there no cucumber sandwiches? I ordered them specially.
Lane: [Gravely.] There were no cucumbers in the market this morning, sir. I went down twice.
Algernon: No cucumbers!
Lane: No, sir. Not even for ready money.
Algernon: That will do, Lane, thank you.
Lane: Thank you, sir. [Goes out.]
Algernon: I am greatly distressed, Aunt Augusta, about there being no cucumbers, not even for ready money.
The Importance of Being Earnest, Oscar Wilde (1895)
This demonstrates that for a century, cucumber sandwiches have been the cement of British upper class.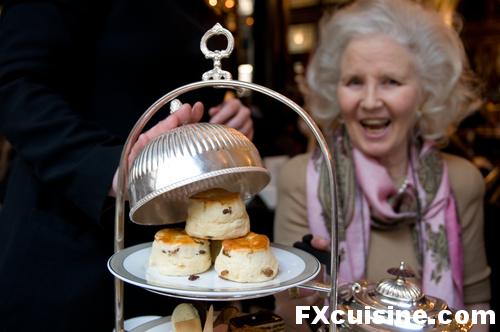 The top tray is garnished with warm scones, a rather good British pastry that never really took on abroad, are eaten with strawberry jam and clotted cream. I decline the clotted cream - a bad move: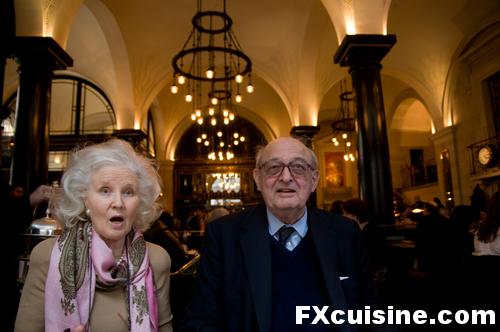 But Francois, how can you not like clotted cream?
That's it - a faux-pas - my goose is cooked. Oh but I love clotted cream, I reply, helping me of a giant spoonful that nearly makes the scone topple, it's just that the strawberry jam was so perfect I wanted to taste it alone.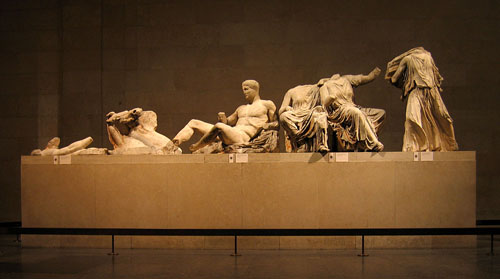 Clotted cream is an English specialty, originally from Cornwall. You make clotted cream by filling a giant pot with cream and gently evaporate the water over a low fire until the cream thickens and takes the ivory patina of the Elgin Marbles, one of Sir Hugh's favorite works of art.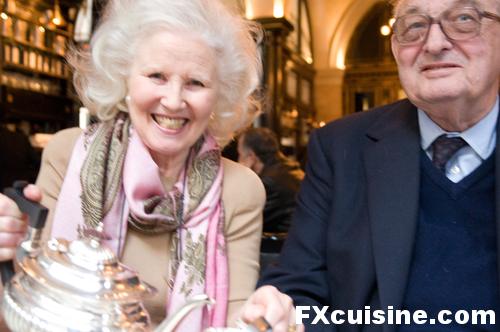 I hope you like this place, says Lady Gaynor, then she adds: We came here last year with Princess Alexandra. I say I love the place, but who is Princess Alexandra, wondering if that might be some local pop star. She is one of the Queen's cousins, she explains with a courteous smile. Royal credentials are mostly lost on us Swiss, but I later googled the distinguished lady and retrieved her full name: Her Royal Highness Princess Alexandra Helen Elizabeth Olga Christabel of Kent, The Honourable Lady Ogilvy, Royal Lady of the Most Noble Order of the Garter, Dame Grand Cross of the Royal Victorian Order. Sounds to me like the real thing.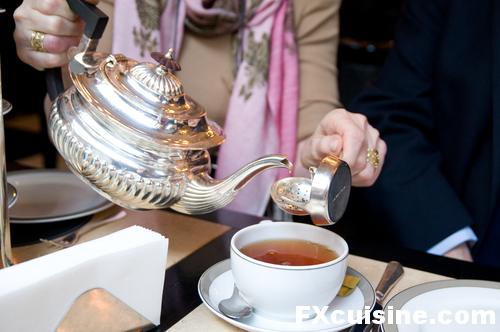 I'm having the Wolseley Afternoon Blend, a rather bland mixture of Darjeelings I suspect. Sir Hugh lets me have some of his Earl Grey, a much better choice.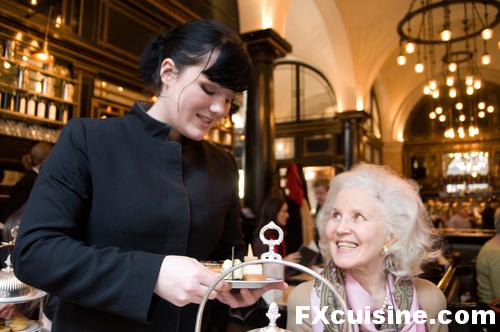 We once were invited to a party by Margaret Thatcher, explains Sir Hugh. She said she wanted to honor the people that were really important in Britain. There were two of us from the Arts world, and all the rest were policemen, in uniform! We all laugh.
Then the headwaitress comes to the table and says in an apologetic tone: I am so sorry, Lady Leggatt, but we have a no photography policy. Then, turning towards me with a kind smile, she adds softly: I hope you managed to grab what you wanted.
The Wolseley
www.thewolseley.com
160 Piccadilly Street
London
+44 (0) 20 7499 6996
Eating cucumber sandwiches in a converted bank set in a bankrupt car maker's showroom is a poetic Zeitgeist experience.
209654 views
Related Articles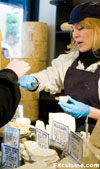 Neal's Yard Dairy ***
My visit to the cult London cheese shop, selling no less than 57 types of British cheeses.

Books For Cooks **
My visit to a must-see bookstore in London beloved by foodies from all over the world.

My Boyhood's Hungarian Plum Dumplings *
I had eaten these dumplings only once, when I was 12, but boy did they make an impression! Such a rich combination of gorgeous juicy sweet prunes covered in a soft potato-based simmered dough.
Copyright FXcuisine 2023 - all rights reserved.
If you do this recipe at home please let me know how it worked for you by submitting a comment or send me a picture if you can. Thanks!