Books For Cooks
Home
>>
Experiences
My visit to a must-see bookstore in London beloved by foodies from all over the world.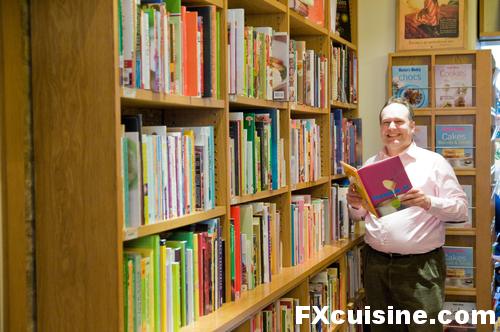 The foodie visiting London must absolutely stop by the gorgeous bookshop called Books For Cooks in Notting Hills. I once left the store with the help of two shopping assistant to help me carry the bags. The lady asked me: Do you own a restaurant or are you just especially keen? If, like me, you are seriously keen on cooking, this is the place to go for a free browse or a break-the-bank shopping spree. Last week I left with only three books, my record so far. (The lead picture shows the author getting apprised of the latest on dieting.)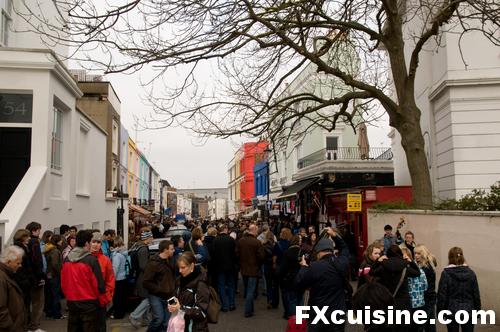 Much like owners of soggy gardens dig holes or trenches to drain off any excess rain, the fine people of Notting Hill, in order to keep their streets quiet and clean, created a tourist drain located on Portobello Road.
The system works cleverly, with endless rows of stalls peddling the sort of items that can be found in garbages near you, all generously labelled «antiques». In the spirit of fair reciprocity that has made our free market the sucess it is today, a commission is paid to coach drivers, cicerone and guidebook publishers so they may keep directing tourists. Journalists who market this is «The largest antique market in the world» get a free chinese-made 5-pound plastic brooch. A mobile Cardiac Arrest Response Unit deals with French tourists who thought this was a British answer to Paris' Puces de St-Ouen. All very clever, I admit.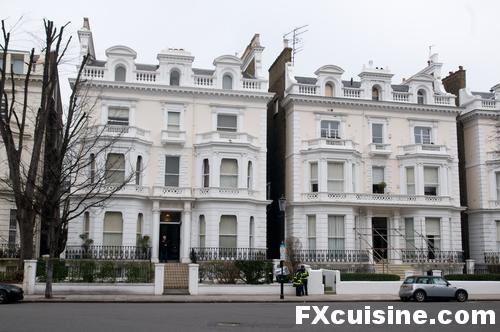 The drain is selective and only keeps illiterate tourists off the rest of Notting Hill, to the great enjoyment of residents and the handful of discerning outside visitors who can freely stroll about, blissfully oblivious of the rambuctious crowds just blocks away.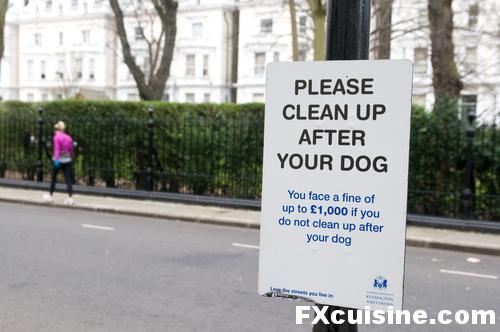 Friendly signs, here and there, are enough to remind litterate tourists that the residents take their streets' orderliness to heart.
A few more streets, and there we are.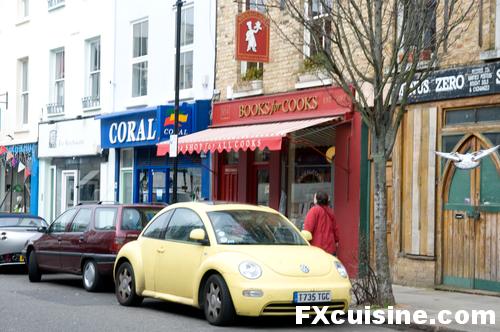 I reach Books for Cooks, one of my 20 favorite bookshops in the world. The store opens on Saturday around 10 AM, often with a queue of people waiting to enjoy a muffin or pie with the morning coffee. Today is no exception and, 5 minutes after opening, it is already crammed with foodies.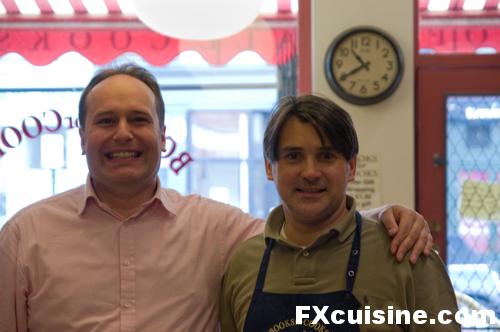 The boss here is Eric Treuillé [hayrick trugh-yay], a Frenchman living in London. Besides running Books for Cooks, cooking for the patrons and giving cookery classes, Eric is the author of dozens of cookbooks. This is how I originally learned about the store - seeing the blurb behind his book «Barbecue». Eric met his wife Rosie in this very bookshop, which they finally bought!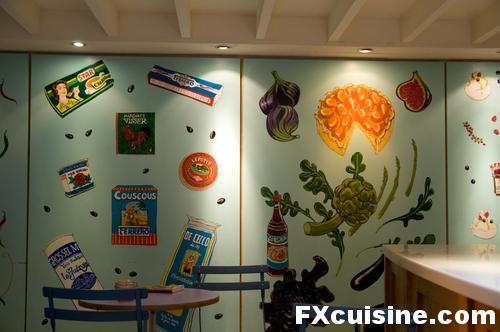 Books For Cooks is famous abroad too. I once visited Kochlust, a cookbookstore in Berlin that offers cooking lessons in the back, and told the ladies that run it that their store reminded me of Books for Cooks in London. They were so pleased that tears came to their eyes. This is a very big compliment, they said in unison.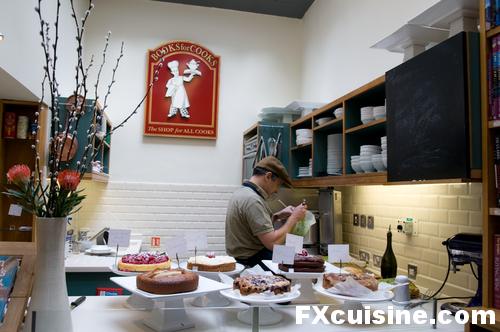 And indeed, Books for Cooks is a really pleasant place. Not only can you find thousands of cookbooks, but you can just sit down and eat a slice of pie or a kipper's soup, it's a very popular fish in England said Eric in French, slightly apologetic, not for the great soup but rather for the reaction this might elicit from a Frenchman.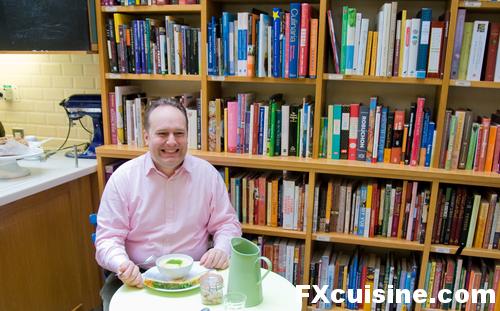 I leave my kipper's soup for a minute to look for books. Facing a bookcase titled Europe, I asked Which way to Switzerland? A lady ran up, looked at me, then said I think it's back the way you came. I looked at her blankly, then she added: Let me show you, it should be between France and Italy. We move back, next to my bowl of kipper's soup, and she start roaming through the shelves. I'm sorry, she finally replies with a smile, but we don't seem to have any books about Swiss cuisine in print. You'll have to write it yourself.
Books for Cooks
www.booksforcooks.com
Blenheim Crescent
Notting Hill
London
+44 020-7221-1992
204194 views
Related Articles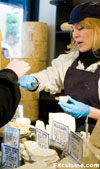 Neal's Yard Dairy ***
My visit to the cult London cheese shop, selling no less than 57 types of British cheeses.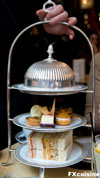 Tea with Sir Hugh **
Last week I had tea with Sir Hugh and his lovely wife Gaynor in one of their favorite haunts in London - a uniquely British experience.
Copyright FXcuisine 2023 - all rights reserved.
If you do this recipe at home please let me know how it worked for you by submitting a comment or send me a picture if you can. Thanks!