Wood Fired Chestnut Pancakes Necci
(page 2 of 2)
Home
>>
Recipes
This is a recipe I have discovered a year ago and took me a full year to get right. But now I cook it almost once a week so simple, quick, delicious and spectacular it is.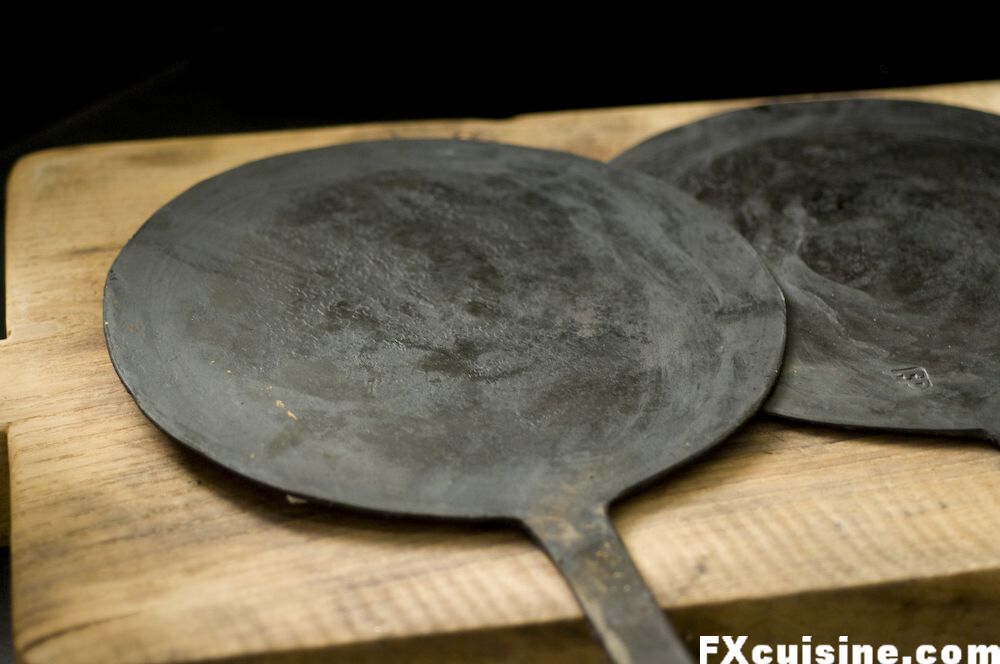 Now for the cooking, I am sorry to say this is one of those cases where a frying pan on a cooker will not yield the same results as the medieval looking ferri per i necci. These are just a pair of flat iron discs with long handles. In the few shops in this part of Italy that carry this most unusual item, they sometimes have two sizes and a handmade version (here displayed) and a machine cut one. You can very easily order such an item from any water-jet steel cutting outfit. I would go with 3mm thick regular steel, 40cm handles and 23cm diameter. You need the steel to be a bit porous to be able to season it, I don't see how stainless would work here. I do know that I will be flooded by comments in the style of "Ah but my mama is from such and such pistoiese village and she does it on a stovetop, therefore ferri are superfluous", but I tried both and the result on the fire does lend a smokiness that makes a difference.
You first need to season/cure your iron ferri per i necci. Best I found is to mix an egg yolk (or several) with oil and roll a cotton towel in a cigar shape and use it to pat the hot steel discs. You can see how it's done in my French Crepes video. alternatively, use a flat piece of bacon to rub it until smooth. This can take some time. If you have handmade ferri they are not flat and you might find that only one side of each ferro will stick close enough to the other, so you choose your side and from now both opposite faces will be facing the fire.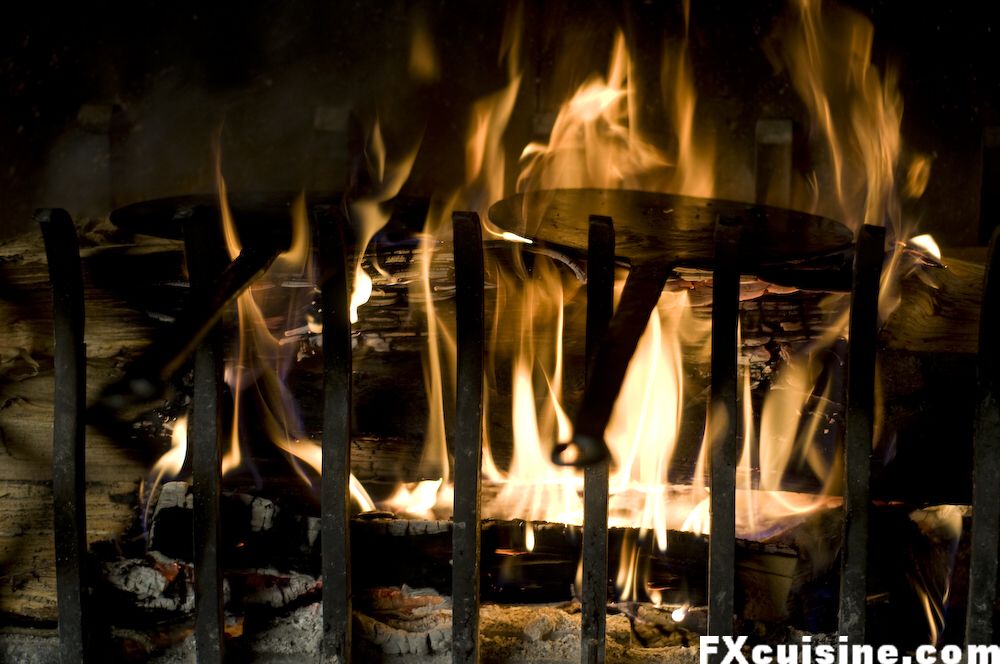 Start by heating your ferri in the fire. No need to wait until they get red hot or even bend in the fire, all you want is them hot enough to melt the bacon you'll rub. I'd say start with 10-30 seconds or so and then let the ferri tell you when they are too hot.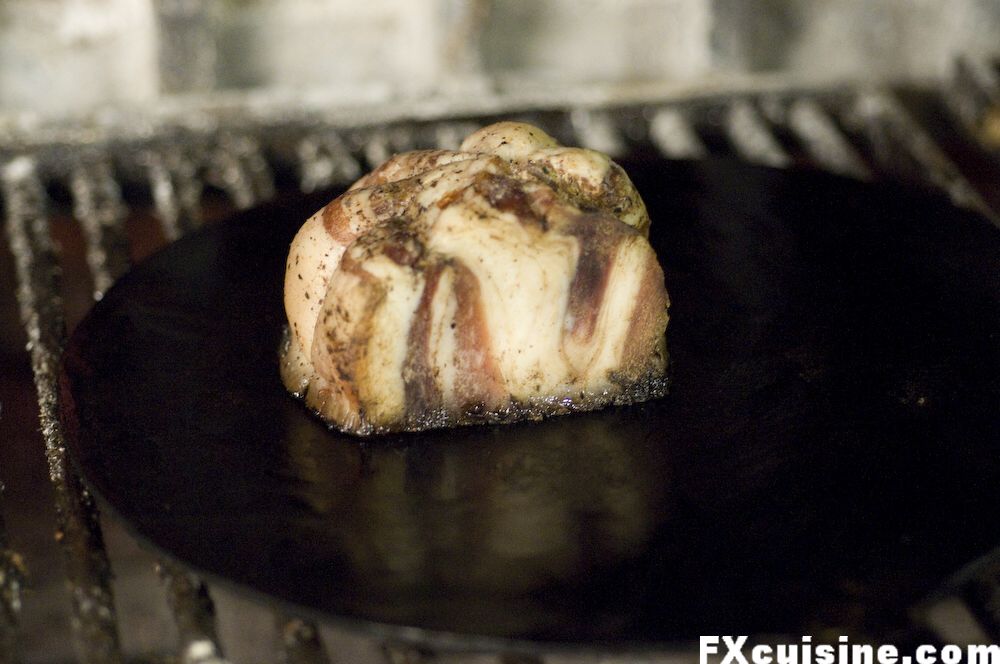 Rub the inside faces with a piece of bacon or pancetta...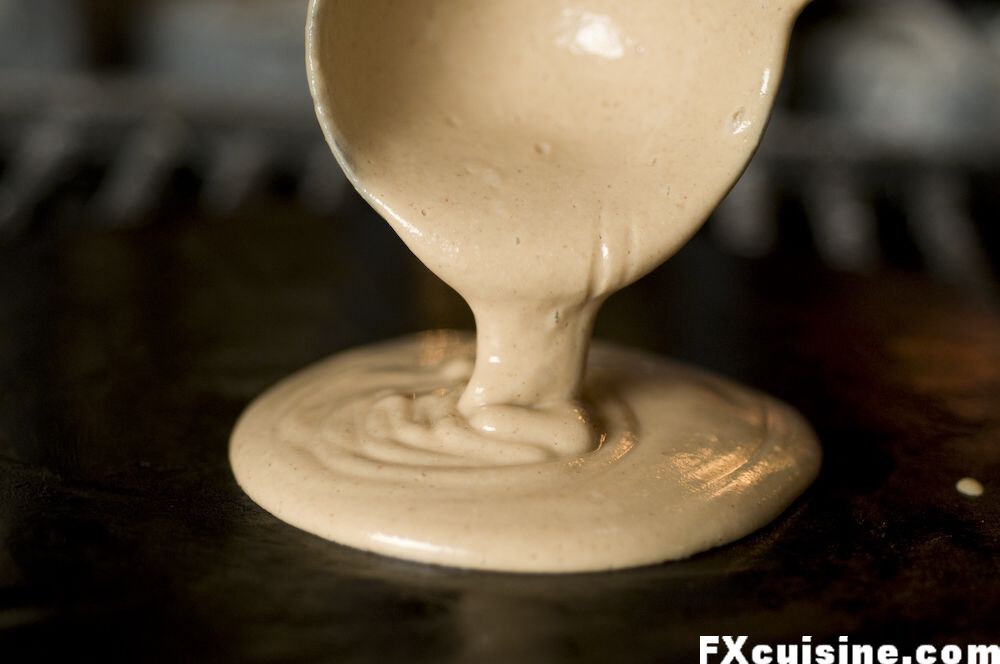 ... then pour a ladleful of batter inside. Start with about 50 millilitres for a 20cm pancake (1/5 cup for an 8'' pancake). I reckon the temperature of the ferri at this stage is between 160C and 200C whenever I measured (320-400F).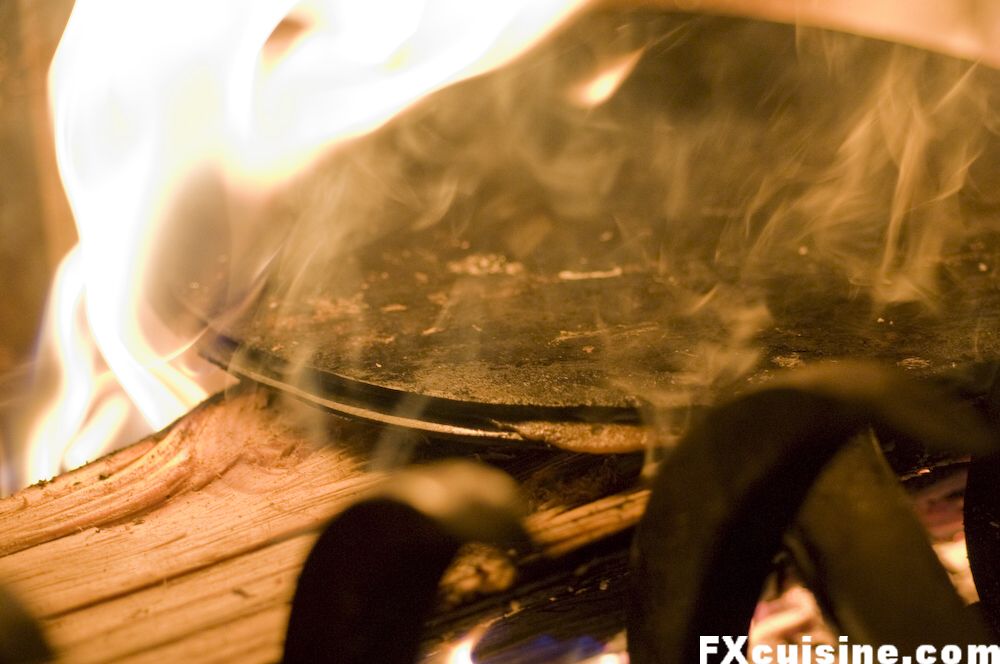 Then close the other ferro like a lid, oiled face down, and use a piece of wood to press it down in several places to squeeze your pancake flat. No need to add a weight, the batter does not spring back (!). As you do this an intriguing squeal will come out as the batter protests by sendin jets of vapor...
Put the two ferri back on the fire for a maximum of about 60 seconds, turning them upside down halfway through.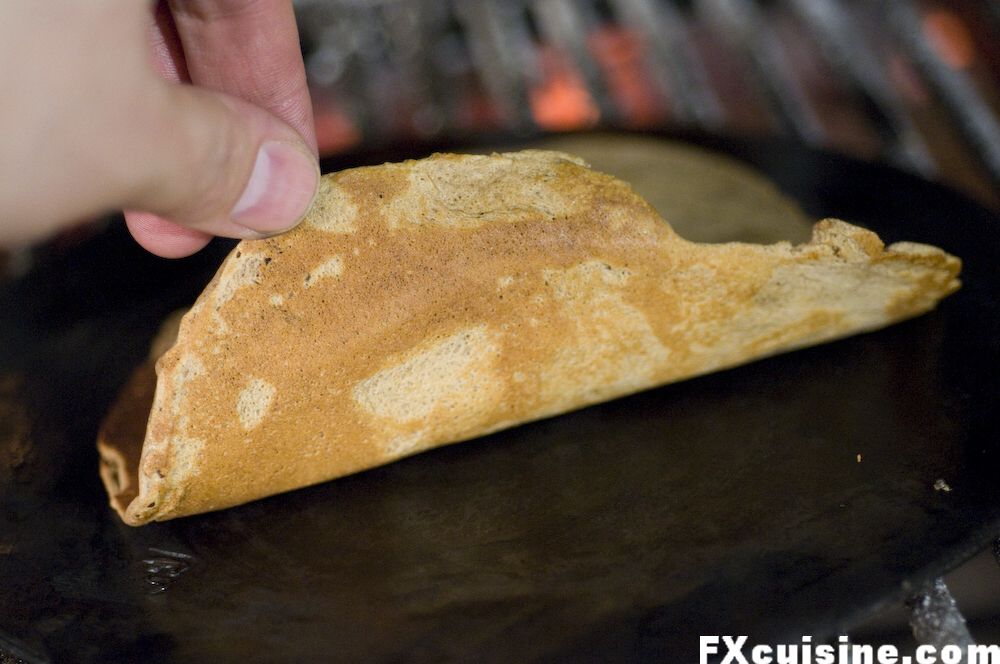 If you seasoned your ferri like Francois told you to, and oiled them with pancetta before each neccio, after a few trials your necci will peel right off without further ado.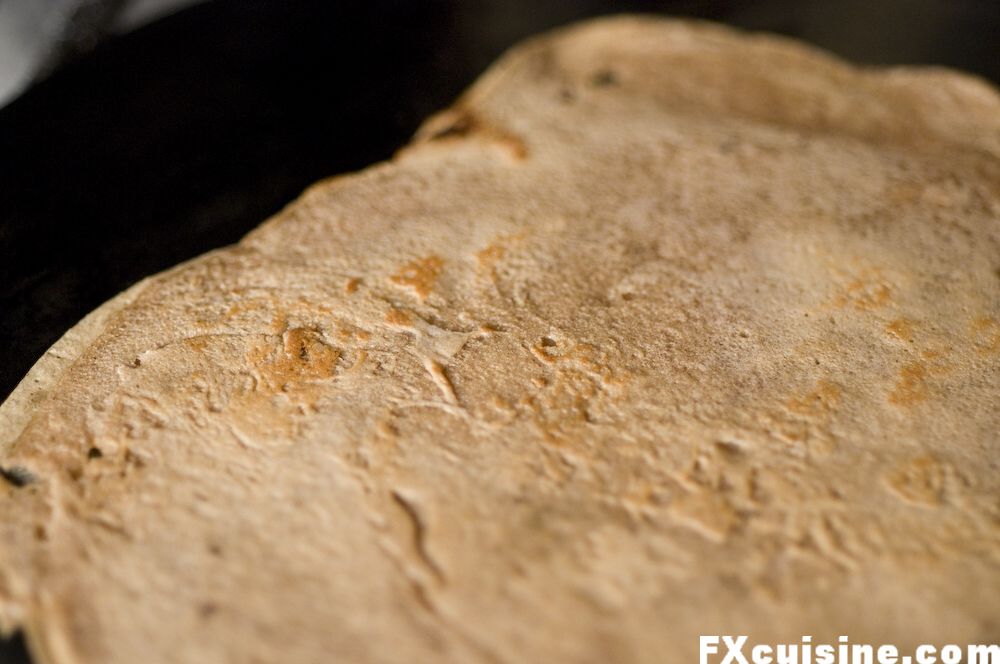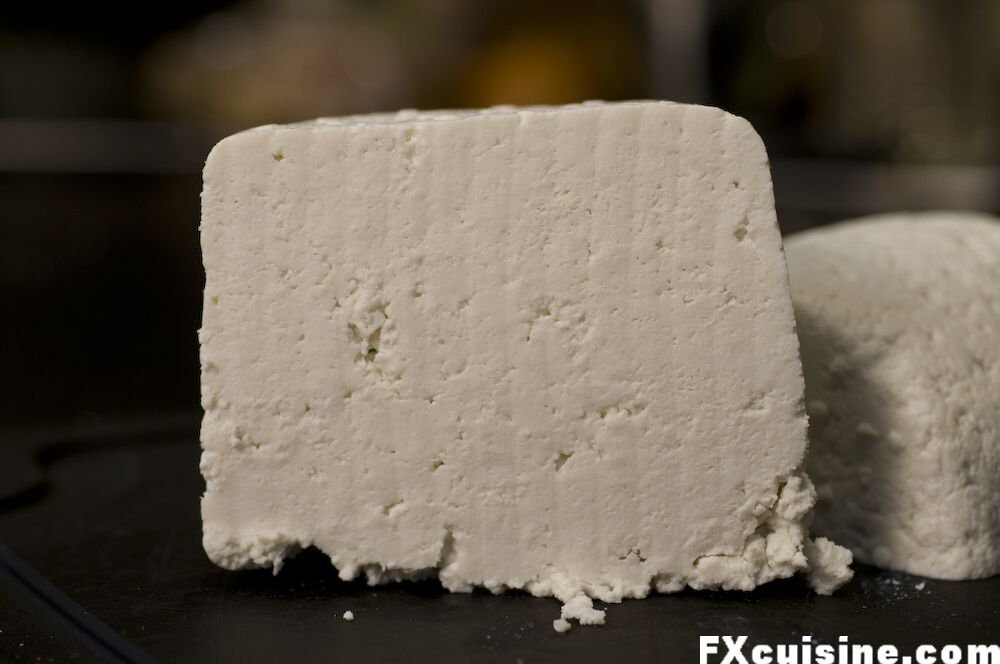 One of the traditional condiments for necci is based on a piece of ricotta...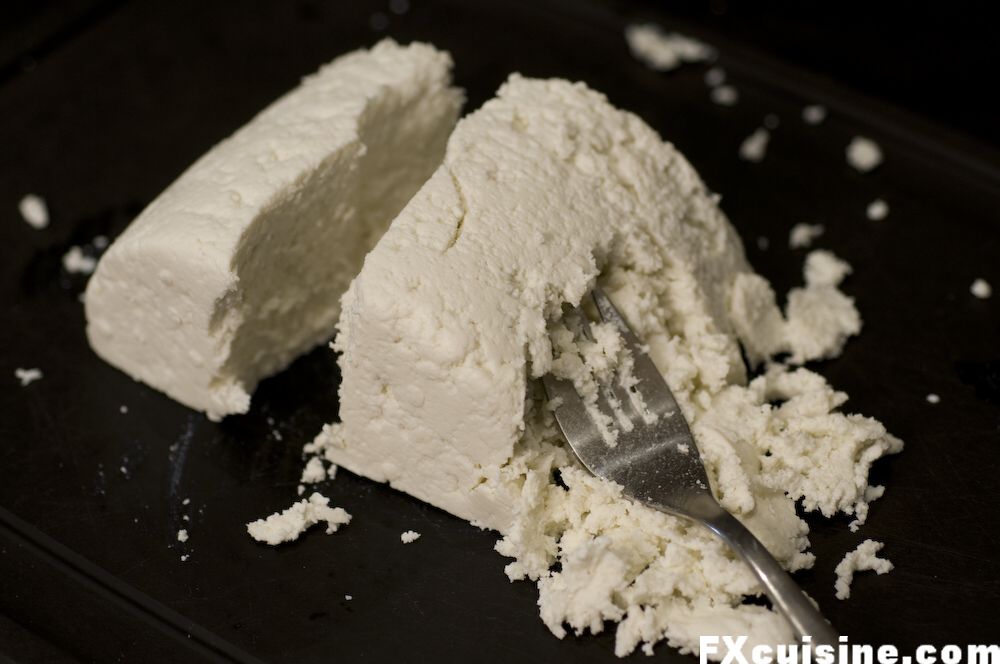 ... which you reduce to a paste using a fork ...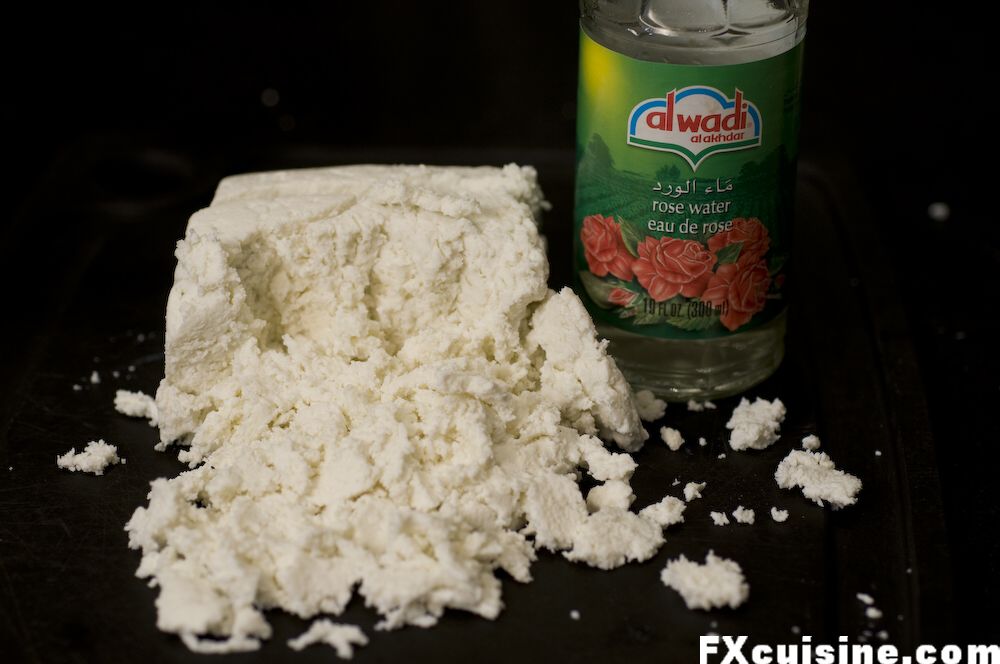 ... then season with rose water...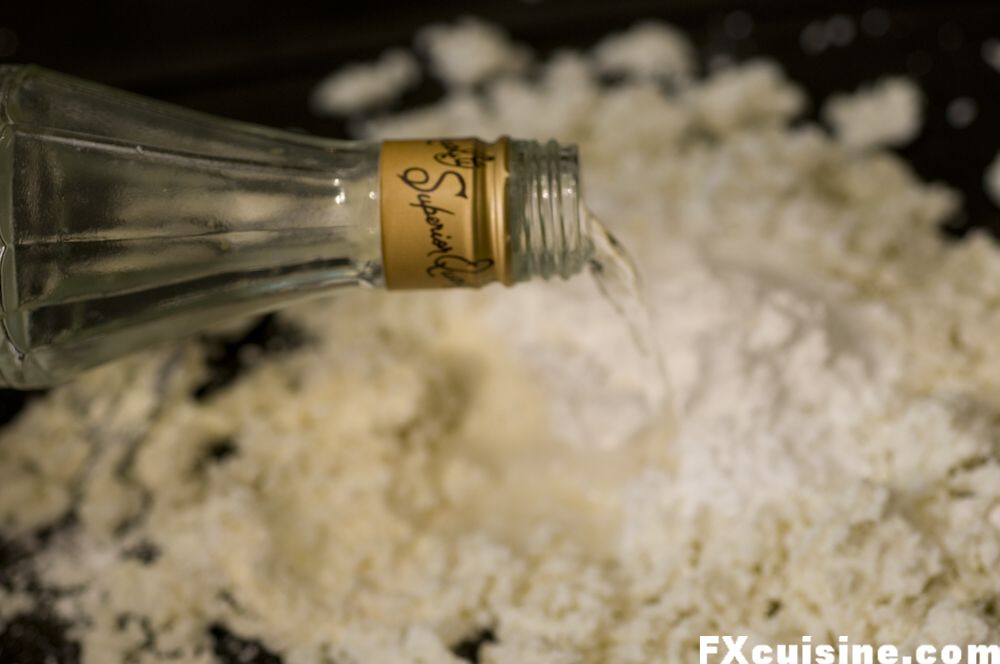 ... just a drop will do ...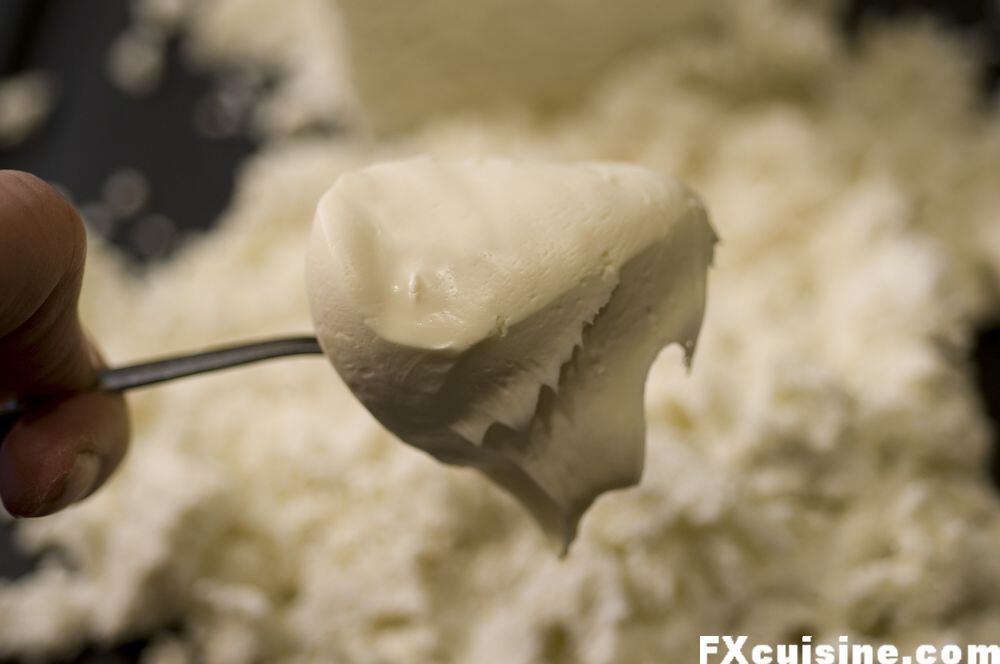 ... some cream to make it smoother ...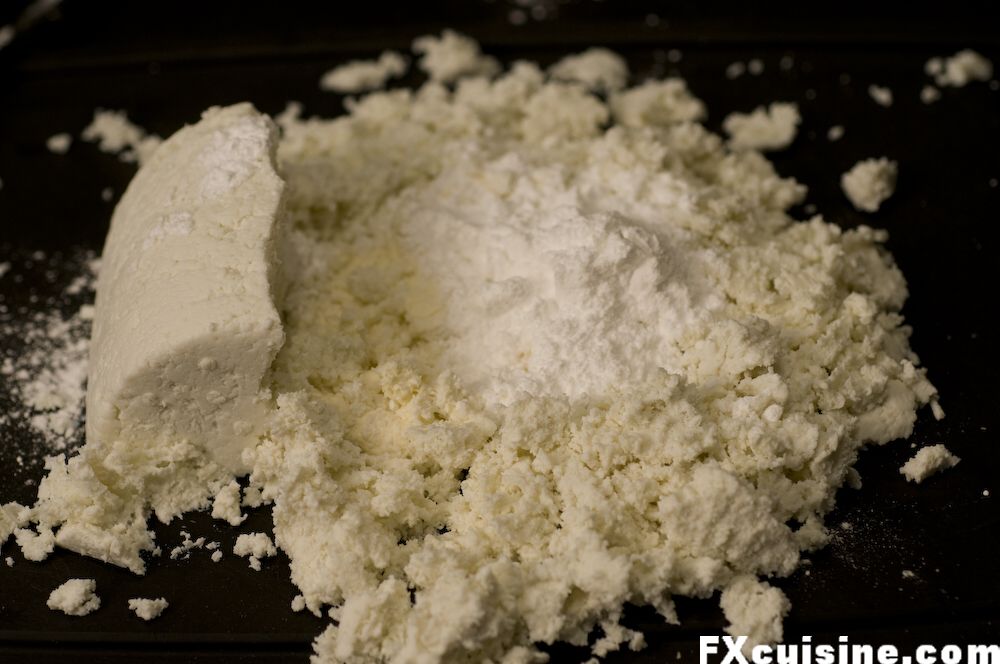 ... and as much sugar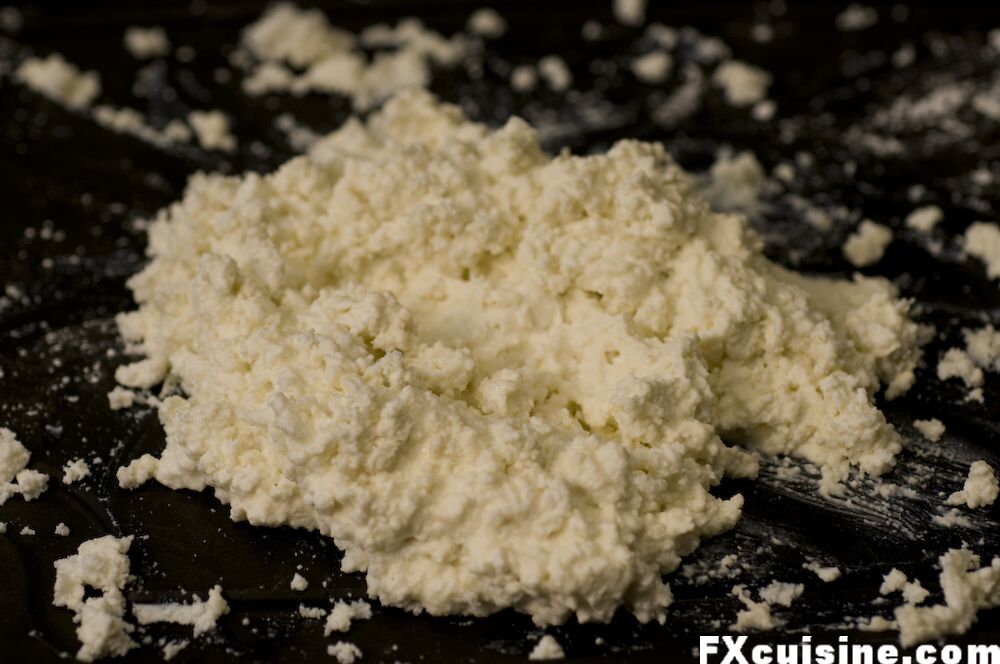 ... until you have a nice, smooth mixture.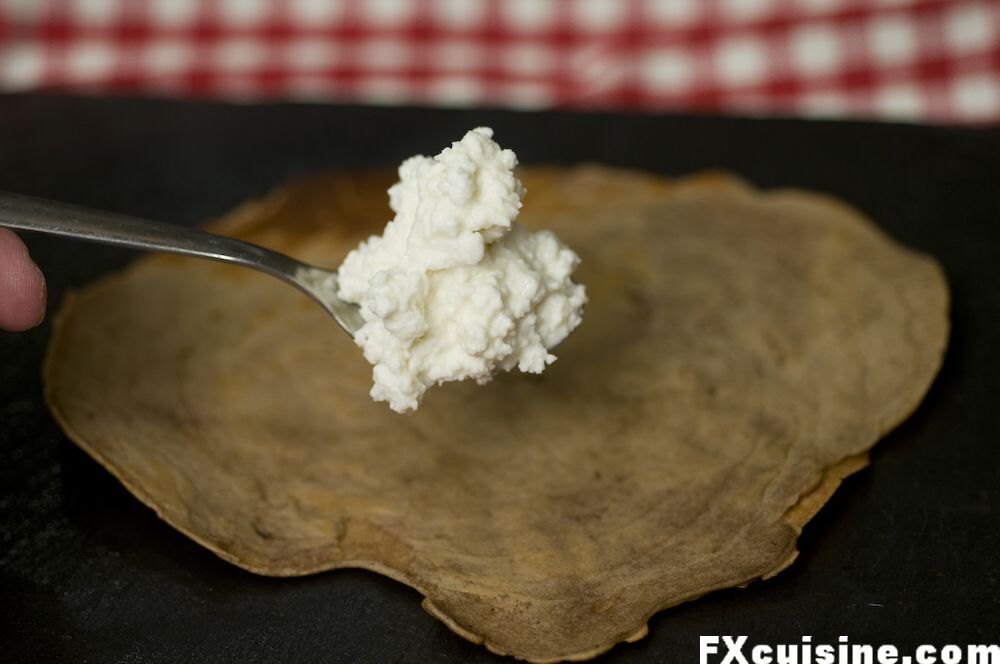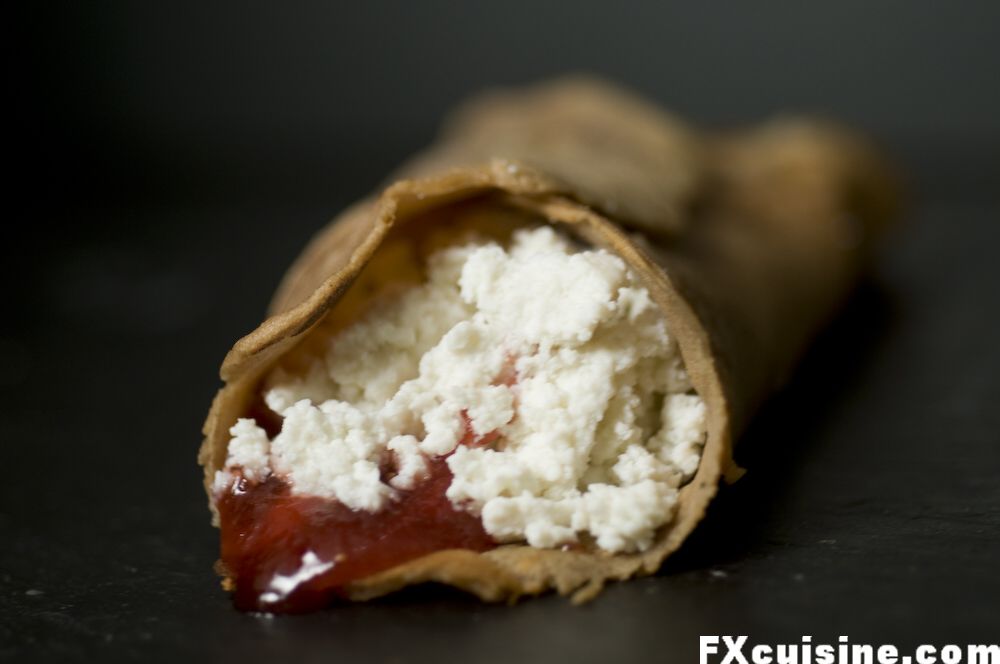 After you fill it, you can add a little strawberry jam for color ...
... and finally fold it and serve.
Necci were traditionally eaten with cheese and salumi by Tuscan peasants, but the canonical form today is to serve the necci with ricotta mixed with sugar and some rose water. Very light and delicious! But unless you are from the Frati della Strettissima Osservanza della chiesa del Slow Food, you can definitely change the dish to use it with many cool toppings such a strawberry jam. The taste is really amazing and since they cook quickly in such a poetic and visually arresting way, it makes for the kind of entertainment one nevery really tires of.
134097 views
Related Articles

My Boyhood's Hungarian Plum Dumplings *
I had eaten these dumplings only once, when I was 12, but boy did they make an impression! Such a rich combination of gorgeous juicy sweet prunes covered in a soft potato-based simmered dough.
Copyright FXcuisine 2023 - all rights reserved.
If you do this recipe at home please let me know how it worked for you by submitting a comment or send me a picture if you can. Thanks!