Tuiles Ó l'orange Lenotre Baking Class
Home
>>
Experiences
Back at the Len˘tre pastry school in Paris to make tuiles Ó l'orange - a smart tile-shaped
flat cookie
served with tea in gastronomic restaurants.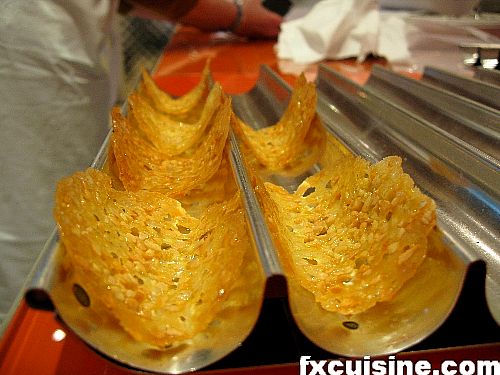 'Tea time pastries' was the name of the class I took at Len˘tre the other day. Very nice cookery lesson indeed. During 3 hours, we made 4 different pastries. The most delicate, yet quick to make, were undoubtedly the orange tiles.
Tuiles Ó l'orange
80 gr melted butter
100gr confectioners'sugar
20 gr flour
1 fresh orange
120 gr coarsely chopped almonds
5 sugar cubes
Melt the butter and let it cool.
Use the sugar cubes to scratch the orange and remove tiny pieces of rind. Squeeze the juice and mix 20 gr orange juice with the sugar cubes and rind.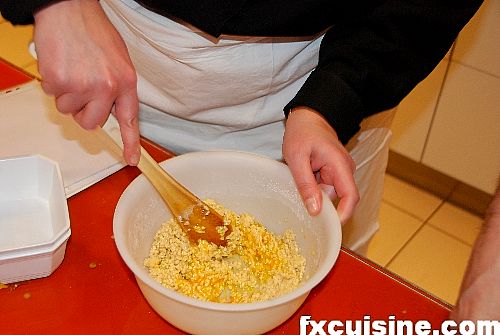 Mix the confectioner sugar, flour and almonds in a bowl. Fold in the butter, then add the orange mixture and combine well.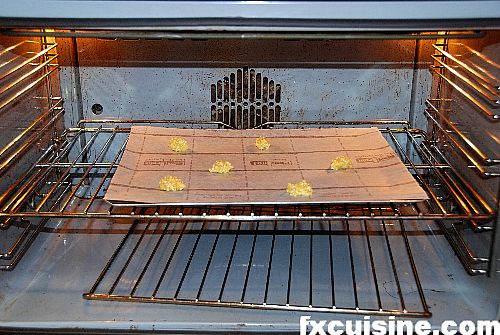 Heat your oven to 180░C. On a baking sheet carefully lay spoonfuls of dough of equal weight with enough space between them. Do not worry about the shape as they will melt.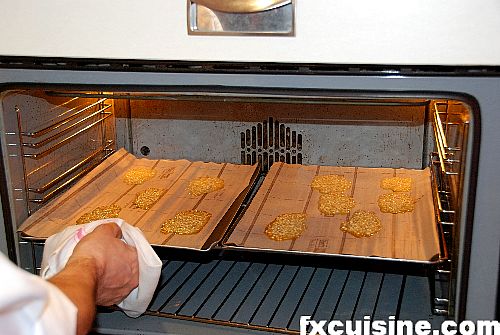 Bake for 6 to 9 minutes. The dough will melt and make very flat cookies. Len˘tre considers it good practice to turn the baking sheet halfway through baking so the oven's inevitably uneven heat is spread consistently. Just pull out the baking sheet, make a half turn, and put it back.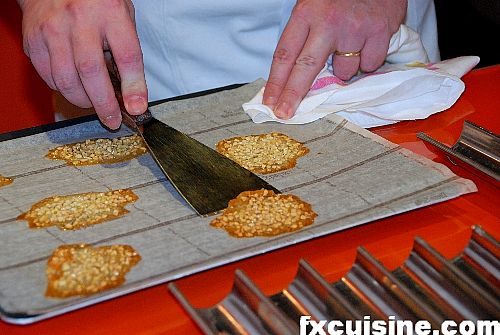 Now for the fun and difficult part. When they exit the oven, the tiles are still very hot and soft and you can't move then without tearing. But after about 60-80 seconds, they will crystallize and become brittle. It's quite tricky to wait just for the right moment. When the moment arrives, you have a 30 second window to take each tile with a metal spatula and lay it gently on something cylindrical. Professional chefs use the special tile form you see above. The tiles must be turned upside down so that the protruding chopped almonds will be on the convex side of the tile. If you use bottles laid flat instead, you won't have to turn the tiles at all.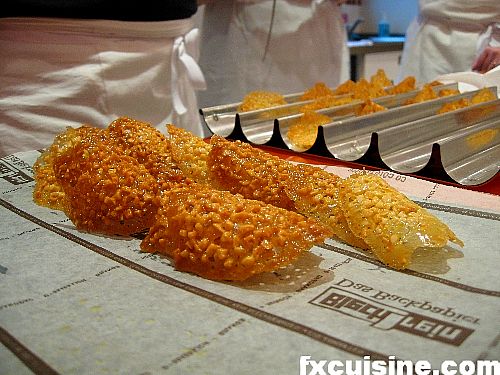 Using a brioche or muffin form, you can make a beautiful little basket with a larger tile, left on the picture below. This can be used to serve ice cream for instance.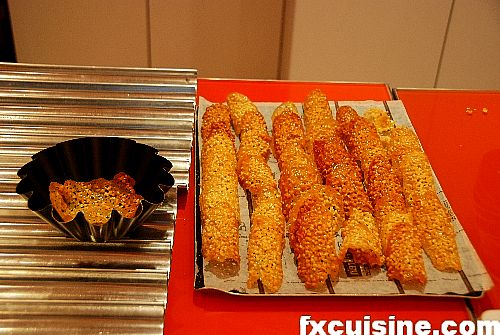 These orange tiles are a very elegant treat to serve with tea or coffee at the end of a meal. They cannot be baked in advance, but although a certain sleight of hand is needed, they are very quick to prepare.
94823 views
Related Articles

CannelÚs Bordelais ** Popular
Easily one of my top 10 favorite pastries, these humble-looking little crepe dough tumblers are very tricky to make right. Here is how they make it at Len˘tre.

A Pastry Class at the Paris Len˘tre school **
Len˘tre offers high-end non-professional pastry classes in Paris. Are they worth the time and money? Who attends? What do you actually learn? Read my account of a Brioche and Kugelhopf class at Len˘tre's school on the Champs-ElysÚes.

Pistachier at Len˘tre **
A pistachio-flavored little cake served with coffee in French gastronomic restaurants. If you get the pistachio paste, you can make it too.
Copyright FXcuisine 2023 - all rights reserved.
If you do this recipe at home please let me know how it worked for you by submitting a comment or send me a picture if you can. Thanks!