Foie Gras Stuffed Corn-Fed Chicken
Home
>>
Recipes
A simple yet impressive recipe by Hélène Darroze using some of the finest ingredients known to man.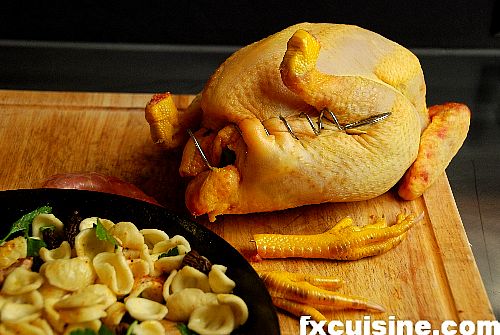 Chicken stuffed with foie gras
1 corn-fed chicken, about 1.5kg
300gr fresh foie gras
300gr orecchiette pasta
parsley
Piment d'Espelette
Morels dry or fresh
Wash, then cut the foie gras it in 2cm/1'' cubes. Try to remove the red veins without turning your foie gras into corned beef.
In a very, very hot saucepan, briefly sauté the foie gras cubes on all sides. You want to brown the surface a bit, not cook them nor melt them. This should take 60 seconds or so. Remove the foie gras from the hot pan and season with salt and Piment d'Espelette.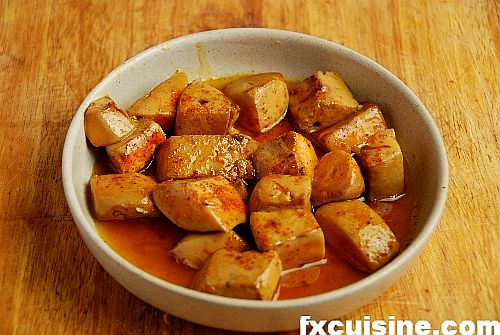 Boil the pasta until half cooked, then put under cold water to stop the cooking. Mrs Darroze speaks about cooking it al dente, but that will get you a much overcooked pasta as it will continue to cook inside the bird for almost an hour.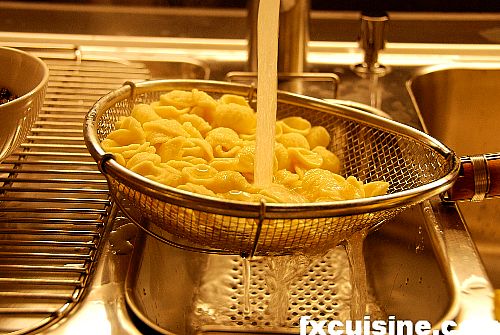 If using, soak the dry mushrooms in water or briefly sauté fresh mushrooms with some duck fat. Mix pasta, foie gras, chopped parsley and mushrooms and season with salt and Piment d'Espelette as needed.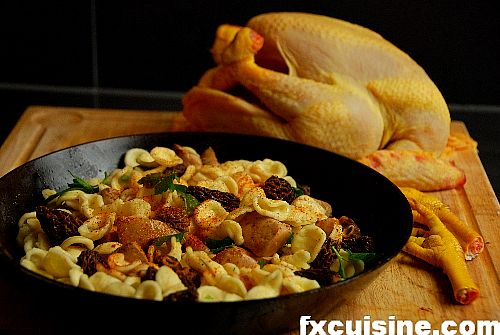 Open the bird and clean it inside out.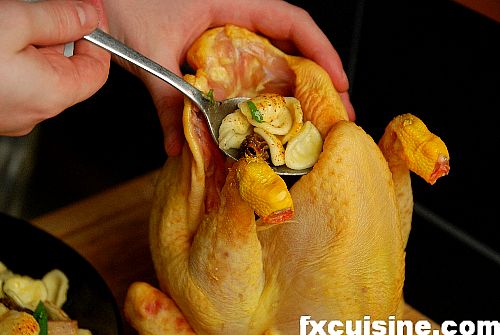 Stuff with the pasta mix. Press with the spoon to make a tight stuffing. Set aside the extra pasta.
In a metallic oven proof dish place the chicken, its paws and neck. Season the chicken with salt and pepper and put it in the oven.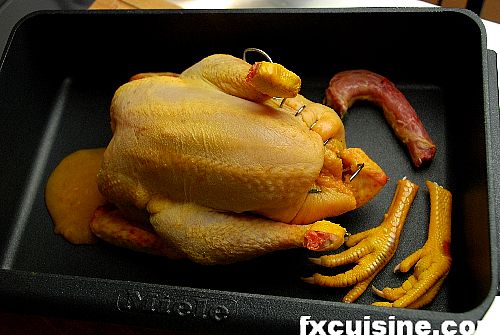 Sew or tie the chicken neck to prevent the stuffing from pouring out. Here I used one of these gizmos home chefs buy wondering if they'll ever use it. Worked like a charm.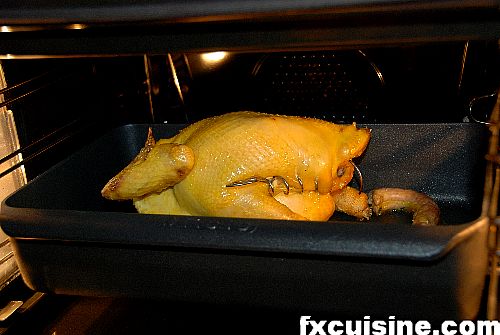 Heat your oven to 180°C and put some of the melted foie gras fat left in the saucepan into the dish.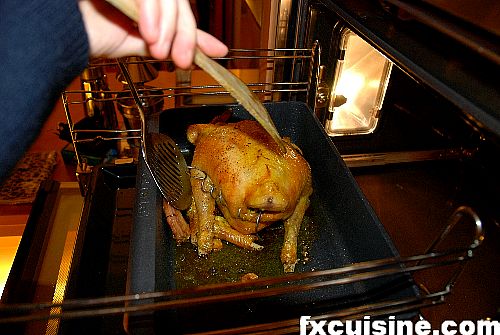 Turn the chicken several times in the first 15 minutes so the very hot dish will brown the skin all around. Cook for about 50 minutes in total, basting regularly with the juices that will accumulate in the ovenproof dish.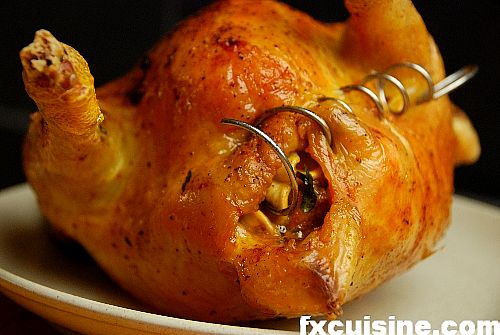 Let the chicken rest for a full 10 minutes before carving. You can wrap it in foil to preserve heat. While you wait, use the oven's residual heat to finish the extra stuffing. You'll serve it as a side dish.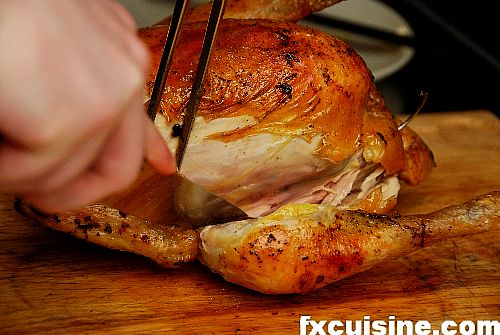 Carve the chicken carefully.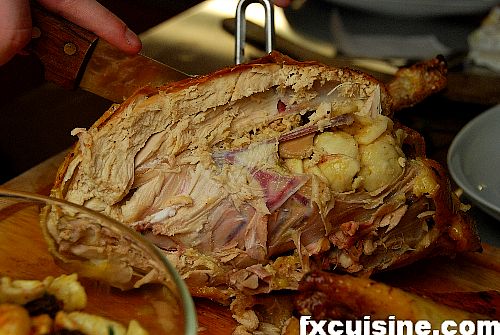 The stuffing is removed with a spoon and served alongside with the chicken.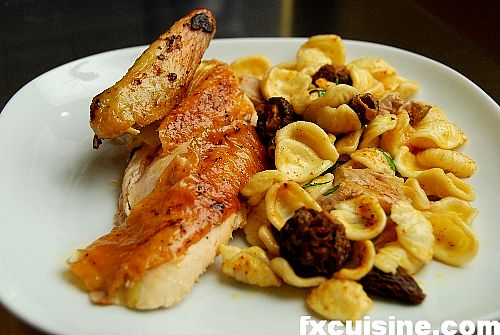 This is a very good recipe although it is very hard not to overcook the pasta. French chef Hélène Darroze used the bird juices to make a jus served over the chicken.
142067 views
Copyright FXcuisine 2023 - all rights reserved.
If you do this recipe at home please let me know how it worked for you by submitting a comment or send me a picture if you can. Thanks!