Behind the Scene at Alain Ducasse's
(page 2 of 2)
Home
>>
Experiences
Extraordinary pre-starter offered in top French chef Alain Ducasse's restaurant in Provence - delicious crispy toasted bread with eggplant caviar and anchovy sauce. A resounding success! See how Ducasse makes it and you can do it at home too.
Much like a mayonnaise, a successful anchoïade is an emulsion of a lot of oil with a little water. If you looked up close you'd see millions of tiny drops of oil surrounded by the thinnest layer of anchovy/water. But your emulsion can fail, with visible drops of oil and a runny consistence. Don't panic if it does. Empty your mixer and add a teaspoon of water, then run it until the water is emulsified with the little anchoïade remaining on the bottom. It should become thick and firm. Then gradually add the rest of the anchoïade with the mixer running, waiting for the mix to be firm before adding more. Emulsions need to start with more water than oil. You can also add a little egg yolk to help. Good luck!
3. THE CROUTONS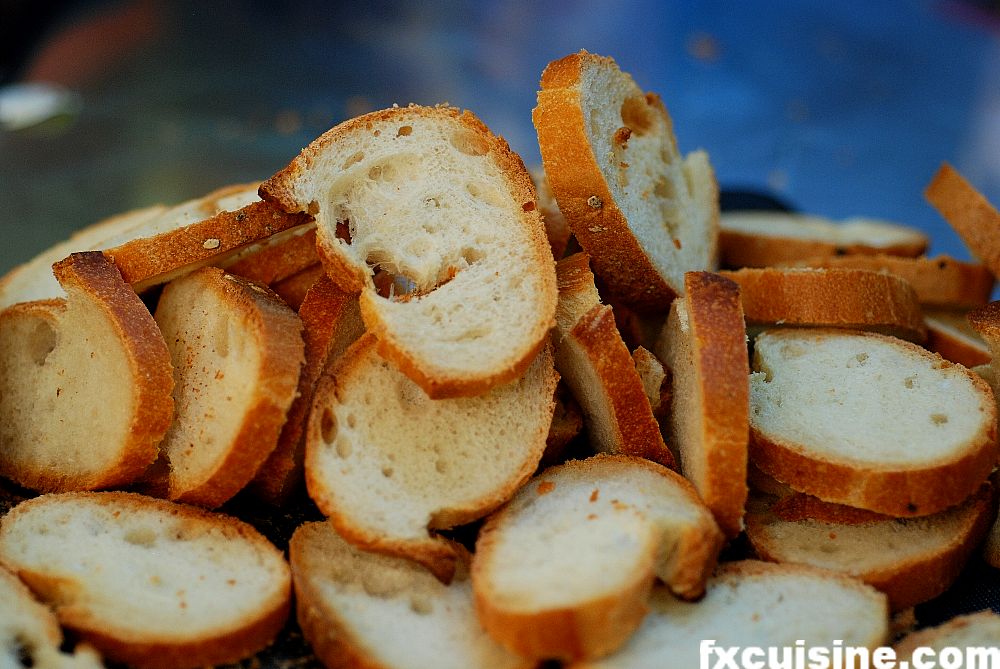 The best croûtons is made from stale bread. If none is available, just slice your baguette into thin and regular slices and put them in the oven at 85°C for 30 minutes or until fully dry.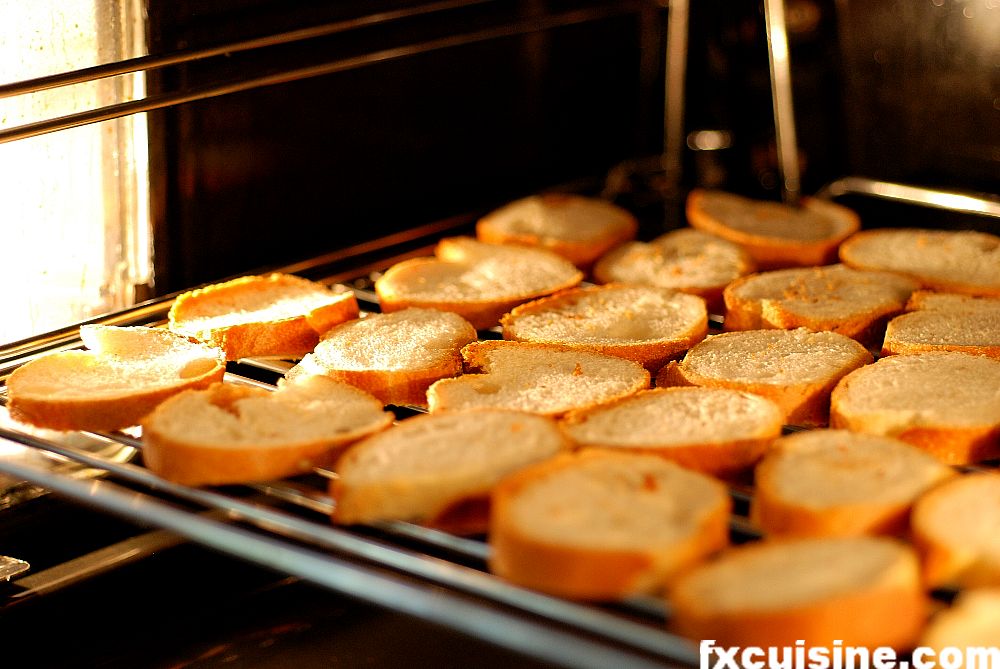 Sprinkle a little olive oil on top either with a brush or macho-style with your finger on the bottleneck (see below a Ducasse cook doing this over eggplants).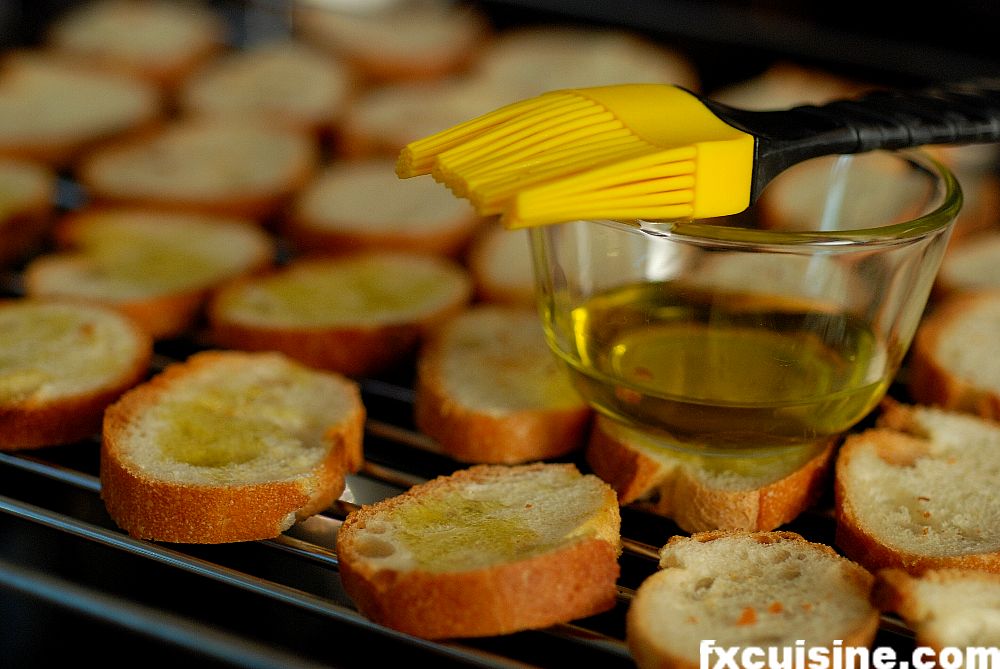 Toast for a few minutes in a very hot oven (180°C). Please remain next to the oven and watch then carefully or you'll burn your croûtons.
4. PLATING AND PRESENTATION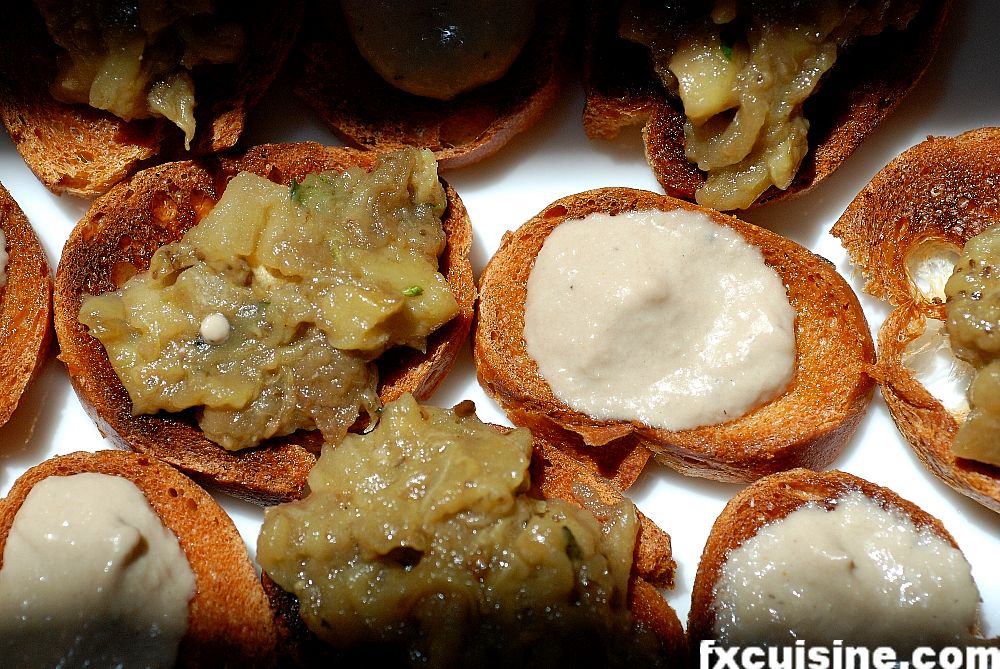 Put a generous teaspoon of the anchoïade on half the croûtons and proceed with the eggplant caviar with the remaining croûtons. Do this at the last minute or the croûtons will loose their crispiness and the anchoïade will turn rancid. Lay them on a serving platter according to your taste and serve with butter and sea salt in a pot. Pictured above the finished platter and another picture. For the dish to work your guests need to feel that this is nothing special. Just serve it like you would open a pack of peanuts. Give them the feeling they are at home in Provence and just came back from the market with a bunch of radish and butter and can eat as much as they want from a shared plate.
EATING THIS DISH AT DUCASSE'S
How does this compare to the real deal at Alain Ducasse's? Pretty well I think, but see for yourself: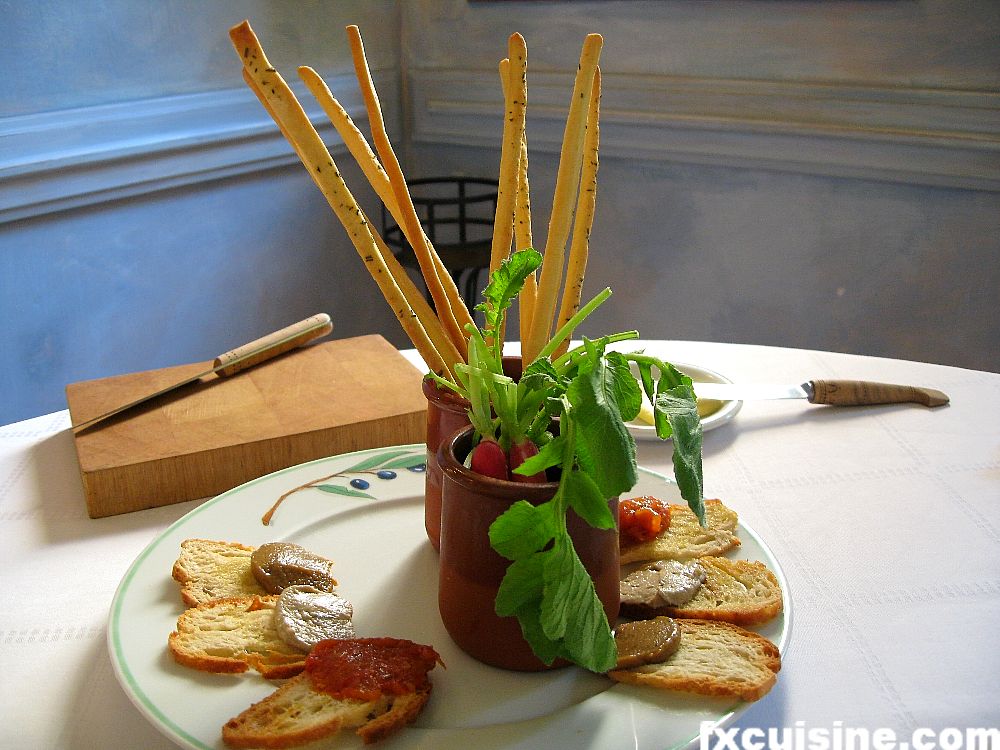 Ducasse serves his croûtons with a block of butter, a lovely wooden board to cut the radish, and rather bland flûtes au sel. A third of his croûtons are garnished with a concassée de tomate, fresh tomatoes peeled and crushed with sea salt and olive oil. I am not so keen on tomatoes so I left this part out. He serves one croûton of each type per person.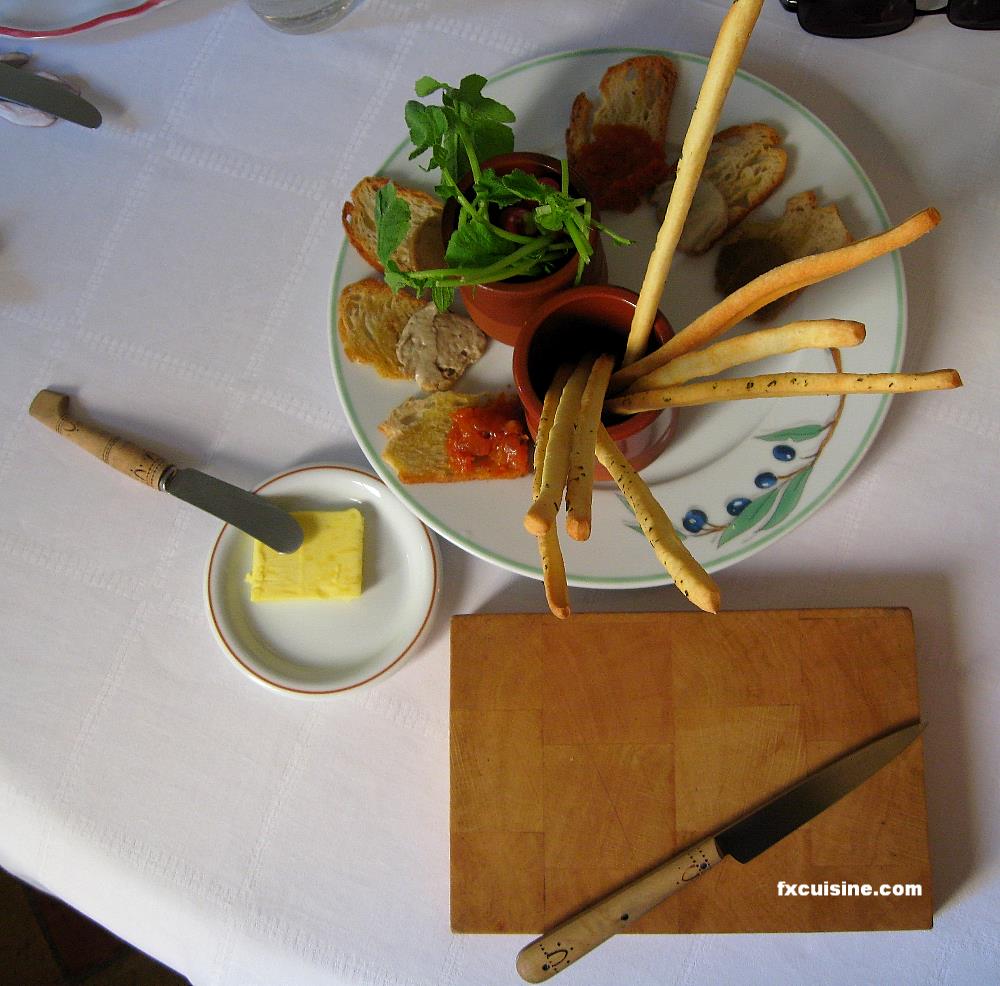 In the future I'll certainly add butter and a wooden chopping board (picture). It gives the meal a homey, help-yourself-if-you-please feeling. My radish bunch was much nicer than the sorry, disheveled bunch they served us that day, but I had to visit three different shops to find a good one.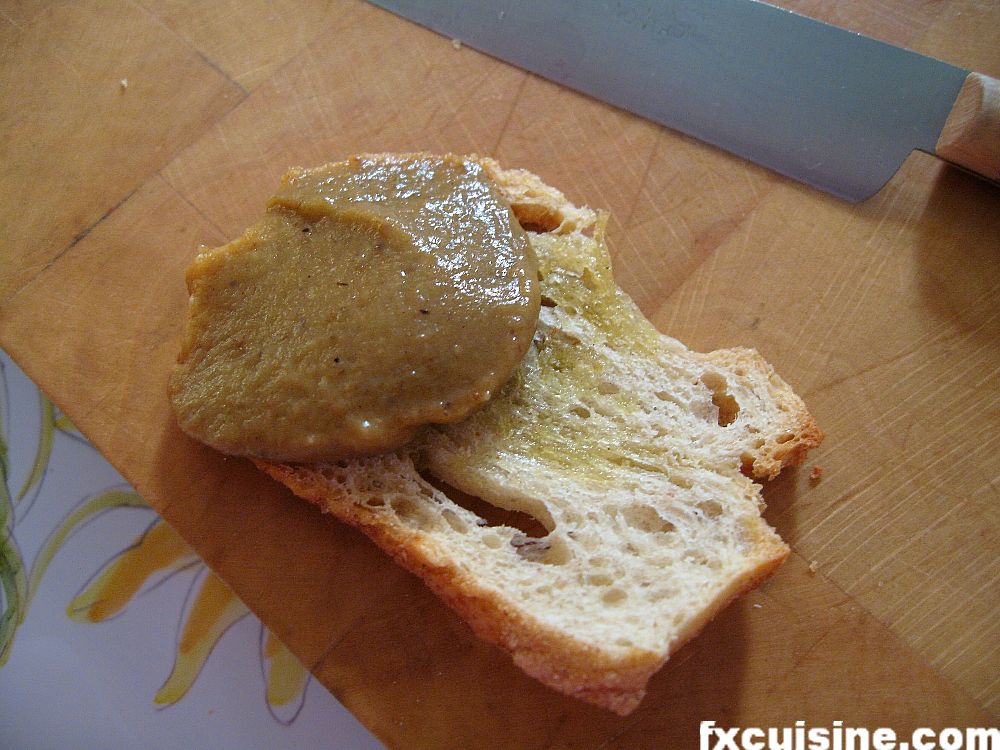 HOW THEY REALLY MAKE IT AT DUCASSE'S
You won't find this recipe in any of Alain Ducasse's cookbooks. Sure, in one of his books he has an eggplant caviar and the recipe for anchoïade is no state secret in Provence, but that's not how they make it in La Bastide de Moustiers. I know because they let me into the kitchen one morning to talk to the cooks and see how they work. The sous-chef is actually the real chef since Ducasse has long stopped cooking himself, explained me how he does his anchoïade. "I soak the anchovy fillets in water to desalt, then put them in the mixer with garlic, olive oil and a drop of vinegar, you know, just to break the oil. Then I just press the button and purée this and slowly add some water until I am pleased with the consistency".
They slice unused bread and leave it in a basket for a couple days until it is very dry. As for toasting, 'I just put it in the oven for a couple minutes - that's all it takes if the oven is really hot' the chef explained.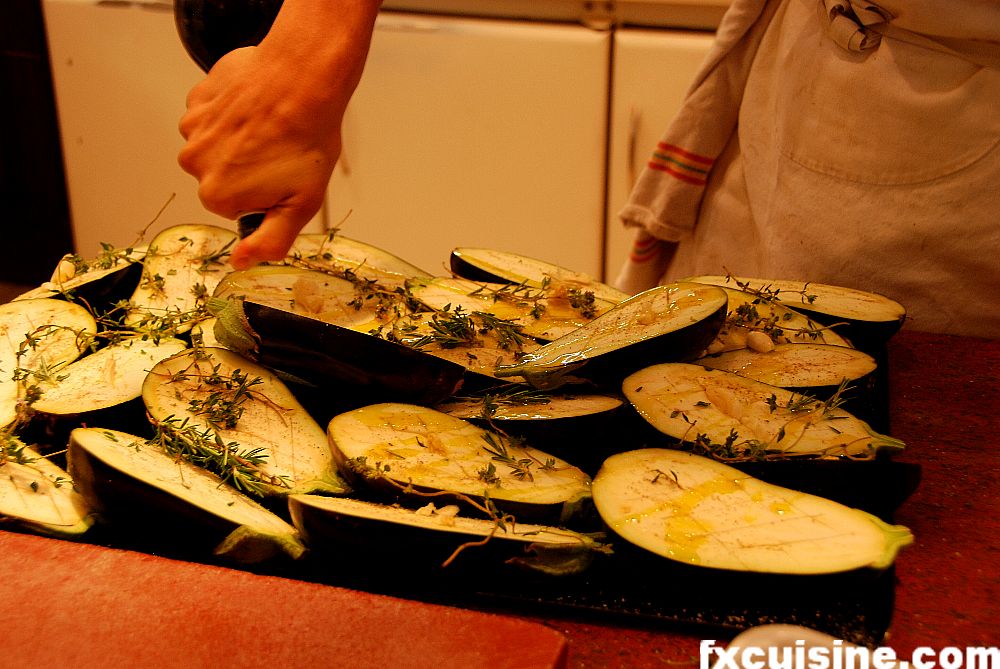 The preparation of the aubergine caviar is really beautiful even though nobody will see it. Delicately scored crosswise, the eggplants are covered with crushed garlic, thyme, rosemary, oil, sea salt and pepper just like I did.
Ducasse's La Bastide de Moustier is a gorgeous place. Few travelers can afford to sleep there, but at 58 Euros per person for a full menu I hope some readers of FXcuisine.com will be able to visit. The staff is lovely, with young, energetic and very nice people most probably hand picked from all of Ducasse's establishment. The cooking in itself is not space-age but to eat such high quality updated traditional Provence food in this lovely setting is just something you'll never forget.
La Bastide de Moustiers
Restaurant-Inn by Alain Ducasse
Chemin de Quinson
F-04360 Moustiers-Sainte-Marie (France)
Next to the Gorges du Verdon, 80 minutes from Aix-en-Provence
www.bastide-moustiers.com
Phone +33 (0)4 92 70 47 47
Fax +33 (0)4 92 70 47 48
188485 views
Related Articles

Pizzaiolo del Presidente - Napoli's Most Famous Pizzeria **
Eat like a president for 5 Euros in one of Napoli's most famous pizzeria.

Snails Have Seven Lives at L'Escargot Montorgueil **
Just how many lives does a snail have? Seven, at L'Escargot Montorgueil, Paris' premier snail restaurant, where your shell might have served many guests.

The Four Hour Lunch **
Lunch with my father at the best restaurant in Switzerland - and beyond. Don't miss the exclusive behind-the-scenes 360 panorama of the kitchens!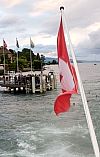 Swiss Steamer Dining **
Dinner on a 100-year-old steamship on Lake Geneva by one of Switzerland's most famous chefs - complete with my behind-the-scenes visit of the kitchens.

Dinner at Le Train Bleu **
A memorable meal at one of the most spectacular restaurants in Paris, located in the Gare de Lyon train station.
Copyright FXcuisine 2020 - all rights reserved.
If you do this recipe at home please let me know how it worked for you by submitting a comment or send me a picture if you can. Thanks!