Real Uzbek Plov
(page 2 of 2)
Home
>>
Recipes
Uzbekistan's national dish,
plov
,
is a hearty cousin of Pakistani pulaos and Persian rices dishes. Watch me make it like Uzbek mamas do!
Remove the remaining patches of fat and discard.
Uzbek recipes always insist on using not just any lamb but Uzbek lamb. They probably have a point but where can you find it? Just use the best lamb you can. I use leg of lamb.
Heat the lamb fat in the Dutch oven until it smokes. That's right, light grey fumes like boiling water. Don't let it burn though.
Quickly fry the the lamb cubes on all sides until nicely browned. You may have to do two batches. The point is that the temperature remains high and that any liquid released by the meat cubes is immediately vaporised, otherwise it would decrease the temperature and the browning or Maillard reactions would not work. That would mean lost taste.
Reserve the meat and cover so it won't get cold or infested with bacteria.
Heat the lamb fat remaining in the Dutch oven and pour in the sliced onions, turning frequently until soft and light brown, about 6-8 minutes. Add the ground spices and mix well for 1 more minute. Add the grated carrots and cook for 3 more minutes or until carrots are soft.
Add the reserved meat and any meat juices that escaped.
Mix well and reduce heat to medium hot.
Add 2 cups rice. Uzbek cooks insist on using rice from Uzbekistan. What does it taste like? Well, I've been able to buy a couple different types from an Uzbek grocer in Russia and was not impressed. The rice must be great when harvested in Uzbekistan, but mine actually contained live insects, so I decided to use quality local rice instead. My best results have always been with long grain parboiled rice, which cannot be overcooked. Sure, it is not the most sexy nor best tasting rice, but what's the point of doing everything by the book only to end up with overcooked rice porridge?
Add 4 cups
hot broth
. You can use water but please
hot, not cold
, as this would stop the cooking for a good 10 minutes.
Cover and simmer over medium heat for about 10-15 minutes. Turn frequently to make sure the plov does not stick at the bottom. When the rice is cooked through, add the drained barberries, remove the lid and wait until all liquid has evaporated, turning the rice regularly.
Serve piping hot with a garlic head for each guest.

You can also bury the roasted garlic inside the plov after you add the broth and bring the pot to the table. Some cooks add a large hot pepper to each plate. Once I tried to order plov as a side order for some roasted meat, only to have an offended cook come out the kitchen and explain passionately that eating meat with plov would destroy the delicate flavor balance. I think he was right - serious plov is like serious risotto - it is self-sufficient.
Above, a picture of a neighborhood market's butcher stall in Russia (I like my butcher better) and an Uzbek spice merchant selection of cumin seeds (zira) and rather vapid barberries.
I would be much interested in a reader could send me pictures of lamb tail fat or how plov is presented in Ubekistan.
798205 views
Related Articles

Pakistani Lamb Pulao **
This extraordinary dish is served on special occasions in Pakistan and Northern India. See how it's made from fresh spices and then cooked in the oven.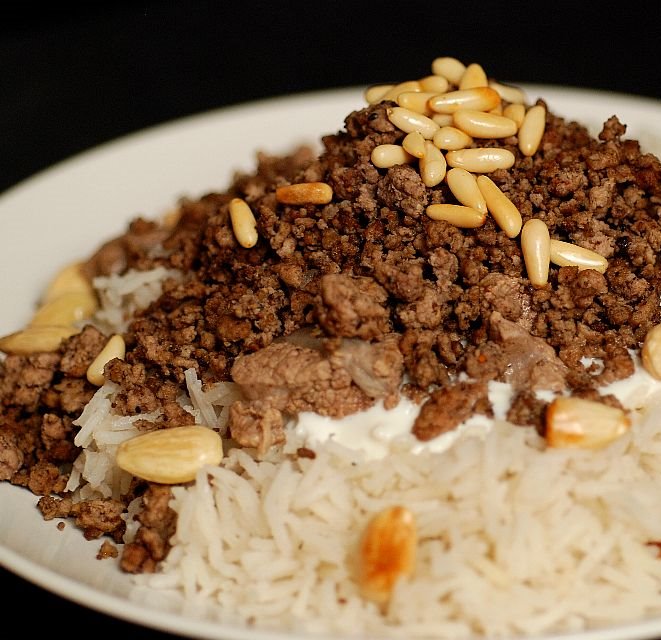 Arab Lamb Ossobuco **
An incredible festive 7-layers dish with lamb shanks, ground beef over rice. Delicious but quite involved if you're alone in the kitchen!
Copyright FXcuisine 2022 - all rights reserved.
If you do this recipe at home please let me know how it worked for you by submitting a comment or send me a picture if you can. Thanks!