Il salone di Slow Food
(pagina 2 de 2)
Home
>>
Questa è la mia visita alla grande fiera mondiale del cibo tradizionale di Torino, in Italia. 
Slow Food non è un movimento vegetariano, ed infatti alla fiera c'era un mondo intero sul maiale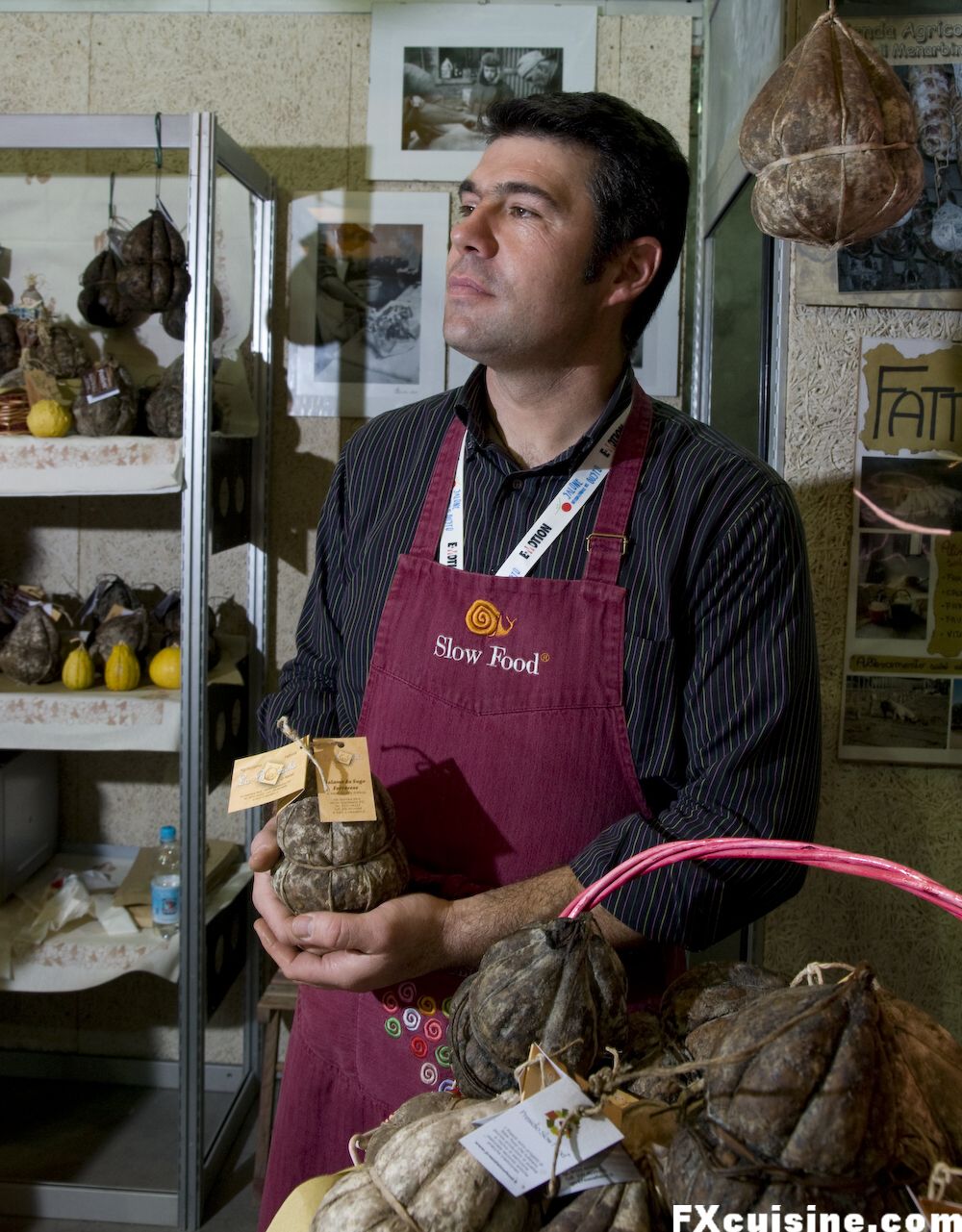 Da questo signore di Ferrara ho comprato una salama da sugo. Non ha niente a che vedere con quelle salsicce fresche che le mamme italiane comprano per sbriciolare nella salsa di pomodoro e fare un veloce ragù. Al contrario, questo salume è duro come un sasso e deve essere messo a bagno in acqua per due ore  e bollito per altre cinque prima di essere svuotato e servito con puré di patate.  Posso cuocervene qualcuno oppure raccontarvi cosa c'è dentro, ma probabilmente nessuna delle due visto che ho appena lavato la moquette. Questa salsiccia ha un lignaggio impeccabile, fu infatti citata per la prima volta nel 14° secolo.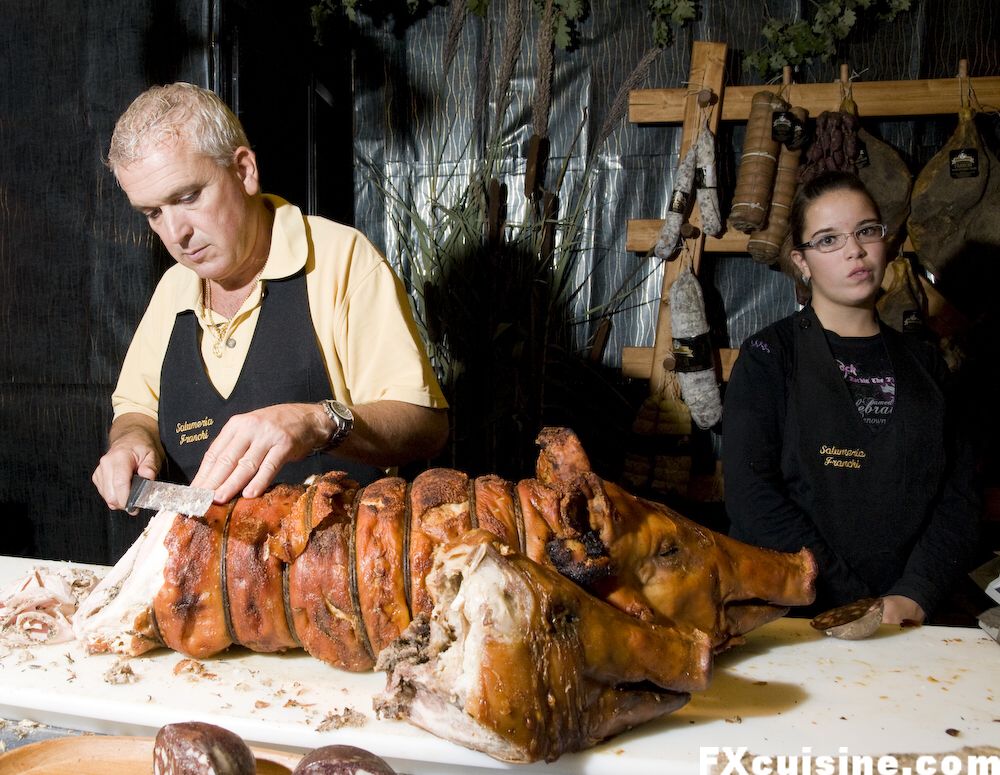 Questo signore ha passato la settimana ad affettare un maialino dopo l'altro e servirlo ai buongustai in coda!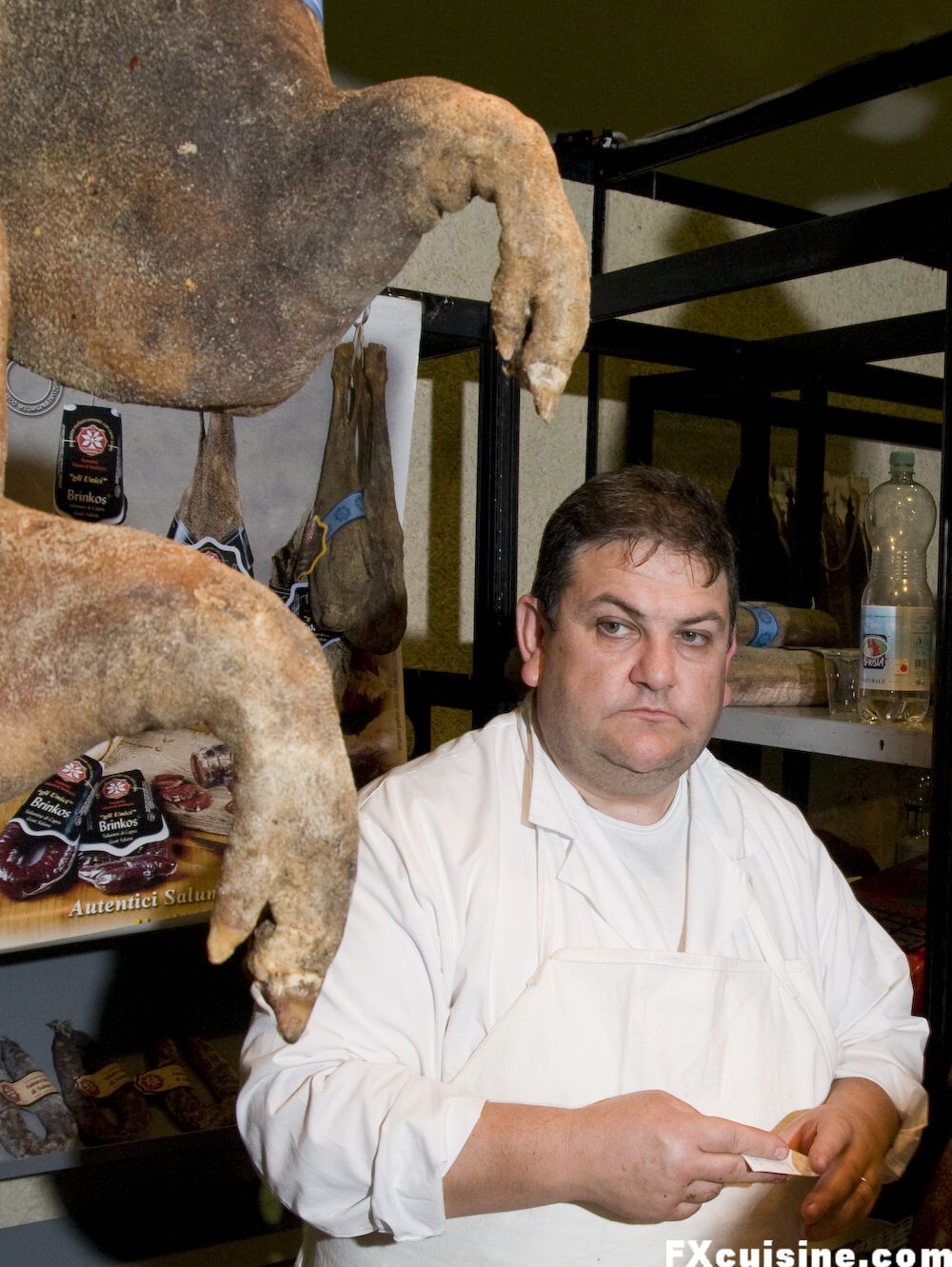 Questo signore produce dei prosciutti che certo non nascondono la loro provenienza ...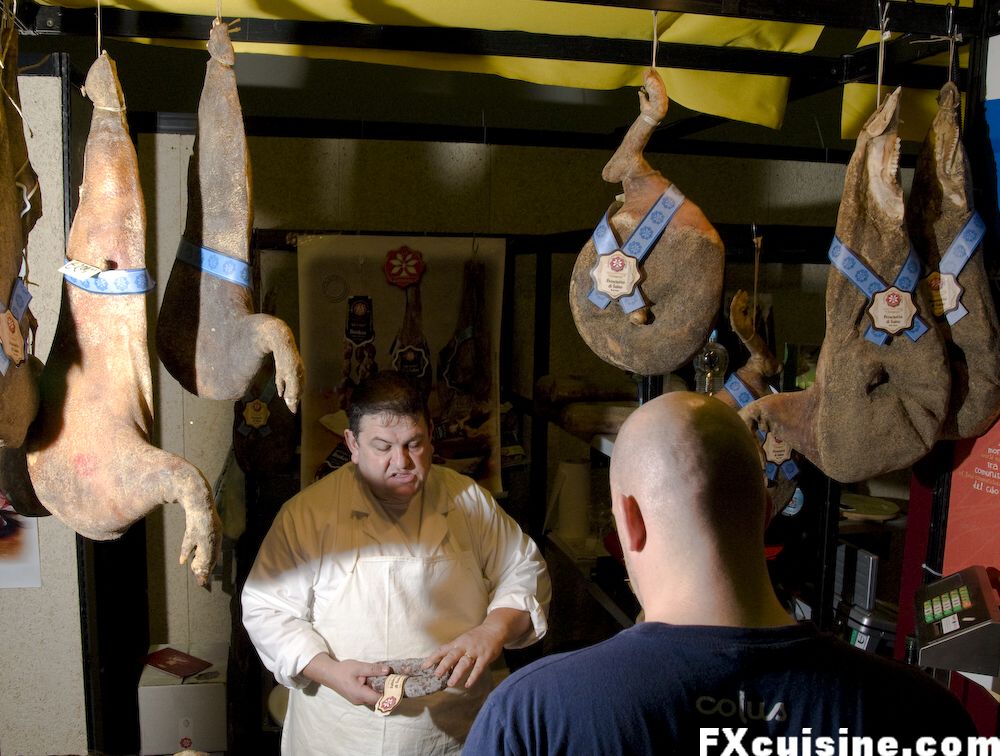 ... a che si dimostrano molto apprezzati dalla gente dalla testa rasata.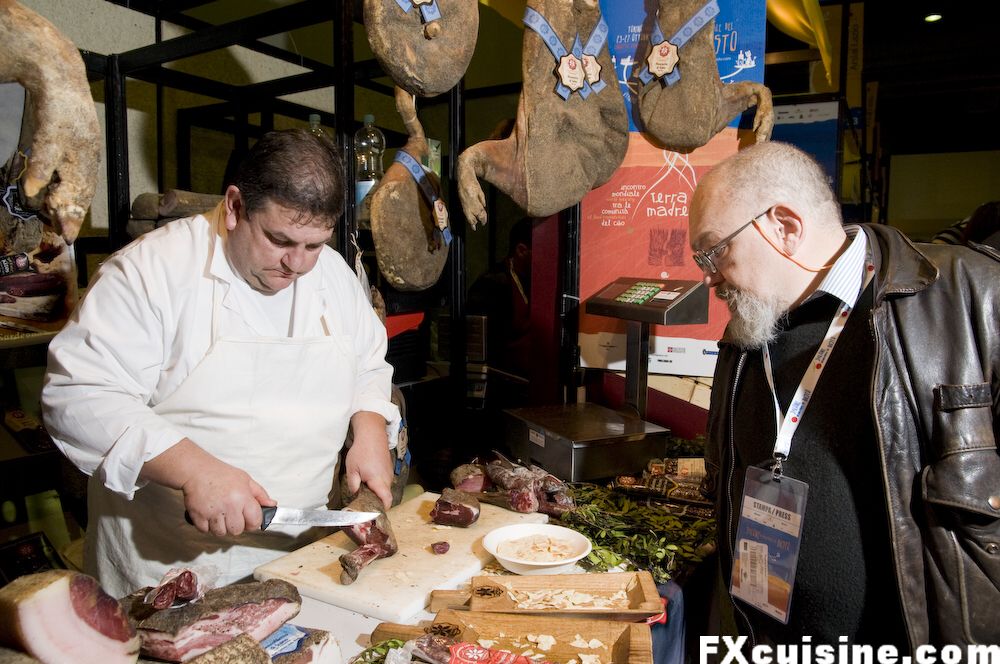 Sarà felice di farveli assaggiare.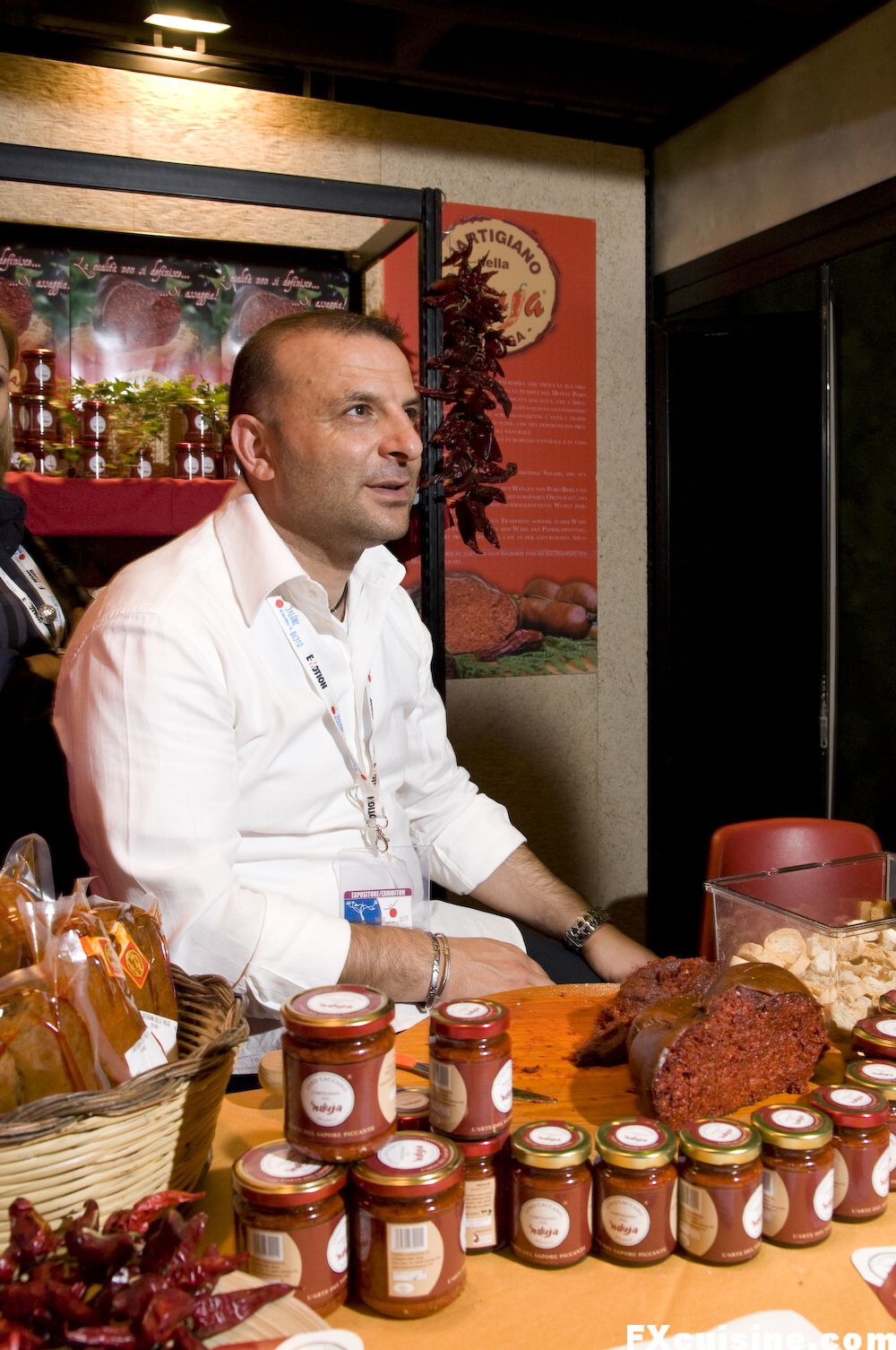 La Nduja è un salame spalmabile ultra-piccante, ed è il cibo simbolo della Calabria. Man mano che si sente quel che contiene, passa la voglia di mangiarla. Ma avete mai chiesto che cosa c'è nei wurstel, nella mortadella, nella carne in scatola?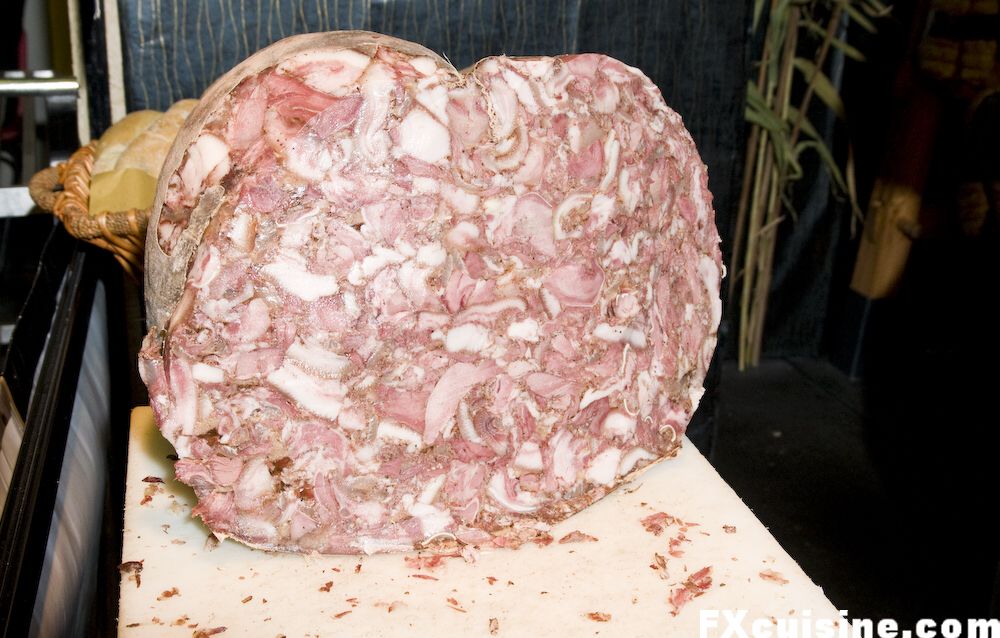 Quante teste di maiale sono state utilizzate per fare questo? Disgustoso? Quante ne abbiamo già mangiate nei nostri hot dog?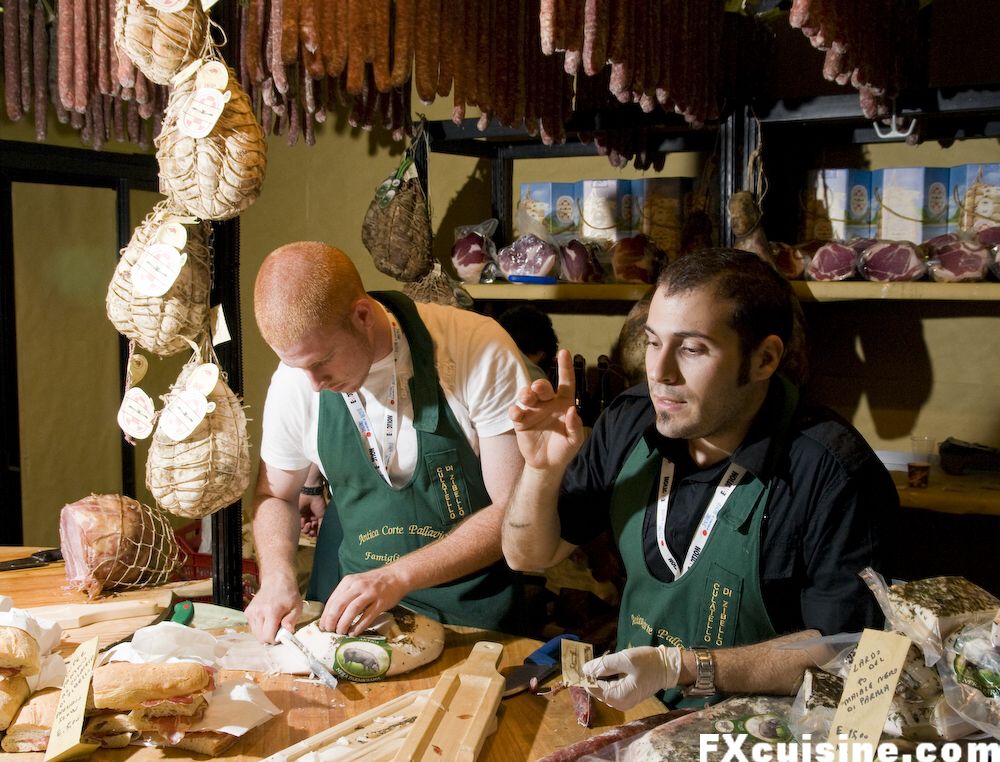 Una tipica salumeria italiana, quei negozi di famiglia dove si comprano carni stagionate e salumi...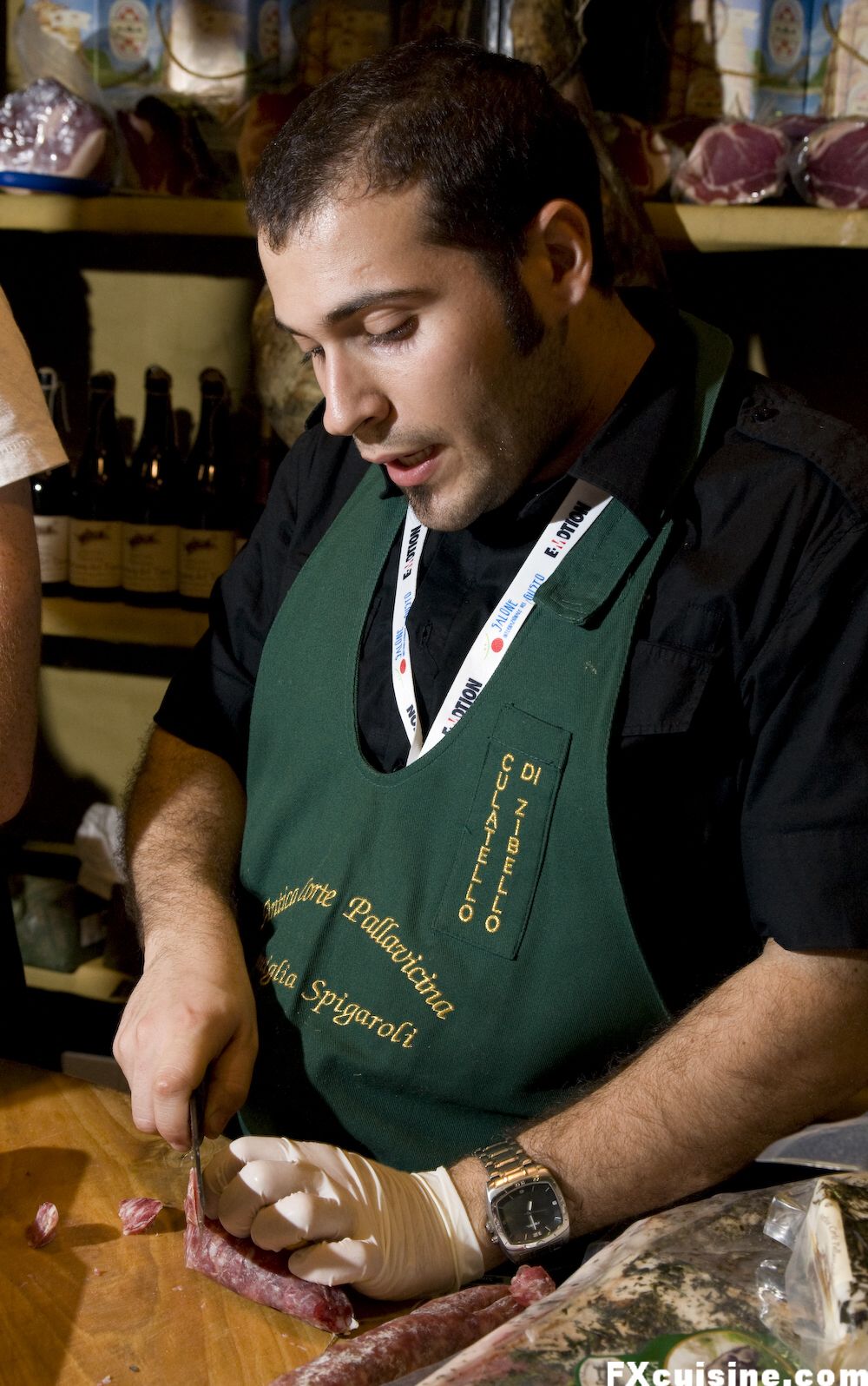 ... e dove si può sempre assaggiarne una fettina.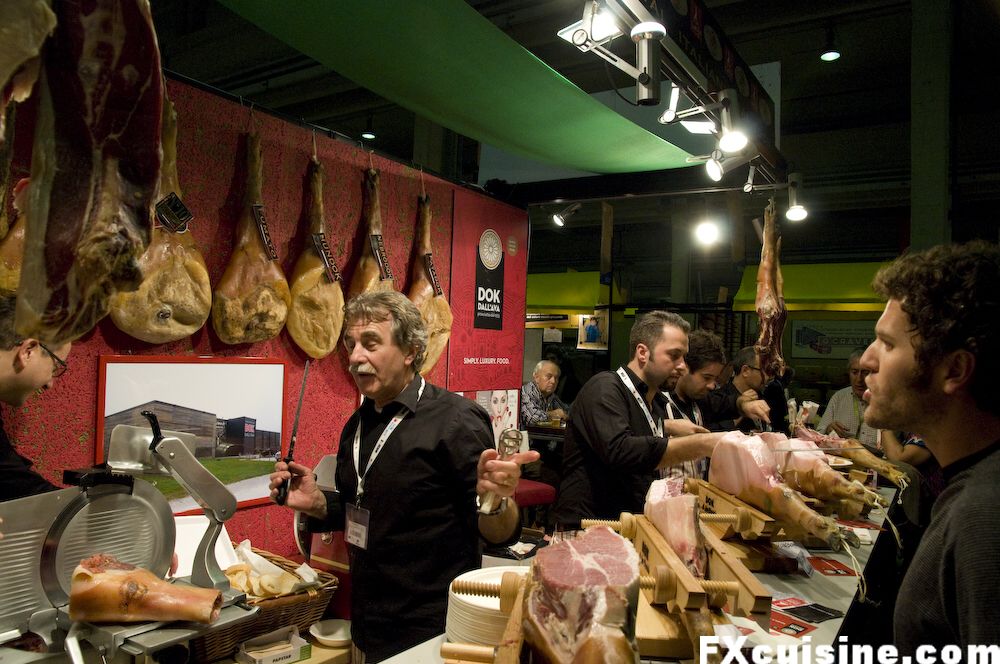 Questo stand di prosciutti era così preso d'assalto che i membri dello staff non riuscivano ad affettarli abbastanza velocemente...
... per nutrire tutti gli acuti buongustai che affollavano il bar.
Alla fine, mi sono trascinato all'hotel per una notte di sonno ristoratore e sogni d'oro.
Non sono sicuro che nei prossimi anni Terra Madre (la convention di Slow Food) e il Salone del Gusto (la fiera del cibo artigianale) verranno tenuti assieme come è successo quest'anno. Si è trattato comunque di un'idea intelligente. Ci sono gli stessi tipi di prodotti, e si può assaggiare, parlare e comprare cibo ad ogni stand. Ci tornerò ancora!
Se avete perso questo evento, non disperatevi, è in arrivo la prossima settimana il mio articolo su Eataly Slow Food Supermarket - aperto sempre, 7 giorni alla settimana.
Qaunto è 'Slow' FX?
La maggiorparte dei miei articoli parlano di specialità e cibi tradizionali, che sono tanto intrinsecamente buoni e appetitosi quanto indicativi della storia e dell'identità culturale. Ho a casa tutti i libri pubblicati della
Slow Food Editore
. Cucino tutto a partire da zero usando ingredienti freschi che acquisto dai contadini locali. Tutto ciò mi rende un tipo Slow Food? Beh, se da una parte apprezzo molto quello che fa Slow Food per preservare produzioni e specialità in via di estinzione, non condivido per questo tutte le loro
idee
. Non vado di certo spesso dentro un
Mac Donald's,
ma non tollero i tizi piuttosto rozzi che fanno a pezzi i fast food nel nome della lentezza. Mi piace l'idea di promuovere l'alimentazione basata su cibi freschi, locali e cucinati in proprio, ma non vedo la ragione di screditare chi non ha la possibilità di passare il tempo a cucinare. Mentre mi piace comprare verdure dalla produttrice locale e farne piatti tradizionali dalla lunga cottura, non mi piacciono quei buzzurri opportunisti che convocano i giornalisti per farsi riprendere mentre
distruggono un campo di
piante geneticamente modificate
, dipingendosi come moderni Salvatori che puniscono duramente i mercanti nel Tempio della Natura, o che come Attila calpestano l'erba pagana affinché nulla possa ricrescere. Queste persone non rendono una grande servizio alla causa. E poi, se alla fine le stesse
catene dei supermercati 
iniziano a vendere i prodotti protetti da Slow Food, non capisco davvero come questa si possa chimare allenza col diavolo. 
Perciò, se fossi un ragazzo che colleziona distintivi e in cerca di un'appartenenza, già da tempo avrei messo la chiocciolina di Slow Food nel mio banner. Perchè non avrei dovuto - d'altronde condivido quasi tutto quello che fa questa associazione. Ma io non ho bisogno di un simbolo che mi dica chi sono e non posso farmi carico di idee che non sono le mie. Perciò continuerò a condividere il mio amore per il cibo tradizionale senza esserne membro. A ognuno la sua strada. 
481127 visite
Related Articles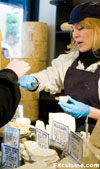 Neal's Yard Dairy **
My visit to the cult London cheese shop, selling no less than 57 types of British cheeses.

Ultimate Speck **
Proper Speck, a cult Tyrolian dried and smoked pork meat, can only be found in a narrow corner of Val d'Ultimo, in Italy. Probably the best dried meat on earth, and you can't really buy it. But let me show you how it's made.

Montgomery's Cheddar **
My Christmas article will show you how the best cheddar since King Arthur is made in Somerset, including a 4 minutes video.

Hard Core Swiss Vacherin Cheese **
Follow me as I wake up in the wee hours of the morning to see Swiss armailli make a unique cheese in a small chalet up the Gruyere Alps.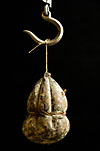 Salama da sugo **
This medieval Italian sausage from Ferrara nearly made me pass out.
Articoli più popolari ¦ Ultimi articoli ¦ Parole chiavi ¦ Letzte Kommentare
Copyright FXcuisine 2023 - all rights reserved.
If you do this recipe at home please let me know how it worked for you by submitting a comment or send me a picture if you can. Thanks!