Gnocchis de Calabaza
Home
>>
Recetas
Después de casi 20 años de intentos finalmente logré hacer estos deliciosos gnocchis - mi propio y personal Santo Grial culinario.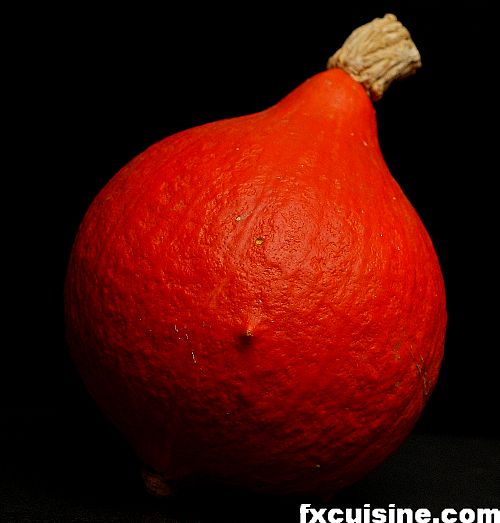 He estado tratando de hacer gnocchis de calabaza desde que tengo 15 añois, y hasta la semana pasada simpre habían sido un desastre  absoluto.  Los gnocchis (dumplings italianos) simplemente se disolvían en el agua hirviendo y cualesquier pedazos que pudiera sacar parecían esponjas anaranjadas que iban directo al lavatrastes.  Había intentado todo - hornear primero la calabaza para secarla, añadir una carretada de harina o mezclarla con papas.  Nada, hasta que probé con una receta lombarda de un libro de comida lenta (Slow Food) en italilano. 'El secreto', decía, 'está en la calabaza.'  Y vaya si lo está.  Utilizando potimarron (Calabaza Hokkaido squash o Calabaza Kuri) sólo requerí muy poca harina para lograr los gnocchis más deliciosos que he probado.  Y cuando al día siguiente lo volví a intentar con una calabaza muy seca de otro tipo, regresé a mis acostumbrados desasatres y tuve que utilizar más harina que calabaza para que los gnocchis resistieran la cocción.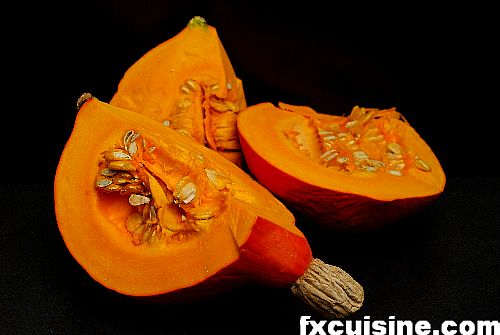 | | | |
| --- | --- | --- |
| |   | |
Rebana la calabaza en 4 partes y retira las semillas pero deja la cáscara.  Hornea en un refractario cubierto en un horno caliente hasta que se suavice, 30-40 minutos.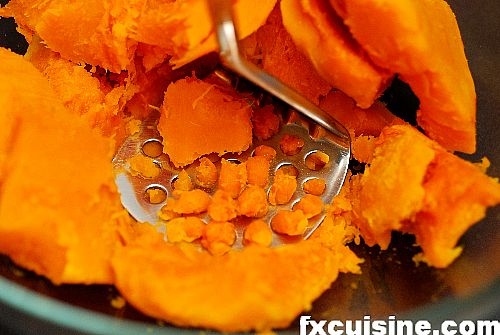 Descarta el jugo que hubiera salido y pela la calabaza o rasca la carne con una cuchara.  Machácala hastra obtener una pulpa suave y homogénea.  Llena tu olla más grande con agua, agrégale sal, ponla a hervir y tenla lista para los gnocchis.
Machaca un par de amaretti (macarrons o biscochos italianos de piedras de chabacano) en un mortero. No te molestes en quitarles el azúcar, la calabaza ya es muy dulce y no la notarás.  Casar dulce con amargo es una manera de comer calabazas de todo tipo establecida en el norte de Italia desde hace mucho tiempo.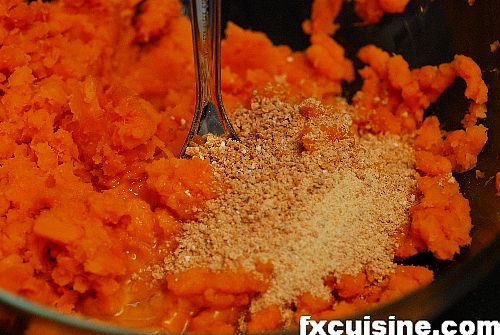 Combina el puré de calabaza con los amaretti machacados.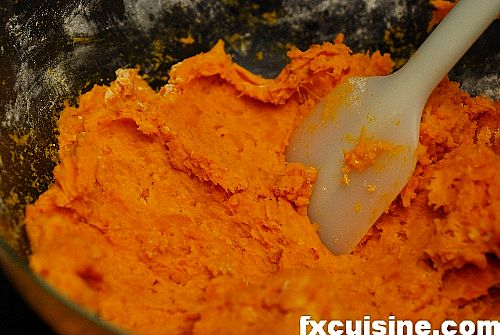 Añade apenas el harina necesaria para que se mantenga unida.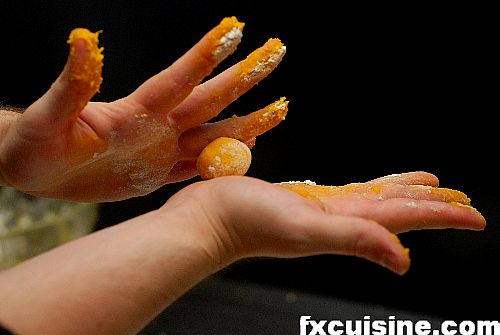 Si no estás seguro, trata de formar una bolita en tu mano como explico más adelante y cuécela en la olla.  Si el gnoccho conserva su forma y sale si haber absorvido la mitad del agua de la olla, quiere decir que tiene suficiente harina.
Enharina una tabla y toma un poco de masa en la mano.  Puedes formar bolitas del tamaño de una nuez, o puedes formar un puro largo que puedes después cortar en pequeños gnocchis.  Termínalos presionando con un tenedor en un lado de cada gnoccho. (para que la mantequilla se adhiera mejor).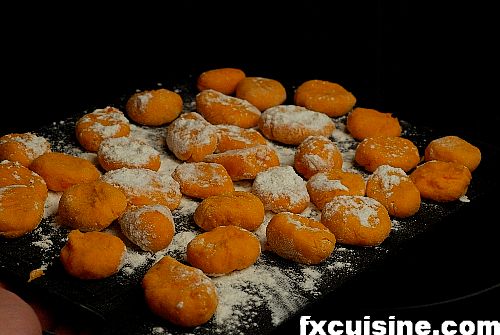 Trata de utilizar la manor canitidad posible de harina en esta etapa.  Si dejas grandes plastas de harina en los gnocchis como yo hice aquí, el harina no dessaparecerá al hervirlos.  La verás.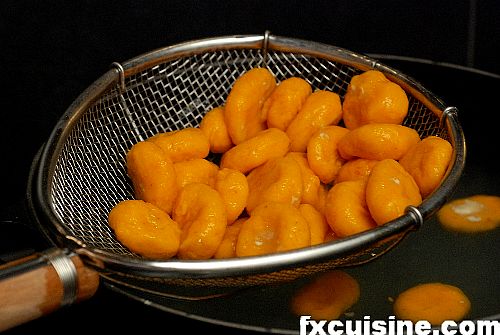 Sumerge los gnocchis en el agua hiriendo.  Por favor hazlo con cuidado ya que los gnocchis crudos pueden perder su forma si los dejas caer en la olla desde el techo.  Idealmente debes utilizar una cuchara perforada para depositarlos en el agua, pero asegúrate de meterlos todos al mismo tiempo, o cuécelos por tandas, de otra manera el cocido no será parejo en cada tanda.  Cuécelos sólo un minuto o dos.  Si tienes duda, prueba un gnoccho.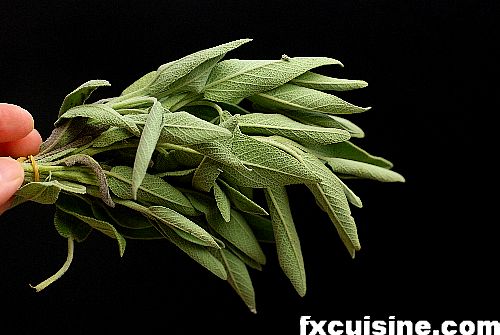 Unos buenos gnocchis no necesitan salsa.  El sabor más delicado que puedes utilizar es salvia. Por alguna razón que únicamente los químicos conocen, el delicado perfume de la salvia no puede ser extraído con agua, pero es fácilmente soluble en grasa.
En una olla pequeña, derrite tanta mantequilla como tu dieta te permita y agrega las hojas de salvia.  No las frías, sólo deja que la mantequilla se derrita pocoa poco con las hojas de salvia bañándose en el líquido.  Puedes retirar las hojas puesto que la mayor parte de su sabor ya está en la mantequilla, pero los intivados prefieren ver de donde viene el sabor y las tiritas verdes van muy bien con el color anaranjado de la pasta.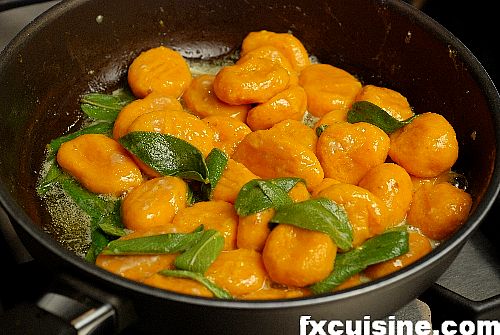 Transfiere Transfer los gnocchis a la mantequilla con salvia y déjalos al fuego más lento hasta que estés listo para servir.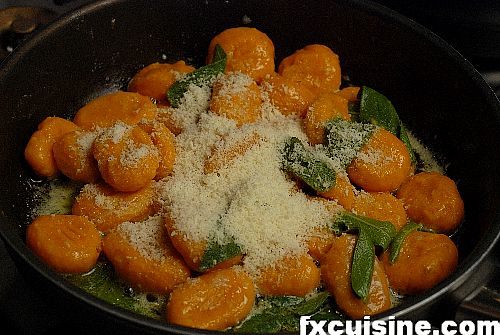 Sírvelos con queso parmesano recién rallado y de ser necesario, unos cuantos amaretti machacados.
Estos son los mejores gnocchis que he probado o hecho - punto.  Claro que los puedes hacer con otro tipo de calabaza que la que yo usé, pero si tu masa queda muy húmeda tendrá que utilizar tanta harina que tus gnocchis merecerán ser llamados atraganta-curas.  Aún así se podrán comer, pero el equilibrio de sabores estará equivocado y la textura muy harinosa. ¡Buena suerte!
140558 visitas
Artículos Relacionados

Halloween Pumpkin Risotto ***
Serious gourmet traditional pumpkin risotto from Lombardy (Italy) anybody can cook in under 40 minutes.

Priest-stranglers in Neapolitan Meat Sauce *
These gnocchis served in the cult Napolitan ragù sauce would be a world-famous dish if they didn't take 7 hours to cook.

Pasta con l'anatra - pasta in duck sauce *
Using a whole duck to make pasta sauce is uncommon outside Italy.
Artículos màs populares ¦ Ultimos artículos ¦ Por temas ¦ Ultimos comentarios
Copyright FXcuisine 2023 - all rights reserved.
If you do this recipe at home please let me know how it worked for you by submitting a comment or send me a picture if you can. Thanks!