Clase de Cocina en Marrakesh
(página 2 de 2)
Home
>>
Experiencias Gastronómicas
Como aprendí a hacer 
pichón pastilla
, uno de los platillos más elegantes de la cocina marroquí.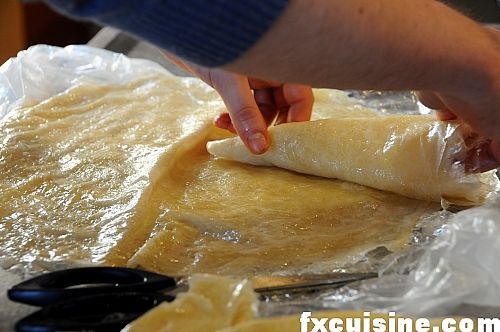 Al llegar a este momento, tuve una gran decepción.  La dada sacó un paquete de warkas compradas, una especie de crepas ultradelgadas y aceitadas.  La razón para tomar este curso era aprender a hacer lo que no podía aprender en un libro.  Después de todo, hay montones de pastilla por todos lados, pero hacer tus propias warka está más complicado.  Tan complicado que ellas mismas no sabrían como hacerlas, simplemente las compran en el souk.  De acuerdo, hacer warkas justificaría un curso por si mismo, pero igual yo estaba muy decepcionado. En casa puedes usar pasta brik o pasta filo que compras en la tienda de productos étnicos, pero las warkas auténticas son mucho más delgadas y más elegantes. 
Dobla dos hojas two sheets de warka por la mitad, luego de nuevo por la mitad hasta que las puedas tomar en una mano.  Si aún están muy grandes, corta el exceso.  La idea es minimizar la cantidad de warka para la cantidad que usan de relleno.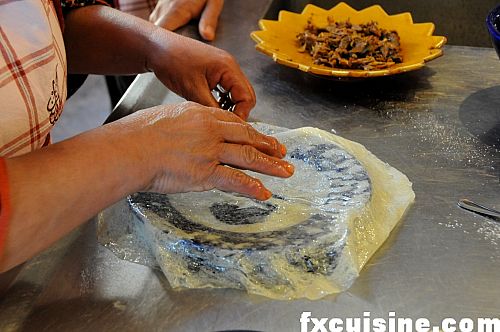 Aceita un plato de postre y desdobla ambas hojas de warka encima.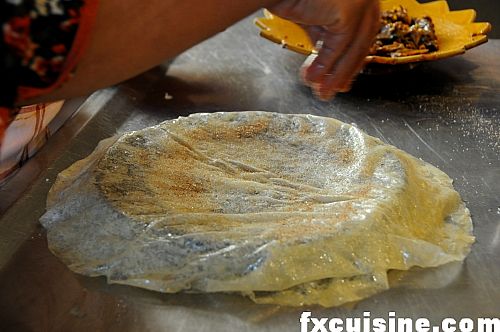 Espolvorea con azúcar y canela.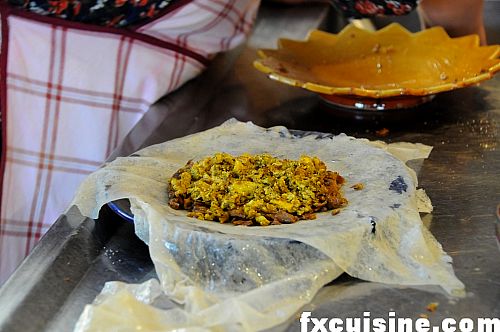 Añade la carne de pichón y cubre con el huevo revuelto y la salsa (otra photo).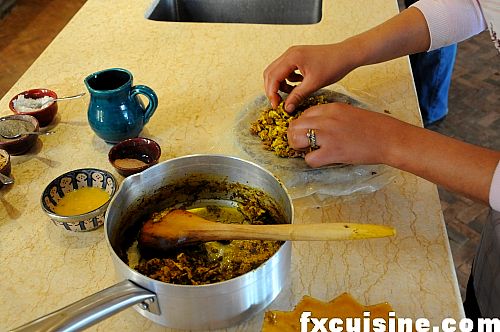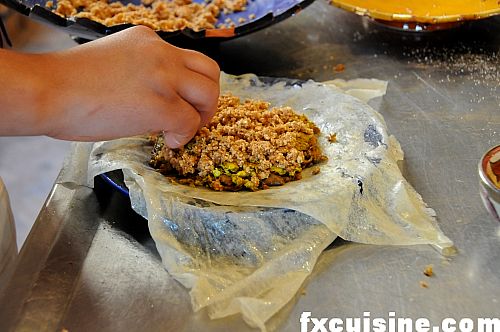 Espolvorea suficiente mezcla de almendra para cubrirla (otra photo).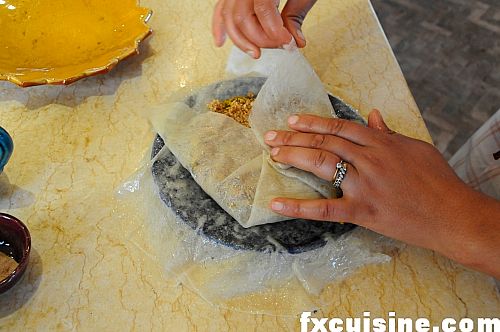 Dobla el resto de la warka superior en forma de pentágono...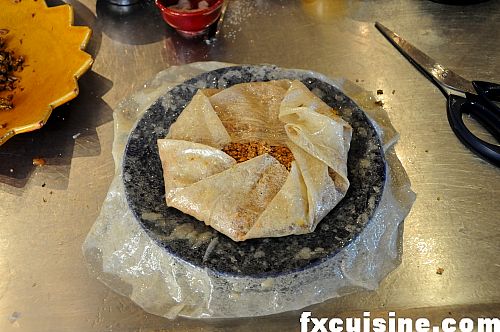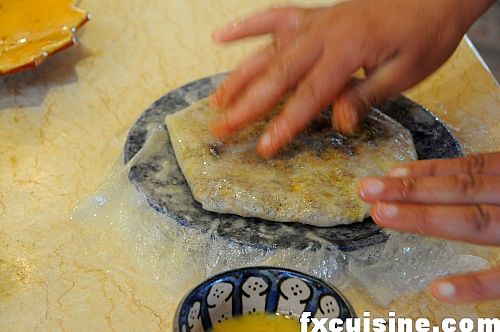 ... luego voltéala.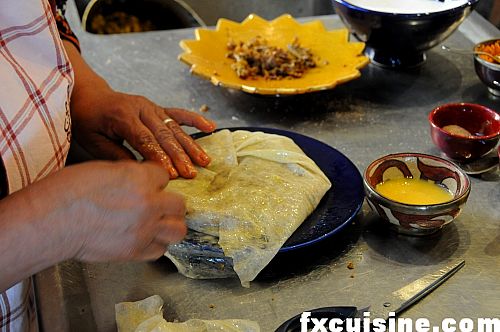 Ahora dobla la warka inferior sobre la pastilla en la misma forma pentagonal.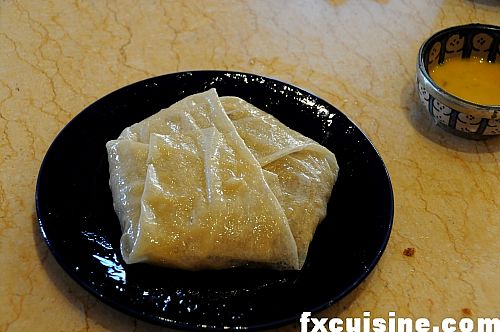 Presiona suavemente press con la mano plana para cerrarla close.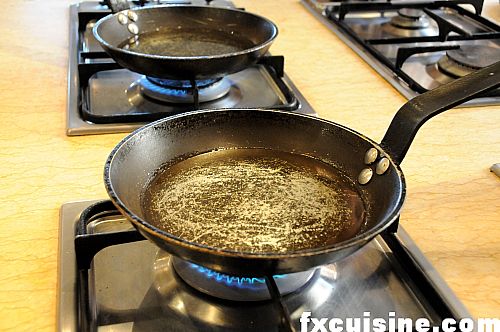 LLena a una tercera parte una sartén con aceite de cacahuate y sube a fuego alto.  Para probar la temperatura, mete un pedacito de warka piece of warka en el aceite, para ver si se fríe correctamente.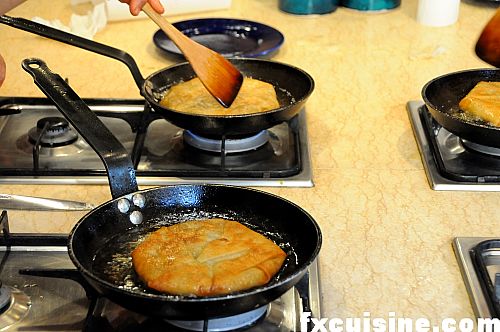 Suavemente desliza la pastilla en el aceite y fríela a fuego alto, removiendo de vez en cuando.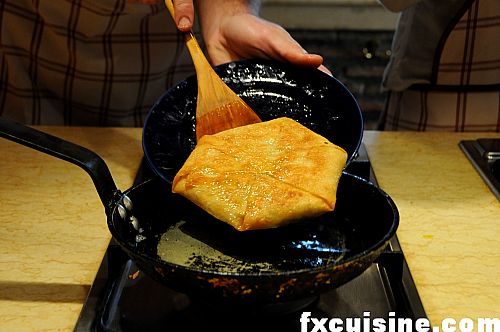 Cuando la parte inferior se haya dorado, voltéala con delicadeza con una pala de madera.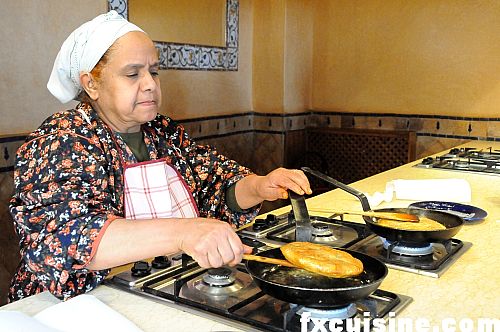 La dada se encargó took care de mi propia pastilla mientras yo me ocupada de tomar fotos para ustedes.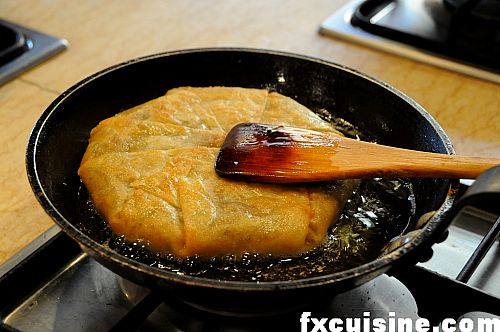 inserta un cuchillo knife en la pastilla y toca la punta para ver si está caliente.  El relleno ya está cocido pero puede estar frío - la pastilla está lista cuando el cuchillo sale caliente.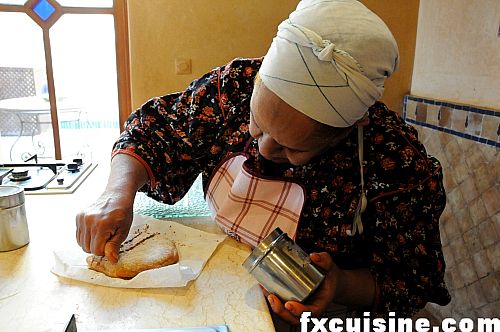 Después de tanto freir, puede sonar ridículo tratar de secar el exceso de aciete, pero si tienes un rollo de toallas de papel a la mano te recomiendo hacerlo.  Espolvorea con azúcar glas.  Recuerda que este es un platillo moro, de ascendencia persa y allá se combina lo dulce con las carnes.  
Dibuja en la pastilla unas líneas con canela en polvo powdered cinammon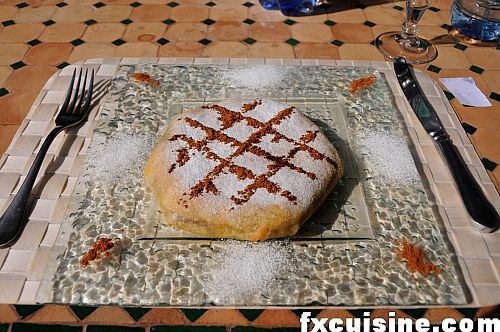 Sírvela como una entrada memorable - una pastilla por invitado.  Otra vista view. He probado pastillas en tres de los restaurantes más caros de Marrakesh y ninguna me supo mejor que la que hice bajo la dirección de dada.  Todas se veían igual.  Supongo que la warka era mejor en algunos lugares, pero esto se compensa con el hecho de que la mayoría de las pastillas son recalentadas justo antes de servirlas.  Nos comimos nuestras pastillas bajo los árboles y pasamos un día muy agradable en:
La Maison Arabe
http://www.lamaisonarabe.com
1, Derb Assehbe Bab Doukkala, Médina
Marrakech, Morrocco
+212 24 38 70 10
297265 visitas
Artículos Relacionados

A Soba Noodles Class in Tokyo * Popular
My private lesson at the Soba Academy in Tokyo to make these Japanese buckwheat noodles from scratch.
Artículos màs populares ¦ Ultimos artículos ¦ Por temas ¦ Ultimos comentarios
Copyright FXcuisine 2023 - all rights reserved.
If you do this recipe at home please let me know how it worked for you by submitting a comment or send me a picture if you can. Thanks!