Una Clase de Pastelería en la Escuela Lenôtre de Paris
(página 2 de 2)
Home
>>
Experiencias Gastronómicas
Lenôtre ofrece clases de repostería de alto nivel para no profesionales en Paris.  ¿Justifican el tiempo y el dinero? ¿Quién las toma?  ¿Qué es lo que en realidad aprendes?  Lee mi recuento de una clase de Brioche y Kugelhopf en la  Escuela  Lenôtre en Champs-Elysées.
LECCIÓN II: BRIOCHE
La segunda parte del curso, llevado consecutivamente, era sobre brioche.  Primero preparamos masa de brioche amasando mantequilla, huevos, azúcar, levadura, sal y harina.  La masa de brioche necesita levar un tiempo largo.  EL chef pastelero había preparado algo de masa el día anterior, y esa utilizamos.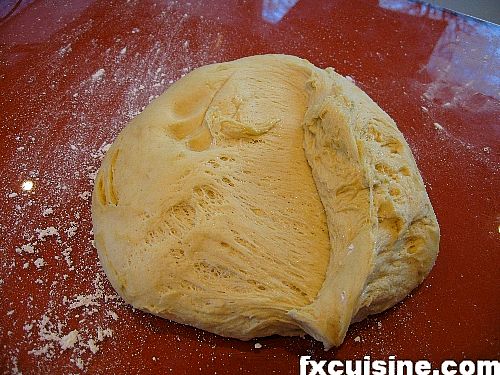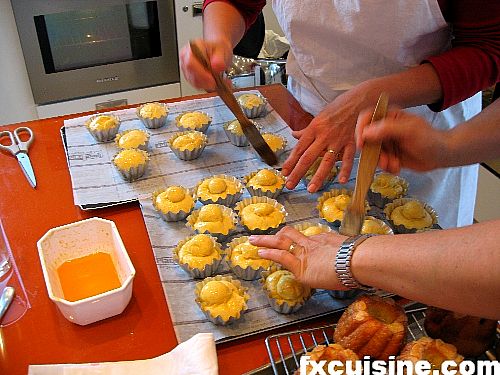 Hicimos dos tipos de brioche: Brioche Parisienne, como en la foto de arriba, con sus características bolitas encima.  Hacer una bonita bola uniforme, pareja, es difícil.  Aprietas un pedazo de masa entre la palma abierta de tu mano y la mesa y luego haces círculos con la mano, levantámndola gfradualmente.  ¡Nos tomó un rato dominar este tour de main!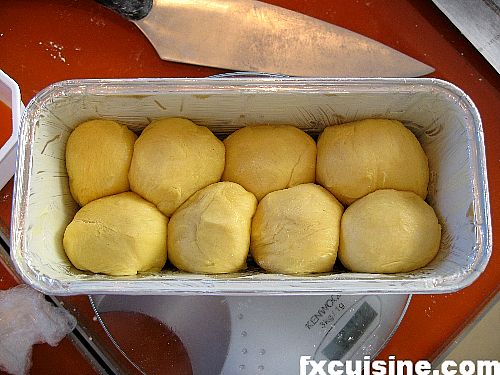 El segundo tipo de brioche, que ves en las fotos arriba y abajo, es Brioche Nantaise. Haces unas cuantas bolas grandes con la masa y las metes en un molde para pastel. 
Ambos tipos de brioche necesitan una capa doble de yema de huevo para tomar su famoso color café oscuroo.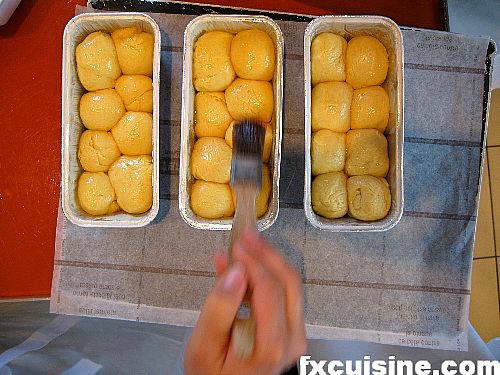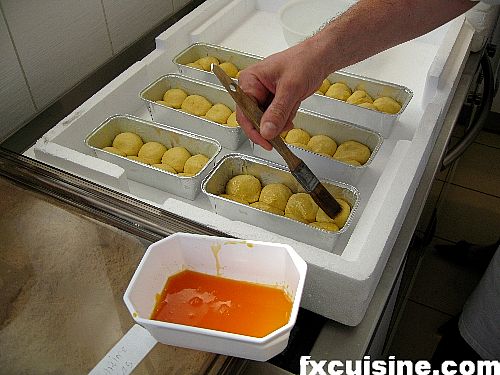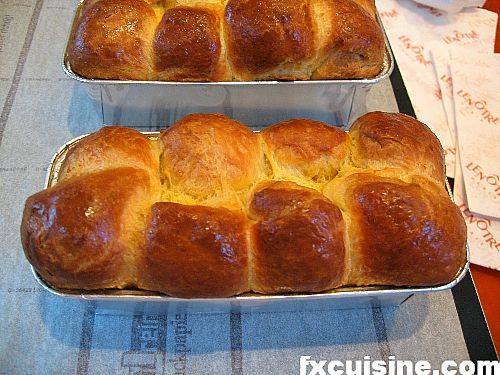 Ve el reverso back del brioche nantaise.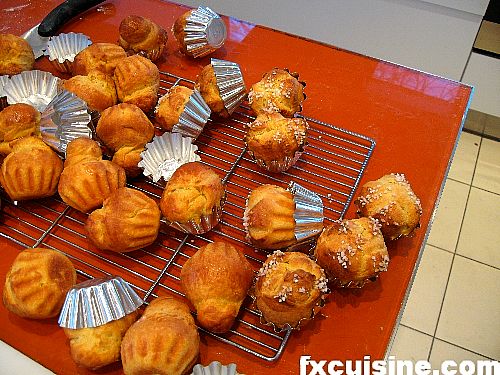 Este curso de repostería en Lenôtre fué muy serio e informativo.  Pasamos cada uno de los 210 minutos de clase aprendiendo sobre pastelería y haciéndola.  Definitivamente regresaría a Lenôtre para otra clase.  Sólo ten presente que estas clases son en francés y que no son clases de francés; necesitas tener cierta fluidéz.  Hay muchas clases de cocina más baratas en Paris, algunas incluso en inglés.  No sé si se equiparen con el alta calidad de Lenôtre, que definitivamente tiene un estándar alto.
Para asistir a una clase en Lenôtre:
Ecole Lenôtre
http://www.lenotre.fr
Tel +33 (0) 1 42 65 97 60
Pavillon des Champs-Elysées
10 Avenue des Champs-Elysées
75008 Paris, France
459487 visitas
Artículos Relacionados

Pistachier at Lenôtre ***
A pistachio-flavored little cake served with coffee in French gastronomic restaurants. If you get the pistachio paste, you can make it too.

Tuiles à l'orange Lenotre Baking Class **
Back at the Lenôtre pastry school in Paris to make tuiles à l'orange - a smart tile-shaped flat cookie served with tea in gastronomic restaurants.
Artículos màs populares ¦ Ultimos artículos ¦ Por temas ¦ Ultimos comentarios
Copyright FXcuisine 2021 - all rights reserved.
If you do this recipe at home please let me know how it worked for you by submitting a comment or send me a picture if you can. Thanks!