Una Visita a la Pastelería de Pierre Hermé en Paris
(página 2 de 2)
Home
>>
Experiencias Gastronómicas
Pierre Hermé es el rey de la pastelería francesa.  Su pequeña boutique en Paris es tan exitossa que la gente se detiene a preguntar porque hay cola.  ¡Ve lo que hay dentro!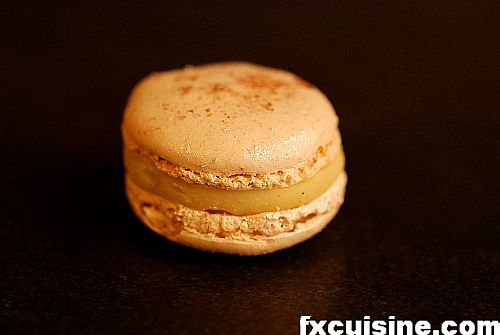 El famoso macaroon de trufa blanca con avellanas que lleva avellanas italianas ligeramente tostadas en un ganache de trufa blanca.  Una combinación casi afrodisíaca.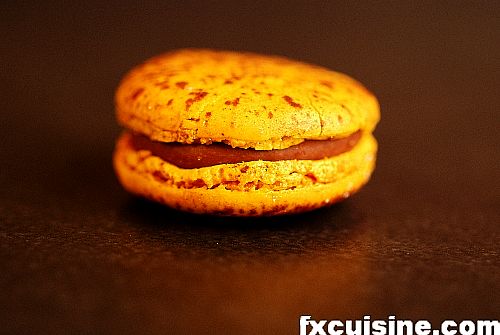 Éste debe ser mi segundo favorito - el  Macaroon de fruta de la pasión  relleno de chocolate blanco.
Le perdonas todo a una tienda como ésta.  Claro, la cola es larga y no regresas sólo por la sonrisa de quienes atienden.  Y los nombres de los pastelillos pueden sonar medio nacos, 'Terciopelo', 'Sinfonía', etc...  El folleto que describe la colección de este año es una lectura fascinante, incluyendo una entrevista con Pierre Hermé.  Pero parece haber sido hecho por un par de adolescentes haciendo una historieta en su recámara, con un 'FETICHE' de un colorido extraño escrito en gótico.  El lector casi se sorprende de que el folleto no venda overoles de hule.  Pero la felicidad está en los pastelillos.  Rápidamente te olvidas de estas cuantas notas falsas y corres a casa para disfrutar de estos manjares.
Tengo todos los libros books del Sr. Hermé.  Si tuviera una apariencia más adecuada para la televisión, fuera más humilde y hablara ingles, sería un chef célebre de un día para el otro.  Pero Pierre Hermé es un hombre modesto y no busca celebridad. Además de una boutique en Tokio, sólo tiene dos pequeñas tiendas en Paris.
Hay algo de histórico al ir de compras a Pierre Hermé.  Este es un hombre en la cúspide de su arte.  Una vez que él se vaya, solamente podremos reproducir sus recetas viejas pero no es probable que alguien más invente nuevas del mismo nivel en mucho tiempo.  Me refiero a que la mayoría de los chefs usan recetas que no han cambiado en un siglo y la mayoría de las combinaciones audaces que intentan simplemente no funcionan.  Si dentro de un siglo alguien me pregunta '¿Qué hacías en tus tiempos?' Contestaré 'Una vez probé los pasteles de Pierre Hermé en Paris'.
Pierre Hermé
www.pierreherme.com
72 rue Bonaparte or
185 rue Vaugirard
Paris, France
También en Tokio en el mercado de comida en las entrañas de Isetan en Shinjuku y en otras 3 ubicaciones.  No tanta variedad pero mejor servicio que en Paris - lo que no es sorpresa.
Notas: Pierre Hermé se pronuncia [py-air air-meh], no [peeeee-err her-mee]. La Rue Bonaparte se llama así por Napoleon, a quien ven como un héroe en Francia.  No intentes discutir sus méritos históricos con los franceses a menos que quieras realzarlos.  Pierre Hermé está en la tienda de la Rue Vaugirard y se ve como dos luchadores profesionales pero es muy buena persona y un verdadero artista.
822923 visitas
Artículos Relacionados

Paris' Oldest Kitchen Equipment Shop *
It took me several visits to the mythical 200-year-old professional kitchenware shop Dehillerin in Paris before they agreed to sell me the knife I wanted. A unique gastronomic pilgrimage destination if you can swallow the attitude.
Artículos màs populares ¦ Ultimos artículos ¦ Por temas ¦ Ultimos comentarios
Copyright FXcuisine 2023 - all rights reserved.
If you do this recipe at home please let me know how it worked for you by submitting a comment or send me a picture if you can. Thanks!