Los Caracoles tienen 7 Vidas en L'Escargot Montorgueil
Home
>>
Experiencias Gastronómicas
¿Entonces cuántas vidas tiene un caracol?  Siete, en L'Escargot Montorgueil, El mejor restaurante para comer caracoles en Paris, donde tu concha puede haber sido servida a muchos comensales.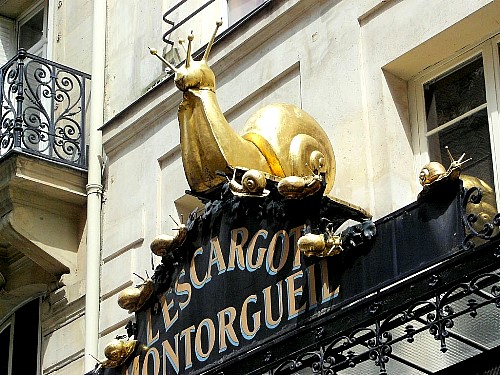 Tal vez no te guste la idea de comer caracoles, pero tienes que visitar l'Escargot Montorgueil en Paris.  Este bello rrestaurante de caracoles de finales del siglo 19 es de, para y por los caracoles. con su gran caracol dorado en la entrada.  Hasta 2004, era propiedad de un primo de Claude Terrail, propietario de La Tour D'argent.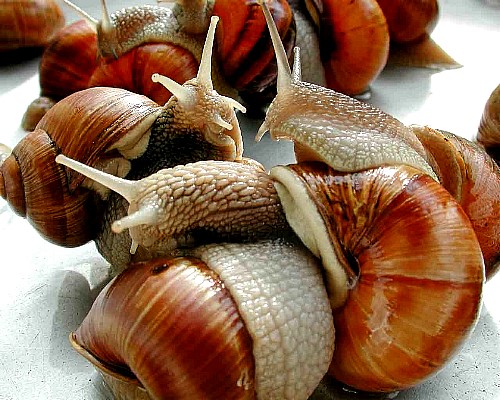 Los caracoles tienen un larga historia en Francia, y había leído en Les Métiers Oubliés de Paris (Profesiones olvidadas de Paris), que en el siglo 19 había recolectores de conchas de caracol 'Marchands de coquilles d'escargots' que hurgaban los basureros de los restaurantes elegantes en busca de conchas de caracol usadas. Las revendían a resturantes más baratos.  No limpiaban las conchas, para que lo que les quedaba de salsa de mantequilla le diera sabor a la grasa barata que usaban en el segundo restaurante y pudieran venderlos a la plebe como 'escargots au beurre'.
Naturalmente, la siguiente vez que comí en L'Escargot, le conté a mis amigos esta historia e inspeccionamos las conchas para ver si en efecto el 'Marchand de coquilles d'escargots' era un oficio perdido.  Es claro que L'Escargot no compra conchas descartadas más que en Rungis. Aún así, noté al menos tres distintos grados de salsa quemada en la concha.  Manchitas diminutas, pero sin duda estas conchas habían sido usadas antes.
Entonces platiqué un poco con el mesero. 'Te debe dar gusto escuchar algo de francés de vez en cuando ¿Verdad?' , comencé. 'Si Monsieur, así es'. Aparte de nosotros, el restaurante estaba lleno de turistaas que no hablaban francés y de hecho sí estaba muy contento de hablar francés.  Dando un paso más le pregunté 'Aquí entre nos, ¿Cuántas veces reciclan las conchas?'. Lo tomé tan de sorpresa que no le dió tiempo de inventar algo 'Oh Monsieur, cuatro a cinco veces. Una buena concha te durará siete veces.'
Antes de que corras al baño, permíteme decir que lavan las conchas en la lavadora de loza, así es que no es más desagradable que comer con el mismo tenedor que otro tipo utilizó el día anterior, o que reutilizar las conchas de los callos de hacha.  Pero aún así, no creo que la mayoría de los clientes piensen que las conchas sean reutilizadas.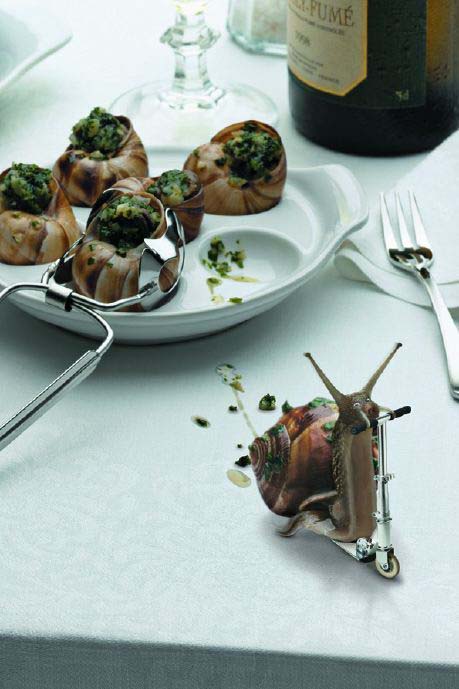 Comí cosas mucho peores  en mi escuela. El cocinero reciclaba sus brochetas de chipolata.  No solo las brochetas, sino los chorizos también, que eran servidos hasta tres veces.  Cada vez eran más oscuros.  Ante esto, convencí a mis amigos de desbaratar cualquier chorizo que quedara junto con las brochetas de madera para derrotar a este malvado cocinero.  Funcionó - o tal vez simplemente acabaron en la sopa. 
L'Escargot Montorgueil es un restaurante fino  al que no dudaría en regresar.  Lo mejor es ir el domingo en la mañana cuando toda la calle  Montorgueil se vuelve un mercado de comida food market.  También ofrecen Pato à l'Orange y algunos otros platillos no gastropódicos para los menos aventureros.
L'Escargot Montorgueil
www.escargot-montorgueil.com
38 rue Montorgueil
75001 Paris
+33 (0) 1 42 36 83 51
239228 visitas
Artículos Relacionados

Dinner at Le Train Bleu ***
A memorable meal at one of the most spectacular restaurants in Paris, located in the Gare de Lyon train station.

Duck Tour d'Argent ** Popular
Probably the most spectacular classical French recipe, le canard à la presse, here made at La Tour d'Argent, a Paris restaurant open since the 16h century.

Behind the Scene at Alain Ducasse's **
Extraordinary pre-starter offered in top French chef Alain Ducasse's restaurant in Provence - delicious crispy toasted bread with eggplant caviar and anchovy sauce. A resounding success! See how Ducasse makes it and you can do it at home too.
Artículos màs populares ¦ Ultimos artículos ¦ Por temas ¦ Ultimos comentarios
Copyright FXcuisine 2023 - all rights reserved.
If you do this recipe at home please let me know how it worked for you by submitting a comment or send me a picture if you can. Thanks!