Linguini con le Vongole - Pasta con Almejas
(página 2 de 2)
Home
>>
Recetas
Esta espléndida pasta napolitana en salsa de almejas y jitomate es toda una comida gourmet en serio en menos de 30 minutos.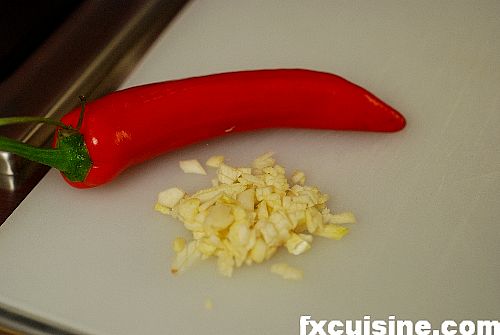 Pica fino un diente de ajo y un chile de árbol o serrano.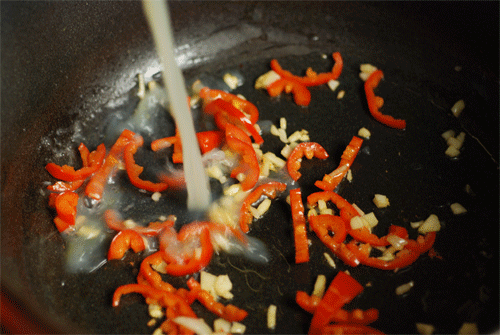 En una olla, fríe el ajo y el chile en un poco de aceite de oliva, a que ablanden.  Vierte el jugo de las almejas y redúcelo a la mitad.  Esta es un concentrado del sabor marino del agua de mar que venía en las almejas.  Un intenso olor a yodo y a mar ¡Que no es para cuerpos tímidos!
Agrega los jitomates, mezcla y reduce a fuego bajo.  Hierve unos 3-5 minutos.
No soy el mayor admirador de los jitomates, así que yo machaco los míos a que se hagan pulpa.  Si a tí te encantan los jitomates, deja unos trozos más grandes, para que tus invitados sepan que usaste jitomates enteros y reales.  Es tu prerrogativa.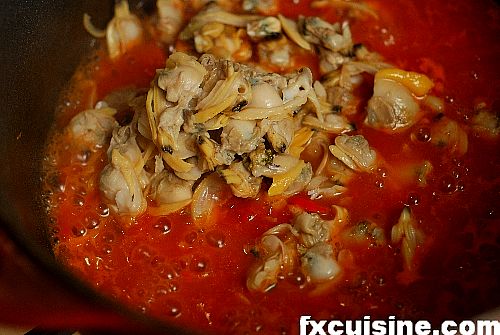 Añade las almejas sin concha a la salsa y déjalas hervir al fuego más bajo mientras cocinas la pasta.
Cocina la pasta en agua hirviendo de 1 a 2 minutos, o más dependiendo del linguini que estés utilizando.  Es mejor cocinar de menos ya que continuará cociéndose al menos un minuto más cuando la mezclemos con la salsa.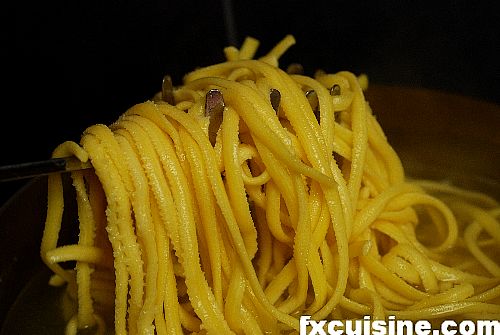 Llama a tus invitados  a la mesa.  Prueba la salsa y añade un poco de pimienta negra o chile en polvo si lo requiere.  Probablemente no necesites más sal.  Si la salsa está demasiado seca, añade unas cucharadas del agua en que se coció la pasta.  Eso ayudará a la salsa.  Mezcla la pasta y la salsa con cuidado, tratando de cubrir cada linguini con un poco de salsa.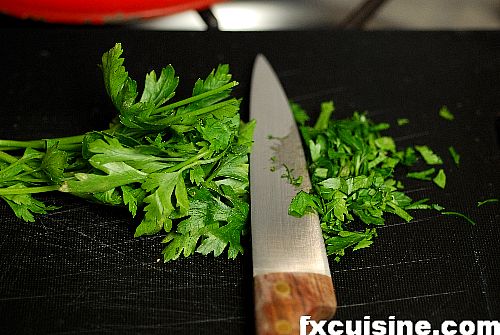 Finalmente, pica medio manojo de perejil fresco.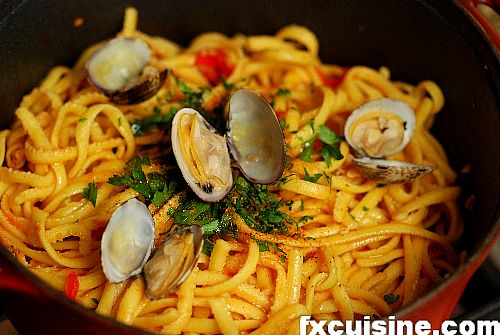 Preséntala en un platón de servir grande o directamente en cada plato.  Ponle un poco de perejil picado encima y, muy importante, una gota de tu mejor aceite de oliva.   En verdad marca la diferencia y balancea el sabor sin añadir mucha grasa a un platillo que de por sí es bastante poco grasoso. Si tienes un aceite de oliva de a deveras, ahora es el moomento de usarlo.  No le ganará el sabor de las almejas y le añadirá una delicada capa más de sabor al platillo.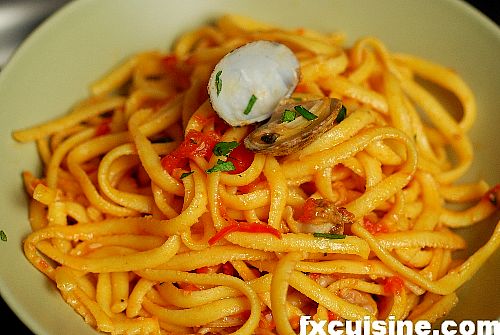 Este puede parecer un platillo complicado para el cocinero principiante pero todo es muy simple.  Lo he cocinado dos viernes seguidos por la noche, comenzando a las 8 PM, y yo soy un profesional con una semana de trabajo bastante larga.  Los ingredentes no son caros, y ya se pueden encontrar almejas casi en todos lados ¡Cualquiera puede hacer este platillo!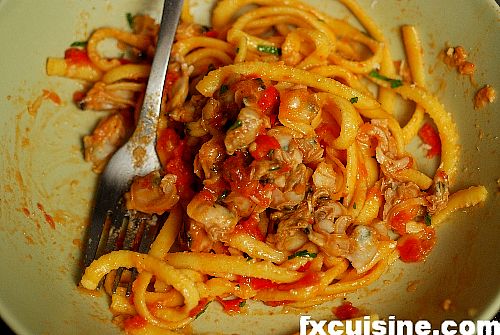 Los italianos preferirían comerse las conchas de las almejas que añadirle queso Parmesano rallado a unas almejas o a cualquier pasta con pescado.  Este es uno de los tabúes culinarios más arraigados, por lo que si quieres verificar lo bueno que sabe con Parmesano ¡Mantén toda la discreción del caso!
345536 visitas
Artículos Relacionados

Priest-stranglers in Neapolitan Meat Sauce **
These gnocchis served in the cult Napolitan ragù sauce would be a world-famous dish if they didn't take 7 hours to cook.

Pasta for the Sopranos **
How I convinced Switzerland's top custom installer to come and fix my home cinema the next day with a promise of homemade maccheroni with real Neapolitan ragù.

Mangiamaccheroni - Neapolitan Macaroni Eaters **
Mangiamaccheroni - Neapolitan macaroni-eating lads were once the symbol of Napoli's joie de vivre. Here are 20 examples of these icons from my personal collection.

My New Italian Chitarra Pasta Cutter *
Homemade pasta with the legendary Italian chitarra, a harp-shaped pasta cutting tool.

Pasta con l'anatra - pasta in duck sauce *
Using a whole duck to make pasta sauce is uncommon outside Italy.
Artículos màs populares ¦ Ultimos artículos ¦ Por temas ¦ Ultimos comentarios
Copyright FXcuisine 2023 - all rights reserved.
If you do this recipe at home please let me know how it worked for you by submitting a comment or send me a picture if you can. Thanks!