Auténtico Arroz Plov de Uzbekistán
(página 2 de 2)
Home
>>
Recetas
El platillo nacional de Uzbekistán, 
plov
,
es un abundante primo de los pulaos pakistaníes y de los arroces persas.  ¡Obsérvame hacerlo como las 'mamas' de Uzbakistán!
Retira los trozos de grasa restantes y descártalos.
Las recetas uzbekistanas siempre insisten en utilizar no sólo cordero, sino cordero de Uzbekistán.  Tal vez tengan razón pero ¿Dónde lo encuentras?  Sólo usa el mejor cordero que puedas.  Yo utilizo pierna de cordero.
Calienta la grasa de cordero en la olla hasta que humée.  Así es, pequeñas fumarolas grises, como agua hirviendo.  Aunque no dejes que se queme.
Rápidamente fríe los cubos de cordero por todas las caras hasta que tengan un bonito dorado.  Puede que tengas que hacerlo en dos tandas.  El caso es mantener la temperatura alta y que cualquier líquido que suelte la carne, inmediatamente se vaporice; de otra manera bajaría la temperatura y el dorado o reacción de Maillard no funcionaría.  Eso se traduciría en pérdida de sabor. 
Reserva la carne y tápala para que no se enfríe ni se infeste de bacterias.
Calienta la grasa de cordero que queda en la olla y añade las cebollas rebanadas, voltéandolas frecuentemente hasta que estén suaves y ligeramente doradas, unos 6 - 8 minutos.  Añade las especias molidas y mezcla todo bien por 1 minuto más.  Agrega las zanahorias ralladas y cocina otros 3 minutos o hasta que las zanahorias se hayan suavizado.
Agrega la carne reservada con el jugo que haya soltado.
Mezcla bien y reduce el fuego a medio.
Añade 2 tazas de arroz. Los cocineros Uzbekistanos insisten en usar arroz de Uzbekistán.  ¿A qué sabe?  Bueno, he podido comprar un par de tipos de arroz distintos de un abarrotero de Uzbekistán en Rusia y no me han impresionado.  El arroz debe ser sensacional cuando lo cosechan en Uzbekistán, pero el mío de hecho tenía insectos vivos, por lo que mejor decidí utilizar un buen arroz local.  Mis  mejores resultados siempre han sido con arroz precocido de grano largo, que no se puede pasar de cocimiento.  Seguro que no es el arroz más sexy ni el de mejor sabor, pero ¿Cuál es el caso de hacer todo siguiendo los canones para acabar con un masacote de arroz sobrecocido?
Agrega 4 tazas de 
caldo caliente
. Puedes usar agua, pero por favor que esté
caliente, no fría
, ya que detendría la cocción por cuando menos 10 minutos.
Tápalo y déjalo cocinar a fuego medio unos 10 - 15 minutos.  Dále vuelta frecuentemente para aseguraarte que el plov no se pegue al fondo.  Una vez que el arroz se haya cocido, añade los bérberos, quita la tapa y espera a que todo el líquido se haya evaporado, volteando el arroz de vez en cuando.
Sírvelo bien caliente con una cabeza de ajo para cada invitado.
También puedes enterrar los ajos asados dentro del plov después de añadir el caldo y traer la olla a la mesa.  Algunos cocineros agregan un chile grande a cada plato.  Una vez intenté ordenar plov como acompañamiento para una carne asada, y lo único que conseguí fue que el ofendido cocinero saliera de la cocina para explicarme que comer plov con carne destruiría el delicado balance de sabores.  Creo que tenía razón -  plov en serio es como risotto en serio - es autosuficiente.
Arriba, una foto del puesto del carnicero en un mercado de barrio en Rusia (prefiero a mi carnicero) y la selección de semillas de comino (zira) y bérberos bastante insípidos de un comerciante de especias de Uzbekistán.
Tengo mucho interés en que un lector me enviara fotos de grasa de cola de cordero o de cómo se presenta a la mesa el plov en Uzbekistan.
758705 visitas
Artículos Relacionados

Pakistani Lamb Pulao **
This extraordinary dish is served on special occasions in Pakistan and Northern India. See how it's made from fresh spices and then cooked in the oven.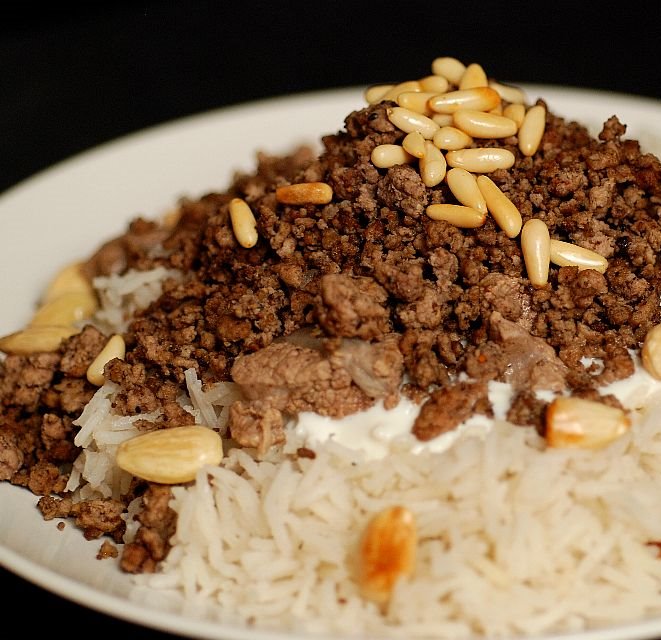 Arab Lamb Ossobuco **
An incredible festive 7-layers dish with lamb shanks, ground beef over rice. Delicious but quite involved if you're alone in the kitchen!
Artículos màs populares ¦ Ultimos artículos ¦ Por temas ¦ Ultimos comentarios
Copyright FXcuisine 2020 - all rights reserved.
If you do this recipe at home please let me know how it worked for you by submitting a comment or send me a picture if you can. Thanks!